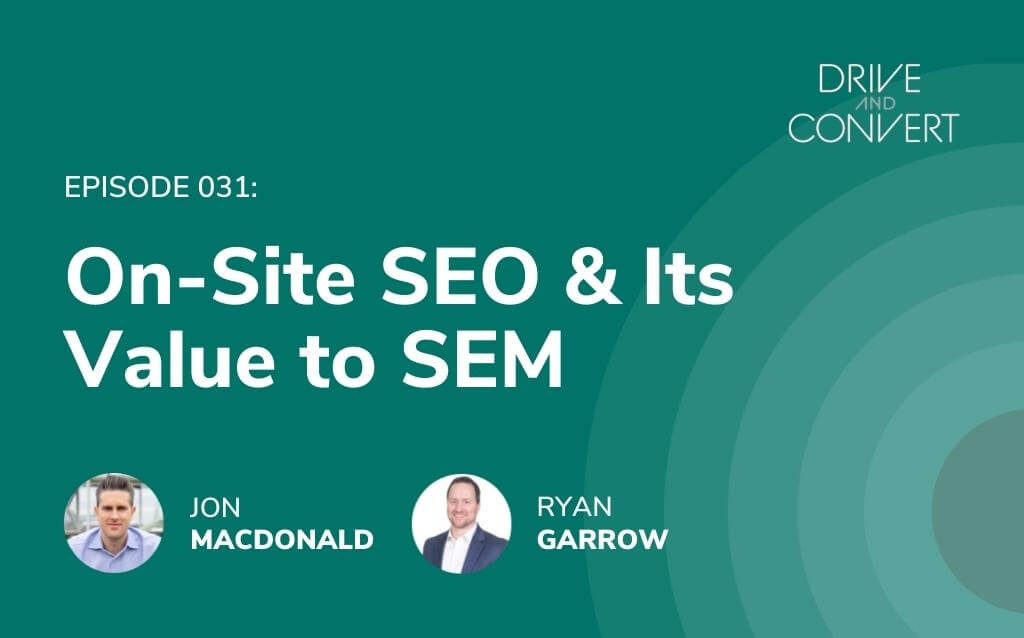 Drive & Convert
Drive and Convert (Ep. 031): On-Site SEO & Its Value to SEM
Traffic sources can come from a number of places, but for most companies the largest source is Google. And things can get confusing when it comes to organic traffic versus paid ads. There are a number of things that can affect organic traffic and paid traffic in Google, and it can get confusing quickly. Today Ryan clears things up and tells you how things work when it comes to SEO and Paid Search in Google.
Listen to this episode:
About This Episode:
Traffic sources can come from a number of places, but for most companies the largest source is Google. And things can get confusing when it comes to organic traffic versus paid ads. There are a number of things that can affect organic traffic and paid traffic in Google, and it can get confusing quickly. Today Ryan clears things up and tells you what does and doesn't work in Google, and focuses on what you can do with on-site SEO to improve your organic rankings.
The site mentioned for checking your organic rankings:
www.semrush.com
Episode Transcript:
Announcer:
You're listening to Drive and Convert, a podcast about helping online brands to build a better e-commerce growth engine with Jon MacDonald and Ryan Garrow.
Jon:
Hey Ryan. So traffic to a website comes from many different channels and avenues, as we all know. And for most companies though, that largest source is always Google, the infamous Google traffic source. Now, from previous conversations with you, I know that Google shopping, spend and traffic can have a really positive impact on organic traffic in Google. Which always has blown my mind when I've heard that, because I heard from you recently too, that there are several types of search engine optimization that can have an impact on paid search. Not just on on-page. So this really confused me, because I thought Google kept everything separate. You can't spend money to grow rankings within Google. You can buy your spot with an ad, maybe do some stuff around shopping to get surface there. But I wasn't aware that those two really correlated with organic. So I'm looking forward to hearing about how search engine optimization can help your paid search. And I guess more simply, what are you talking about? Can you fill me in on this?
Ryan:
Yeah. So I don't want to confuse people kind of with the title or how we're putting this out there, but you can't spend money on paid search to have Google increase your rankings. That's been a myth disproved multiple times over, and Google has been very, I think, above board in how that works. But we do know that spending more on shopping, where people discover your product more, they will come back and buy through organic and direct, and those channels will start producing more revenue. But what people I think overlook are the fact that there are two types of SEO that people need to be aware of. And you should always as a business owner be investing or planning to invest in both SEO and paid search. I don't think one is greater than the other necessarily long-term, but you need to have both.
And the type of SEO that people talk about or think about when they say SEO is what we've been doing generally for 20 years, building our rankings in authority with back links that are of high quality, putting content out on the internet that Google recognizes as valuable and they will give you more authority. You spend now on SEO with that's either your time or money, hiring people to do that. And then four to six months you see the results in increased traffic. That's generally what people think about with SEO. What they tend to overlook is the SEO that gets results actually within two weeks of you doing it. And that's the on-site SEO work.
And so there's things you can do on your site to improve it that when Google re-indexes that you will move up in rankings. And this type of SEO will help organic traffic, but also have an oversized impact on paid search. And so because it dabbles both of those buckets I like to focus on that SEO before I even go to the SEO that people normally think about. And so on-site SEO at its simplest form is improving your category pages for Google.
Jon:
Okay. So you're talking content, better imagery, things of that sort?
Ryan:
Yeah. The content, the tags, the titles, things on that site that Google indexes and sees have a lot of benefits around your website and traffic generally. And so, if you do a search for your product, and so if you sell Nike shoes and that's the broad search that has lots of traffic, you will notice on Google most of the organic results are for categories of Nike shoes. It's not one specific Nike shoe like a shopping ad would be. Because Google, based on that search, knows that you don't know which specific model you're looking for or if you're looking for men's or women's. You're looking for Nike shoes. And so often the high volume terms are going to be category pages that Google is going to be indexing and sending traffic to until people get more and more specific with their searches.
And that's how people generally move down a funnel, is I gradually do my research… Forgot, okay. Now I know I need to be searching for men's Nike shoes. Then I see that page. I'm like, "Oh, I need to be searching for men's Jordan Nike shoes." And then I'm like, "I really want to search for Jordan 4 men's shoes." And then that's when I'm getting to more and more specific and even adding color onto that, and people will do that through a search funnel. But the biggest advantage is saying, "All right, I have this category page and I need to have a description on that page about what's on that page that Google can see." And it doesn't necessarily matter for searchers because if I'm searching for Nike shoes and I'm on a page of Nike shoes, I can see they're Nike, I can see they're shoes. I don't need to read that text to see it. And so putting that on there though will have an outsized impact on quick increase in rankings.
And so I like to start this by telling people to go to SEMrush, or some site like that to be able to see what is Google doing with your organic site, how are you average ranking on there? There's some wonderful reports on SEMrush. It's the one I use because it's probably simple enough that we to dive into very, very quick. I don't get super deep on a lot of my analysis. I get high-level and figure out some strategy and then move off of that. But SEMrush has some great things they've done from an organic perspective. They scraped these results pages, and they know generally where you're ranking. Obviously you rank in different parts of the country differently, and search intent and my previous search history is going to impact my organic results. But generally we know that hey, you're ranking here on this keyword. And SEMrush also brings in the average volume of searches a month.
And so to start to see where your site could have a quick impact on this, you go to SEMrush, click on your organic rankings, sort it by volume. And you'll start seeing where your site is ranking. So if you're ranking on number 70 for a term with 10,000 searches, you're still getting zero traffic because you're stuck somewhere on page seven. But it'll also show you which page is ranking there. And when you see that you're like, "Oh, this page is ranking for that. And I'm seeing the term 'Nike shoes' goes to my Nike shoe page. That's great." You can click it actually in SEMrush and pull it up. Very simple. And you can see there's nothing on that page other than my title that says, "Nike shoes," in text that the search engine can scrape and understand.
And so you take those category pages and you write that paragraph of text. You maybe make sure that your title is short and appropriate for that search. You make sure the H tags on the site are appropriate for that, and it's not including random other characters or doesn't have your brand first. It doesn't have sizes first maybe, if you're looking at shoes. That information on your site will raise the ranking within two weeks. And it really depends on your competitors on what they've done or what they're doing. But within two weeks, you can assume that you're going to have more value to Google. They're going to raise you up there. And that's by no means a bad thing when you're getting quick results on SEO.
Jon:
Yeah. So if you're looking at all of this and I'm hearing from you that okay, do onsite for sure. But how does this affect paid search? I understand that you can't buy your listings. You can buy optimization of these pages, which is search engine optimization, and that could help you. But how is this going to affect your paid search? To me, it doesn't feel like it would. So that's what was kind of shocking. So yeah. Tell me more about that.
Ryan:
For Google ads, if you're running text ads there's something that Google has called the Google quality score. That basically gives you three components. It says if you do well here, we're going to let you pay less than your competitors for the same search. So there's always a value having a higher quality score. It's one to 10 and there's three components. There's the expected click through rate. That's always relative to your competitors. And so somebody may come to me and think, "Well, I have a 7% click through rate. That's great. Right?" And I'm like, "No. There's no way of knowing that." It's based on your competitors and what are they getting. If Google knows that compared to your competitors you're getting a 7% click through rate on the same search term and they're getting a 10% click through rate, guess who Google wants coming up higher?
Jon:
Right. Just because it's more relevant to the searcher, and that's what they're understanding. And that's going to drive more money for Google in the end because more people will click on it.
Ryan:
Exactly.
Jon:
Okay. Yep.
Ryan:
Google makes decisions for themselves. They have shareholders, they need to make money, and that's fine. It's their platform. So the higher click-through rate is good. And then the ad relevance, so they're saying, "All right, does your ad have instances of the keyword that was searched in it?" We generally, horrible broad stroke, shoot for about three times in the ad, and the rest of the text in the ad doesn't have an oversized impact on the actual click rate. It's just you have it for Google, you're playing the game to get ranked higher. And then the other piece is the landing page and the quality of that landing page based on the search query. So Google can't see the actual image itself and decide is this image what they searched for. They can see the tags you put on the image, but the actual physical image AI is not actually determining is that actually what they searched for.
And so that piece of content you're putting on your category or in Shopify, the collection page is telling Google what's on that page. And if you have that keyword in that content, Google is going to think this is a more relevant page to what they're searching and give you a benefit by lowering your cost per click through the increase of quality score. And it's a very easy thing to tie together and see the changes because quality score is reset every time somebody searches and every time your ad shows. And so if you make a change on the site to that description, today, and you see that I have a quality score of seven and you can break down the quality score components using columns in Google ads. And if you haven't done that before, you can get to all your keywords in the list in Google ads, that you're showing a text ad for, go to columns and ad quality score, and you can see, "All right, what's my click expect to click through rate, what's my ad relevance. And what's my landing page quality?"
Jon:
Okay.
Ryan:
And it'll tell you. You can either get below average, average above average. There's only three pieces to it. If you've got a lot of keywords, I like to push it down into an Excel pivot table. So I download it, put pivots on it-
Jon:
You love your pivot tables.
Ryan:
I love pivot tables. If you're running Google ads and you don't use pivot tables, you're wasting a lot of time. We still use Excel a lot in Google ads, but that can find really quick your below average landing page quality scores. And you can focus on those first, saying, "Okay, for whatever reason, this landing page, I'm getting dinged." And it's the largest component. It has about six of your 10 points associated with it. So moving from below average to above average can give you a significant boost and you're probably getting zero or very little traffic if you have a below average landing page score,
Announcer:
You're listening to Drive and Convert, the podcast focused on e-commerce growth. Your hosts are Jon MacDonald, founder of The Good, a conversion rate optimization agency that works with e-commerce brands to help convert more of their visitors into buyers, and Ryan Garrow of Logical Position, a digital marketing agency offering pay-per-click management, search engine optimization and website design services to brands of all sizes. If you find this podcast helpful, please help us out by leaving a review on Apple podcasts and sharing it with a friend or colleague. Thank you.
Jon:
Optimizing your site increases your quality score, which then helps you get more visitors and makes your ads more effective because it's going to be ranked higher in that list. So if you're on the search results page and there's three items, the one that comes first has the higher quality score. It's not just how much you bid, or is it how much you bid and the quality score? What other factors might come in there?
Ryan:
It's both.
Jon:
Okay.
Ryan:
Yeah. Google keeps a little bit of a black box in play. But they say it's the ad rank, which generally we know is the bid and the quality score going into play. And so the highest on the list is not always bidding the most. You could actually pay less per click and being ranked higher, generally. I guess it's not always the case, but generally the higher up you are in rank on that first page of Google, the more you're the more clicks you're going to get. The higher your click-through rate. And you obviously want more of the traffic if you're bidding on the keyword. And so improving the site experience for a Google perspective, and we're not talking about… Unfortunately sometimes for Google is not always best for the user. But you got to get the traffic to be able to determine if it's good for the user.
So get the traffic from Google by increasing what Google thinks of the site. And often it's a pretty simple implementation to get this text on there. It's not tremendously complicated. I don't think you need to have a master's degree in onsite SEO to be able to do this. I've done it on a lot of my own sites and it's just having something there is better than nothing. And using general logic is saying, "Okay, I'm writing this for the search engines, not necessarily the user. So I want to make sure I have the right density." It's got to read in normal English because people are still going to see it, even if they're not reading it. But just get it on the site. And most small sites that don't have this are going to be on Shopify, just from a numbers perspective. We know they have over a million people using it.
And so on Shopify this is the Collections page. And when you're putting that description in on your collections, in fact, I was just talking to a company that I'm helping advise in this area, and the business owner had all the descriptions already put on there, but they weren't showing on their Shopify site. Well that's interesting. And so we've dug into it and it's the theme. The Shopify theme she's using doesn't pull those descriptions in by default. And so some themes do it and some don't. So if you put it in there and your theme doesn't have that when you go to the collection page, you need to get a developer to force that theme to show it. And if you have a choice, put it below the product results on that category or collection page. If you don't have a choice, just get it on there. It's going to be fine. I haven't seen a meaningful increase or decrease yet on putting that continent in there on conversion rate.
Jon:
I was going to say, is there a… Thinking about my conversion rate hat, of course, as always, is there a better consumer experience when you think about that? Is having that content higher on the page, lower on the page near the products, things of that sort. Does that seem to matter?
Ryan:
I haven't seen it, but obviously I haven't done as much broad research on that. That's probably something in your bucket of skillset to look at that. And all right, on these Shopify sites where it defaults to above the fold or above the product results, do we see a change one way or the other when we move it below? My gut tells me I want to see the products first and most of the time when I go to a site, I'm not reading a bunch of texts when I'm searching for a product. I want to go right to the products and see which product makes sense based on the images I'm seeing and the titles of those products.
But there probably needs to be some testing for most sites around that. But I would say if you don't have it there above or below, you're probably not getting very much traffic on it from a paid perspective. So you just need to get it, even if it's above the products, because now you don't even have-
Jon:
Done is better than perfect.
Ryan:
Yes. That's most of my method of business based on my business partners. We're just going to do it and we're going to make choices as we go, because if we're not moving forward, we're not going to make any decisions at all.
Jon:
And this is slightly unrelated, but I would say that a lot of our success at The Good has been purely because we just keep making decisions. And we know we're going to make bad ones along the way, but we're doing the best we can. You just keep moving forward, just keep taking those steps. And that, really, I think has been a competitive advantage. Or at least over just business in general, it's really helped us. And I think that's, that's a challenge I see. We talk a lot about all of these different optimizations you can do, and just getting it done, taking that step is 99% better than a lot of your competition.
Ryan:
For sure.
Jon:
A lot of them just aren't even taking the steps that we're talking about. So even if you don't take all of them, just take one. Like go to SEMrush today and look at these organic results and have a list of these opportunities and then fix them. And you're going to be 99% ahead, being armed with that data and having a good understanding of what to do next. And even if you're not running ads, because then when do run ads, you'll be well ahead of the game.
Ryan:
Yeah, exactly. I think it's always better to take two steps forward and one step back than it is to try to plan the best step perfectly the first time out. I know I'm going to make mistakes in business. That's fine. I don't care. As long as it's not a crippling business killing decision, I'm willing to make all of those.
Jon:
Which 99 out of a hundred couldn't be. They're small enough decisions that you just got to do it. And if you go to SEMrush and you follow their instructions or the recommendations, is there a chance that that kills your business? Unlikely. It's very unlikely. So what do you have to lose? You just got to put the time in and do it.
Ryan:
Exactly. And that's for most business owners, it's going to come down to a time-money thing. If you've got more time than money, which smaller businesses generally do, you're going to do some of this work yourself and figured out the hard way. If you've got a little more money than that, you're going to hire an agency to go do some of that work for you. And that's what I advise a lot of businesses to start. I was like, "Look, if you've not done this before, and you're really worried about making a bad mistake, hire an agency to do very small amounts." So you can see the model that they're using.
And I even tell them, Logical Position for a thousand bucks, we will put six category pages together for you and do the work from the titles, descriptions, all that stuff. And you can then see, "Oh, that's actually not that complicated I see it where you put it in there, I see how it got on there. I see the keywords you used. Great. I can go build out the next 15 of these to help those all increase and then by that time, I might have enough money to pay for more paid search because I'm seeing organic traffic increase."
Jon:
This is why I tell people all the time when I send them to Logical Position, it pays to work with a partner that is large enough that they have an SEO focused team and a paid team because these things work together so well. And they need to be talking to each other. You can't just go off and do these SEO things and then not have your paid team aware of it. Because as we found out today, that's going to affect your quality score. And so not only could you get some increase in organic rankings pretty quickly by doing some basic SEO stuff, if you're not doing that, but then you can also do some off-site stuff that builds for a longer term. You were saying about four to six months, roughly. And then on top of that, you can be affecting your quality score.
So what I've learned today is, okay, you still can't pay Google to list higher organically. Okay, that's a bummer, but I get it. I assumed that was the case. And so second, what I've learned is I need to get a better quality score if I'm ever going to run ads, because you need to make sure that quality score is high because I'm not going to pay a thousand bucks a click. But if I have a better quality score, I might pay a little less than that.
Ryan:
Some of your settings, you may get close.
Jon:
Let's just bury that one and keep it buried. Jon likes to waste money with his spend. But that's what I get for not talking to my friends before doing that. So look, I think there's a lot of great things here around things that every business of any size could be doing to really get more out of their paid media spend.
Ryan:
And just business in general, best practices, laying a solid foundation to build on for a brand. I think it's an easily overlooked one for a lot of brands that can have house sized impact for that time. I mean, writing a description might take you five minutes if you're the business owner and that five minutes could produce massive dividends on both SEO and paid search.
Jon:
On that, we'll leave it. It sounds like folks have some tasks to do that are pretty simple. Just need to put the time in to make it happen. Or if they don't have the time to give you a call and have your team at Logical Position make it happen for them.
Ryan:
Yeah. I'm looking forward to it. Let me know how I can help.
Jon:
All right, thank you there, Ryan. Appreciate it.
Ryan:
Thanks John.
Announcer:
Thanks for listening to Drive and Convert with Jon MacDonald and Ryan Garrow. To keep up to date with new episodes, you can subscribe at driveandconvert.com.
About the Author
James Sowers
James Sowers is the Director of The Good Ventures. He has more than a decade of experience helping software and ecommerce companies accelerate their growth and improve their customer experience.