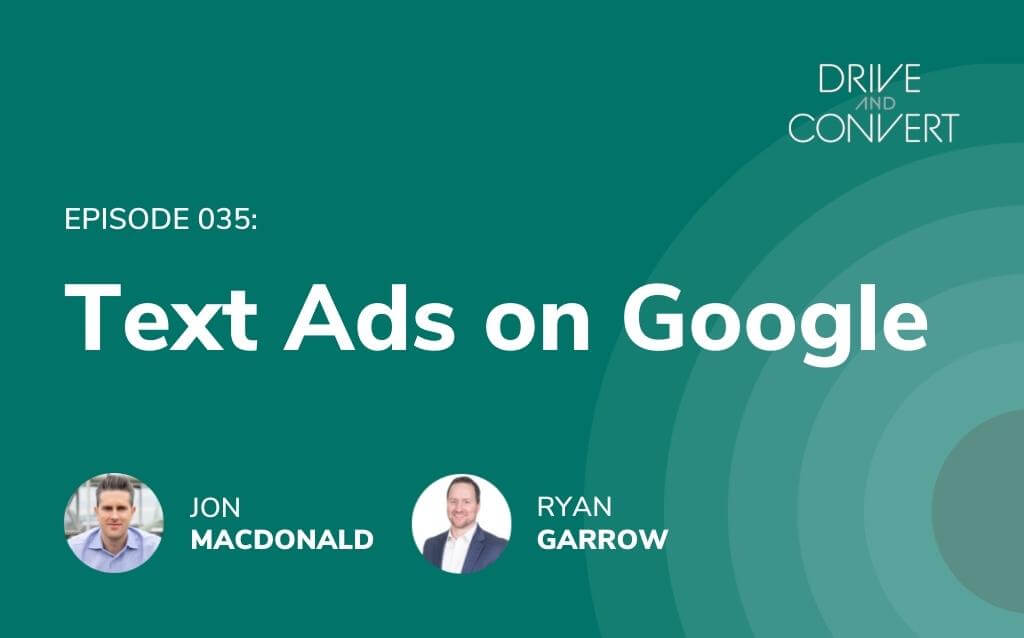 Drive & Convert
Drive and Convert (Ep. 035): Text Ads on Google
With that advent of smart shopping campaigns, it has become ridiculously easy to start spending money on Google shopping ads and to see some return. But one area that's become overlooked is text ads. Ryan explains why you shouldn't be sleeping on text ads if you want to push your brand further.
Listen to this episode:
About This Episode:
With that advent of smart shopping campaigns, it has become ridiculously easy to start spending money on Google shopping ads and to see some return. But one area that's become overlooked is text ads. Ryan explains why you shouldn't be sleeping on text ads if you want to push your brand further.
Episode Transcript:
Announcer:
You're listening to Drive and Convert, a podcast about helping online brands to build a better e-commerce growth engine, with Jon MacDonald and Ryan Garrow.
Jon:
Hey Ryan, good to reconnect again today for another episode. I am interested in today's topic because I know very little about it, obviously. This is where your expertise comes in. But when people really think about advertising on Google for e-commerce brands, most people initially think about Google shopping ads, right? Easy. And that's rightfully so. Right? Shopping ads have been growing in impressions at an amazing clip, so it seems like it really makes sense.
But with that advent of smart shopping campaigns, which you and I have discussed several times and it's not usually smart, it has become ridiculously easy to start spending money on Google shopping ads and to see some return. But you and I have seen data in Google Analytics where some areas of Google Ads are being ignored by brands and mainly around text ads. So, I'm sure there are quite a few listeners out there that are overlooking that part of Google as well, and I thought it would be great to tackle this issue today. What do you think?
Ryan:
Oh man, I'm excited. Number one, we're talking about ads, which is what I get excited about because I'm weird. But yes, this is…
Jon:
I think we're both weird in that regard, Ryan.
Ryan:
Yeah.
Jon:
I get excited about conversions. Who gets excited about conversions?
Ryan:
I do when it's going into my bank account.
Jon:
Perfect, I love it. So, why are companies overlooking text ads?
Ryan:
Easy answer is I don't know. The data would tell you invest more in text ads, but it is more complicated for many companies to do this. In some areas, depending on how you're managing your Google Ads, it may take more work, and that may not be something companies aren't willing to do. So, if there's a resistance or difficulty in doing something, a lot of people take the easy route, like just forget it. We're getting along well enough with shopping ads. Let's keep pushing there. Regularly I'm getting on a call to brands and reminding them about these wonderful things called text ads and the fact that they're there and they drive high value traffic and pay attention.
So, even from a numbers perspective. So, Joyful Dirt, for example. When I'm looking at numbers, because everything in e-comm is just let's look at the data and let the data tell us what we can do. Then we make hypotheses and then we test against it, and realize either I made a bad choice or it was a good choice. And then we keep pivoting and testing. So, we were always testing. But at Joyful Dirt, for example, the same search query, indoor plant food, for us is just a good term, good non-brand term. They're new to our brand if we get them, so I'm generally pretty aggressive on these.
My shopping ads for this, I have a couple of products. Three of my products, maybe, would work really well for that search terms. We try to get them up there where it's appropriate. But my click-through rate on shopping ads on Google is about third of a percent. And so, of all the people searching for the term indoor plant food, I'll get somewhere between 0.3 and 0.5 percent of those on my shopping ads. That same exact term I also have a text ad. Text ads get between five and seven percent of the traffic. So, if the search term is one you want more of, text ads going to eat a lot more of it than a shopping ad will. Unless you have the ability to get a monopoly, then maybe the combined shopping ads equals about one text ad. But it's far and away getting a higher volume of traffic.
Jon:
So, is the volume the play here then? And I assume that the cost goes up with that volume.
Ryan:
Yeah, text ads, as a general rule, are more expensive. Horrible generalization. Which is another reason a lot of people focus on shopping ads because it's easier cost per click.
Jon:
Yep.
Ryan:
It's lower. I'll get more volume. But if you just say for every hundred searches out there, if you're only running shopping ads, you might get one of those. And if it's converting at a rate that makes sense, because you're working with Jon, you're getting a great conversion rate, the idea would be how do I get more of those actual searchers because I can convert them. So, if I could somehow go from one out of a hundred of these people searching for the term I know works well on my site, all you're trying to do is get more of that traffic. And shopping can be phenomenal at finding these cool little nuggets because it is cheaper.
Jon:
Yep.
Ryan:
You can cover a larger breadth of volume of searches and see where Google's putting your ad out there because you don't have keywords in shopping. You're like, oh, indoor plant food. Great. I am getting half-a-percent of the traffic and it is making me money. Well, let's get a text ad up there as well and get you a higher volume of those people. Even if it costs you a little more per click, the volume may more than make up for that if you're converting at a rate that makes sense. It's looking at just finding the searchers and looking at data on Google as if they're searching for this, that's the person I want. You're not looking beyond that at audiences and things like that which can add a whole bunch of layers of complexity. But it's every person searching for this, no matter where I'm getting the click, I like it. Let's just increase the volume of those.
Jon:
Okay. Probably one of the things I imagine you see then is that a lot of people are overpaying for clicks. Why is that?
Ryan:
They are, and that's probably causing a lot of the frustration in text ads. If you see your average clicks… In fact, on my non-brand shopping on Joyful Dirt, my cost per click on some of these non-brand terms looking at one of my campaigns is about 58 cents per click. But on the text ads it's costing me somewhere around 90 cents. So, it's from a magnitude of spend per click, obviously it's 40 cents. Yeah, who cares? But from a magnitude of increase, that's 80 percent increase on the click itself, which is substantial.
Jon:
Plus plus when the volume goes up, right, you're paying per click at a higher volume on that text ad.
Ryan:
Yep.
Jon:
It's going to get really expensive real quick compared to-
Ryan:
It is. And that's where understanding how to build a Google Ads account is valuable, and understanding how Google's system works with text ads and this thing called quality score. And we've talked about it a few times and how you optimize for cost or how you be aware of it. But quality score simplified, higher quality score on one to 10, the less you pay. And this morning I talked to a company that was averaging a six, and the average across Google was about a seven. So, above seven, you're paying less per click than your competitors from a quality score perspective, and less than seven, you're paying a little bit of a premium.
And this guy knew more than most about Google Ads. He was the owner and he was managing about $20,000 in spend himself. And I said, "It's not embarrassingly bad that you have a six out of 10, but there's some really simple things you can do in an account from a text ad perspective that would move you probably from a six to an eight by just not even spending a lot of time in there. And that move from a six to an eight will mean a significant difference in your cost per click."
And so, taking my example, if I did have a poor quality score on my Google Ads text ads, which I don't, but let's just say 90 cents was bad. Right? It was like a six and I moved to an eight. It wouldn't just be like, oh, yeah, you increased two point. Okay, yeah, you're going to spend maybe 70 cents a click. It might actually drop to 60 cents a click. It's an exponential increase or decrease one way or the other. It can be painful or really beneficial, improving that quality score.
Jon:
And this is all because Google wants to have the most relevant ads, right?
Ryan:
Yeah. If Google has an area of your ad that's like, this does not relate to that search very well, not good for Google's brand basically is how you have to look at it. It's Google's world, so we're trying to optimize for what Google thinks or says is best. And if it's the right kind of traffic, the key is getting as much volume as possible, the lowest cost possible, and then letting the site do what it's supposed to do.
And so, this morning, the brand I was talking to, the biggest struggle they had was it was it was the owner managing the ads probably at end of the day was the biggest struggle. But the thing he was doing was not… he didn't have enough time. And so, his ad groups over time became bigger and bigger as far as number of keywords in them. And this is a really easy one if you just take one extra step when you're looking at your keywords.
And he was doing what most business owners do is he's looking at shopping queries saying, "Oh, I converted on this. Let me build out a text ad for that." And that's a good way to do it. Not bad. He was just putting that keyword in an ad group that was performing the best saying, "Oh, this ad group gets all these searches here." So, over time he had built an ad group that had started just, I think, as his brand terms. It had absorbed a lot of non-brand terms because it had been performing well because it was his brand.
And so, the same ad was showing for these crazy non-brand searches that were really good for him to be showing for, but he was now showing below the fold because of a low quality score. So, his brand terms were being dragged down. Overall, it was causing a lot more of pain than it could or should have been if he just said, "Hey, I'm going to create a new ad group every time I find a new keyword that I want and think through that ad."
In fact, you were telling me earlier [inaudible 00:09:07] before this about one company that was doing some tests that's not working with you around free shipping or 10 percent off. And that sounds like not something you would do for CRO, which unfortunately they were, but maybe on a text ad. If you actually are doing 10 percent off or free shipping, that headline test is your most important call-out. So, as you read your headline, whatever, in Google Ads, your headline to… Generally, and this still to this day surprises me, that free shipping is one of the best call-outs in Google Ads.
Jon:
Yeah.
Ryan:
I would've thought Amazon made that work for everybody so nobody needs to click on free shipping ads, but it's still will cause a higher click through rate.
Announcer:
You're listening to Drive and Convert, the podcast focused on e-commerce growth. Your hosts are Jon MacDonald, founder of The Good, a conversion rate optimization agency that works with e-commerce brands to help convert more of their visitors into buyers, and Ryan Garrow of Logical Position, digital marketing agency offering pay-per-click management, search engine optimization, and website design services to brands of all sizes. If you find this podcast helpful, please help us out by leaving a review on Apple Podcasts and sharing it with a friend or colleague. Thank you.
Jon:
There's a whole bunch of psychology we can get into behind that, I'm sure. I mean, the reality from a conversion standpoint is pretty clear, that people assume they go to a site, a DTC site anyways, that they're going to have to pay shipping, and it's going to be a surprise cost when they get to the cart. Right? They go to checkout, and then they enter their address. Next thing you know, this shipping charge comes in. So, you're eliminating that fear upfront, which is really the bonus there. Right? That's where the value comes in on that type of messaging. So, it's something that performs pretty well. And in testing, I wouldn't even test it.
It's funny. I did a webinar yesterday, and one of the great questions that came out of it was would you do free shipping or would you say flat rate shipping? And I said, "I would say free shipping and add that flat rate cost onto every product price." Because the consumer's not going to bounce for $2, $3, $4, or $5. Right? It's not worth their time to go research another provider or an alternative to your product. They're already there. So, you're playing this game of how much is that effort worth to the consumer. 99 percent of consumers, five bucks isn't worth their time to go search for another provider that has a similar product. So, if you're a direct to consumer brand, just up your prices a few dollars and include the shipping fee
Ryan:
I'll play devil's advocate to that. So, that works really well. I think, and this would be my hypothesis I didn't want to test, when you're getting a lot of organic traffic and the prices aren't visible beforehand. Because if all of your competitors are selling something for 50 bucks, and you're going to go in at 55 with free shipping, that may not get you the level of traffic you need to have it work because you're priced higher.
Jon:
Right.
Ryan:
My challenge to most companies is suck it up and pay the shipping and go for the lifetime value. Because getting that customer and getting that data, yeah, you might lose, depending on shipping, five to 10 bucks, but you're getting a customer that your competitors aren't getting, and that has to make you feel warm and fuzzy.
Jon:
Right.
Ryan:
If it doesn't, I got a question why you're in business online, anyway. You've got to feel warm and fuzzy for getting customers your competitors don't, because sometimes it won't be profitable. So, the warm and fuzzies are a bit important.
Jon:
Yeah. Well. I can agree with that. I'd also say that if you're a competitor at all, right? And if you're going to be in e-commerce, you darn well better be a competitor. And I think in that case, it's just going to feel good to get the win, right? Yes, warm and fuzzy that you got a sale, but warm and fuzzy that you kept a competitor from getting a sale.
Ryan:
Yeah.That's where my warm and fuzzy comes in. If you're not there when somebody searching for what you want. So, this is how I look at it with Joyful Dirt. If indoor plant food, if I am not there, I have no shot at getting that customer because I don't have an organic or paid, whatever it happens to be. If I'm not on that page one, good luck on Google. It's just not going to happen.
Jon:
Right.
Ryan:
And so, you play the odds and play the numbers, which I do. So, I have to be there and understand that I have to remove every barrier to conversion that I can. If I might lose only one or two percent of my converters because I don't have free shipping, I don't care. I'm going to have free shipping.
Jon:
Right.
Ryan:
And now I'm playing the lifetime value game and trying to bring them back through email and loyalty.
Jon:
Yep. Yeah, I think that's great. And I also think it matters if you're in a commodity marketplace. Right? If you're in a true commodity, then you probably are already competing on price. Right? You're the gas station on the corner. I can drive up the street and save 10 cents. I might do that because it's no skin off my back. Right?
Ryan:
Yeah.
Jon:
But if you're selling a boutique product or something that is higher end, like Joyful Dirt versus a big fertilizer company. Right? At that point, it might make sense to bake in the shipping costs.
Ryan:
Exactly. That's where I think if you're not competing head to head against a hundred other retailers for the same product, you're going to have to figure out how to probably eat some shipping. But if you're creating a brand that's competing against other brands, not my product versus theirs, not my product times 10 other retailers plus their product times 50 retailers, then I think it does make sense. You can easily bake shipping in there and do free shipping.
Jon:
Okay.
Ryan:
100 percent. And my wife and I have this tension a lot with her because she's a retailer. And she's like, "I'm not going to eat the margin on shipping." I mean, you might have to.
Jon:
Yeah.
Ryan:
And so, she's constantly testing shipping thresholds. I feel the pain of retailers in that thing. You're selling the same thing a lot of other people are selling, and you have to figure out if you're not nurturing your customers to the way you… all the potential that you can, in many cases you're looking at that margin on that first order. And if there's not enough margin there, you have to cut it.
Jon:
Yeah.
Ryan:
And it's painful, that shipping conversation. And you can't always look at big competitors on that, either.
Jon:
Yeah.
Ryan:
She looks at some of her big retail competitors or big brands in retail like, well, they have this flat rate shipping tier that if they spend $125 they pay this, if they spend $200 they get this. And I was like, "They built a massive brand, though. And they get a lot of people searching for them that they don't need to get a bunch of new to file customers as you do."
Jon:
Well, plus their shipping rates are way less because their volume is so massive. Right?
Ryan:
Yes.
Jon:
And their logistics side is just so massive that there's economies of scale there that a local retailer is not going to have. I know we got off topic here from these Google text ads a little bit, not that that isn't valuable discussion. But I'm wondering, why are you having to remind companies that text ads are still there? What is it that you keep having to remind them about? I'm still trying to wrap my head around if I'm a company and I'm doing text ads, but now I'm moving on to shopping and now I'm moving onto YouTube, I'm doing all these social channels, everything else, do a lot of brands turn off their text ads? I mean, is there a reason that you have to remind them that the text ads are still there? Is it just one of those things that people set it and forget it and it just doesn't get optimized?
Ryan:
I think more often than not it's the set and forget it companies that have to be reminded a bunch that these are there, and it becomes a time function internally where they just don't have the time or the bandwidth to get in and really focus on text ads to make them work better. So, over time, competitors push them down or they just gradually stop working and spending and their quality scores degrade. And the shopping becomes easier to keep on top of, like getting the product feed in there, making sure that's working. If they're using target ROAS on shopping, which for many companies is not bad. Because there's a lot more easy buttons on shopping.
I think years ago, one of my competitors created an automatic ad group building system that was, I think, 12 years ago. Revolutionary. It was like, whoa, we can build out these ad groups based on converting queries automatically, that your account's going to get big and massive, but we're only building out converting queries. I'm like, that is pretty cool tech 11 years ago. Now it's not that unique and not even that valuable anymore. But it's the manual work that has to be done because there's no at this point quality shortcuts that I've seen that's going to be able to put…
There's some technology emerging. There's a couple partners of ours that we're staying on top of this technology that they're developing that I think is going to be building out some text ads pretty at scale fairly well, or finding waste pretty well, and optimize some bids. So, there's some cool things coming. But for the average business owner or business, just having us comb through search queries, understand that building out single product or single keyword ad groups make sense from a quality score perspective, and just having to be in it and knowledgeable about it, it's frustrating at the least and just unbearable at the worst where you just forget it.
Jon:
Yeah.
Ryan:
I'm doing okay with shopping. Keep it there. So, the business owner I talked to today was just like, "Look, it's just become too much. I'm not doing as much as I could." A lot of companies that have agencies are probably not ignoring it. If there is an agency ignoring it and… There's a couple of agencies that just do shopping. That's where I would challenge you to… you need somebody that's doing some text ads. You can't only be doing shopping in e-commerce.
And even those systems I'll call them that are doing text ads or shopping at automation are having to do text ads. They're having to hire people which they were built, I don't know, five, six years ago, specifically to be this wonderful system that was just going to make your business work in e-comm by running shopping for you. It was the easy button for that. And then they're realizing that to win an e-comm, you have to be able to do text ads, and that is a human capital endeavor.
Jon:
Right.
Ryan:
And they're struggling mightily at doing it.
Jon:
I can understand it's a challenge. I mean, it's like a unicorn to me, anyway. It's like I have no understanding of how to do text ads appropriately, and that's why I'm learning so much talking to you about this stuff. What else has been left out? Anything else that you feel like we should touch on?
Ryan:
I would just say that you have to be… I use the term probably dancing with the devil sometimes, probably too much. Google's not the devil, but you understand the Google's goals are different than yours. Their goal is not specifically to grow your business. They've never stated that. They have shareholders, and they're one of the most valuable companies in the world because they're very good at helping people advertise. Google's platform is awesome. But if you assume that all these things that Google has available to you as a business owner in Google Ads is designed to help you just by turning it on or using it, you're mistaken.
And so, within the text ad space, like the nuances of punctuation in a keyword as you put it in there has a massive impact on what that keyword does. And I know it because I'm in it all day long. But most business owners are like, oh, I want a show for the term indoor plant food. So, I type indoor plant food, put it in there. If you didn't put punctuation around it, you're showing for any level of keyword involving indoors, indoor air, indoor food.
Jon:
Yep.
Ryan:
Can I eat food indoors? You might show for that term with the term indoor plant food if it's broad match. And so, it's not Google's fault because there is some value to those broad match terms in the right scenario, and so that's why they have it in there, but it's also the easiest one to put in there and light some money on fire. And so, it does take work. And my general rule of thumb. As a business owner, if you're managing your Google Ads account, if you're getting to that $2,500 a month spend, it probably makes sense to have an expert doing that for you. And you and I last week at last podcast talked about the time value and how much is your time worth. If I can spend some of my time doing it. I don't even know. Maybe it was after the podcast we were talking about, hey, what's the value of my time? Does it make sense to hire somebody to do my lawn? Well, if I can have somebody doing the lawn and then spend my time doing something of a higher value, hanging out with my family, my kids, working on businesses, then yeah, generally it makes sense to do that. And so, at Logical Position, for example, we'll charge somebody $649 to manage $2,500 in ad spend. That's not an untenable cost for that amount of money, and the return could probably be there and helping improve the account to that level.
Jon:
Right. Yeah. Could you make that 600 bucks back by optimizing? Most likely, right? Especially if you can get your ad score up like you were talking about at the beginning of today, from that six to an eight and save that money with every click. So, that's great.
Ryan:
Yeah, you'll be saving money, but you'll also be saving time because he was a business owner. Either you feel guilty because you're not doing it and you know you should because it's helping grow your business in Google Ads, or you're wasting a bunch of time in there. Do the math calculation on how much time it's taking you to do it versus $649 for somebody else to do.
Jon:
There you go. Well, Ryan, on that note, thank you for schooling me on text ads today. Appreciate it. I look forward to continuing the conversations on how to better spend my money on ads so that I'm not lighting it on fire.
Ryan:
Don't light money on fire, it's never fun.
Jon:
Thank you, Ryan. Have a great day.
Ryan:
Thanks, Jon.
Announcer:
Thanks for listening to Drive and Convert with Jon MacDonald and Ryan Garrow. To keep up to date with new episodes, you could subscribe at www.driveandconvert.com.
About the Author
James Sowers
James Sowers is the Director of The Good Ventures. He has more than a decade of experience helping software and ecommerce companies accelerate their growth and improve their customer experience.