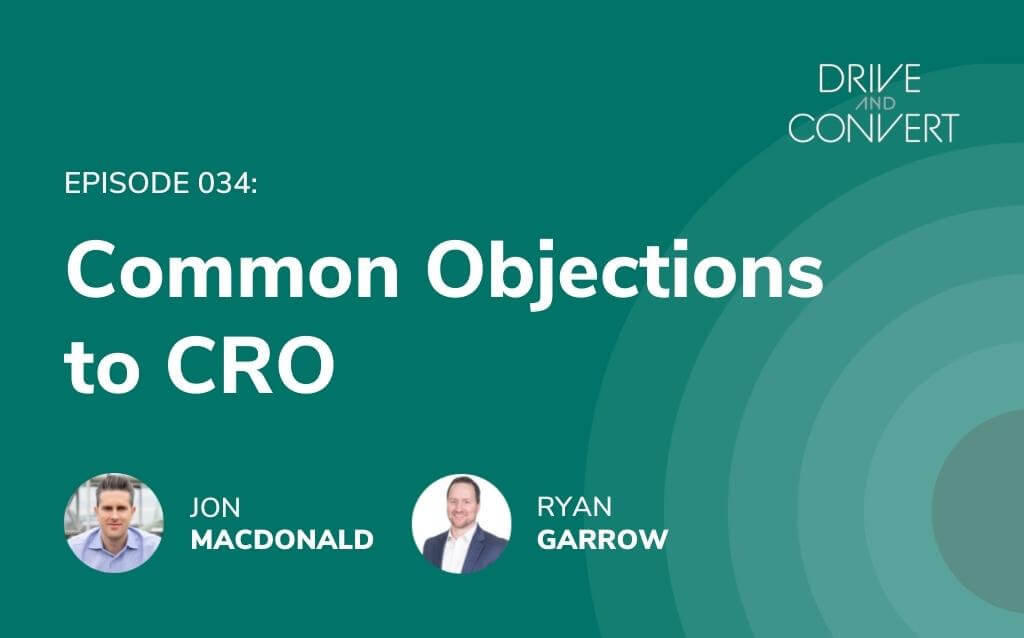 Drive & Convert
Drive and Convert (Ep. 034): Common Objections to CRO
Digital marketing can start the fire, but CRO adds fuel to the fire. Yet, it seems every business has this bank of excuses on why CRO can't happen now, or why it doesn't make sense. Today Jon overcomes these objections and explains why CRO can be of such a high value to your business.
Listen to this episode:
About This Episode:
Digital marketing can start the fire, but CRO adds fuel to the fire. Yet, it seems every business has this bank of excuses on why CRO can't happen now, or why it doesn't make sense. Today Jon overcomes these objections and explains why CRO can be of such a high value to your business.
Episode Transcript:
Announcer:
You're listening to Drive and Convert, a podcast about helping online brands to build a better e-commerce growth engine with Jon MacDonald and Ryan Garrow.
Ryan:
All right. Welcome to Drive and Convert. Jon, you and I, we own lots of businesses or at least I own lots, you own one bigger one. But both of us in our business day to day work, we're basically glorified salespeople most of the time.
Jon:
Right.
Ryan:
And yeah, we like to be thought leaders and do cool stuff and talk, but you have to sell things to keep the lights on in business. And in that regard, we get told to know a lot. It seems everybody's got this bank of excuses on why certain things can't happen now, or it doesn't make sense. I've heard everything in my 12 years in the digital world about digital marketing and SEO, all this stuff, but I've not been on your side in the CRO world. And I'm betting, there are some pretty interesting things that people come up with as an objection to doing conversation rate optimization. And in fact, I've probably said some of them to you myself, about my own sites and CRO, almost guaranteed. But I'm curious to hear, and there's probably some questions you can answer for people that their gut check for CRO would be it's too expensive or any of these other things.
And so what I'd like to hear from you is what are the common objections that you hear to doing CRO whether that's even just themselves or with you, and then how do you respond to those and get people over that so that somebody can listen to this and then come to you without those objections anymore. But at the end of the day, I really want to know how do you communicate CRO to the stakeholders? Because a lot of times you're going to talk to somebody that's not even the owner of the business or the executive that's making the final say. So you've got to have somebody tell a story above their pay grade. And that I know the game of telephone a lot gets lost in that translation. So I'm excited to be educated in the world of overcoming objections or reasons you can't do something in CRO and the conversion world.
Jon:
Well, thanks. And I think this is one that we both have a challenge with and wherever your team speaks to folks about why their ads aren't performing as well as they could be, it turns into a conversion challenge, most likely, right? And so that's when it kind of, I always say it, it's adding fuel to the fire, right? You guys start this great fire. And then if you really want to have the site converting at a high level so that they can add fuel to that fire, that ends up being where you often say, hey, you need to talk with Jon. And I'm sure when you say that, you hear your own objections to why. Oh, no, I don't need to talk to Jon for all these other reasons.
Ryan:
Or I'm just too small, but what people miss, I think, in the conversation is just the logic that's in play. Okay, as you push harder on marketing, you get people that are less qualified or less interested just by default because you've covered the people that are actually looking for and you're getting to what they consider non-brand. And inevitably you're capturing more traffic that's going to convert at a lower rate. I tell everybody I can increase their conversion rate tomorrow if they're running paid search by cutting off everything but brand terms.
Jon:
Right.
Ryan:
I can do conversion rate optimization just by cutting off traffic that doesn't convert as high, but that's not what you want to do as a business that's growing. And so rather than my version of CRO, or hey, if you want to grow and be able to perform better at more broad terms, you need to remove friction on your site. The logic gets lost somehow in business owners, as they're thinking about their site and where to put that next dollar, not realizing that next dollar, if it goes to CRO, it makes everything else look really good.
Jon:
Yeah. Well, why don't we jump right in? I think you and I don't need to convince each other, right?
Ryan:
No.
Jon:
So I'll try not to convince you today, but I'll just preface all of this with saying that it's never about convincing a brand to do optimization. Right? I think that there needs to be a clear mutual fit in whenever I'm having one of these conversations. And for me, it's about, can we move the needle for this brand? And if we can, are they bought in enough to be able to stick it through and see that happen? See the results, right. Because optimization, yeah. There's some quick wins, there always are. But it's something that is an iterative process over time. Right. And I think looking at those two aspects, I hear a lot of objections, so maybe we just hit up the list.
Ryan:
Yeah, so what are the most common that you hear?
Jon:
Well, I think the biggest one is we have all these changes and issues that we know about and we want to make all these changes to our site. And then after we do all of that, I'll start optimizing. So I see the value, but I need to get this list of quick fixes done first. And to me, that's no different than saying, I'll start working out with that trainer tomorrow. I know I can go lift a few weights on my own and hit up the Planet Fitness and I'll be in shape. Right. It never works out that way. The accountability is not there, the specialty of knowing what exercises to do and how to do them properly. Right. So there's all of these things I could say.
It's like saying, I'm going to follow that meal plan next month. And I'm going to just cut back on the treats right now. And then I'll lose five pounds I've been trying to cut for the last two years and then I'm going to really get in shape. Right. None of those things drive sustainable results. And sure, I think a lot of brands may be better off than they were before they took all these actions. Right. But some action is surely better than nothing at all. So I'm glad they're doing something, but even professional athletes have trainers and nutritionists to go back to those examples that help them sustain and reach their full potential. So I think they need the same for their e-commerce website. And so I think it's interesting when we see people in this position and this situation, knowing that they need to optimize their site, but there's just this lingering to do list that's just hanging out there. I really ask them to consider a handful of points of view. And it's really just thinking about how long will it take him to get to those projects. Right?
Ryan:
Well, in reality, is there any logic from your perspective that says you can't do them all at the same time or does one have to come before the other generally?
Jon:
Well, okay. Let's go back to the weightlifting. Can you lift every single muscle group at once? No.
Ryan:
I mean technically, but it'd be bad idea.
Jon:
I mean, you might end up like a pancake. I don't know.
Ryan:
Wasn't that that random machine on the airplane that you can see in the book that has all these handles and everything? It's like, oh get the full body workout in three minutes. Maybe.
Jon:
It's like the ab blaster, right. Or what is it? Three minute abs now or whatever. Right. Look, the reality is that I think if you work with a professional, you're ensured that those things will happen. Yeah. There's no guarantees and there's bad professionals just like anywhere else. But the reality is if you ask a handyman to come and knock out that home repair to do list that your spouse has, has magnetized to the fridge for the last two years. Right. If you hire that handyman, it's just going to get done and you know it's going to be done well because they've done it a hundred times. Where you're going to have to go to the hardware store five trips because you keep forgetting that screw you need, or you don't have the right drill, whatever it is.
So I think that that's really important. I also think it's important to ask themselves the question, who's going to be working on those projects? Right. And I think when you bring on these experts to optimize, you should find that it takes less time and is more successful. That handyman that you're hiring, like I said, they've hung that shelf on your wall a hundred times and they know how to ensure it doesn't fall in the middle of the night and wake everybody up. So I think it's important that you wonder, who's going to do that? Is it going to be you, the brand e-commerce manager? Unlikely. Maybe you can do some easy things, but the chance of you truly diving deeper is pretty slim. So I also think that people should be asking themselves how they know the items that they have on their list are even the right things to focus on.
Right. We get in and it's not uncommon for us to work with a new brand. And the first thing they do is bring a list of ideas to our kickoff meeting and say, these are the list of things that we've been trying to accomplish that we know need optimized. And they just haven't gotten around to it. Almost every client comes to us with that. The challenge is we go in and we say, yeah, we'll take into consideration this list. We don't want to dismiss any of these ideas, you know your customers well, we're just coming into this, but we got to keep our eyes wide open here.
And so we complete our research and do our data analysis. And the reality is we almost never recommend starting with that same list that was provided to us. Almost never. Maybe there's one item on there or something, but almost never is it the highest impact or highest return on investment areas? So the reality is if you're bringing in an expert, they're going to use data and just not their intuition. And that's hard for an e-commerce brand manager who really has a challenge getting outside that jar that we talk about all the time. Right.
Ryan:
One of my favorite examples of you in particular with the company I know well, Inmod, where you and I were on stage in New York and Inmod is really excited about their site and how great they are on, I think they were on Yahoo or something. And they did, they have this list of things they wanted to accomplish and then you did an analysis in front of everybody and it was their imaging that was having the problem. And they were really proud of their images. They took all of them of all their couches and chairs and they're like our images are great. You're like, your images is hurting your conversion.
Jon:
Yeah. This was the classic that they had put the shiny gold object in the picture when they're trying to sell a couch. And the problem was the sofa just got overlooked because all the eyes were drawn right to the gold mirror, behind the sofa for instance. Again, it's really hard to get outside that jar, right. They're like, yeah, we got to set dress this and make it look nice and bring in a designer. It's like, great. Well, the whole point of that designer is not to sell a couch. It's to make the set look good. What are you trying to do?
Ryan:
They should have been selling mirrors because they would have sold a lot of mirrors with that picture.
Jon:
Yeah. That was a fun one to do.
Ryan:
Go back and find that picture and be like, can I sell that mirror?
Jon:
Yeah. That was a fun one to do. I remember he emailed me a couple of weeks later and he's like, we went in and edited out everything out of our photos, it's working a lot better now. It's like, I'm sorry you spent all that money doing a photo shoot that you didn't need. But here's the fourth thing. There are a lot of other things that these e-comm managers could be spending their time on that's going to really, truly net them a better return on investment. If they hire an expert to come in and run their optimization or to tell them what to do first, there's going to be an opportunity cost to them trying to optimize themselves. Right. And so I think there's cost in having the wrong list and not attacking the highest opportunity areas. I think there's cost in spending more effort and time than needed, which an expert can do things pretty quickly.
And I think there's cost in not seeing the same results that an expert would unlock just in theory. Right. So even just, I think cutting out the cost of stress of always having that to do list sitting there, I think you ask any spouse who has a to-do list, right? Been on the fridge for a few years and every time they open the fridge, I mean, there's a reason that my wife puts that list on the fridge. Right. Because every time I open the fridge, what she knows I'm going to do, I'm going to have to see that list. And it stresses me out every time, but I know I'm never going to get it done. Right. So eventually I just hire someone and they come and take care of a bunch of the stuff because it's easier and it saves my marriage. Right. But the reality is all that stress adds up. And I think that I could be spending my time on more valuable things perhaps. Right. And so not doing that as leaving countless money on the table and unrealized revenue and conversions.
Ryan:
Yep. I think as a business owner myself and on a marketing level and even as the husband and father, you've got that time money equation and I'm super cheap, but I also have limited time. And so that's a constant tension in my world. And if I realize I could have spent 500 bucks and gotten this done and I would have been able to enjoy the other things I'm actually good at. And so as a business owner, I'm not good at certain things and I realize it, but maybe I'm trying to bootstrap something and realize that if I could just get it kind of as is, and that I can be fine to go back to what I really enjoy.
Jon:
Right.
Ryan:
It would be so much better if I just got out of that and was like, just somebody better than me in this take this from me because it's worth it for me.
Jon:
That's exactly it.
Ryan:
If I had to give up some of that bottom line profit to just have a better business and less stress, unfortunately I don't make a lot of my decisions that way as I should.
Jon:
Yeah. Well, someone taught me a lesson when I was younger that was really valuable. And it's what kind of revenue can I generate with an hour of my time? And if I think about it that way, I should be outsourcing everything that does not make me that money. Right. And everything that would cost me less. And then I get the margin. So meaning like, hey, if I could make a hundred bucks an hour, right. And I can pay somebody 20 bucks to mow my lawn and it's going to take them an hour, in theory, I've made $80, right. Because I should be doing something more productive with that hundred dollars in terms of time. Right. And then it costs me $20 to get the task done. So now that task is done and it only costs me 20%. I have an 80% margin on my time. And I think that's an interesting way to look at this as well for econ managers. What are you losing? And what is that margin on getting these things resolved?
Ryan:
Yep. That gets an analogy that none of us in econ pay attention to because we're so stuck in looking at screens.
Jon:
For sure.
Ryan:
And numbers and not thinking through what could I actually be doing to generate money in the other areas.
Announcer:
You're listening to Drive and Convert, a podcast focused on e-commerce growth. Your hosts are Jon MacDonald, founder of The Good, a conversion rate optimization agency that works with e-commerce brands to help convert more of their visitors into buyers, Ryan Garrow, of Logical Position, a digital marketing agency offering pay-per-click management, search engine optimization and website design services to brands of all sizes. If you find this podcast helpful, please help us out by leaving a review on Apple podcasts and sharing it with a friend or colleague. Thank you.
Ryan:
Again. We're on the money thing. So I bet because it is in every possible sales scenario or business scenario, price is an objection. How do you get people beyond that?
Jon:
Yeah. I think the investment level that is needed to do this right can often be a challenge. And I think that this comes down to folks just not calculating the return on investment. It's that plain and simple. If you look at this from a return on investment, there is nothing else in marketing that it can net you such a high return on investment and get so close to the money.
Ryan:
I hate it, but that's true. Because I want the answer to be paid search paid social or SEO, but its not.
Jon:
Well, I appreciate that. You're a bigger man than me. I would've fought it to the teeth. But I will say this Ryan, that the reality is that we're talking about onsite, right? Offsite, yeah. I mean, we don't have [inaudible 00:15:43] anything off-site. Can we improve the offsite numbers? Perhaps, I think that's where the fuel to the fire comes in, right? Where you're going to need both eventually. But the reality here is when you're talking about onsite experience, there's really nothing that can get you as much of a return on investment. Not that app of the day that you see, not the trick or hack that you need to deploy. You know what's the only thing that's going to get you closer to the money is discounting.
Ryan:
Oh, I thought you were going to say [inaudible 00:16:08]
Jon:
Yeah. So if you really want to just do this overnight, just knock your prices down 50%. Right. But then your return on investment is going to be down dramatically. And so I think that it's one thing that folks don't think about is that what's the return? Yes. You have to spend some money to make money, right. But that's e-commerce, you've got to buy the inventory or you've got to pay for the traffic. There's a lot of ways in e-comm to make a boatload of money, but you've got to spend some money to do it. And then once you start getting over that hump. That initial hump, which most of the brands who are considering optimization, they're over that hump, right? They already are spending money to drive traffic. They already have sustainable traffic levels.
And at that point, it's pretty simple. We can come in or any optimization services can come in and can really move the needle and prove it by being so close to the money, right? If you're doing grid optimization, you're working with an expert, they're going to track every click and movement. They're going to have tons of metric and data. And they're going to be sharing that with you on a regular, at least monthly basis. And what that means is there's no running from those numbers. They should be earning their keep every month and it's going to be very clear if they are, or they are not. And if it's not clear, you need to ask for more data because that should be shared.
Ryan:
Yeah. There isn't a marketing thing that touches social channel traffic optimization, organic. If your entire site conversion rate is better than spending more money on shopping. Unfortunately, for what I like to plan it allows you to spend more longterm.
Jon:
Yeah. Exactly. Right. Because that return on investment, you can then go back and re-invest, let's take the hourly spend thing I was talking about earlier. Okay. I paid someone $20 to mow my lawn. I now have made $80 in theory, right. It was my hour of time. I was doing something that I could make a hundred dollars an hour doing. Well, now I have that $80 I could reinvest. Right. And so I go and I invest that $80, excuse me. That $80 is starting to make me money. Well, I'm generating another hundred at the next hour. And you just start compounding that over time.
I think the best way to think about this is just like a retirement account, right? You're collecting conversions and you continually optimize. And as you're optimizing, you're continually building up and you're eventually just going to see a really good, sustainable return where you're able to invest in more traffic and then you're able to convert higher. And it's just a continuous circle of invest in traffic, convert higher, reinvest the earnings into more traffic. Right. And you can spread that out and go across channels. You can start optimizing email, you can start optimizing social, you can start optimizing paid or SEO or any of these other things, right? So it's a flywheel, if you will. I hate business terms like that. But that's what it is.
Ryan:
I'd probably simplify it too much, but it's just an equation on my end. If you're spending, I'm going to make this up, 20,000 to generate $40,000 of revenue on non-brand shopping where you're acquiring new customers, really where conversion optimization helps. And instead, you're going to spend 25,000 for a few months because you spent 5,000 on conversion optimization to generate 40,000, conceptually. Very quickly, your conversion rate on that same $20,000 of investment on paid search is going to generate 50,000, which allows you to invest more in that paid search to acquire more customers, which gets you a larger email database, which it is a flywheel. But if you think about increasing conversion rate where you can compete with your competitors, and if you're like me and you're hyper competitive, I want to destroy people on non-brand shopping and get those customers because they're showing the intent that they want my product.
But if I can't get the return of at least break even, I'm losing money, spending money on that to get them. So I need to pull back competitors that are converting better, get to keep playing. And I don't. And that makes me angry, as a business owner and how competitive I am. But that's where I see it, if you can't play there and there's other people playing there, either they're accepting a loss of money like you weren't willing to do. Or the conversion rate optimization is better and they're able to keep playing and you have to take your ball and go home at that level.
Jon:
Right. That's great. And I think that's exactly where there's a lot of calculators out there that will help you do that math. But I think that it's pretty simple, right? And like you're saying, just take the earnings and reinvest it and you'll continue to grow, grow, grow in most cases.
Ryan:
Yep. And all you want is those emails and loyalty programs keep printing money.
Jon:
Yeah. What objections do you hear? I'm sure there's a couple that you hear when you say, hey, I'm going to introduce you to Jon?
Ryan:
Well, Either they don't like you already, so you can't help that. Just kidding.
Jon:
Yeah, well I'm not very likable.
Ryan:
No, I actually have never heard that, thankfully. Which is why we're partnered well, because you're smart and you treat people well, which is what is important in this industry.
Jon:
I appreciate that.
Ryan:
Or else they're not going to work with you, but I do have people think that they're already optimized or there's not enough that can be done. I'm on Shopify, there's not enough to do. It's designed to convert. So I'm done.
Jon:
Yeah.
Ryan:
Okay, how do you know that? I don't know. Go talk to Jon and figure that out. But that would be an objection I've heard.
Jon:
Yeah. That's a good one. The reality is if Shopify is optimized, why does it have the massive app ecosystem that it does, right? Why are there so many apps out there to alter Shopify if it's already a hundred percent optimized? So my point of view on this is that you are never optimized, you're always optimizing, right? So if you don't know what your customers are looking for or what they're doing on your site, you're starting from 100. But if you have a good understanding of analytics and you've already optimized based on user interactions, now you can step up to 101 and you can start looking at things like what's that post-purchase experience? Or even hey, what are my landing pages for specific campaigns doing? Right? Now we need to start optimizing those or dive really deep. What's our product detail page look like? And how should we be overcoming objections and arranging the content, right?
There's always something, right. You're going to come up with new products. You're going to have to optimize those pages. So I'm a firm believer that you're never optimized, you're always optimizing. So when somebody says, I'm already optimized, I say, okay, you are? Maybe you think that, and lets just shits and giggles you are today. Right. But what about tomorrow? When user behaviors change, when the e-commerce ecosystem changes, when Shopify comes out with that update to now have shop pay in your checkout. Oh, you weren't expecting that, were you? What happened? Right. So this is my point is things are always changing in e-commerce. And so there's good opportunity there in my point of view.
Ryan:
Oh yeah. And I think if you make some assumptions, but I'm pretty confident that for example, Google and Amazon hire some highly intelligent people and they have a disgusting amount of data, more than anybody listening to this with their own business, I guarantee Amazon and Google have more data than you, they're optimizing constantly. I mean the Amazon platform hasn't stood still, despite being arguably one of the better converting things out there for e-commerce. In fact, I think, what was it? Last week where my Amazon app turned brown.
Jon:
Yeah.
Ryan:
I was like out of nowhere, I now have a brown little package sitting on my phone, I thought I lost my Amazon app, actually. But there may have actually been some logic to that in testing somewhere else that actually said we should be a brown box.
Jon:
That's what people know. If you see a brown box with the little smiley face on it, you assume it-
Ryan:
You know Amazon.
Jon:
Right. And the thing to understand about Amazon is they once changed and did some testing on the background color of their pages. And they were finding the right hue. They AB tested or multi-variate tested something like 200 different shades. And it's hardly even perceptible to the eye. Right. But they ran this test over time. And then one day, instead of just changing it, they did over the course of time, migrated to that color, went through all the spectrums so that it did not disrupt users. So they said, hey, this converts better, but we don't want people to show up at our site and think that this isn't Amazon.
So we're going to make this change subtly. And so they just set it up so that it gradually changed that color over time, you don't have the time, the resources, or unfortunately even the stress to be able to do that. Right. And that's what you're saying. They have a lot more data. They do. A hundred percent, they have more data. They have a hundred people doing optimization for them. Right. And so I don't think comparing yourself to Amazon is a healthy thing to do. But I do think that you should understand that if you're going to complain that Amazon's coming in and eating your lunch, you might want to do something about it too.
Ryan:
Yeah. And I don't make assumptions about every business, but I'm pretty confident that Amazon is not in the business of just losing money because it's fun, but they want to invest where they're going to get a bigger return and they've got the data to back up that continued optimization on what most people would arguably say is better converting than whatever you're using as you're on your website. So take a hint from somebody to say, maybe this does make sense.
You're not already optimized. If Amazon's not optimized, I guarantee you're not optimized, would be my takeaway there. The other one I would say is to a degree, took care of the people that say that I can just do this on my own, or I can read a book and do it, but you need the experts to do it. But it's almost like I can test and measure and see some of the data or I don't need all of that user testing in place, which would indicate I can do it for less money than say the experts at the good. Which yeah, you can do things cheaper all the time, but you have to get some of this user testing stuff done to make conversion and optimization work. And that's where people get hung up a lot of times, I think. It's that stupid thing we talked about multiple times, the blue button, orange button or something like that.
Jon:
Well, I think this goes back to brands thinking they know their consumers extremely well and they may know their consumers well, but do they know what objections their consumers are having on their website? What challenges are they facing? And that perspective is just extremely hard to obtain without some outside help. And it's not optimization if you're not taking that into consideration, it's just not. You can do everything else and see some change. Right. But let's just say, 20% of the possible opportunity is found in just making changes that you think are there, the other 80% are going to come from your consumers. And so you're missing a huge opportunity if you don't get them involved. And so it's really, really a challenge. And quite honestly, when I hear that, I often think there's a culture issue at a business, more than anything else. And that's where earlier I was talking about things need to be a good mutual fit.
When I hear something like that, I often say, okay, this might not be a good fit for us because they aren't going to want to listen to what we hear from their consumers. And we worked with a massive printer brand and I'll spare the names at this point. But I will say we worked with a massive printer brand and we did some testing and talked to some consumers and came back and said, this needs to change on your product detail page. It's too hard to find the right ink for these printers. And people can't find it any other way, but going to the printers page and on that printers page, you've made it impossible for people to see what they need for supplies. And they're like, yeah, but they're buying the printer, not the supplies on this page. And this is how we've always done it. And we're a massive corporation excuse, excuse, excuse.
Right. And they said we've done it always this way. We don't want to change it. I said, that's fine. I hear you. Let me go talk to some consumers. We'll come back in a week and let's see what you think. And they said, you know what? You're not going to change my point of view, but yeah, sure. Let's do it. And so then that turned into all of the sudden where, what we ended up doing was going out and doing some user testing. And we said, hey, we're going to record videos of people actually engaging with the site and then we'll figure it out from there. We came back a week later and we had chopped up a video of people using the site and providing feedback from user testing. And I put a little ticker down in the bottom corner of the video so that every time somebody abandoned, because they couldn't find the right ink, then at that point I was like, okay. We were up to several thousand dollars at one point in the video and it was only 15 minutes long, of these people having these problems.
And so I took that video in and we shared it to the executives and the executives are like, it took four or five minutes of seeing that ticker count up and people getting really frustrated and they finally got it. And they said, okay, let's fix this. Right? And I think often that goes back to the money situation, right? It's either the money or it's having a really good understanding of what is that return on investment and the sympathy for their customers, which a lot of brands just don't have, especially the bigger corporations, right. That gets lost in the mix.
Ryan:
Got it. Well, Jon, as per usual, I'm enlightened. I know more about conversion rate optimization and the processes than I did half an hour ago. So I appreciate that the download and the help, and hopefully some other people realized the value of Jon's addressed some of your objections on this, but he's right. Conversion rate optimization will touch all channels on your site, not just the ones I like. And so it's probably pretty valuable and you should be doing it.
Jon:
There we go. Well, thanks for the discussion today, Ryan. This is great as always and happy to chat once again.
Ryan:
Thanks Jon.
Announcer:
Thanks for listening to Drive and Convert with Jon MacDonald and Ryan Garrow. To keep up to date with new episodes, you can subscribe at www.driveandconvert.com.
About the Author
James Sowers
James Sowers is the Director of The Good Ventures. He has more than a decade of experience helping software and ecommerce companies accelerate their growth and improve their customer experience.