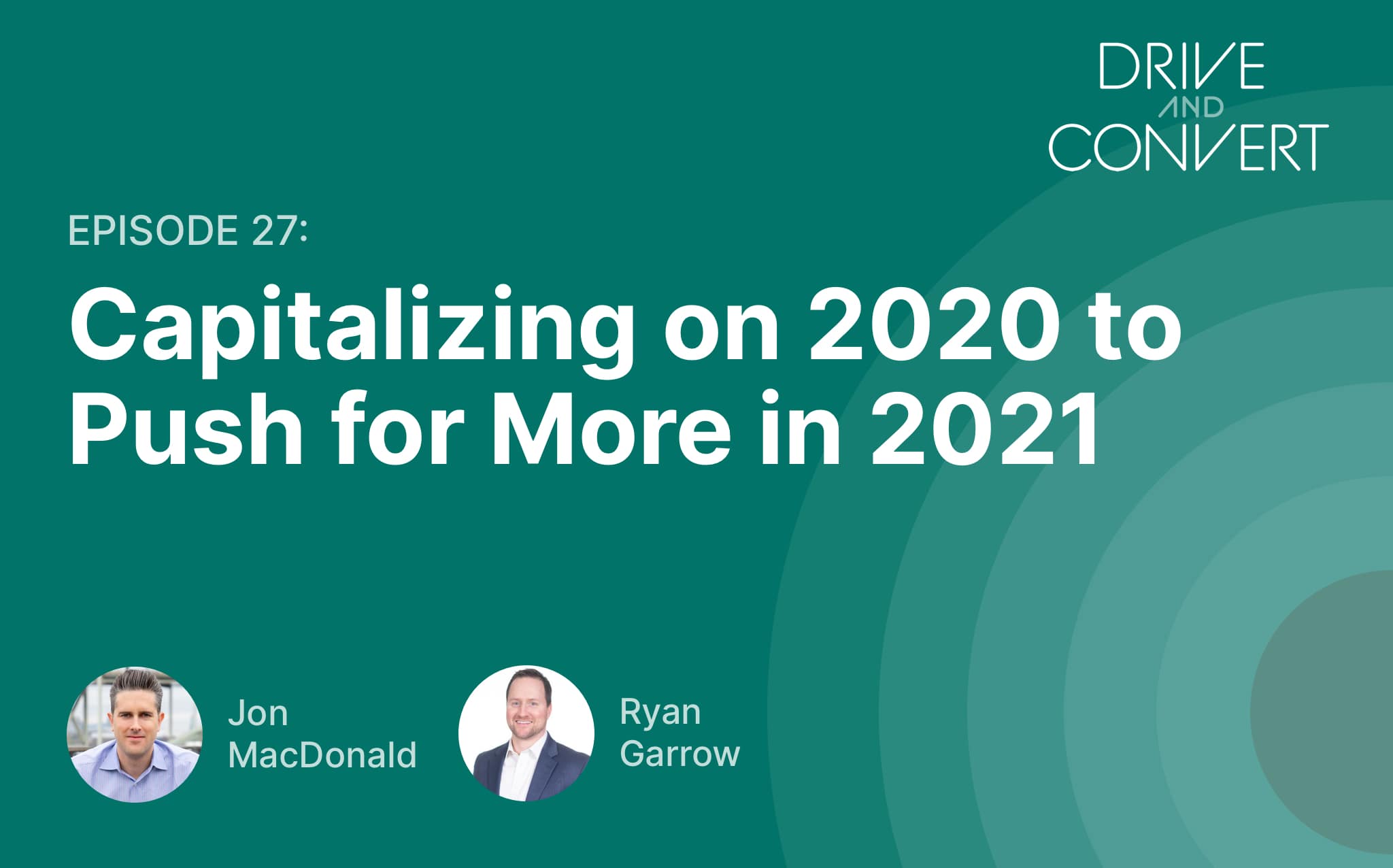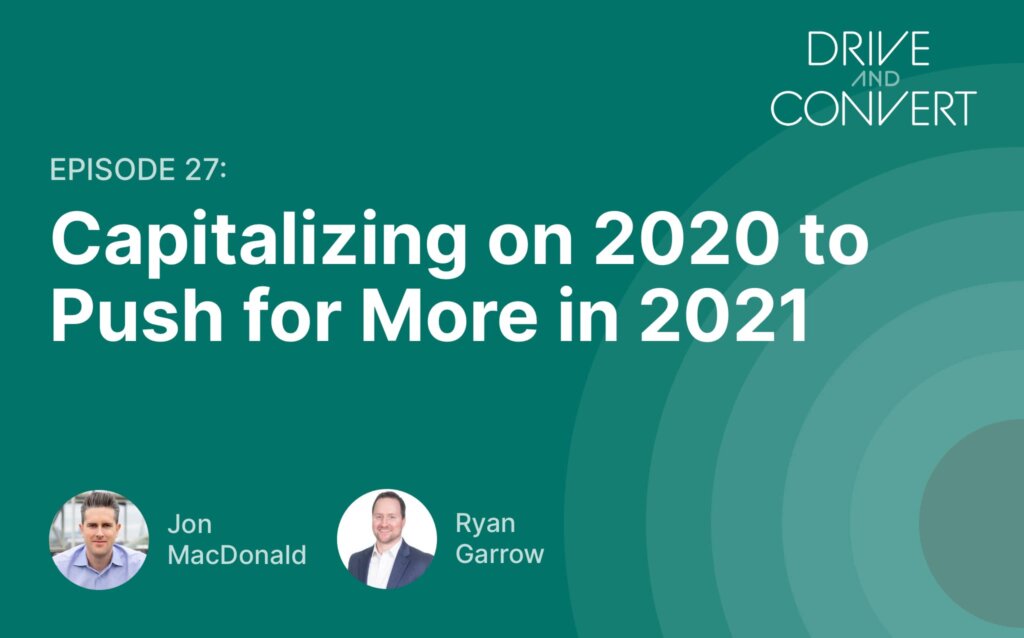 Drive & Convert
Drive and Convert (Ep. 027): Capitalizing on 2020 to Push for More in 2021
The official data from the Census Bureau has stated that through Q3, e-commerce was up 32% year-over-year in 2020.
Listen to this episode:
About This Episode:
The official data from the Census Bureau has stated that through Q3, e-commerce was up 32% year-over-year in 2020. By no means should a company complain when they're up 32% during a pandemic, but there are times when a company should be concerned when they have 32% year-over-year growth. That sounds backwards, but business owners and marketing teams should have regular fear of missing out or FOMO, to help make sure that their brands aren't falling behind their competitors. Even when the numbers look good. That's the best time you can have all the cash in the world to reinvest. Today Ryan shows you how to push for more in 2021.
Episode Transcript:
Announcer:
You're listening to Drive and Convert, a podcast about helping online brands to build a better e-commerce growth engine with Jon McDonald and Ryan Garrow.
Jon:
Hey Ryan, welcome to another episode. 2020 was a banner year for e-commerce and COVID hit a lot of businesses really hard, but online transactions were just up dramatically. And we were really fortunate, both of us to be in e-commerce this year. The official data from the Census Bureau has stated that through Q3, e-commerce was up 32% year-over-year. Can you imagine any industry that we work in, it's up 32%, you'd be overjoyed, right? So by no means should a company complain when they're up 32% during a pandemic, but there are times when a company should be concerned when they have 32% year-over-year growth. And I know that sounds backwards, but business owners and marketing teams should have regular fear of missing out or FOMO, to help make sure that their brands aren't falling behind their competitors even when, and I would say especially so, when the numbers look good. That's the best time you can have all the cash in the world to reinvest. It's one thing you should not be short on. So, Ryan, I know you've done a lot of research on this. So how are you looking at last year in 2020 and preparing for success as we start 2021?
Ryan:
I think personally, I live in a constant state of FOMO. And so for me, it's just normal. 2020 was great for me personally because nobody else could do anything. So I don't have to worry about my friends going out and having a beer without me. It was like, no, you're all stuck at home just like me. So I don't have to fear missing out of any of the social events, but that translates for me into business. So all of the businesses I own and work with, I'm constantly figuring out where I might be missing out. And so it causes me to constantly test things. It causes me constantly to look at yeah, we were up 30%, 40%, but what if one of my competitors was up 80%? What then? What did they do that I didn't do?
For me, it's easy, it's just part of my DNA, but it really keeps me from being complacent because I just worry about not keeping up with the market. And I and you thankfully, we've got a lot of tools available to us to see what's happening in the market. But through all my conversations with business owners, they really have no idea. Just last week, I talked to a large company that sells bridesmaids dresses and they were really excited about how they were up 100% year-over-year, despite a pandemic. I was like, well, that's really good, but looking underneath the data, they probably should've been up like 200% or 300%.
Jon:
We would never have guessed that in that category, right?
Ryan:
Me neither, but based on what they were showing for and how they were spending some of their money for acquisition, they just left so much on the table. So yeah, it looks like it's a really good number and you're excited as a business owner, as a marketing team, but wow, when you look at the data, you can really see that, oh, I missed it. How do I make sure I don't do that in 2021? And that's really what I hope to get across.
Jon:
Yeah, that's a great point because my mandate for the team last year was there's a lot of opportunity happening in e-commerce this year and we don't want to miss it. Right. And so how do we provide the resources and provide the needs to align with these e-comm brands, those who are just starting out and those who are accelerating even more and really kind of owning a marketplace. Maybe some of their competitors fell off or something, that sort that were miss invested in areas that did get hit harder. And so I think it is all about taking advantage of the opportunity and maybe that's the entrepreneurial nightmare for both you and I, right, that we can recurringly have. And I think that we're not alone in that. I'm sure of it. I bet you most e-com store owners are having that FOMO nightmare all the time of am I seizing all the opportunity in front of me?
Ryan:
Yes. Thankfully there's a lot of tools that make it not difficult to see. And so yeah, the Census Bureau said that, but the perspective, how do you figure out if your industry was up 65%, and how do you look at that. Now, while we've got 7,000 clients at Logical Position, we've got a lot of insights in a lot of companies, but we have a company that's in the B2B space that started marketing in the middle of the pandemic in May. They had no business really starting marketing, but they had a $5 million business on Amazon and Walmart. And we had talked to them like, yeah, we probably should focus on the website. And it was only doing $16,000 a month up to that point. So like yeah, for all intense and purposes if it evaporates who cares. And it's a pandemic, so we don't even know what it's going to do. Well, we started marketing for them in May. Month-over month-in April, they did $16,000 and in May they did $192,000 on the website. I mean, it was wow explosion for them and unexpected actually where they spent $2,500 to generate that lift.
Jon:
That's a nice return on net spend.
Ryan:
Nobody listening to this can come to me and ask that return because that does not happen.
Jon:
You just took the words out of my mouth because I was about to come ask you. I was like, I have $2,500, if you can do that for me I'm in.
Ryan:
Exactly. So that's not normal, but it does show the impact that had they not tested that, had they not gone out there and done that they would have had no idea the available potential for them. There was a lot of things that went into that number for them, but it was just an insight for them that, oh my gosh. And for them it was like, we have left so much money on the table the past five years by not adding the website to Amazon and Walmart and eBay for our business. At that point they were like, gosh, this is great that we're doing it, but I really feel dumb because we didn't do this till now.
Jon:
Well, and they missed out all this time on that first party data.
Ryan:
Yeah, I mean, Amazon is not going to give to you.
Jon:
Amazon and Walmart owns all their customers, not them.
Ryan:
So lifetime value becomes great for them. And so then we had another one, one of the favorite ones I like is a guy in the rug business. He's had a decent sized business most of his career, but he went from $7 million in 2019 to $45 million in 2020.
Jon:
I don't want to toot my horn, but that's a mutual client and we definitely combined.
Ryan:
I'm taking credit for that one, Jon.
Jon:
I think this is where CRO and paid search and paid traffic can really just add fuel to the fire as I always say. And I think that's what that looks like when it's done well.
Ryan:
It is, it's amazing.
Jon:
On both sides.
Ryan:
That particular client of ours is on big commerce and I'm in negotiation with them doing some other things and they almost didn't believe it until they went into the back end. There were like, holy smokes. He did go that much. I'm like, yes, it was impressive. And we have another mutual client in the aftermarket auto parts space. That was up over 500% year-over-year. I think he bought that business for about $500,000 in 2018. And last year I think they did over $5 million. I mean, it exploded for him way beyond the average in the marketplace, but it's when you take all these steps, and that business owner honestly is really open to all the things that we tell them to test and do. And he just wants to win. And he's like, hey, there's people that are smarter than me that are telling me to test something, let's go do it.
And I think those are the business owners that really do take a situation and exponentially grow from a positive situation or keep from going negative when all their competitors may be. So as a business owner, if you were up 30%, 40%, 50%, how do you put that in perspective for you? It's not as simple and easy as just going to the Census Bureau and say, yeah, e-commerce was up 32%. I was up 40%, life is great. There's a lot of different pieces in that and finding out what it is for you. An easy one for most business owners and most marketing teams to do from a very high level is just use Google Trends. I usually start there to give me some ideas of where the market went. And I like looking at the last five years to give me enough data, put in some general keywords for my industry and just see what Google says about it.
The important thing of Google Trends is it's going to give you the high point in the graph that you're looking at. So if you're looking at five years, the high point may have been 2018 and I'm making this up, where that number will be 100, then everything else on that graph is based on that number. So it doesn't say that there are only 100 searches and in August 2018, it just says that's when the highest amount of searches we saw for this term was based on the area that you're looking for. And so you can see a pretty solid trendline over five years, that maybe 2020 was higher than 2019. And it's not going to give you exact, but it'll be obvious if it was up 200% or if it was up 30%, 40%. It'll just be pretty clear on there.
So start there, get an idea. If you're spending money in Google Ads, this is where I go into the minutia of your search query report and get in there on text ads in particular because shopping ads skew some data to a degree. But look at your search query report and let's see how many searches did you show for an exact match that you were bidding on? That's an industry term that says, all right, this term basically encapsulates people that are searching for my product or service. And generally, you can add that to impression share and see where you lined up ballpark. Google's taking away some of your search query data and putting some things in a black box which is why I like to look at search queries. But if you use some intuition and some experience, you'll be able to see generally things went up, generally things went down, but will be some pretty good insights for you there when you're playing in that space.
And this one, I don't know how many times I've talked bad about Smart Shopping, but I have to bring it up again. If you used Smart Shopping for all of 2020, you missed out. There's just no if, ands, or buts about it. Google will disagree with me many times, but I will continue to advocate for standard shopping campaigns and that search query data and the extra levers it gives. In fact, I just wanted to comment that signing onto us this week, they spent $75,000 in the month of December on Smart Shopping and no data. They spent 57% more year-over-year than they did in December 2019 for 14% less revenue. No insight into why because they can't see any queries. It's just like, it was, what happened? And I'm like, I couldn't tell you. I can see that your industry was up. So you really blew it, but Google spent more money for you. So let's start moving that out of that Smart Shopping campaign and give you some more insight and data into what it could or should have been. And that's why we're going to start working with them and hopefully grow them quite a bit. But it's painful.
Jon:
So the reason that you use Google Trends is so that you can break that 34% growth number down into what is just your segment of e-commerce or business doing or what's the growth?
Ryan:
Yeah, like computer mice. Okay, great. Let's see what the search volume was around computer mice. So if you were selling standing desks, for example, your search volume probably went through the roof. And so you'll have to see that Google Trends to see, okay, standing desks, ooh, they spiked pretty aggressively probably in March and April 2020 as people stuck at home wanted to stand up and had to buy their own desk. If you were up only 34% in the standing desk market last year, you might be going out of business in a couple of years because you fell so far behind so many of your competitors. So that's a good macro level. It's never going to be an exact science, but again, a good starting point to see which terms really did well. Certain terms are falling away and how is your market changing and evolving? I think that's just a valuable source of data from Google.
Announcer:
You're listening to Drive and Convert a podcast focused on e-commerce growth. Your hosts are Jon MacDonald, founder of The Good, a conversion rate optimization agency that works with e-commerce brands to help convert more of their visitors into buyers, and Ryan Garrow of Logical Position, a digital marketing agency offering pay-per-click management search engine optimization and website design services to brands of all sizes. If you find this podcast helpful, please help us out by leaving a review on Apple Podcasts and sharing it with a friend or colleague. Thank you.
Jon:
I'm always a fan of using a trendline versus a comparison model, right? So this gives you a trend to look at as opposed to trying to compare yourself to a competitor, for instance, specifically.
Ryan:
Yes. Exactly. Don't ever compare yourself to a competitor because they probably don't know what they're doing. Don't you hate that?
Jon:
If we ever record an episode on that, we will.
Ryan:
We will. It's like, oh, your competitor did it. Oh great, let's just base your business on somebody that you have no idea what their intentions or thoughts were or what they're testing. You might be taking an AB test and you have no idea. You could be in the failed AB test and you're doing it on fallacy data. Insulate yourself or prepare your business to thrive in 2021. I mean, anybody that tells you they know what's going to happen in 2021 is lying. I mean, we have ideas. We know that we're starting in a pandemic, but when do we come out of it? When do we get back to normal? Nobody knows. There are certain things I think most people will agree, e-commerce purchases are probably here to stay in a lot of things, but to focus your business on thriving, I'm trying to get a lot of businesses to focus on lifetime value.
If you haven't gotten there yet, you are going to be out of business in a few years. I don't care if it is you have to find new products. If you sold mattresses and you didn't sell sheets and you didn't sell pillows and you didn't sell nightstands or bed frames, you need to start selling those. You've got to get beyond the one and done purchase model and purchase mentality. You cannot thrive in an online market with a one and done business model. It is all about lifetime value. And you've done some great talks in here about even just the increasing lifetime value in the checkout process. How do you upsell after they've purchased? How do you leverage that first email? There's so much there that is being left on the table by almost every business I've talked to. There's just tons available there.
Jon:
I'm shocked there's not more FOMO about LTV, right? It really should be because it's such a great opportunity. And I think that there's a lot of work happening there now, especially as more DTC brands are happening and those direct-to-consumer brands are all getting first party data. So they can really focus on this quite well.
Ryan:
Oh, for sure. And I want to kick most companies that are worried about competing with their retailers and tell me that they can't do that or they're going to make them mad. You mean those retailers that couldn't open and couldn't sell your products for half of 2020. You're really allegiant to them. You don't want to sell direct to consumer. You have to get beyond that. You have to own that.
Jon:
And it might be simplistic, but I almost often say in response to that is like, if you really want to succeed, you're going to have to ruffle some feathers. And the reality here is if you're just relying on retail and upsetting your retailers, then so be it. Quite honestly, it's worth the trade-off to own that market share and that data. And you'll find so much value in that after a year that you won't look back. And quite honestly, the retailers won't look back either, right? None of them are going to remove you from the store shelves, unless you're a pure commodity. The chance of them removing you from the store shelves because you're also selling direct is near zero. I can count on one hand the number of times in a decade plus I've seen that happen.
Ryan:
For sure. And if you're getting removed because of your commodity, you probably have bigger problems in your business at the end of the day. Most retailers aren't dumb. If they can keep you from competing with you, they will. I would. If I can threaten you and you're not going to advertise, I'm like, oh, that's great. Good win for me. At the end of the day, if I'm making money on your product and you've avenue to getting customers to my retail store, either online or in the foot traffic, I'm going to leverage that because it's a me customer as a retailer. And then you as a brand have to look at it the same way. They're your customer. As a retailer, they don't care if they buy your product again. All they care about is if they buy from their brand again. Like Nordstrom, phenomenal loyalty programs.
Sephora, like in the beauty space, you're not going to compete head to head with Sephora's loyalty program. You just won't. You should have one, but understand that that Sephora program is designed to keep them in Sephora, not selling your products again. They care about Sephora, Sephora, Sephora, which they should. That's what their shareholders care about. That's what they need to, but it also means that you have to be able to compete head-to-head to earn that customer and get them to your brand and use your loyalty program. One of my brands, Joyful Dirt, I don't care where they bought the product. They can register in my loyalty program and I'll give them credit. I don't care. All I want is the email at the end of the day. Give me your information, tell me you're my customer. I will believe you and give you points and you can get discounts on future products because that's at the end day all I care about is first party data.
So again, lifetime value, that's going to come really easily for most companies through email. If you haven't been doing email yet, shame on you, start doing it. I don't even care if you have segmentation to start, just do it. And then loyalty programs, you need to have these in place before you really focus on driving at customer acquisition because that customer acquisition, if it's not at breakeven now, it will be soon. Google's model and Facebook's model is phenomenal at moving that margin from the first order into their bank account. So don't go in with that expectation. And if you've got the lifetime value figured out, it's very easy to breakeven on that first order. And I think a lot of companies need to really figure that out this year. And then again, another thing I've hit on quite often on this is, it's just most businesses have bad goals.
I talked to a major retailer earlier this week. I was talking to the VP of marketing and this is a major brand with hundreds of storefronts, millions upon millions upon millions of dollars of online revenue. I was talking to her and I said, "Okay, so your team, why do you have the goal that you have in online marketing?" She's like, "I don't know". I was like, "Wait, you are the VP of marketing of this company." She's like, "Yep". I was like, "Okay." They've heard they're shooting for six X, blended on Google. I was like, "Your margin is 50%, so where did the six X return on ad spend come from?" She's like, "It was here before I got here and I've been here five years and the CEO says we need to shoot for that." I was like, wow.
So for somebody that's spending a good amount of money online, I mean, I think they spent $3 million in 2020 with a fairly reputable agency, but it's just disappointing to me that for over five years they've had the same exact goal and it doesn't align with what their business goals are. Their business goals have them going here and their marketing goals have them going here. I mean, for non-brand, they haven't even separated out brand and non-brand for goals. They're still running Smart Shopping campaigns and paying an agency to do it, which just, again, makes me mad. Don't pay an agency to just do Smart Shopping. They better be doing so much work behind the scenes, analysis. And I think in an hour they got more analysis out of me than they did in the past six months with that agency. So shame on the agency, but good for us because we will probably get a client out of it.
But understanding what your goals are trying to accomplish and adjusting those appropriately is huge if you're going to win in 2021. In reality, you should be willing and it should make sense in your business to be able to breakeven on a non-brand search query. If they're searching for your product, who cares if you make profit on that first order. It should not matter because the benefits you get is you get the first party data, which is so valuable. You get them in your email database, you get them in the loyalty program. You can then bring them back into the brand very easily. And you have insight around them that your retailers or your competitors don't have. And if they're searching for your product, they're going to buy it somewhere. That's the intent. They've given us the intent. They've said, hey, I need to buy X. Either, you can show there or you can't. If you're not there, your competitors are going to get them guaranteed because you're not even there.
Jon:
That definitely makes a lot of sense. If you have a six X expectation, no wonder they're always looking for a new agency, right? Because that's again, not going to be an easy task when the whole goal should just be close that first sale so you can get them in for a longer term.
Ryan:
Or they're just feasting on brand terms and they're losing money all over the place they don't even know because of their blended goal. And so you're allowing an agency to be lazy. There is no scenario in which a brand should not be tracking brand terms and non-brand terms separately. That's marketing 10 years ago that is not going to work for you I promise. We'll smoke you.
Jon:
Hey, that's why you and I still have jobs, right? There's still a lot to clean up out there. I just had this conversation with somebody yesterday where they said why are you still doing conversion optimization? I can Google that and figure out what to do. And it's kind of like, you just start laughing. You're like, okay, let me know how that goes. And let's talk in six months, right, or even sooner. And I think that's what gets missed on a lot of this, right? It's like click the easy button. How many times have we talked about me losing money on running ads on Google because I clicked the easy button, right? It's like people make those mistakes. Even when I have somebody I talk to on a very regular basis who does this stuff all the time and can do it for me, I still clicked the easy button and lost money, right, instead of working with that person. So it's a good reminder at all times.
Ryan:
It is. And even I understand all the stuff in ads, but I know that I am not the foremost expert in this. I know that there are smarter people at Logical Position than I am. And I'm like, please take this from me and work it and do it better than I could. I can keep you accountable on it, but just know that generally you need to set your own goals and understand why you're setting them and also know that Google does not have your goals in mind when they're creating products. Google's goals, and rightfully so, are to benefit their shareholders. I'd love to believe that their goal is just to produce the best search engine and help everybody find what they want, but at the end of the day, they're a publicly traded organization. They have a responsibility to their shareholders to return value and that's okay. It's their world. They control something like 96% of all searches. Good on them. They've created a phenomenal product. Just understand that you need to be having some control over what it's doing and understand why you are getting the returns and goals that you are. The other thing I'll talk about as far as 2021 is I have to have the light money on fire budget in my head.
Jon:
That's good because there's a dumpster on fire still from last year.
Ryan:
2020 was a dumpster fire. I threw some money into it. It was great. But again, it's part of that fear of missing out constantly that I have. And so I have to have a budget and my business partners know this, like, hey, we're going to do some really strong marketing. We're going to have lots of growth. We can have some profit, but at the end of day we have to have a budget that is, we all look at it as we're going to light that on fire and see what happens. And so it's the ABT model, always be testing. So in sales you have to always be closing, but in the digital world and as a business owner or a marketing team always be testing. So it's like you in the CRO world, you're constantly testing it, but as a business, you want to have this mentality that if I'm fearing missing out, I have to be willing to test certain things.
And a lot of them are not going to work. Last year, towards the end of the year, we worked on Pinterest and I said, okay, Pinterest is an up and coming platform. They're really trying to figure out ads. Let's put some money towards it and see where they're at. And if we can figure out Pinterest before our competitors can, we will have a massive advantage because it's a newer platform. If you had figured out Facebook two years before your competitors, your runway and the profit you were going to generate was so much greater. My partner and I looked at it and we talked it through. Okay, yep, our light money on fire budget was $3,000. And I went to Pinterest and as we talked to the account managers there I was like, okay, I'm not needing to see profit from this, but I need to see a trajectory and I need to see potential.
And I said, you've got $3,000. Show me how you're going to make me money three months down the road. But if you light $3,000 on fire and I don't get anything out of it, I'm not going to continue lighting money on fire. That's just mentally where our businesses at, $3,000 didn't hurt us. It never feels good obviously to just light it on fire and give it to Pinterest, but that's what happened. Honestly, we got $2,300 in for $100 in sales. And I could tell that the platform is just not set up for what we were trying to accomplish yet. I think they'll get there, but for our business and what we're trying to accomplish, it's Instagram about two or three years ago where they just hadn't quite figured out how to get people to click on ads with the intent of buying. I think Instagram has done a great job of building that in now.
It's not a big deal to click on Instagram ads and even the checkout on Instagram. For us, at least Pinterest wasn't there yet. And we're still looking through data, so maybe it's there, but again, that same mentality for us worked three months before when we said, hey, there's a new ad type on Amazon, video ads, let's do it. Go ahead. We're going to throw $100 a day on it. Let's see what happens. It's the best performing ad set we have on Amazon. It's highly profitable. I cannot spend enough on that ad set on Amazon. Again, we didn't even have an optimized video. We just threw up a video we happened to have and it worked phenomenally well. We'll continue editing and testing it, but it's working right now, so I'm not going to upset the apple cart.
Jon:
So what are all those levers that you would pull besides the platform?
Ryan:
So, for me, it's going to be the platform and I want to have either new ad types like the video ad on Amazon, test a new platform, which the platform honestly becomes more difficult for most brands because it's not easy to go jump on a TikTok or Snapchat and make it work. If you're a really large business with $1 billion branding budget, throwing $10,000 at a Snapchat ad, you might not even notice it. So platform is going to be more rare. They're also limited, but ad types, different types of things, if you're an e-commerce business that hasn't been spending money on shopping ads, it's like, okay, spend money on shopping ads to get it out there. Move on to social. Do some remarketing. Again, look at the platforms you already have available to you. Maybe you just need to test new ads.
Maybe that is your dipping the toe into testing. Just be doing it. Single page checkout, that's a big area, especially on a big commerce store. There's a lot of really easy checkout systems you can put onto big commerce, flip a switch and see if it works or not. And it's not going to be huge cost or time intensive generally. And so test that, see if it works. We've seen some great stuff on it. CRO is another one. If you're not doing an agency level stuff with Jon, there are probably some basic things you should be testing on your own. At least taking some baby steps towards that process for you. But again, if you're not doing it, figure it out. Even something as simple as, hey, let's give 360 images on five of our images and see if it impacts conversion rate,
If we go back to that SwissGear test we saw a couple of years ago, another client we share, where we spun a men's wallet and conversion rate went up 33%. You're like, it's a wallet, it looks the same on the backside. Why do you care? But it worked. It increased conversion rate. So again, constantly testing and doing something different because that's going to help give you some advantages over your competitors when it does work. Sometimes you're going to light money on fire and that's okay. Just build that into your business to constantly be improving, kind of like that culling the herd. Like, okay, certain things, if you're not out there culling the herd, it's never going to get faster. It's never going to be better than it was. And I used 2020 for that, I think.
Jon:
All right, well, this is really insightful, Ryan, and I'm really excited about this year and the opportunity that's here. I know we both have FOMO. I'm sure that our listeners do as well. And there's opportunity out there again this year. Right. I mean, there was so much opportunity last year, despite some of the downturns. And I think there's a lot of opportunity out there again this year. So it's going to be really interesting and I think there's never going to be a shortage of FOMO, but I think there are a lot of ways to attack it like you've done here. So thank you for sharing today.
Ryan:
Oh yeah, thanks. It's exciting to talk about what's happening in 2021 and how you use FOMO to your benefit.
Jon:
And I also learned today that Ryan likes to throw money into a dumpster fire. So that's always a bonus. Right.
Ryan:
Just jump in the dumpster with the money and you might get some of it.
Jon:
At least it will keep you warm if nothing else. All right. Thank you, Ryan.
Ryan:
Thanks, Jon.
About the Author
Jon MacDonald
Jon MacDonald is founder and President of The Good, a conversion rate optimization firm that has achieved results for some of the largest online brands including Adobe, Nike, Xerox, Verizon, Intel and more. Jon regularly contributes content on conversion optimization to publications like Entrepreneur and Inc. He knows how to get visitors to take action.