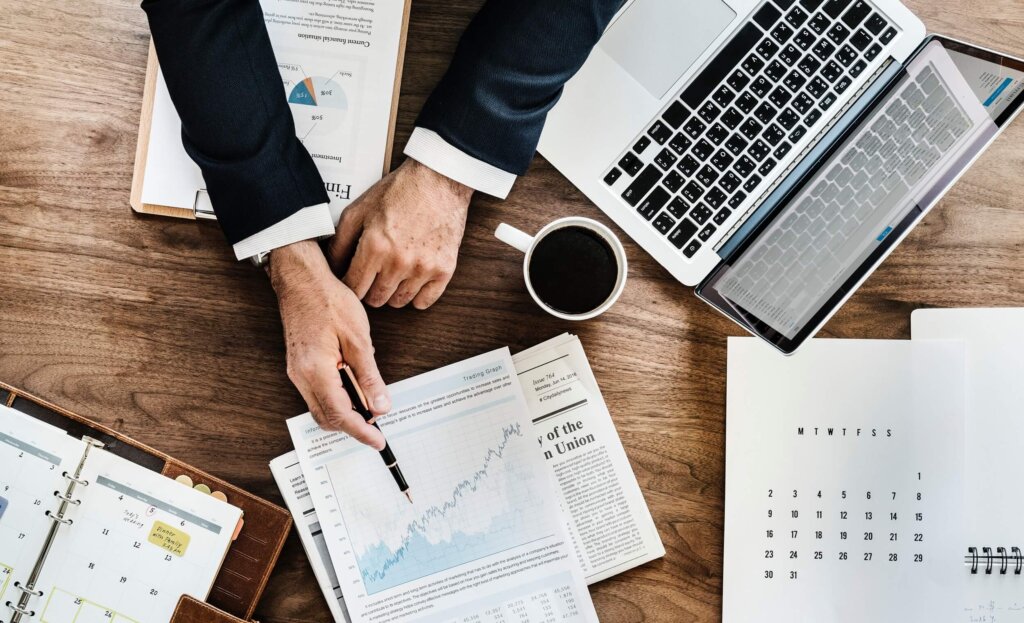 White Papers
How CRO Helps Businesses Thrive During Market Downturns
If you know what you're doing, you can actually surpass the competition and thrive during market downturns. Here's how.
Businesses are increasingly finding themselves caught between a rock and a hard place.
It's no secret that Pay-Per-Click (PPC) costs are steadily rising, requiring businesses to continually bump up their ad spend if they want to stand out in a crowded marketplace.
The increase in PPC costs has caused many businesses to turn to other marketing tactics, like SEO and social media, in order to gain exposure.
The problem is that as more brands use SEO to target specific keywords, it becomes harder and harder to rank for said keywords.
And with recent updates to the Facebook algorithm, businesses are finding it increasingly difficult to gain even the slightest traction on social media.
On top of this, many experts are suggesting that an economic downturn is coming. With pundits predicting that the recession will arrive in 2020, businesses are preparing for the coming storm.
And to round out the gloom and doom, Google is prioritizing Google Shopping results over product pages more than ever before. Instead of showing unique product pages in search results, they're showing a carousel of buying options from a variety of retailers.
While this certainly makes it much easier for consumers to compare prices, it also makes it much more likely that they'll buy from your competitors.
But here's the thing…
While it's easy to get pessimistic about your ecommerce business during challenging times, if you know what you're doing, you can actually thrive during economic downturns.
In fact, you can even use economic downturns as a way to surpass your competitors.
In this post, we're going to show you how to:
Use an economic downturn to your advantage.
Get more out of your ad spend.
Reduce overall costs.
Increase profits when others are seeing them fall.
Achieve a much higher ROI from your traffic generation efforts.
The Need To Be Lean and Mean
In order to thrive during market changes and economic downturns, you need to become lean and mean.
Specifically, you need to be able to get maximum ROI from your marketing spending by increasing your Return On Ad Spend (ROAS).
When you maximize ROAS, your traffic generation efforts are much more effective and your Customer Acquisition Cost (CAC) significantly falls.
Here's what you need to understand:
High-performing brands are able to increase their ROAS and decrease their CAC by diversifying their marketing efforts to non-paid and lower-CAC channels.
Instead of simply putting up with increasing PPC costs and lower margins, the most effective brands get creative with their marketing efforts. They find the marketing channels and techniques with the highest ROI and then double down on them.
These brands understand that they don't have to keep doing things the way they've always done them. Rather, through strategic optimization, they can significantly improve their marketing results.
Or, to put it another way, they're able to increase operational excellence by improving margin structure and acquisition efficiency.
Really, it's just simple math. To use a fishing analogy, it costs a lot more to acquire hundreds of minnows when you could acquire a handful of whales.
If you can optimize for your best clients (the whales), your CAC will significantly fall. Instead of having to shell out large amounts of cash to keep acquiring new customers (minnows), you can rely on your best customers to buy from you again and again.
And as a bonus, you'll probably acquire some new clients along the way.
Put simply, to thrive during any sort of downturn, you need to be able to:
Reduce costs
Increase profits
Reduce waste
But how exactly do you achieve these things? How do you become a high-performance brand that gets a high ROAS, high Average Order Value (AOV), high conversion rates, and low cart abandonment? How do you become an ecommerce business that thrives under pressure?
It's all about value focus:
Focus on your highest value customers.
Focus on your highest value products with the best margins.
Focus on your highest value channels.
Focus on creating the highest customer value.
When you optimize your ecommerce website for each of these items, it enables you to thrive when others are struggling. To surge forward while others are falling behind. To stay profitable when others fall into the red.
Let's take a look at each of these individually.
Focus On Your Highest Value Customers
When the market takes a downturn, it's tempting to focus on trying to win the discount shoppers. After all, you reason, when things get tough, people look for discounts.
The problem with this line of thinking is that it's a race to the bottom. You're only targeting those consumers who are loyal to you based on price. These are the customers who will jump ship as soon as they see a better deal, and in an economic downturn, they're probably going to be seeing a lot of good deals.
A much better alternative is to focus on delivering a seamless shopping experience to your best customers. This is the segment of your audience with the highest Customer Lifetime Value (LTV)—the ones who buy from you again and again.
Using Conversion Rate Optimization (CRO), you first identify this segment of your audience and then optimize your website to ensure that these customers have the best shopping experience possible. When you deliver a superior experience to customers who are more inclined to become loyal customers, you keep them coming back again and again.
The simple truth is that if you can give your best customers a superior experience, they'll reward you with repeat business. A survey by New Voice Media found that:
If provided with good service, 55 percent of respondents indicated they would be more loyal, 47 percent would recommend the company to others, 26 percent would use the company more frequently if they could, and 26 percent would spend more money.
The result is that your overall revenue levels remain steady (thanks to repeat buyers) and your CAC falls because you don't need to be constantly spending to bring in new customers.
Focus On Your Highest Value Products
Your highest value products are not just the ones with the biggest margins. If you simply feature your highest-margin products and leave it at that, you may see some financial success, but not as much as you could.
A much better solution is to start by determining the products that your customers find the most value in. These are the products that your highest value customers purchase on a regular basis. You might say it's the products you're known for.
Once you've determined the products that matter most to your customers, you can then sort them by the highest margin and focus on optimizing around those products. Using CRO, you can ensure that these high-margin product pages have the highest conversion rate. This, in turn, results in more profits and a much stronger bottom line.
Focus On Your Highest Value Channels
Not all marketing channels are equal. Depending on your business, traffic coming from organic search may have a higher conversion rate than Google PPC. Or it's possible that email marketing may generate more sales than Facebook ad campaigns.
Simply put, some marketing channels have a higher ROI than others, and during tight times you want to put more focus on those high-value channels.
Using CRO, you can first determine which channels have the highest ROI and then work to improve the overall conversion rate on the traffic coming from those channels. You can also shift your marketing spending so that it's focused primarily on the highest value channels.
When you focus your spending on and optimize the conversion rate of your highest performing channels, it tends to have a compounding effect. Your revenue increases exponentially as you stack multiple improvements on top of each other.
Focus On Creating The Highest Customer Lifetime Value (LTV)
Is your marketing strategy optimized to bring back customers again and again, or are you focused primarily on the first conversion?
When you optimize your website to create the ideal shopping experience, it has a profound effect on your customers. They want to come back again and again, which results in a much higher Customer Lifetime Value (LTV).
Think about all that Amazon has done to create the optimal shopping experience. From 1-Click ordering to Dash Buttons to two-day shipping, they want to make the shopping experience as pleasant as possible. The result is an incredible conversion and loyalty rate.
As Pamela Danziger writes in Forbes:
"An astounding 85% of Prime shoppers visit Amazon at least once a week, while 56% non-Prime shoppers report the same…One-third of Amazon users come to the site ready to buy…Compared with Walmart, eBay, Alibaba and Jet, Amazon leaves these competitors in the dust in terms of browsing products, deals, comparing prices, and checking availability and delivery speed."
By focusing on delivering a supreme shopping experience, Amazon brings back customers again and again. You can do the same by using CRO to optimize the shopping experience on your site. Don't just focus on the first conversion; optimize for repeat conversions.
Where Conversion Rate Optimization Comes In
CRO can help you study the behavioral data (qualitative and quantitative) of your customers and website visitors.
As you study this data, you'll unearth which segment of your customers are returning, which are spending the most, which are returning products the least, and other key insights.
In other words, CRO helps you identify your highest-value customers.
Once you've identified these key high-value customers, you can begin to use CRO to optimize your website. You can work to create the optimal shopping experience for these customers so that they become repeat shoppers and increase their overall LTV.
Additionally, CRO helps you identify which marketing channels are generating the highest ROI. From there, you can optimize your marketing budget so that you're spending more on the highest performing channels and cutting spending on channels with a low ROI.
CRO can also help you determine why your biggest fans shop with you and not your competitors. Armed with this knowledge, you can specifically highlight those aspects of your business that matter most to your highest value customers. Put another way, you can personalize the shopping experience in ways that increase the overall conversion rate.
Finally, CRO allows you to ensure that your website is optimized not just for the first conversion, but for repeat purchases. By creating an Amazon-like shopping experience, you create loyal fans with a high LTV. This, in turn, allows you to spend less on customer acquisition.
The Power of Efficiency
When market conditions change or take a turn for the worse, it's absolutely critical that you turn your business into a highly efficient machine. Your spending should be laser-focused on the areas that have the highest return.
Conversion Rate Optimization is specifically designed to help your ecommerce business run at maximum efficiency. When you find your budget, resources, and team limited, CRO allows you to focus your efforts on the areas of maximum impact.
If you'd like to see how we could help your business thrive during a market change, just contact us.