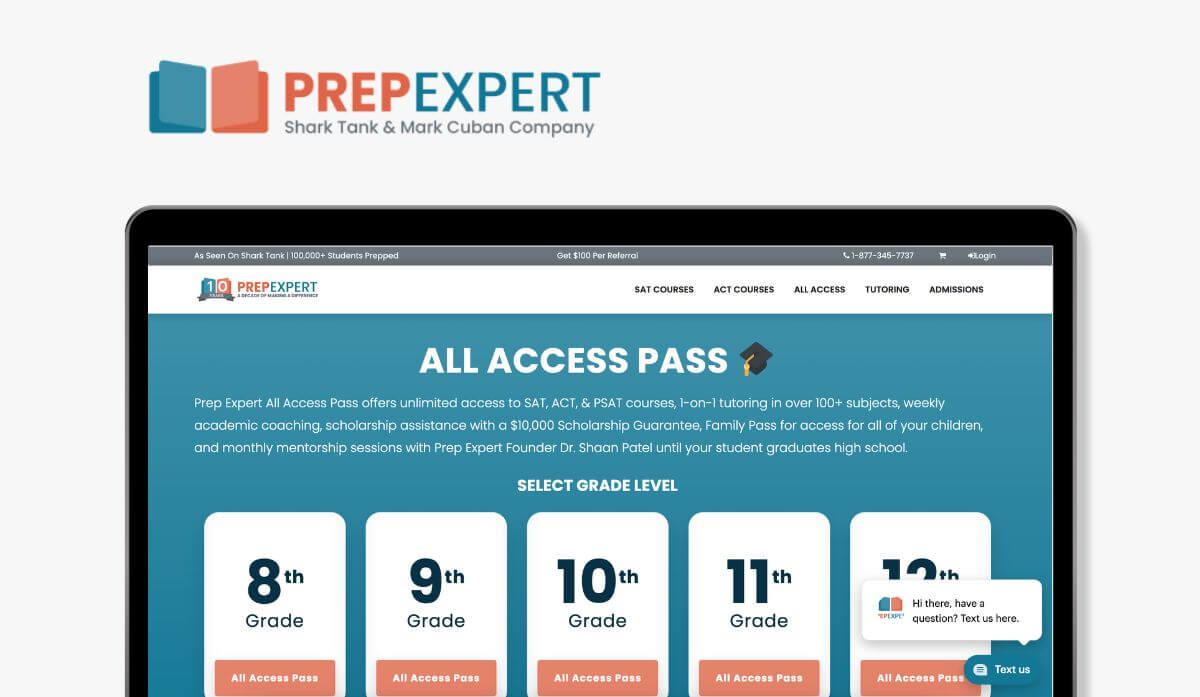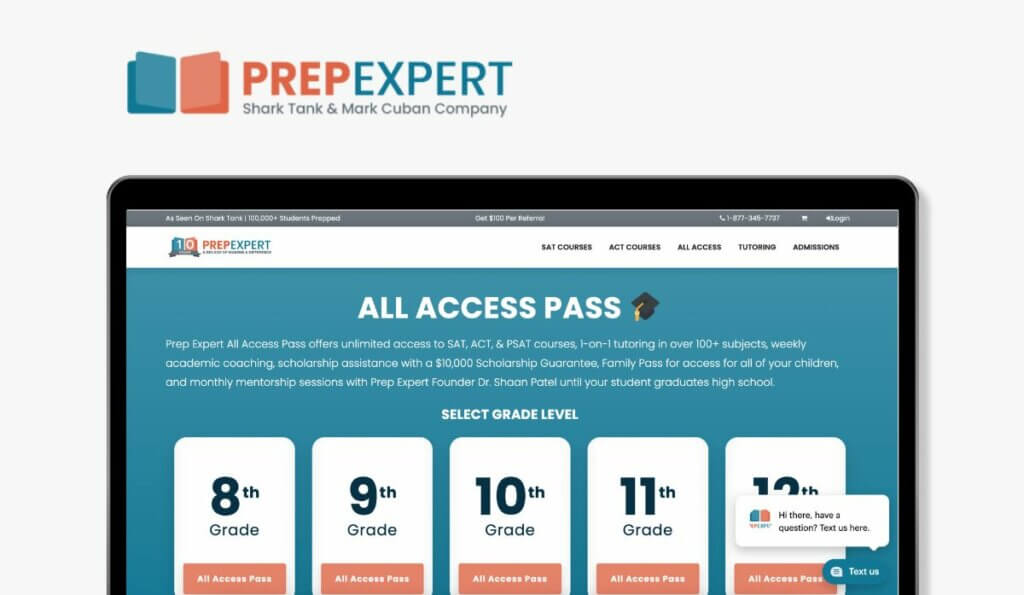 Prep Expert Optimizes Their Website For 64:1 ROI
Learn how Prep Expert used data-backed decision-making to cut through internal politics and achieve 64:1 ROI on The Good's Conversion Growth Program™.


"The Good is one of the best investments we have made at Prep Expert. For Shark Tank companies in particular, an investment with The Good is a no-brainer."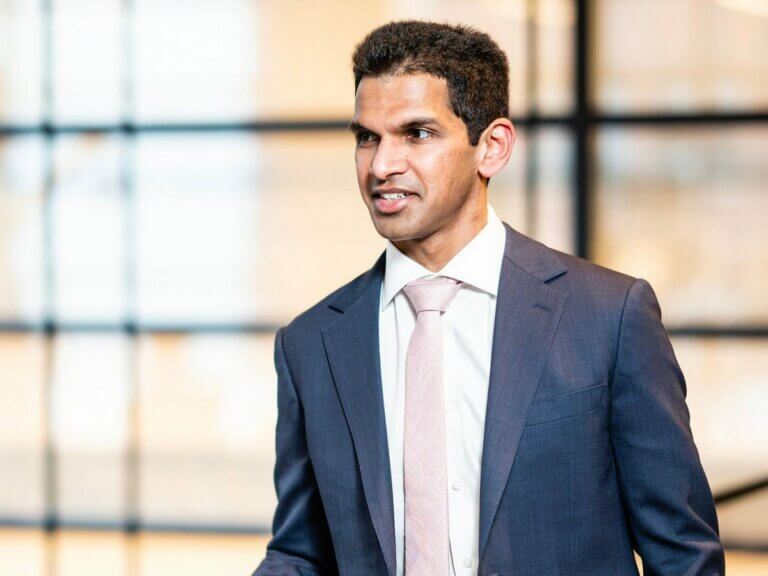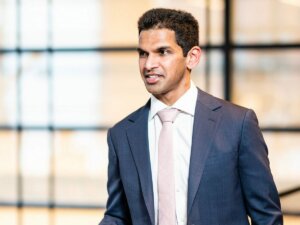 Shaan Patel, Founder & CEO, Prep Expert
$7.9MM
In annualized revenue gains
45%
Conversion rate lift on key course scheduling page
The Overview
Prep Expert is an online education company that offers SAT and ACT courses, K-12 tutoring, and college admissions consulting.
Over the past decade-plus, they have helped over a hundred thousand students improve their test scores, get into the top colleges, and win over a hundred million dollars in college scholarships.
A highlight of the company's tenure was pitching Prep Expert on Shark Tank and closing an investment deal with billionaire Mark Cuban.
The Challenge
Like all the best entrepreneurs, Founder and CEO of Prep Expert, Shaan Patel, wholeheartedly believes in his product. And this is reflected in how he runs the company. He is always striving to improve, to do the research, and to advocate for his students and their parents.
One way he does all of this is through a core value of the company: to be data-driven. Whether it be strategy, operations, sales, or marketing, the team aims to guide decision-making with data.
They were running into a challenge, though. With lots of stakeholders, senior team members, and investors, "many times what we decided to display on the website was based on who had the loudest voice or the strongest opinion," Shaan shared.
He knew this wasn't going to deliver a positive user experience, and the company was likely missing out on business. So, he decided to search for a conversion rate optimization partner to help his team make the right decisions based on data.
The Prep Expert team reviewed a slew of options and knew The Good was the right fit after seeing our specialized expertise and a data-backed proposal with compelling results.
Along with the confidence that they would deliver a better user experience and increase conversions, engaging The Good helped Prep Expert begin to cut through internal politics. There was suddenly a whole team of experts dedicating time to analyzing the data and uncovering optimization opportunities. The Good's experimentation program, which included A/B testing, helped Prep Expert make website changes based on data.
Shaan shares that "anytime someone has an idea or an opinion on how to make sure our website appeals to our target market (parents of high school students), we are able to take that idea and test it. This shows us in a very objective way what user behavior would become based on those ideas." He emphasized the importance of how this has helped their team stay laser-focused on what is proven to move the needle.
"We are no longer making decisions based on who has the loudest voice or loudest opinion in the room, but rather making decisions based on what generates the best results in terms of revenue and conversion rates on our website."

– Shaan Patel, Founder & CEO, Prep Expert
The Process
Prep Expert was onboarded to The Good's Conversion Growth Program™, and the companies began an engagement with the goal of improving the user experience of the website to increase conversions. 
It started with user research and user testing. The Good's team of strategists conducted a thorough audit of the site to better understand how students and their parents were browsing and where in the sales funnel they were getting stuck.
Prep Expert brought their own ideas as well, sharing a wealth of customer feedback and knowledge to inspire areas for optimization. Shaan highlights that "by using The Good's ideas and our internal ideas, we get the best of both worlds. We have over a decade of conversations with our target demographic, but The Good is also bringing and testing ideas that we may have never thought of because they're coming in with fresh eyes."
"Having both of those sets of eyes on the website and those ideas brought to life has been really positive for the company."

– Shaan Patel, Founder & CEO, Prep Expert
With research-informed ideas for improvement, The Good then put together a succinct, prioritized roadmap of testing ideas and reviewed the plan with Prep Expert.
The Solution
After getting the go-ahead from Prep Expert, The Good began to test key areas of the site for improvement and iterate our way to a better website. Shaan saw results quickly.
"Any business owner who is not investing in conversion rate optimization is missing out on a huge opportunity to unlock revenue within their business."

– Shaan Patel, Founder & CEO, Prep Expert
One area The Good found users struggling with was the differentiation between the course options. User research exposed that by listing courses by instructors, Prep Expert was creating an additional decision point for students and parents looking to sign up for an SAT/ACT course.
The Good's strategist hypothesized that by updating the information about courses to reduce focus on the instructor, instead placing the emphasis on other pertinent course details such as schedule and duration of the course, users would more easily be able to discern the best course for their needs – increasing their likelihood to enroll.
The Good tested four different variations of information on these course tiles to understand which combination would both improve visits to the course schedule pages and ultimately encourage users to convert.
We ran the test and all variants showed an improvement over the control, indicating a better information hierarchy. The variant that removed the instructor photo but kept the score improvement guarantee, converted 142% higher than the control experience.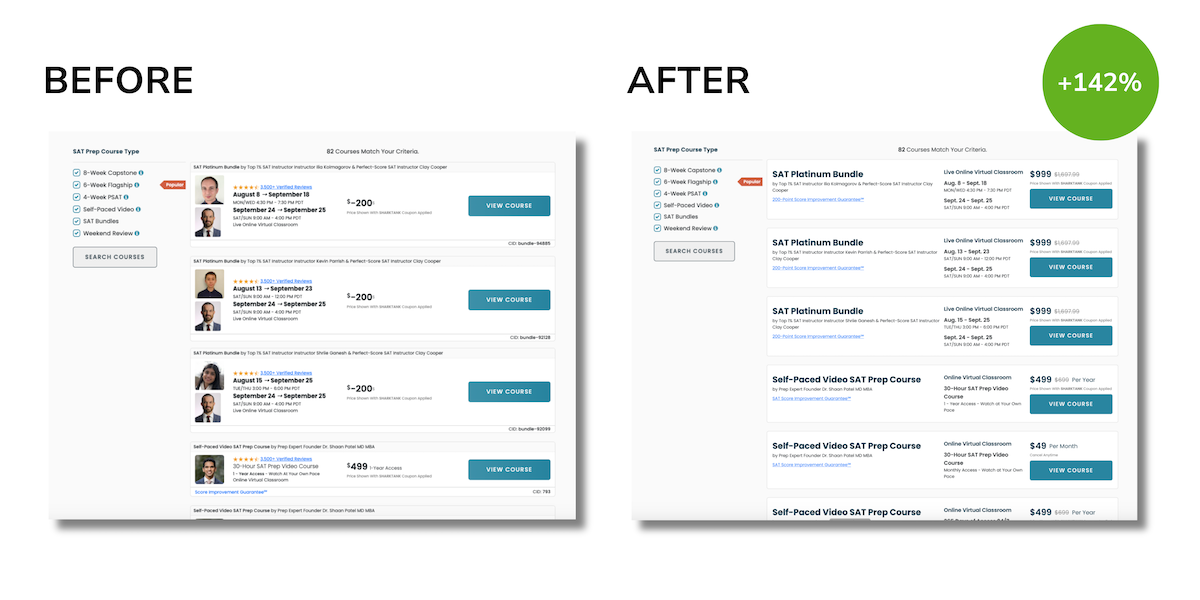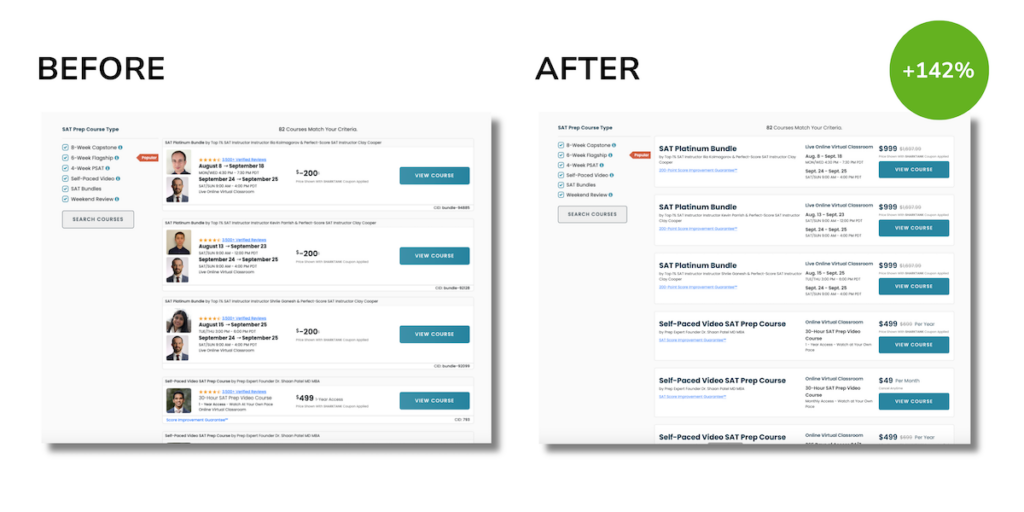 This indicated that the decreased focus on the individual instructors helped magnify the quality of all instructors that Prep Expert employs to teach their SAT and ACT courses. Based on the change in per-session value, implementing the winning variation would produce over a million dollars in annualized revenue gains.
The course schedule pages contain ample content to help users understand the course structure and its contents, however, session recordings revealed that due to the amount of information listed, users had a hard time finding content that was most relevant to their needs.
Our team hypothesized that adding a sub-navigation to course pages would increase engagement and the likelihood of purchasing.
To understand what would best serve user needs, The Good tested two variants that used different language on the sub-navigation: one that linked to more general areas of the page, exposing reassurances and frequently asked questions (reviews, score improvement guarantees, etc.), and one that linked to information about the course more granularly (course schedule, outline, sample, etc.).
The variant that used subnavigation to link users to parts of the course information, showed a 45% lift over the control.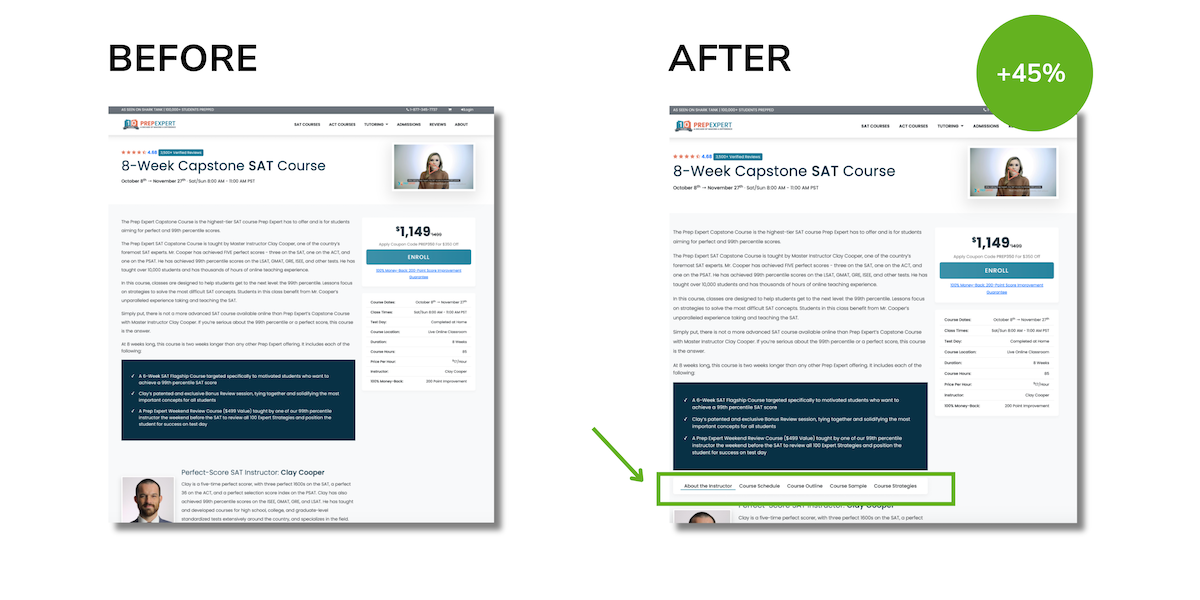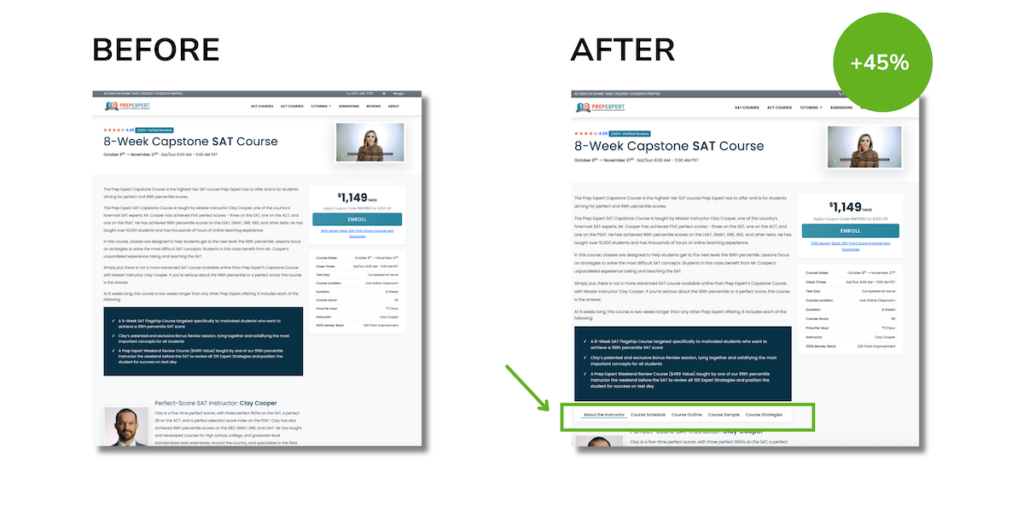 These are just a few of the ways The Good's research and strategy improved Prep Expert's digital property. Conversion optimization is iterative, so the teams continue to work together. And Shaan encourages other Shark Tank entrepreneurs to consider a similar engagement if they want to build the best website, and the best user experience possible, for their users.
"For Shark Tank companies in particular, an investment with The Good is literally a no-brainer."

– Shaan Patel, Founder & CEO, Prep Expert
Shaan explains that "as a solo entrepreneur or ecommerce entrepreneur, oftentimes you are trying to do everything on your own in terms of figuring out what the copy value proposition and landing pages should look like with very little feedback, very little data, and on gut instinct.
And I would encourage all entrepreneurs in that position, especially Shark Tank entrepreneurs, to follow the data instead. Have a team come in to really be scientific about what works and what doesn't. You'll be able to really understand what will give you the best conversion lifts. And that will have a major impact on your top-line and bottom-line revenue."
The Results
After a year in the Conversion Growth Program™, Prep Expert has seen huge ROI on their engagement. 64:1 to be exact, which equates to $7.9 Million in annualized revenue gains.
"The Good is one of the best investments we have made at Prep Expert in terms of ROI, as well as in terms of the professional team. Working with The Good is like working with an extension of my own team.

– Shaan Patel, Founder & CEO, Prep Expert
Shaan continues, "They feel like an in-house marketing optimization team that brings in results by lifting my conversion rate and ultimately improving revenue at my company."
How They Got There
The results we unlocked for Prep Expert were the direct result of the Conversion Growth Program™.