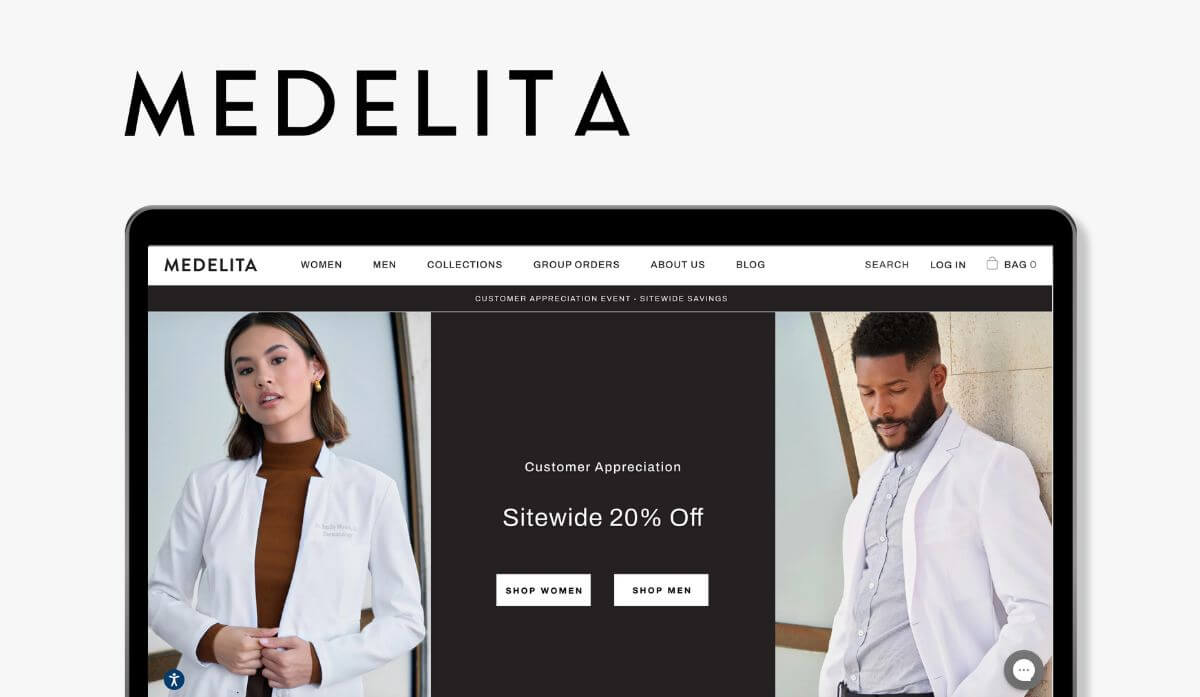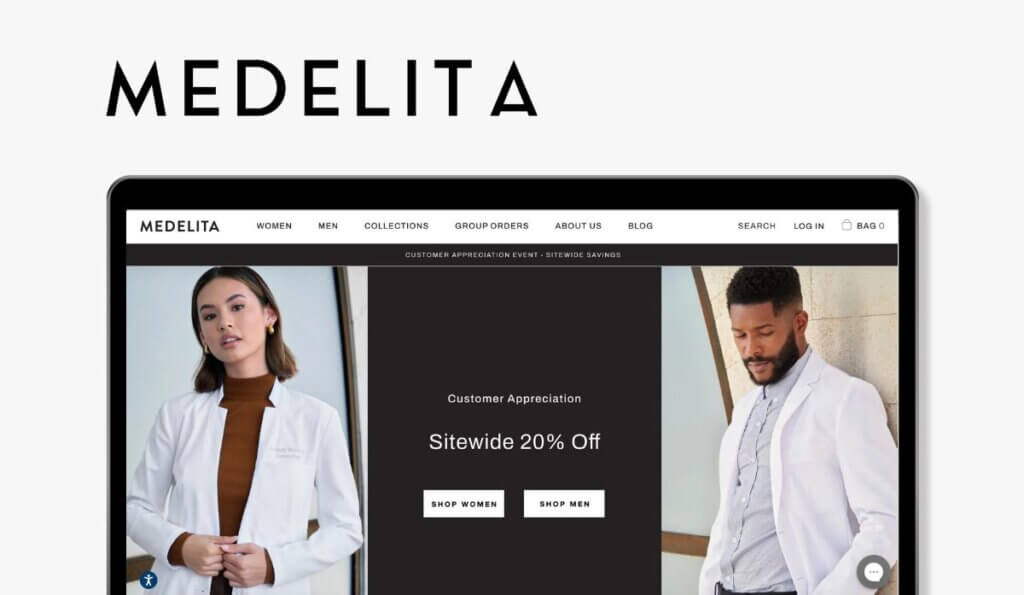 Medelita Optimized Their Website Experience with a Comprehensive Conversion Audit & Wireframe Audit
Learn how a 360-degree qualitative and quantitative analysis of Medelita's website resulted in improved desktop and mobile conversion rates.


"We have tested the new homepage and it blew our existing one away"
Dan Stepchew, Chief Technology Officer, Medelita 
Drastically improved mobile and desktop conversion rates
Better user experience on the homepage
Data-backed research to inform decisions
The Overview
Medelita is an ecommerce brand known for their premium lab coats, stethoscopes, and performance scrubs for medical professionals. They sell their products through select retailers across the United States, as well as direct-to-consumer through their ecommerce website.
The Challenge
Medelita came to our team with the challenge of differentiating themselves from other competitors in the market. Their objective was to create a website experience that captured the uniqueness of their brand, while also focusing on the quality of their products.
In the early stages of the engagement, we outlined several specific goals to help guide our approach to optimizing Medelita's site experience:
Improve the homepage design to tell Medelita's story more cohesively
Highlight clear product differentiation over competitors
Streamline website navigation to provide a clear path to purchase
The Process
The Comprehensive Conversion Audit started with our team conducting a comprehensive analysis of Medelita's website analytics and user experience flow.
This process was a complete 360-degree qualitative and quantitative analysis of Medelita's website which included:
Reporting on data trends identified in their website analytics
Conducting remote unmonitored user-testing sessions
Analyzing eye-tracking heat maps of key pages
In our analysis, we noticed that a majority of Medelita's audience was coming from mobile devices and that there was a significant conversion rate difference between their mobile site and desktop site.
While it's not uncommon to see a variance in conversion rates across platforms, it presented an opportunity for our team to focus on optimizing their mobile site experience to promote an increase in mobile conversions.
Additionally, user-testers visiting the site on both desktop and mobile had a difficult time identifying Medelita's unique product differentiators. Testers noted that they were seeking more details on the functionality of the products, while Medelita was focused on highlighting the style and fit of the products.
The Solution
At the end of the audit process, our team delivered a comprehensive report of the findings in a detailed strategy session.
We provided specific suggestions for improvements that could be made to their site and included an in-depth roadmap for the next steps that Medelita could refer to moving forward.
In addition to the report, we also provided Medelita with wireframe designs for a series of pages, including the homepage.
The wireframes were developed using the insights identified in the audit, and focused on establishing a strong first impression of the brand for first-time visitors.
In the updated homepage design our team concentrated on clearly conveying Medelita's brand story through social proof, while also highlighting the quality and uniqueness of their products through testimonials and strategic content delivery.
Here's the end product post implementation: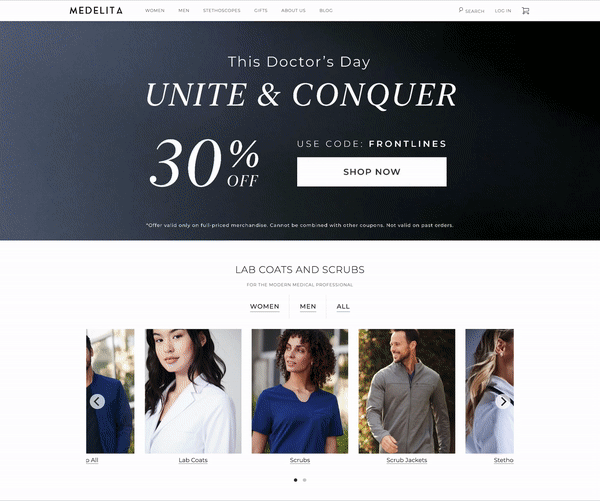 The Results
After implementing our suggested wireframe designs to their live website, Medelita saw a drastic improvement in their mobile and desktop conversion rate.
Their team had the following to say about the results of the wireframes:
"Since our last conversation, we have tested the new homepage and it blew our existing one away – we have since implemented it for 100% of visitors. Everyone's really pleased with the homepage design, and we're moving onto implementing the other findings/suggestions provided in the website audit."

– Dan Stepchew, Chief Technology Officer, Medelita
How They Got There