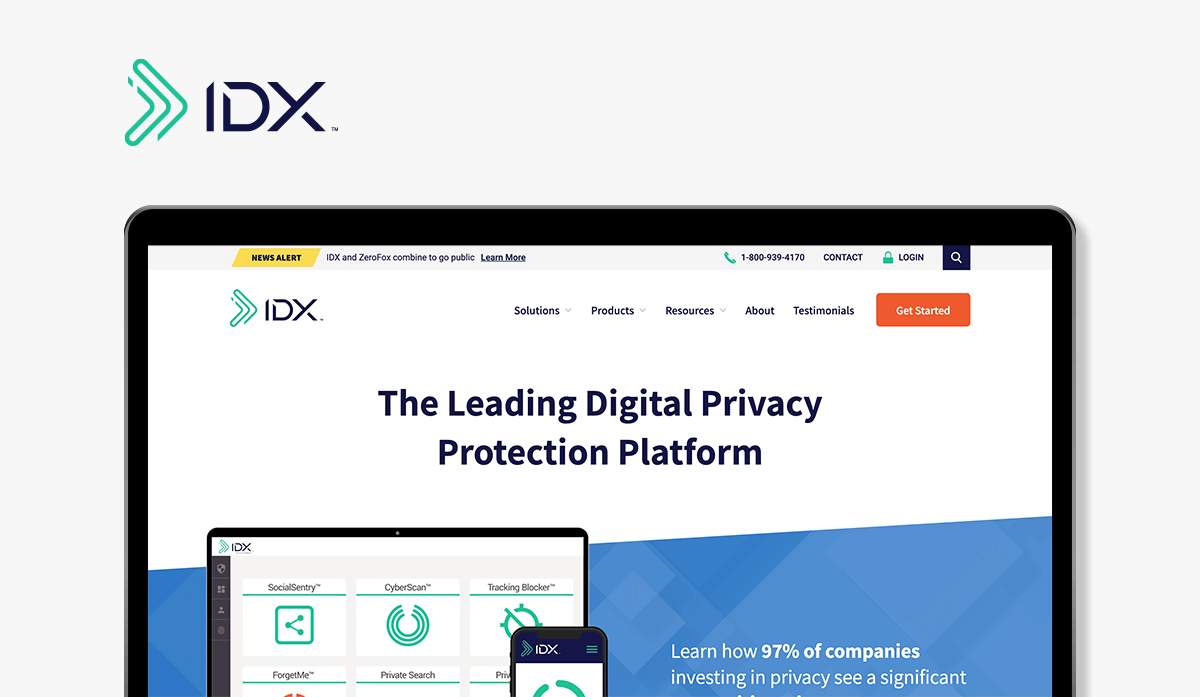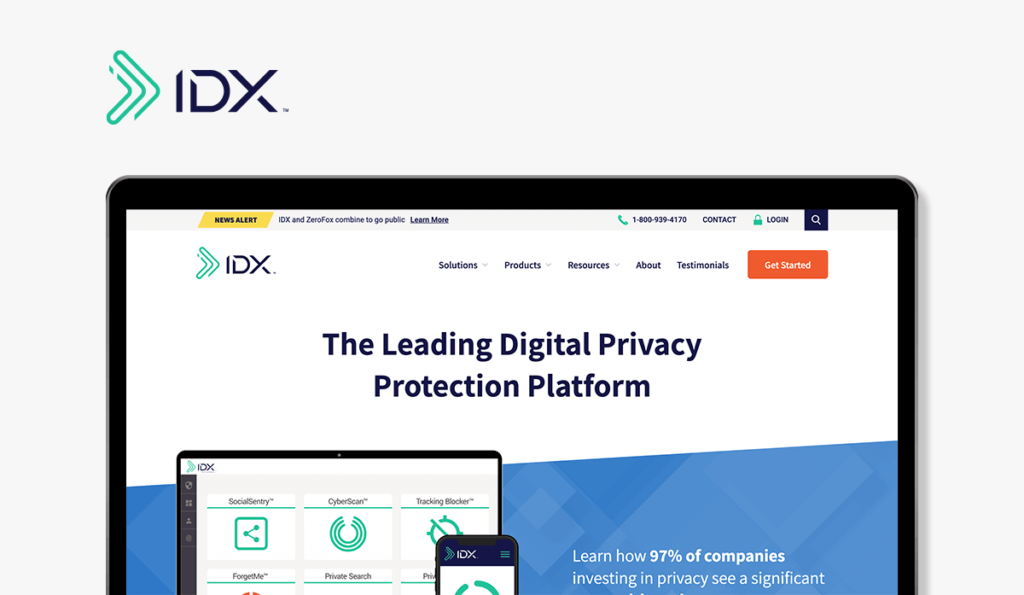 IDX Increased Enrollment by +20% and Saw Immediate ROI for Ad Traffic
Learn how The Good's work gave IDX a competitive edge in an increasingly dense security market.


"We saw an immediate increase in our conversions, in our ability to convert people coming to landing pages from paid advertising…which helped us maximize those investments."
– Justin Albano, Digital Marketing Manager, IDX
21%
increased Homepage enrollment
2x
increased About Page enrollment
The Overview
In a world of "over-sharing," individuals are an increasingly attractive and vulnerable target. According to Javelin Strategy and Research, identity fraud scams account for $43 billion of the staggering $56 billion in combined fraud losses.
IDX, a privacy protection service, is designed to help. They're out to make the digital world a safer place for vulnerable consumers through data breach response, employee protection, personal identity privacy solutions, and more. Simply put, IDX offers easy and robust protection from identity threats.
The Challenge
Justin Albano, the Digital Marketing Manager at IDX, first came to us in August 2018.
IDX had spun up a marketing site for their B2C product, MyIDCare — a big step into new territory for the historically B2B company.
Justin knew success hinged on making a strong connection with customers. "Ultimately, we are trying to connect with our prospective customers out there," he explained. "It really comes down to how effective are we at resonating with them? How effective are we at speaking to what their real needs, real pain points are?"
They had Google Analytics set up on the site and data coming out of ad platforms, but Justin knew this wasn't the full picture. And he knew that piecemeal data wouldn't tell him what, out of his big spreadsheet of ideas, to test — let alone which tests would make a difference in revenue. To answer these questions, he needed better data.
"I really needed someone who could come in, do the research, do the analysis, and put in front of me a clear path to success…And that's exactly what The Good gave me."
– Justin Albano, Digital Marketing Manager, IDX
The Process & Solution
It's been three years since we first teamed up with IDX. Since then, we've audited their original site, done A/B testing through our Conversion Growth Program™, and completed a Comprehensive Conversion Audit™ of their latest site. You'll find highlights from all of that below, starting with the original site audit.
1. Auditing the original IDX website
The first step of an audit, which typically takes 3-4 weeks from start to finish, is to meet with stakeholders and establish goals. With IDX, the goals we established at kickoff and validated through research were:
Increase site enrollment volume
Improve customer experience on-site
Align navigation to user intent
Decrease funnel abandonment
Increase email subscriptions so IDX could nurture leads
After the stakeholder discovery, we provided an external and unbiased audit to identify tweaks and improvements. To do so, we went beyond surface-level metrics and gathered both quantitative and qualitative data. This included:
Acquisition and behavior with Google Analytics
Content effectiveness with click, movement, and scroll maps
Conversion effectiveness with sessions recordings and user testing
Iterative improvements with A/B testing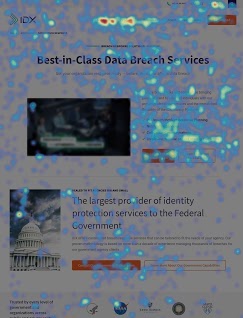 Once our team gathers and organizes all our findings, we build out a detailed report (typically 60-100 pages) outlining strengths, weaknesses, and key opportunities for increased conversions and sales.
"When they came back and presented their findings to us, that's when the real magic started to happen. Because now we had a clear roadmap."
– Justin Albano, Digital Marketing Manager, IDX
In a two-hour meeting, our team walked through all of the findings, what they mean, and what the client can do next, with plenty of opportunity for Q&A.
For IDX, this meant a clear path forward. They met us with a pile of assumptions and ideas; now, they knew exactly what to test to increase conversions, maximize investments in ad traffic, and generate immediate ROI.
"We saw an immediate revenue impact."
– Justin Albano, Digital Marketing Manager, IDX
2. In-depth testing with the Conversion Growth Program™
Following the audit, IDX signed on for our full-fledged testing program, the Conversion Growth Program™. This program is a monthly, done-for-you testing and conversion optimization service where we use advanced A/B, multivariate, and split testing to reach conversion goals.
For IDX, much of our testing revolved around improving enrollment for their platform.
Here are some highlights of the testing we did: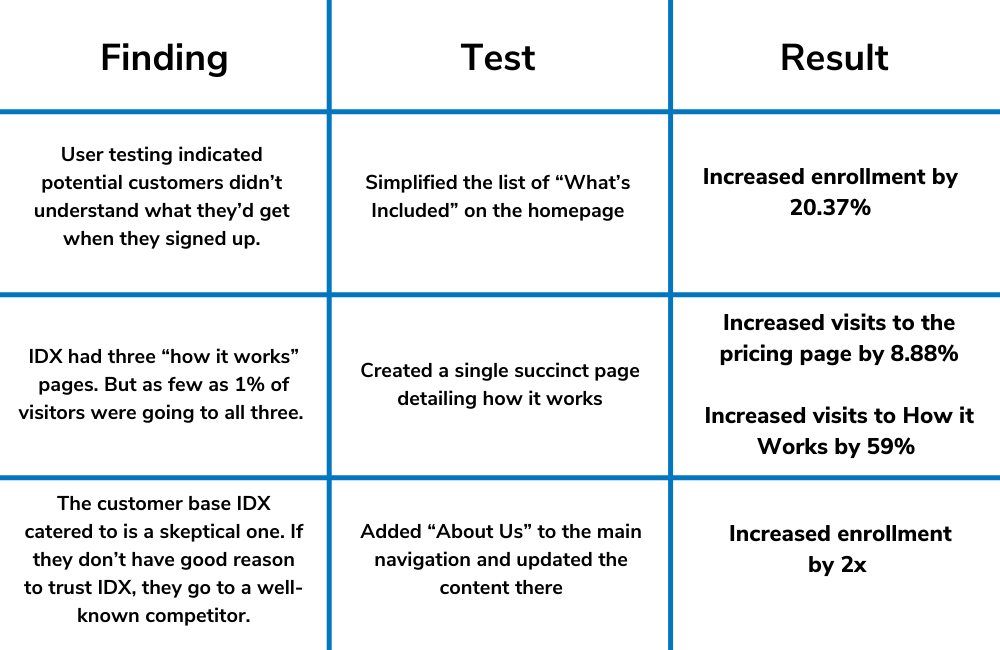 A reason IDX saw these improvements is their willingness to face shortcomings and lean into a proven CRO process.
In a sense, it would've been easier for IDX to pretend as if their site was perfect. But Justin knew that's not how they'd boost enrollment and revenue. To make meaningful improvements, IDX's team had to face where things were broken or needed improvement and then make changes.
So, they leaned into the kind of testing we did above. They knew it was better to address a weakness than bury their heads in the sand and pretend it didn't exist. "The sooner we can identify what hurdles are in place for people…the sooner we can correct them, and the sooner we can improve," Justin told us.
This was a mindset alignment between our team and IDX, speaking to one of The Good's core values to make improvements, not excuses.
3. Auditing the new IDX website with a Comprehensive Conversion Audit™
Since then, we've worked with IDX in several ways. Most recently, we partnered with them to audit their new site.
As IDX had successfully grown their B2B and B2C branches of business, they'd started to fragment their messaging. Yet, both of these audiences wanted to see similar information — product details, pricing, trust signifiers, and so on. Justin said they realized they'd "benefit from a more holistic approach" and opted to roll the two websites they had into one.
But creating a cohesive site for multiple audiences was no small feat, and they knew there were opportunities to improve messaging, information architecture, and navigation.
Similar to our first audit with IDX, we combed through the site using several quantitative and qualitative methods. However, because this site had lower traffic than the initial site we audited, we leaned more heavily on qualitative methods this time around. These included:
Remote user research with highly qualified users, to understand the perspective and hurdles for someone new to the site. This revealed what prevented IDX's target audience from reaching a conversion.
Tree testing, a technique for assessing how well users can locate the information they want within a navigation. This illuminated hurdles within the information architecture and opportunities for testing a more intuitive navigation.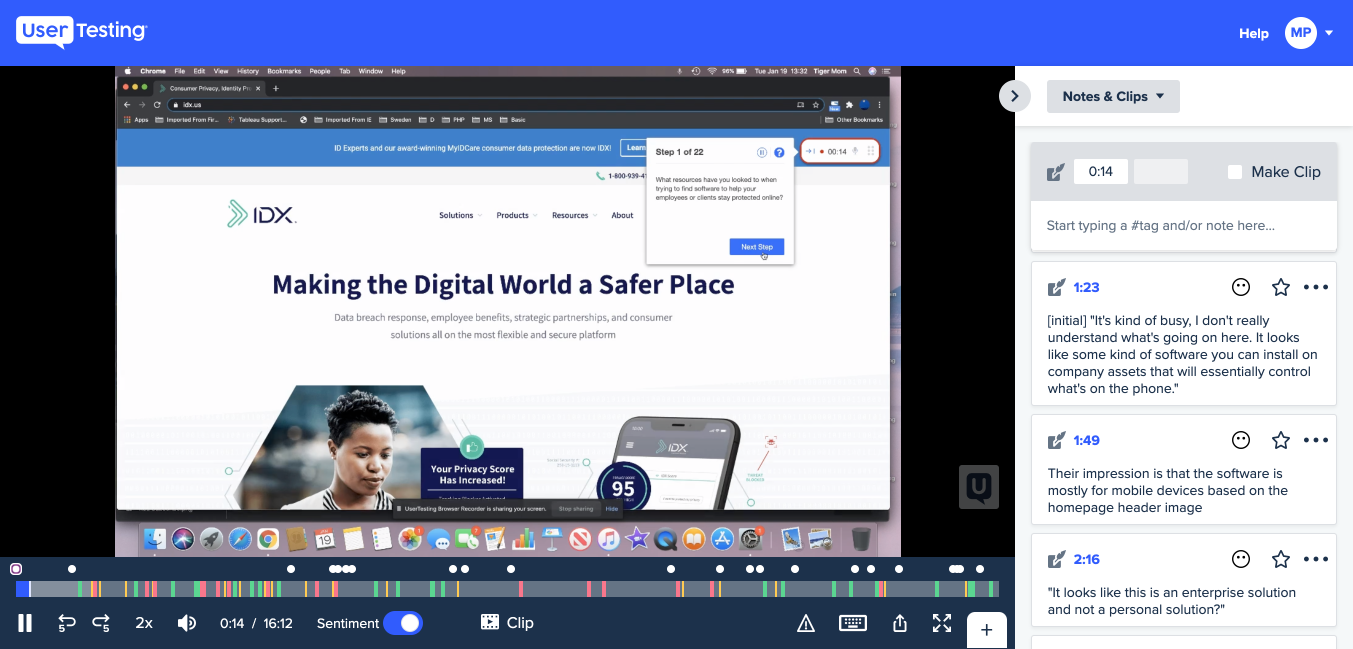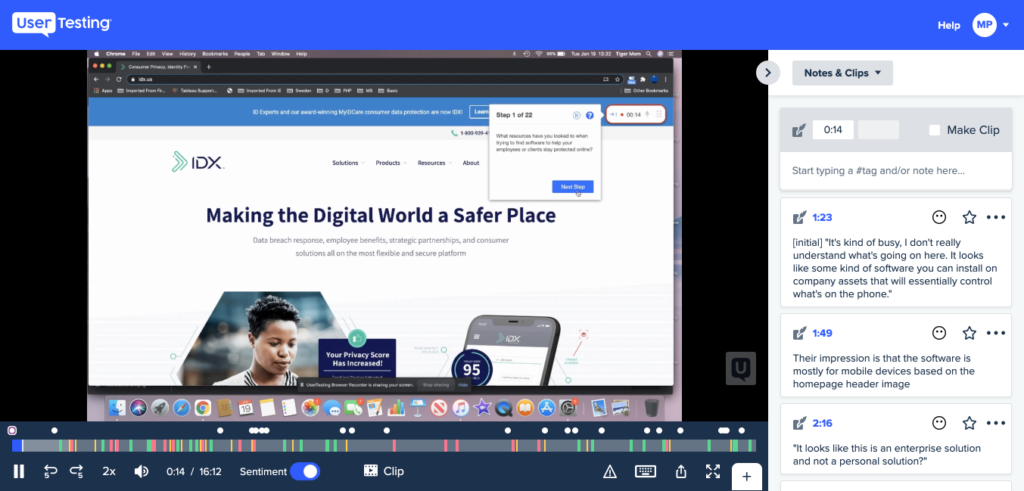 These and other qualitative methods, combined with several quantitative methods, helped us identify key improvements for IDX, including:
Improving lead generation forms with better expectation-setting for time-to-contact, assuring users sensitive information will be handled securely and confidentially,
Providing easier access to resources for those at a top of funnel info-gathering stage
The Results
The results of our work with IDX give the brand a competitive edge in an increasingly dense security market.
Simplifying the list of "What's Included" on the homepage increased enrollment by 20.37%.
Creating a single, succinct page detailing "How IDX Works" increased visits to the pricing page by 8.88% and visits to the "How It Works" page by 59%.
Adding "About Us" to the main menu navigation, and updating the respective content, increased enrollment by 2x.
These and similar results meant immediate ROI for IDX — both in terms of our services, as well as in terms of investments they were making in other services, such as return on ad spend (ROAS). How? A conversion-optimized website makes the most out of traffic coming to the site, meaning dollars spent in driving traffic are maximized as well.
In addition to these wins, The Good's work with IDX has led to three key mindset shifts that aren't disappearing anytime soon:
An understanding of fundamental conversion truths
Increased data-backed decision making
Improved focus and clarity
"We are much more targeted and focused on what we can actually do. We're not sitting there wondering what we should be doing or what's going to make a difference. We know what we need to do now, and we're getting after it."
– Justin Albano, Digital Marketing Manager, IDX
How They Got There
The results with IDX were achieved through a website audit, A/B testing with our Conversion Growth Program™, and a Comprehensive Conversion Audit™.
The best part? Your website can see these improvements too.
Get in touch with our team using the form below to find out what conversion optimization program is best for your business.