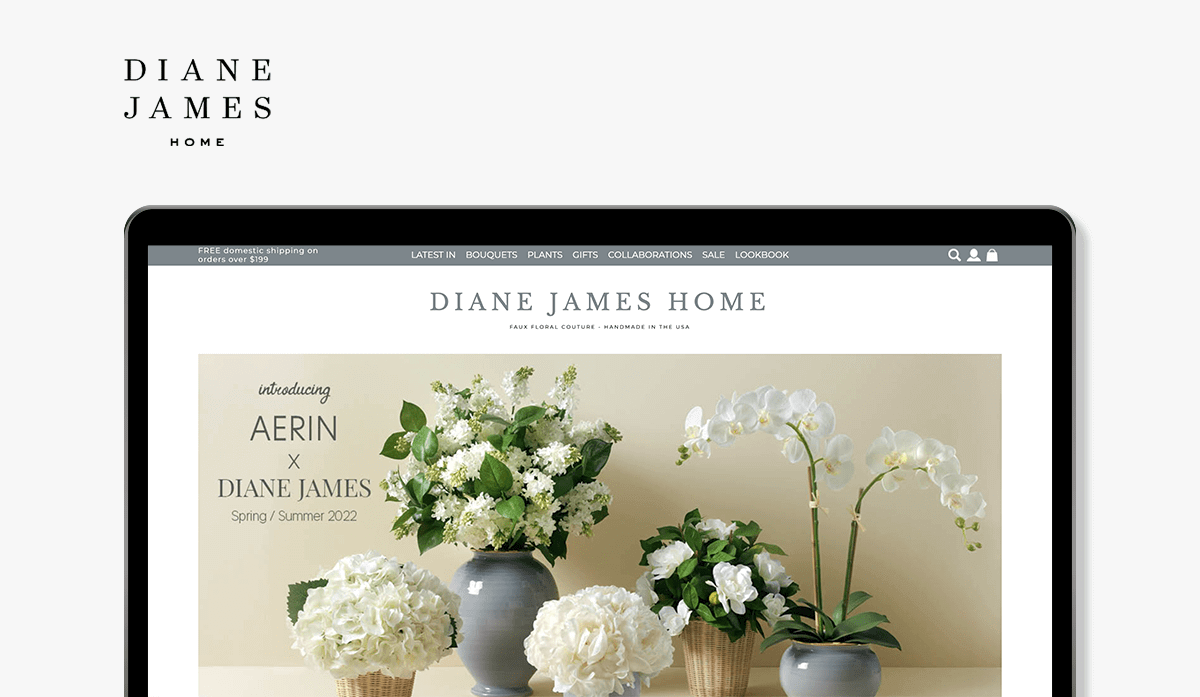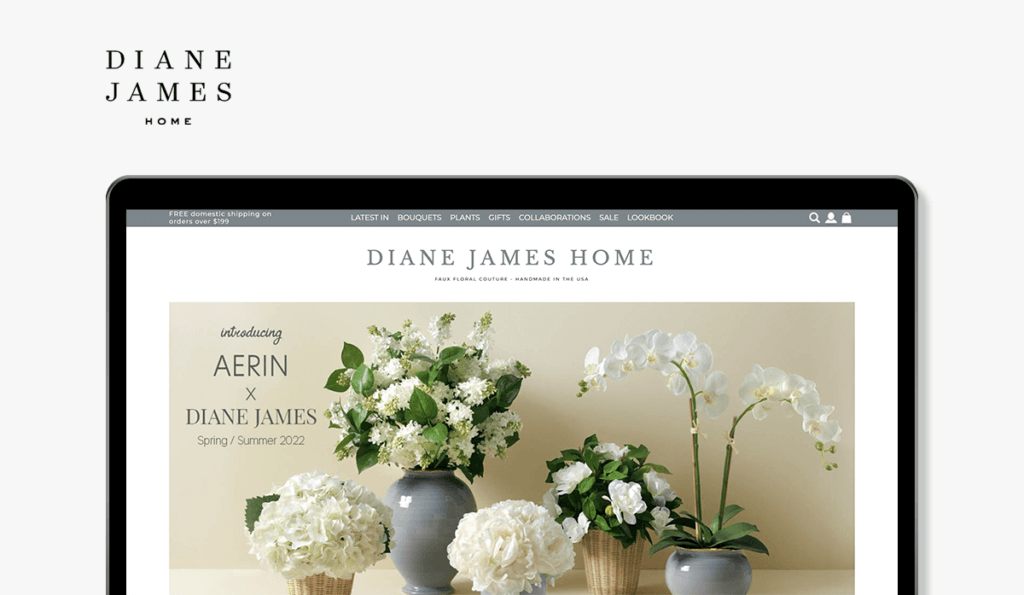 High End Faux Floral Couture Company Increased Online Revenue by 50%
Hear from Carolyn McDonough, Co-CEO of Diane James Home, about how they realized a 35% conversion rate increase and grew online revenues 50% with The Good's Conversion Growth Program™.


"Working with the good has been an amazing experience, our conversion rate is up 35%, our average order value is up 15%, and best of all our revenues are up 50%."
Carolyn McDonough, Co-CEO, Diane James Home
35%
conversion rate increase
15%
average order value increase
The Overview
Diane James Home is the leading resource of faux flower arrangements and plants, handmade to order in Connecticut, USA. They sell to retail stores like Bergdorf Goodman and Neiman Marcus, through interior designers, and online at dianejameshome.com.
The Challenge
When Diane James Home approached The Good, they had seen success and growth of their retail channels and were seeking to replicate that success online. They had recently launched a new website but we seeing a lower than normal conversion rate and needed help.
The Process
Diane James Home completed a Stuck Score™ which helped them discover key areas of opportunity for growth and optimization.
"Based on our Stuck Score™ results we realized that we really needed The Good's help to increase our conversion rate. They put together a road map that included testing our website as it is now and making tweaks so that it would be more appealing to our customer base."

Carolyn McDonough, Co-CEO, Diane James Home
The Good then completed a Stuck Report™, an initial user experience audit and deep data analysis which highlighted the challenges that consumers were having with the site's user experience and content strategy.
After discovering the challenges, they began the Conversion Growth Program™ to help solve them. The program identified a variety of user-experience improvements based on qualitative consumer feedback and user-testing, as well as quantitative decision-making based on data analytics.
The Solution
The Good discovered that the website was creating an anchoring effort in regards to pricing. Consumers visited the site and saw prices that would be high for live flower arrangements, and they did not realize that the flower arrangements were high quality, long lasting faux.
The assumption was that they were real, and thus extremely expensive compared to a single purchase of a live floral arrangement which would die in a few weeks, rather than years of enjoyment with faux.
"When The Good did user testing on our website, they found it took 13 minutes on average for the customer to realize that our silk flowers were not silk because they look so real."
To reduce the anchoring effect on pricing, The Good ran several multivariate tests on ways to signify that the arrangements were high quality faux, and would last a lifetime – resulting in a large savings over continually replacing live flower arrangements. Upon implementation of the winning multivariate tests, bounce rate improved by 52%.
In addition, while Diane James Home utilizes extremely professional and quality product images, the setting for displaying the floral arrangements typically had a more classic style rather than a contemporary style.
User research and data analysis conducted by The Good showed that the consumer base was trending younger, and to better appeal to that consumer base the site's content needed to be more contemporary looking. Upon updating the site with more modern imagery, pages per session improved by 12%.
"One of the most surprising things we found out while working with The Good is that the data shows our customer base was actually younger than who we expected was buying our product."
So far, with these and other improvements, The Good's Conversion Growth Program™ has resulted in a total 50% increase in revenue for Diane James Home.
The Results
Today, as a result of The Good's Conversion Growth Program™, Diane James Home now has access to monthly reporting on the data and metrics that drive their online sales.
"Part of the process of working with the good is our monthly meetings. And since we're data-driven people, we're always fascinated to see what they have in store for us."
Along with The Good's expertise, know-how and guidance on conversion rate optimization, Diane James Home's online sales are growing and consumers are happier with the constantly improving user experience.
Within 6 months of starting the Conversion Growth Program™, Diane James Home's conversion rate is up over 35%, the bounce rate has reduced 38% and average order value is up 15% – all leading to overall revenues being improved by over 50%.
"Working with The Good has been the best investment of this year so far. The guys are experts in their fields."
---
How They Got There
Diane James saw impressive results as the direct result of the following services: