Conversion Rate Optimization
State of Digital In Active Lifestyle Retail
Insights and inspiration for active lifestyle brands looking to satisfy rising consumer expectations and maximize retail revenue potential in stores, on mobile, and online with better digital purchase experiences.
Introduction
Ecommerce marketers have access to more data than ever before and data is rapidly becoming a foundational driver of marketing decisions for all of us. In fact, data is at the heart of The Good's digital development approach and conversion optimization process.
But numbers on a spreadsheet can only tell us so much. To better understand its implications, we've found it's helpful to set the numbers aside and take the time to study both the digital catalysts and the people whose behaviors and preferences the data reflects.
That's why, this spring, we put sneakers on the ground in retail environments around the Pacific Northwest and sought out examples of the most innovative digital displays around the globe. Our mission was twofold:
First, to collect evidence, samples and observations of digital displays in retail environments now, so that you can better understand how people are really using them to assist and enhance their shopping experiences.
To ensure we saw a broad range of screen-based installations, we toured every location type that would reasonably have them, including museums and hotels. We also aimed to gather as much information as we could about the process of designing, manufacturing, and installing interactive and passive displays as possible.
We also interviewed employees at every location, from mall-based big box retailers to athletic flagship stores. We asked how they felt about the displays. Did the displays help make sales and get attention? Were they annoying? If so how, and when? In the process, we also heard some great stories.
Most importantly, we wanted to understand how customers approached and interacted with the displays, and whether they were effective or not, so we watched customers and noted their responses.
Second, we wanted to share some of our ongoing industry research with you in hopes it will give you a better sense of how digital is permanently changing the retail shopping experience and will enable active lifestyle brands to efficiently create a consistently excellent experience for every customer.
"The State of Digital in Active Lifestyle Retail" is a summary of our findings followed by implications, insights and inspiration for active lifestyle brands looking to improve the effectiveness of their digital initiatives.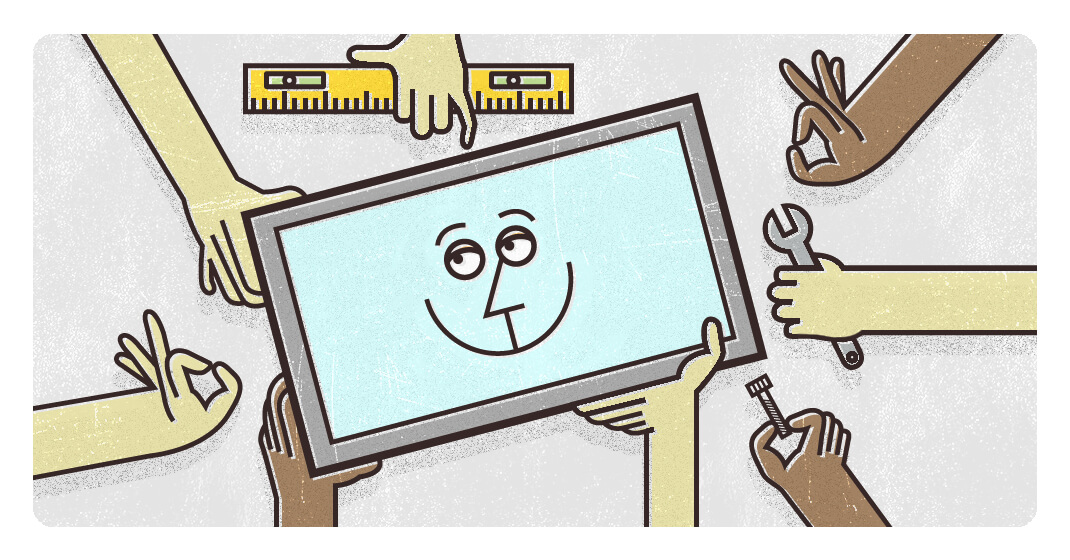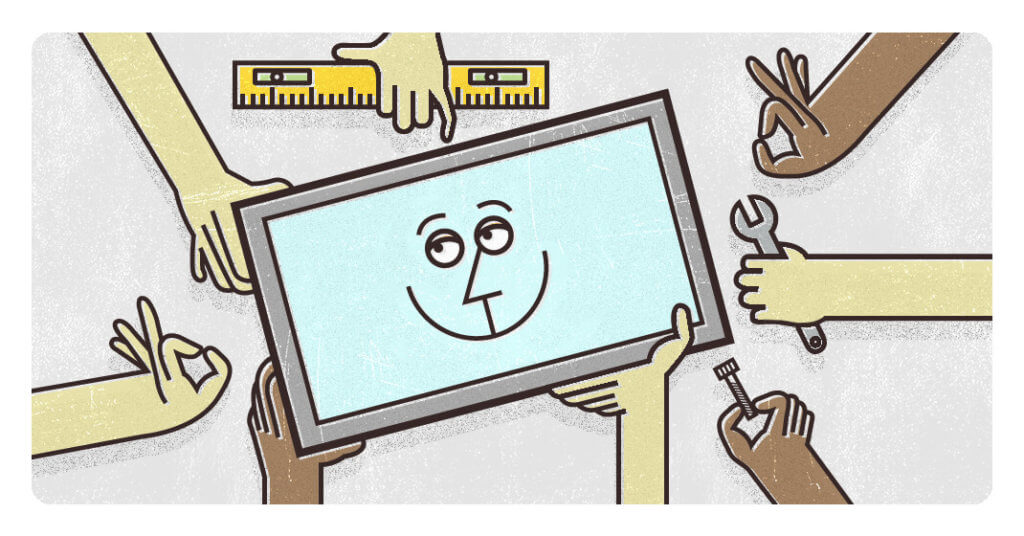 Summary
Here is what you need to know, in a nutshell:
Most retailers still only have one toe in the digital water. What they are doing is helping (most of the time) because even the simplest digital displays can be effective. But when it comes to the potential of digital displays to drive engagement and purchase, most retail brands are just scratching the surface.
Then, there is Nike. When it comes to maximizing the potential of digital retail, Nike is leading the pack. To catch up, active lifestyle brands will have to make a deep commitment to digital and then invest intelligently and consistently if they want to win.
Mobile checkout along with customized and DIY personalized product experiences should be on every active lifestyle brand's digital roadmap. The ability to checkout on the floor makes customers happier and immediately increases sales. In-store product customization and personalization is not the future of retail — it's already here.
Technology is evolving quickly, which will continue to make it hard for brands to keep up. The upside is that as the tools evolve, the cost of the technology goes down and that means you can do more with less.
Digital is rapidly making the luxury shopping and purchase experience the norm. Advances in manufacturing technology and systems are making a level of customization and DIY/personalization previously only known to the luxury consumer available to the mainstream consumer. And it is rapidly, and permanently, raising the expectations of all consumers.
The time to make the commitment to digital is now. Though the majority of digital in retail today is still composed of displays running loops, the major display fabricators we talked to indicated that everyone is asking for prototypes and new ideas. Brands that aren't planning their digital future now will be left behind when their competition releases their digital projects into the field "overnight."
In the next section, we'll dive into more detailed explanations of what we found, what we know, and what we think it will mean to your business now and in the future.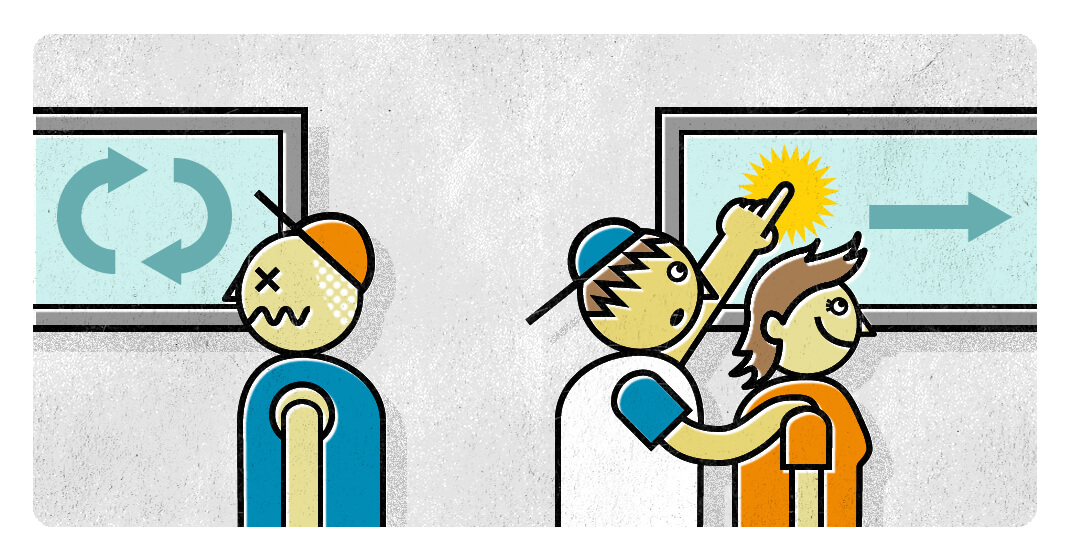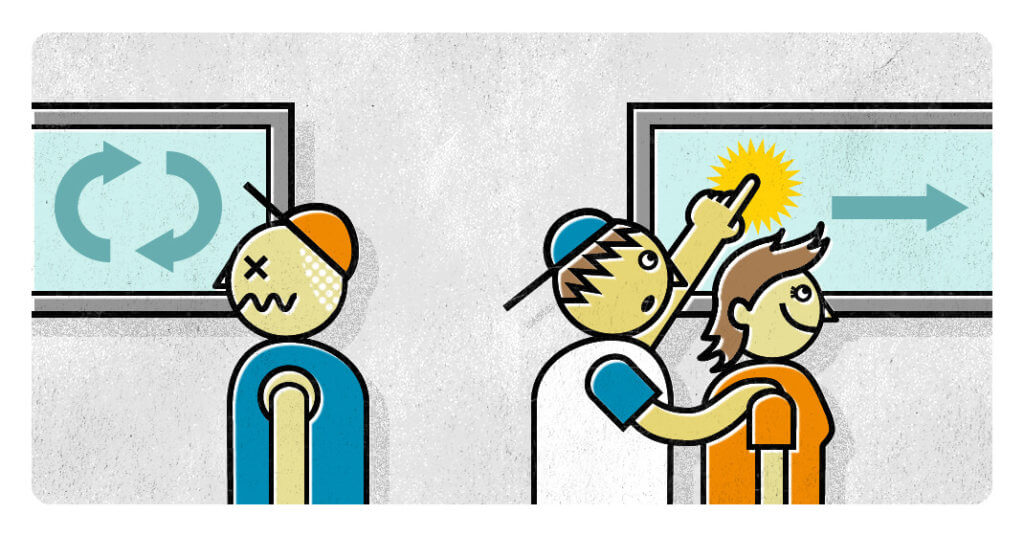 Observations and Key Takeways
The purpose of digital displays in the retail environment is to attract and engage customers and assist them with research and the decision making process and to scale the impact of sales staff by enabling them to educate more than one customer at a time.
We observed a variety of digital displays ranging from those showing passive attract loops and active interaction loops to digital displays that assisted consumer product research; displays that enabled digital and mobile checkout; and displays that facilitated customization and DIY personalization.
By far, the most common use of digital displays in retail stores were for loops. The two most common loop types are the passive "attract loop" and the interactive "interaction loop."
Attract Loops and Interaction Loops
In this application, the display shows video content that loops, attracting the attention of customers and drawing them in so that they will want to find out more about the product.
An attract loop is a passive display of interesting content designed to pique a customers interest in a product so they will come over to check it out. Loop content may be a 2-3 minute video or slideshow, which then will start again from the beginning until it is turned off. It may or may not include audio. Most of the displays found in big box retailers play attract loops of inspirational, mood-setting content.
In Dick's Sporting Goods, for example, many of the category areas have a screen or two above them playing clips of golfers, baseball and football players working out. Short clips are devoted to selling a new product or line of products.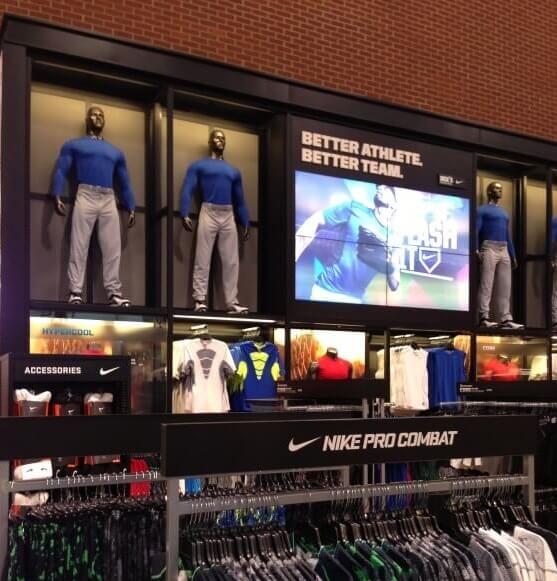 An interaction loop is a touchscreen display that enables customers to interact with it directly to find out more about the product. It uses an attract loop to grab the attention of passers by.
Foot Locker made the most of their interactive digital installation by completely overtaking the back wall of the store. The content, lights, and featured products are clearly visible throughout the store and draw consumers through the store to interact with it. They see everything available to them along the way, and employees confirmed that the content inspires more direct interaction with customers. They ask more questions, and as a result, buy more products.
Even the simplest digital display was effective in one way or another, either prompting the customer to use his mobile device to find out more information or to ask a question or interact with sales staff. The most effective displays offered detailed product information within the context of a larger brand story, and included all aspects of ownership: why buy, how it will improve something, and what the benefits are.
However, we found very few displays that were interactive, especially when it came to smaller retailers, and those located in malls or public walkways. Here's what else we found.
Passive loops definitely create sales opportunities, but if there is no sales person available to close them, sales are lost.
If customers have a question about what they're seeing on the display or the product it features and there isn't a sales rep around to help them out, they are likely to go back to browsing or leave.
Sales staff reported that if they were working with one customer, the only option they had was to tell the next one they will "be right with them" and continue through the queue.
When a display was drawing customers to a particularly busy area, such as shoe department, staff were quickly overwhelmed.
Key Takeaway: Brands need to start to consider digital displays and the opportunities created by them in the overall design of their in-store customer experience and sales processes.
Response to displays varied depending on age of customer.
In general, older generations look at displays but typically don't interact.
Most customers under 40, however, will try touch a screen that is within reach, expecting it to be interactive.
The more interactive a display, the better the response from the millennial market.
Teens and young adults expect displays to be interactive and will often try to touch or swipe a display even if it isn't interactive.
Key Takeaway: As younger audiences age and acquire purchasing power it will be mandatory for retailers to update their displays to digital in order to remain competitive.
Parents and children have different ideas about how to interact with displays.
According to staff interviewed at multiple flagship stores and large retailers, an unexpected and somewhat comical interaction often occurs with younger children and their parents when it comes to a digital installation.
Kids are immediately drawn to interactive kiosks, especially if it is something they are already familiar with, such as an iPad. Their parents see the display, assume that it it is not meant to be touched (and would be expensive to fix if something went wrong) and frantically move to keep their children from breaking something.
Key Takeaway: For maximum interaction, brands need to communicate when it's okay for children to touch a display!
Interactive displays scale, enabling sales staff to help more customers.
The highly interactive displays at Nike enable sales reps to show multiple customers how to interact with the information and options available to them.
Customers can use screens to request products by size, have them customized, or order directly.
The interactive displays allowed customers to have more productive interactions with staff and products rather instead of trying to do research on their mobile phone.
Key Takeaway: The future of digital is to increase customer satisfaction through better service, customization, and personalization and those who figure out how to do that will win.
Next, let's take a look at three approaches to assisting customers with product research through in-store education. What we found might surprise you. (Hint: Interactive is better than passive.)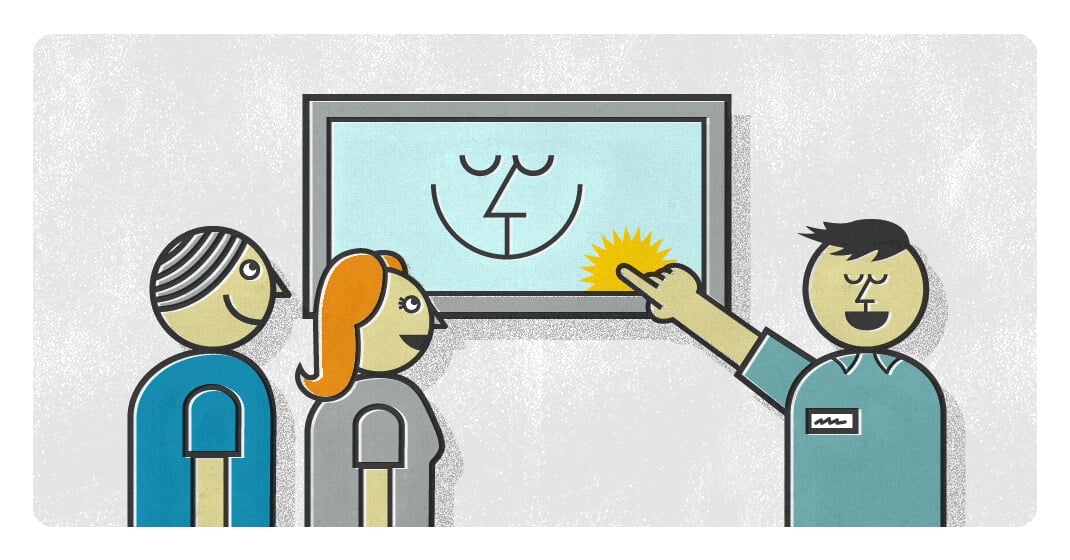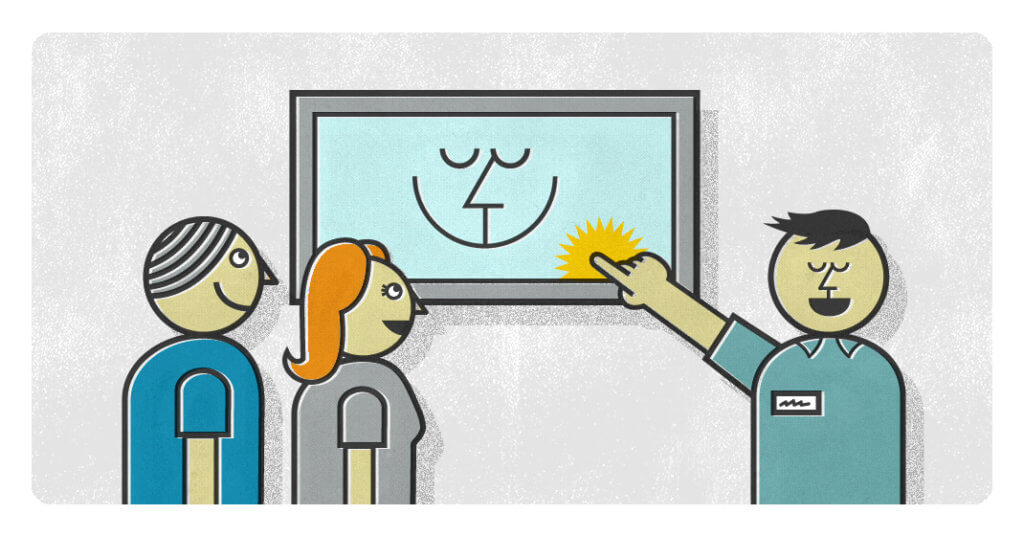 Consumer Product Research and Interactive In-Store Education
Interactive digital displays can assist customers with product research such as finding right size, learning about product technology and performance, or figuring out which product to buy in the first place, through interactive digital content.
Nike: FuelBand Selection and Setup
The Nike FuelBand is among the most popular personal activity tracking devices on the market. It is simple to use and ties into the larger Nike+ community on Nike.com and Facebook.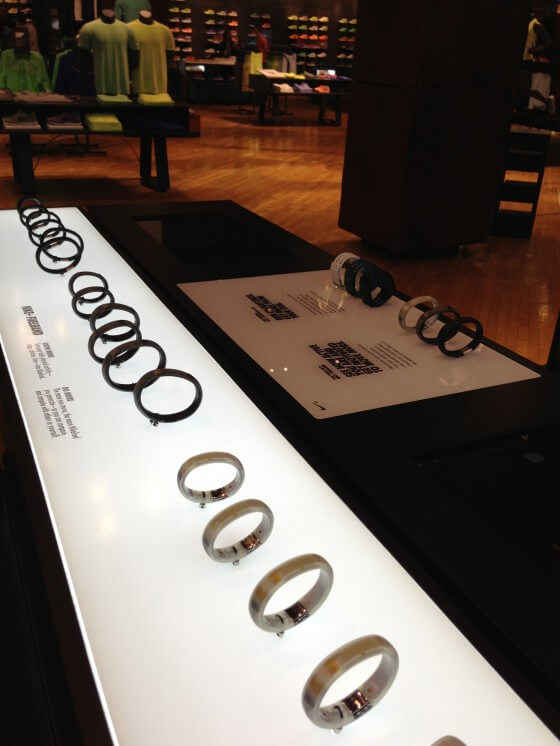 Nike is successful because of its incredible understanding of how digital helps customers buy and thorough planning and coordination to ensure an excellent digital experience.
While large video screens play attract content in the background, the FuelBands are lined up outside of any protective casing, making them easy to pick up and play with.
The videos show how the FuelBand is used, and how it fits into the larger Nike+ ecosystem.
A setup station is integrated into the counter below the display so that customers can walk out the door with the FuelBand completely set up and tied to their Nike+ account.
If they don't already have an account, an employee walks them through the process of creating one. From start to finish the product is available to try, explained in context, and ready to start helping them reach their personal fitness goals.
Key Takeaways: Make product lines available to try on and use immediately. Digital displays help staff to not only sell the product but also connect customers to the brand community. Handle potentially complicated product setups in store so customers leave happy.
Though this is a report on digital displays, it's worth noting that even an analog display, if it's interactive, can still be very effective!
Adidas Sole Technology
To help customers understand the benefits and unique features of its technology, athletic footwear and apparel retailer Adidas uses this interactive display to show rather than tell customers about the difference between standard foam sole and the Adidas Boost foam sole.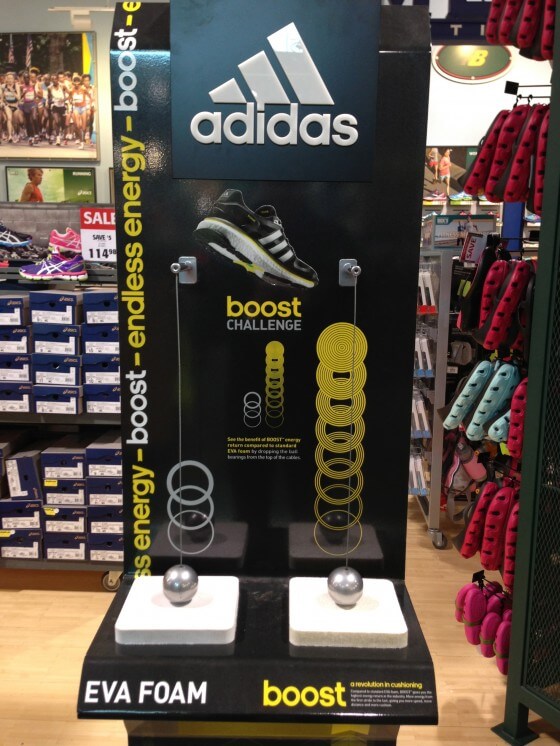 Though the display isn't digital, it is dimensional and interactive and it shows the product's main benefit simply and obviously.
How it works: Customers lift a metal ball and drop it onto a standard foam sole and watch it bounce a pitiful few times. They then repeat the same action over the Adidas Boost foam sole and the ball bounces significantly higher and longer.
The best part about this display is that it is experiential. No reading is required.

Unfortunately, when we walked around the display to check out the shoe, most of the rack was empty and there weren't any other versions of the shoe nearby. A great example of why it's so important to consider the entire customer buying journey when adding an interactive display, digital or analog.

Key Takeaways: Simple can be very effective but interactive is better than passive, even if it's analog. Also, to avoid disappointing customers, keep featured products in stock!
Some brands meant well but for whatever reason their efforts were inconsistent or ineffective.
Nordstrom: Pots, Pans and SodaStream Cans
Presumably, these displays were installed to describe the unique qualities of the featured products.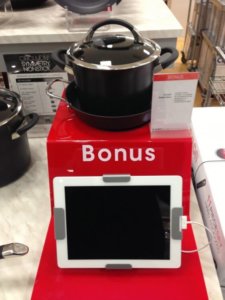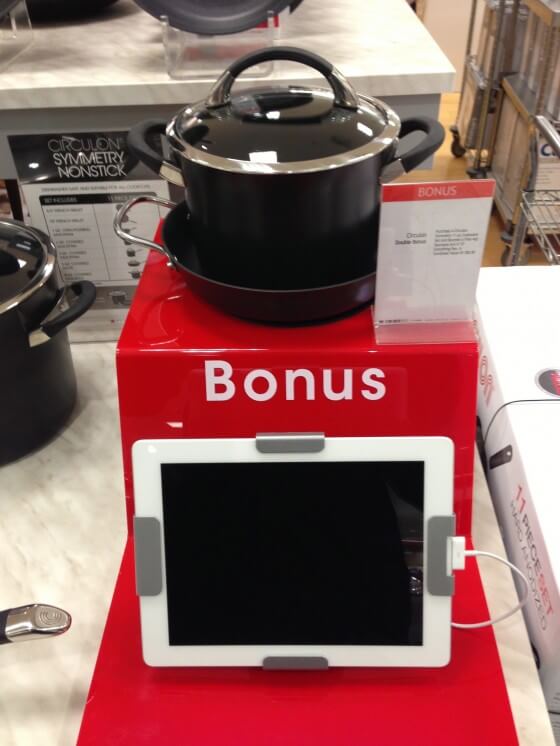 The problem is that while the content on the displays is helpful enough, the iPad is dwarfed by the massive display and its sound drowned out by the surrounding products and callouts. Perhaps that is the reason both displays were powered off when we arrived.
The effort, programming, production and logistics involved in creating a digital display can only produce results if the display is well-placed and actually on.
Key Takeaways: Choose a display for the environment it will live in and design the display to complement its surroundings (or vice versa). And make sure there will be power available for the display!
Dick's Sporting Goods: Shopping On the Big Screen
We actually loved this one, as a concept. When a customer picks an item up off a sensor enabled shelf, a 10-second clip of a model wearing it appears on a large screen directly above the unit.
However, there were a few issues.
The screen was giant and visible to everyone in the store, meaning everyone will know what you are looking at. This may be okay if you are looking at shoes, but for sports apparel or support garments, maybe not so much.
Ironically, the screen was mounted directly above the display so the target of the loop (the person standing at the display and handling the merchandise) would have to crain her neck to see it.
Key Takeaways: Think experiences through and then test to making sure thinking is right. Prototype and test things in a mock up environment before you build. Don't let the display get all the way into the store before problems are discovered.
Next we'll talk about another trend we see quickly gaining ground, digital checkout.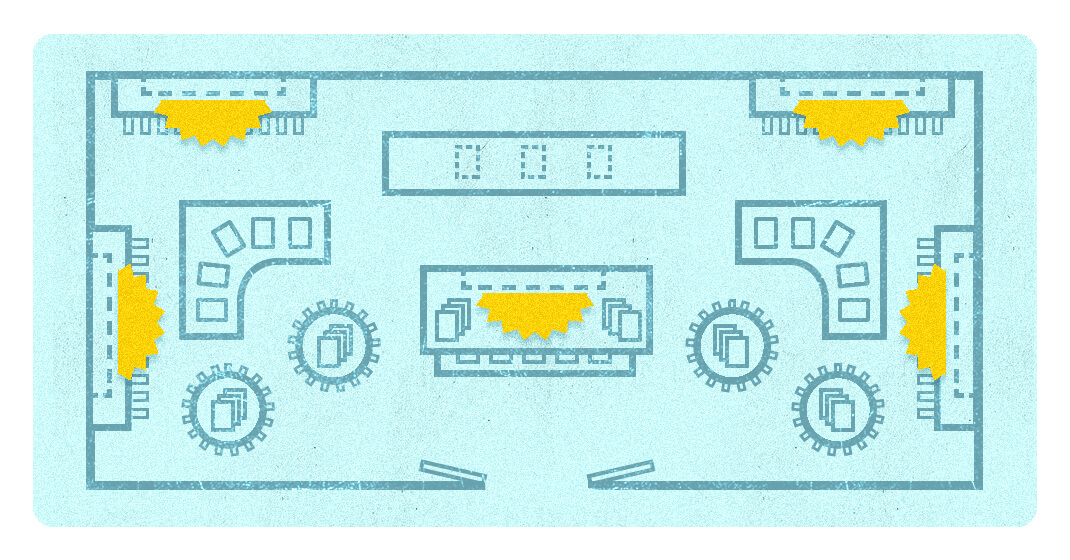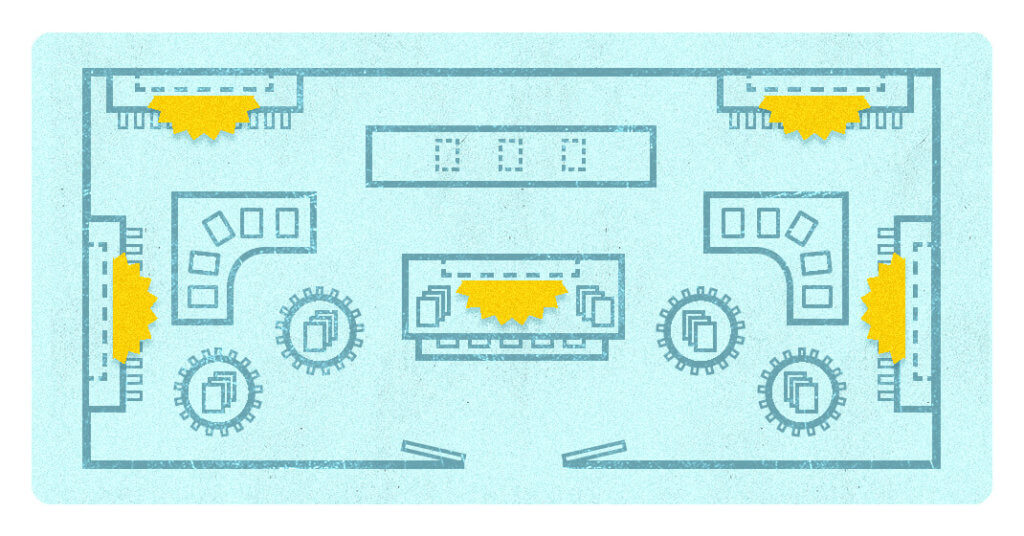 Digital/Mobile Checkout
One of the best things about shopping online is that when you are ready to complete your purchase, you are usually a couple clicks and about a minute away from being back to your normal life.
Digital installations can make buying simple, removing the need to wait in line or carry anything home. Same day delivery is becoming more and more prevalent as well, further reducing the barrier to in-store digital purchase. This has big implications for retailers as well, reducing the need for large inventory stock on location.
Apple Mobile Checkout
Apple changed the way customers experience paying for merchandise in a retail store by providing employees with mobile POS devices.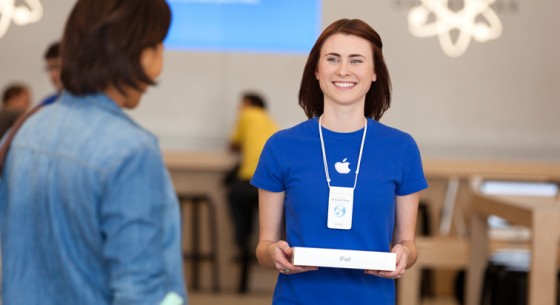 The Apple store/showroom is filled with digital screens; Apple products which are all on and loaded with audience focused loops that show people how the products can enrich their lives.
Stores maintain a high number of sales people per square foot and it is almost always possible to get attention and complete a purchase quickly — even when the store is extremely busy.
Purchase is completed on the showroom floor via iPhone/iPod based system. When purchasing, an email is requested (but not required). If the email is connected to an AppleID the purchase is automatically associated with it. Receipts can be emailed or printed.
Key Takeaways: As more stores implement mobile POS technology, making people wait in line to purchase will become a liability. The purchase experience also is becoming location agnostic. Checkout needs to be equally quick, simple and hassle free whether buying online or in-store. Consider offering customers the option to store previous purchase history by connecting it to an ID or email.
[banner style="gray"]
Nordstrom iPad Checkout
Nordstrom also has joined the mobile POS trend, replacing cash registers running ancient operating systems and high learning curves with easy to learn and easy to use iPads.
The tablet checkout system eliminates the need for customers to stand in line to pay for items and offers the ability to checkout from anywhere in the store.
Tablet-based register system requires ubiquitous Internet access for employees on technology as good as or better than that of customers.
If a customer has a question about a product, the answer is only a few taps away.
A custom application for each store makes it easy to quickly find detailed information about any product, or to order and ship something directly to the customer.
Employees can be trained in how to do mobile checkout in minutes through an application on the iPad and the register software is easily updated.
Key Takeaways: Stop making customers stand in line to purchase; enable them to be checked out from anywhere in the store. Fast Internet access enables employees have the ability to look up information about any product, even placing a digital order for a customer. Employee training will be easier and software updates will be easier and more immediate.
[/banner]
Vans In-Store Ordering
Known for its skate shoes and apparel, Vans actually is one of the earliest adopters of in-store digital. An attract loop plays behind the checkout counter of every store.
Vans was among the first to put in a kiosk where customers could place an order on vans.com while in the store to be shipped directly to their door. The ability to use a digital screen to order a product from within a store is now one of the most common applications of digital in retail.
Vans' staff reported that the in-store ordering system prompted customers to ask questions and order items in styles or sizes that weren't available in the store. In the store we visited, however, the kiosk had been recently removed.
Key Takeaways: In-store digital purchase options increase engagement and orders. Digital also enables brands to transcend the physical limitations of retail space and effectively offer additional products beyond what they can fit on displays. When testing digital make sure you communicate with customers and staff about prototypes and create a map for how the new expectations they created are going to get met if you have to pull the units out for fine tuning.
When it comes to in-store digital, however, customization and do-it-yourself (DIY) personalization is enabling active lifestyle brands to achieve a high level of differentiation. To stay competitive, product customization and DIY personalization need to be on every active lifestyle brand's digital roadmap.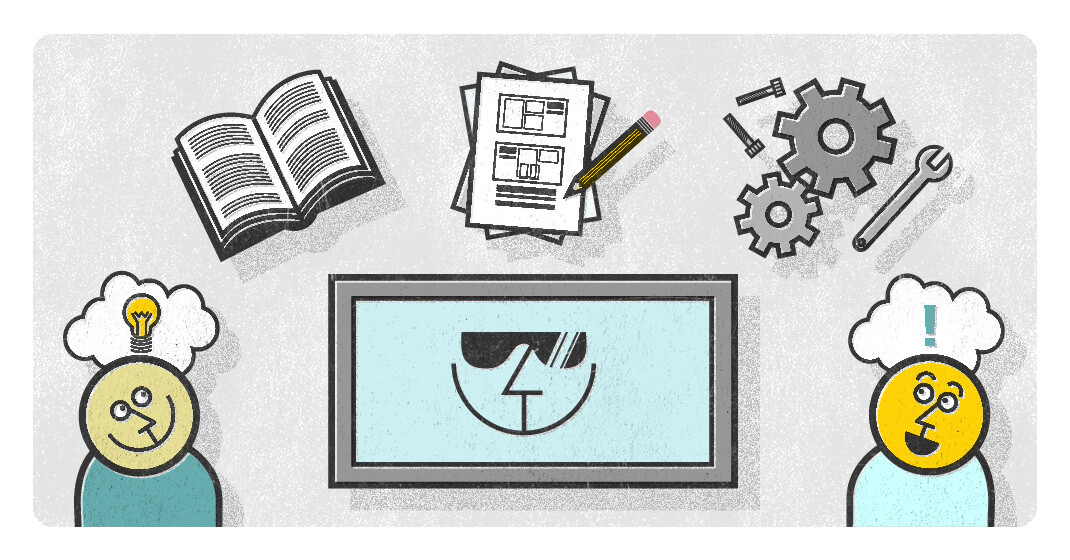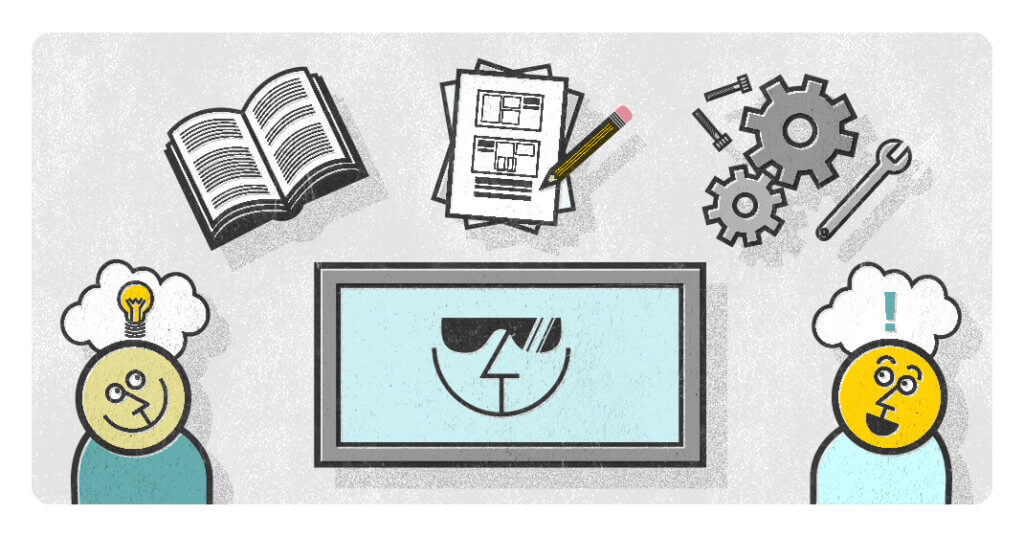 Customization
Customization is taking a series of standard features and allowing customers to mix and match them to create a unique combination, such as shoes in team colors and uniquely patterned laces.
Customized products are rapidly increasing in popularity and affordability and is a trend that is quickly driving evolution of the shopping experience both online and in-store. On-site product customization has huge potential for retail stores looking to recover lost revenue from showrooming, a practice where a customer visits a store to evaluate a product and then buys it online at a lower price. And product customization can be combined with in-store events to provide consumers with a reason to visit the store, leading to engaging content and more positive brand associations.
We predict that digital technology and customer demand will eventually make a product customization investment a requirement for active lifestyle brands.
Here is how Foot Locker and Nike are leveraging customization today.
Foot Locker Product Release Events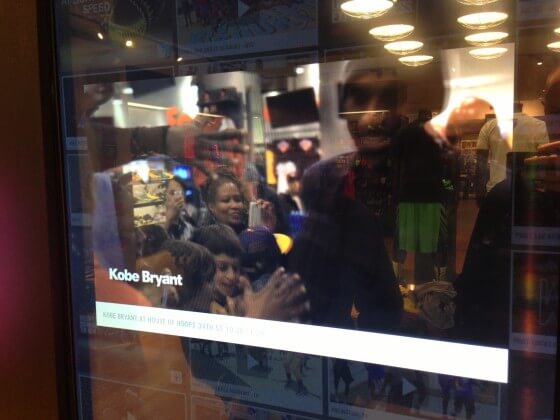 When athletic footwear and apparel retailer Foot Locker organizes an in-store event, they see a 10x bump in sales for over two weeks following the event.
In a typical event, customers have the opportunity to meet famous athletes, enjoy music from popular DJs, and receive a customized product such as socks or a t-shirt. Customers commonly line up days ahead of time, actually camping outside the store.
The events produce a ton of social buzz, resulting in free advertising and an incredible boost in sales.
The events also serve as a content generator for in-store digital displays. Customers swipe and tap through a library of video clips, prompting questions about upcoming events and the products featured in the display.
Key Takeaways: Events that include a customization component strengthen customers' connection to the brand while generating social buzz and boosting revenue. Customer-generated content boosts personal connection to the brand that commercial and information content cannot.
Nike Custom Shoes in 20 Minutes
The flagship Nike store in downtown Portland, Oregon offers the following proposition: For just $20 more, customers purchasing the Nike Free running shoe have the option to select their own swoosh and custom laces.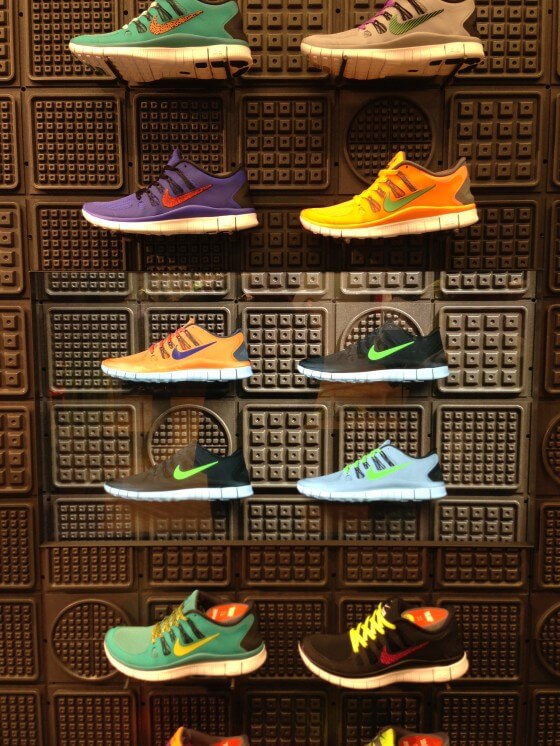 The digital display is seamlessly integrated into the shoe display wall, with an effective attract loop that creates interest, surprise, and delight.
The initial screen displays a grid of shoes and background matching the wall around it, camouflaging the screen entirely.
Animations cycle through featuring different arrangements of shoes, until the interactive customization screens arrive and mimic the interactions available to a customer.
The well designed attract loop teaches a customer how to interact before they even touch the screen.
The customer experience is well thought out and executed from start to finish. Nike employees greet customers, walk them through using the customizer pointing out the coolest things about it, then direct them to the next step toward walking out with a uniquely personalized pair of shoes.
Nike Customization in action: While we were in the Nike store speaking with staff and playing around with the customization app, nearby customers overheard our discussion and commented that they had seen how they could order custom shoes online. They couldn't believe they would be able to walk out of the store with a custom shoe, and felt the additional $20 was well worth it. The customers immediately took our place playing with the display, and put together a custom pair of shoes within minutes. They were taking photos, laughing, and excited to tell friends about the in-store feature.
Key Takeaways: Products can be customized in-store, affordably. Customers want the experience of making a product their own and can't wait to share their experience with others.
Digital and DIY/Personalization
DIY/Personalization is one step above customization in that it gives the consumer access to the "raw" materials used to create the item wrapped in a process that enables them to connect the creation of that product to their personal story resulting in an end product that is truly one-of-a-kind.
The best example of DIY/Personalization in retail today is Build-a-Bear. Active lifestyle brands should be studying this model for clues on how to create a truly DIY/Personalized experience for their customers.
Build-A-Bear
Build-A-Bear creates a genuinely interactive experience for its customers; its workshops delight children and parents alike. Build-a-Bear enables parents to create magical memorable experiences for their children. And for the child it really is magic. Through a series of choices, both digital and physical, the child brings to life a stuffed toy that becomes his "best friend."
Build-A-Bear is a truly unique experience that an off-the-shelf product could never recreate. At each step in the process the child is in charge and so by the time the bear is made, it really feels like her new best friend. But the experience doesn't end there.
Build-A-Bear cements the experience between the child and toy by re-imagining real life experiences that resonate with both child and parent. The experience mimics the process that parents go through when they bring their own children into the world such as selecting a name, expressing hope that the child will be healthy and full of possibility, giving the first bath, performing the first check-up, and receiving a birth certificate. (Or in this case, a "best friend" certificate!)
The child perceives her experience to be unique, because she makes all of her own choices. And even when other children make similar choices, the Build-A-Bear process ensures no two "best friends" will ever be exactly the same.
Build-A-Bear starts with a child's imagination and then adds carefully crafted digital, physical and social elements to create a rich experience that results in a truly unique product.
This desire for rich experiences that result in unique products is at the heart of the DIY and personalization movement and at the foundation of the trend of incorporating luxury experiences into the mainstream retail environment.
Key Takeaways: A rich experience that culminates in a truly unique product requires skillful integration of digital, physical and social elements.
Active lifestyle brands that are moving in this direction include Foot Locker and Nike.
Foot Locker
Athletic footwear and apparel retailer Foot Locker is not best known for selling socks but it is quietly becoming known for personalized socks.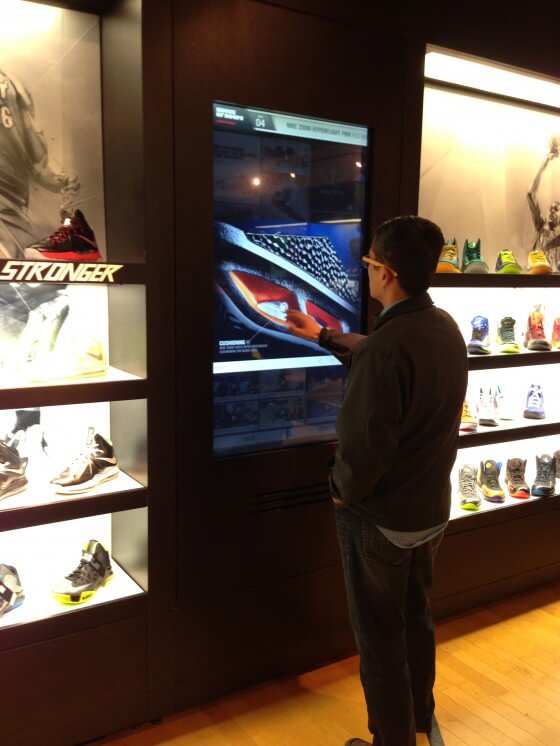 At Foot Locker product launch events the biggest attraction often is not the sponsored athlete, it is the opportunity to design and take home a pair of personalized socks. In fact, fans are still waiting in line for hours to get their own socks well after the sponsored athlete is gone. The personalized sock promotion has been so successful that the company has added a launch locator feature on its website.
To extend this personalization to footwear, Foot Locker has partnered with ASICS to launch the "Stand Out: Colors that Run" line of running shoes. That campaign has resonated so well with customers, they they have left hundreds of positive reviews on footlocker.com and have given an average rating of 4.7 out of 5.
Personalization doesn't guarantee the success of a product, but wherever there is a demand, digital can enable brands to scale, meaning that delighting one customer doesn't diminish the experience for another.
Key Takeaways: Active lifestyle consumer brands should add self-directed personalized experiences resulting in unique products to their marketing roadmaps asap. Personalization doesn't guarantee the success of a product, but if there is a demand, digital can easily scale to meet it
NikeID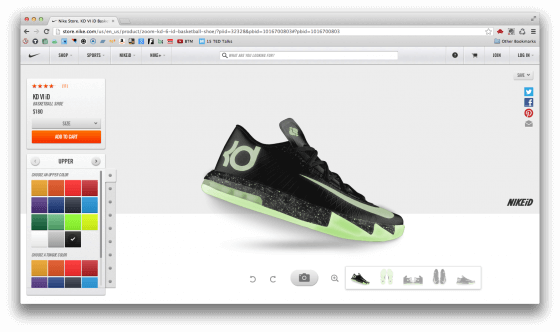 NikeID is an experience that has enabled customers to personalize their running shoes, since 1999. What makes the NikeID experience so outstanding is that it is completely integrated with its retail operations. Product displays, fixture configurations, store layout, and choreographed staff interactions are all designed to work together to provide a seamless and highly personalized experience.
NikeID Experience
To really get the power of personalization, we thought it might help to walk through what creating a personalized pair of shoes at the Nike Flagship store in Portland, Oregon is like.
As we enter the store on the first floor, we are met with a wall filled with colorful shoes and wall-mounted interactive displays. As we study it, a Nike staff member (we'll call him Mike) greets us.
"Did you know you can design your own shoes?" Mike asks. Assuming the answer is no, Mike begins swiping a nearby touchscreen display.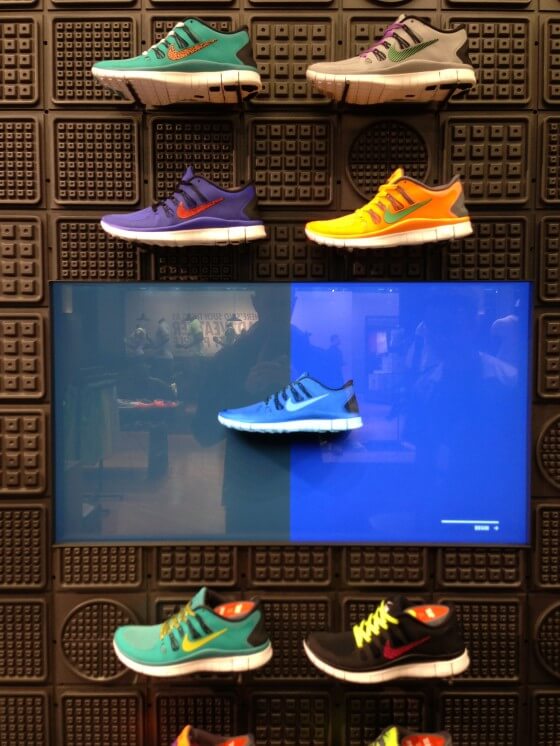 We watch as Mike moves his hands across the screen, swiping back and forth through multiple colorways and patterns. Effortlessly, he selects shoe after shoe, lace after lace and swoosh after swoosh. He then invites us to try.
We find it just as easy to do ourselves. Mike then mentions that all of the configurations are done on site and it takes less than 20 minutes. He invites us to the second floor to check out complimentary products while we wait for the shoes to be ready.
Like a kid in Build-A-Bear, we're drawn to next station in the design process and are inspired to continue on until our creation is complete. Once on the second floor, it's just a few extra steps to the third floor, and so we go.
It's worth noting that Nike has worked hard to become the digital juggernaut that it is today. They are leaders because they committed to digital early on and have been able to learn from and build upon the results of that commitment.
Other leading active lifestyle brands have developed custom product configurators but nothing that comes close to the buying experience Nike provides.
Key Takeaways: To create a seamless personalization experience, product displays, fixture configurations, store layout, and staff interactions all have work together. This level of sophistication in personalization is the product of coordinated efforts of multiple departments. Installing a custom product configurator does not necessarily result in a custom buying experience. Active lifestyle brands need to commit to digital now and not let growing pains derail digital strategy.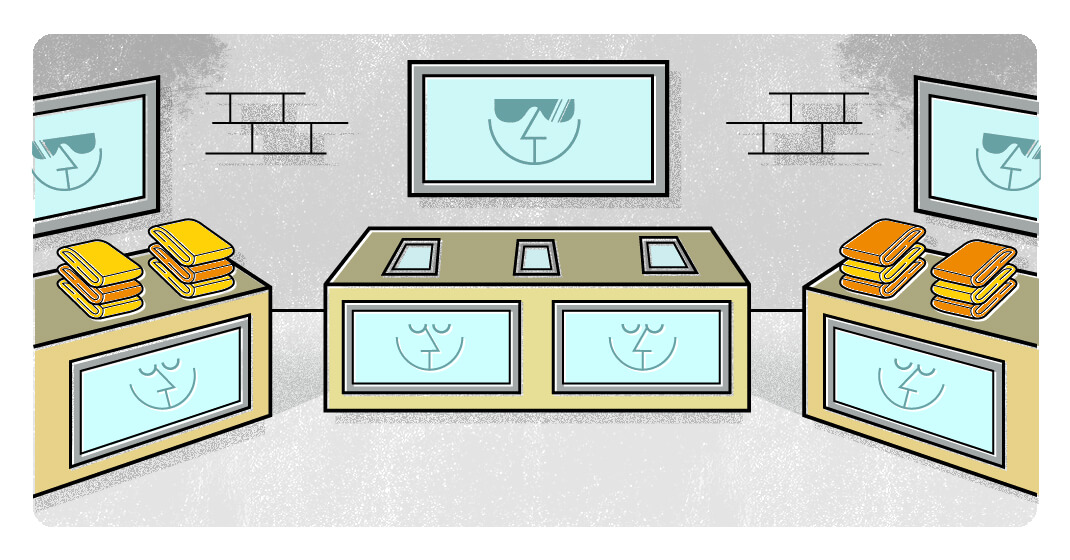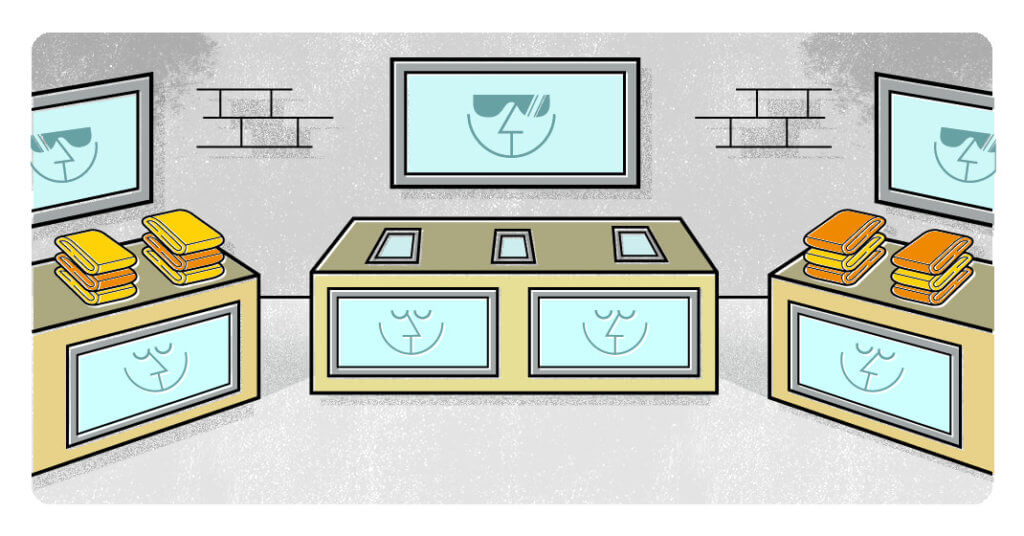 Technology and Trends
Display Fabrication and Manufacturing
Our conversations with leaders of large local display fabrication and installation shops working for top active lifestyle brands revealed that while there are currently building few groundbreaking digital installations, they are getting more and more requests for prototypes and ideas that push the envelope.
These shops help brands source and experiment with new technology (sensors, screens, setups). Most of the time an agency such as The Good also would be involved in this process since these shops don't write software or create content.
Technology
Technology is evolving very rapidly, and new tools are coming out quicker than any brand can keep up. The good news is that as tools evolve, the cost goes down. Evolving technologies also will lessen dependency on expensive hardware such as 50" touchscreens.
For example, a brand can make an experience as intimate or large and experiential as they wish using only a Kinect and software by UBI Interactive to turn any surface into a multi-touch display.
Now imagine a personal product configurator on a tabletop or a massively interactive entry window display encouraging engagement/purchase prior to even entering the store.
http://www.ubi-interactive.com/
Another alternative is an interface by Leap Motion that turns any normal screen or computer into an interactive experience.
The device itself is very inexpensive, around $80. It is very small (3" x 1") and can be integrated into almost any setup to detect and allow interaction with 3D objects, including product.
Some active lifestyle brands are getting support in developing this technology through a retail "lab" created by Canadian sporting equipment retailer, Sport Chek.
Sport Chek Retail Lab
Sport Chek, Canada's largest retailer for sporting equipment, goods, footwear, apparel and accessories has provided a platform for brands to experiment with the customer's digital experience. Its flagship Toronto store is host to North America's Retail Lab for Digital Innovation. This "live lab" store provides a place to test and demonstrate the latest in retail technology, while serving as a conduit between customers and their favorite brands. It offers unparalleled levels of customization and is staffed with the strongest product category experts in the industry.
Here are just a few of the store's features and benefits.
Digital screens – 140 of them – are installed throughout the store. The displays are configured in custom wall and table fixtures, featuring ultra-thin borders, touch technology and near-field-communication (NFC) capabilities allowing for personalized content and greater customer interaction with merchandise.
Adidas has installed its first ever permanent digital shoe wall: These 'digital' shoes will be featured on three 55″ touch screens. Each shoe contains custom digital content when selected, including product features, live twitter feeds, videos, images and interesting facts about athletes' accomplishments while wearing that specific model of shoe.
Nike has installed its first 'Nike Shoe VJ Experience.' The installation features a 12-foot high digital wall. Customers use Nike shoes as gaming controllers to design art and sound with the palettes by artists James Jean and David Choe, and sound courtesy of world-renowned DJ Cut Chemist.
Reebok has installed a 'build your own Reebok' kiosk allowing customers to custom-build every single part of their shoe. The shoes take four to six weeks to manufacture and ship.
In-store systems such as gait analysis and 3D foot mapping ensure recommended products fit customers' needs perfectly. Customers can walk or run on a treadmill equipped with medical motion dynamic gait analysis system that records data that associates can use to recommend the perfect shoe based on activity. A Sidas custom ski and snowboard boot insert system creates a 3D map of the customer's foot which is then reflected in a custom boot insert that's ready within 30 minutes.
Sport Chek has even partnered with Oakley to install a custom sunglass design kiosk. Customers select from a wide variety of lens, frame, color and logo options to create the perfect customized pair of sunglasses. The sunglasses are built in-store by specially trained staff in minutes.
Tablets enable staff to more effectively serve customers. Each staff member is equipped with a tablet that is just as powerful as the smartphone most consumers carry. Staff can use the tablet to 'take over' the larger screens in the store to display vendor advertising and community content.
Interactive digital community board allows customers to connect with each other. Customers can also view schedules, events, standing stats and updates from their favorite community sports leagues and fitness classes.
Interactive escalator bathes customers in inspiring imagery as they ride. The escalator has 19 screens along its wall, along with a custom-built Xbox Kinect application that follows and matches the customer's ascent. As customers ascend the escalator different themes are activated on the screen including sports scenes, promotions and a simulated chairlift ride.
Custom content can be updated within 12 minutes via digital control facility. Sport Chek also has a new 'digital store control' facility that produces and pushes custom content to individual screens – allowing new content to be updated within 12 minutes.
Impressive store front projection attracts and engages the attention of passers by. A 5-foot x 32-foot digital projection screen displays high-definition video, still images and live feeds of sporting events to passers by.
As successful innovations prove themselves in this lab, Sport Chek will roll them out to future locations. http://www.newswire.ca/en/story/1105559/sport-chek-changes-the-game-with-retail-lab-in-toronto
[banner style="blue"]
The Store of the Future
Nike's Box Park Store in London provides us with a clear shot of the future of retail and is a prime example of the various ways technology can be used in one retail setting. It's called the Nike Fuel Station, and it opened in 2012.
Related: "In London, Nike designs the retail store of the future"
Key Takeaway: Nike has used digital to create position in the market that is currently unparalleled in the active lifestyle industry and it will be hard for competing active lifestyle brands to close that gap unless they make an all-in commitment to digital, and now.
[/banner]
Business Implications
Digital technology is changing everything, from the way you serve your customers to the way your company works together. Here is what we see happening.
1. Digital is training customers to perceive technology, content and customer service as one and creating the expectation that it all will work together seamlessly.
The digital experience is composed of three main elements: technology, content and customer service, each critical to the overall performance of the other.
Yet many organizations still assign IT the responsibility for digital's success (or blame it for failure). As though it's IT's responsibility to resolve marketing or customer service issues, or to provide platforms for resolution.
The problem is customers don't see IT. IT is on the back end. Customers see the front end — the screen. To the customer, the screens they see and touch, and the content they consume on that screen, and the help they get while interacting with that screen, are the technology.
To customers, digital is the brand.
2. Digital will force brands to do a better job of keeping their promises.
Digital (and the Internet) makes easy for customers to see whether or not a brand is walking its talk. Digital can reveal inconsistencies that raise questions that brands find embarrassing (or should).
For example:
"You say you value my business. Then why is it sold on Groupon at a steep discount and why do you expect me, a life-long customer, to pay full price?"
"You say you're grateful for my loyalty. Then why is there an hour wait to speak to a surly customer service person that doesn't expect to solve my problem or share the information with someone that can take action on it immediately?"
"You send me emails inviting me to purchase but why, when I am taken to your website, is the first thing I see a pop up asking me if I will take a survey or provide my email address?"
Digital enables consumers to affirm what they like most about their favorite brands and expose brands that break their promises. For brands, digital enables greater and deeper knowledge of its own triumphs and failures when it come to serving their customers.
3. Digital will reward corporate cultures that foster collaboration and practice transparency.
Unfortunately, many brands reside within corporate structures that are not well-equipped to support the levels of collaboration and transparency needed to take full advantage of digital and the data it provides.
Active lifestyle brands that are taking full advantage of digital — and reaping commensurate benefits, we might add — have made this internal shift. For them, data points indicating performance across categories and departments are instantly available.
Collaboration means individual departments can solicit customer feedback, respond immediately to customer needs, and work across departments to delight customers. And leadership can use that data to respond more quickly and accurately when it comes to product design, marketing, and customer service.
Fully implemented digital also will create the transparency and accountability needed to ensure all departments are working in concert to deliver consistently excellent customer experiences. Digital will enable department members to understand their impact on the customer and better meet their responsibility to them, even if the member never directly interfaces with the customer.
The transparency required by digital will bring every place a brand touches customers into the light, allowing managers, leaders and owners to clearly see where the brand experience is breaking down and what changes need to be made to fix it.
Ultimately, digital connects a company internally so that it can better serve customers as one brand – united.
Evolving Luxury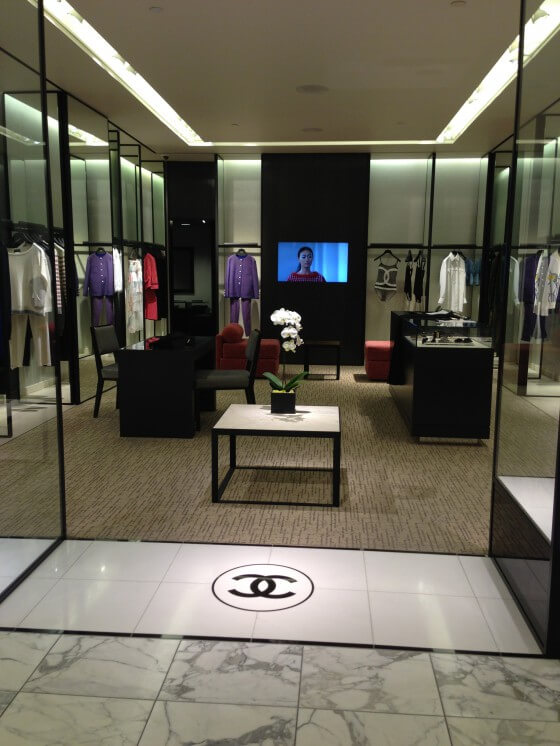 Ironically, the displays in the two very high-end retail stores we visited were limited to attract loops of stunning images of models walking the runway in the latest collection (albeit playing on the highest quality resolution panels).
This did not stop us, however, from imagining what else they (and you) could be doing with digital technology that exists right now.
Digital Dressing Room
Let's imagine a customer, Mara, is very interested in a dress but would like to see it modeled before she tries it on herself. Mara approaches the display panel and scans the tag on the dress she's holding and the next model that walks down the runway is wearing the dress. With some assistance from the staff, Mara can also see what the dress looks like on someone her size, body shape, height, and skin complexion, before she tries it on.
If Mara likes the color, look and feel of the dress, but not how it fits, the staff, can use their tablet to quickly locate a different style of dress. With a few more barcode scans, Mara can also see how different shoes and accessories look with the outfit and then try the ones she likes best.
Multitasking Mirrors
Mirrors would be combined with transmissive displays. What this means is that the mirror would serve triple duty depending on the need. The mirror/display would serve as video panels when customers were not present and change to a digital interactive display when a customer came within range of a proximity sensor.
We also would make dressing room mirrors interactive displays with virtual assistants. Wrong color, wrong size, or wrong fit? The virtual assistant would notify staff who would bring you the right product as well as provide you with suggestions as to what shoes and accessories would work with the outfit.
Virtual Personal Assistant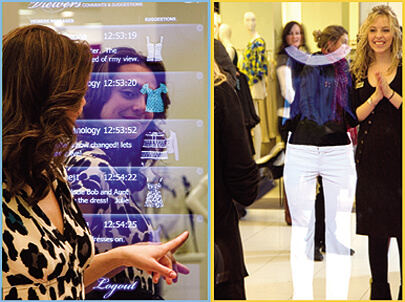 The virtual assistant also can function as a personal stylist, making recommendations based on color palette, event, time of day, season, personal style, or what a celebrity/athlete would wear. Provided with a key bit of information, such as an email address, the assistant could show you pieces you've purchased there previously and suggest complementary additions.
What do high-end dresses have to do with active lifestyle products such as footwear, bats and technical apparel?
In both cases, performance and satisfaction hinges on making sure the product perfectly matches not only the individual's physical attributes but also their personal preferences when it comes to color, style and patterns.
Digital provides active lifestyle brands with a way to reflect back to individual customers what products best meet their needs, and to do it at scale.
The meaning of luxury is evolving for all of retail.
Conclusion
The mission of this report is to provide leaders of active lifestyle brands with a clear view of what is coming down the pike and to inspire them to make a strong commitment to digital now.
At the very least we hope to have provided some fodder that can be used to fight against the complacency around digital that we see hurting the present (and undoubtedly the futures) of so many great active lifestyle brands.
We hope that you found the content of this report useful, and would welcome your feedback on it (positive or negative). What do you want more of? What could we have left out? Let us know at hello [at] thegood.com.
This report is provided under the Creative Commons Public License (Attribution-NoDerivs CC BY-ND). This license allows for redistribution, commercial and non-commercial, as long as it is passed along unchanged and in whole, with credit to The Good (The Good Group, Inc). This report is protected by copyright and/or other applicable law. Any use of the work other than as authorized under this license or copyright law is prohibited. Complete license can be found at
http://creativecommons.org/licenses/by-nd/3.0/legalcode