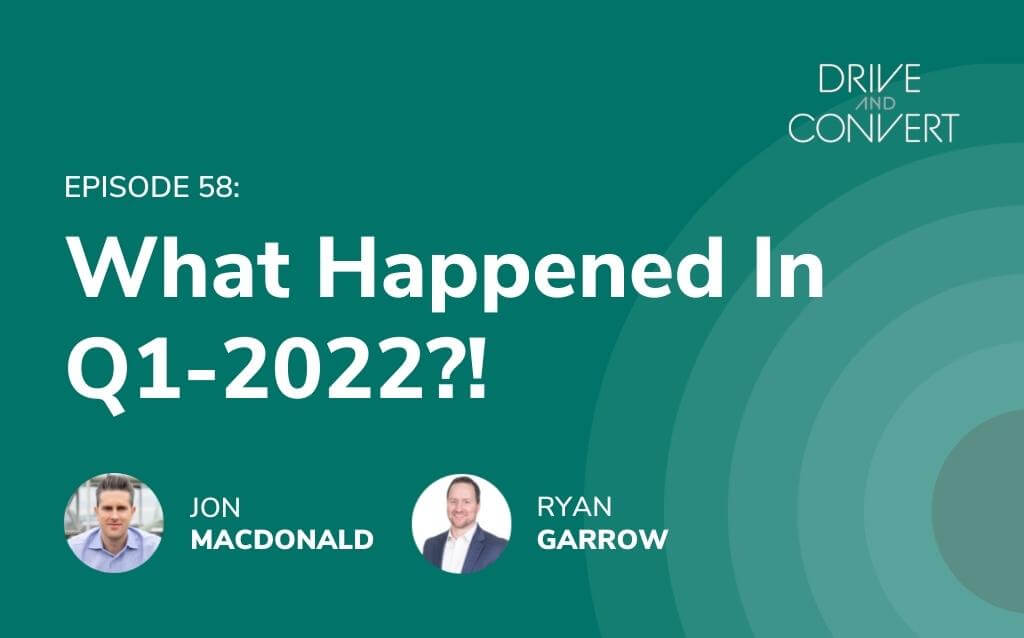 Drive & Convert
Drive and Convert (Ep. 058): What Happened In Q1-2022?!
In this episode, Ryan and Jon talk about a host of negative market signals – economic inflation, conflict in Ukraine, KPIs being down YOY – and share their advice for how brands should be adjusting their growth strategy.
Listen to this episode:
About This Episode:
There are a lot of companies right now that are seeing poor year-over-year performance in their traffic and sales data. On top of that, there is international conflict in Ukraine and signs of an impending economic downturn.
Some industries are being hit harder than others, but there are plenty of brands that are feeling anxious – and rightfully so!
In this episode, Ryan and Jon talk about the current macroeconomic trends and how they are influencing the behaviors of both consumers and brands alike. There is a lot of reason to be pessimistic, but Ryan still has optimism about the rest of 2022, and he's here to explain his position.
Listen to the full episode if you want to learn:
What impact stimulus checks, inflation, and international conflict are having on brands
Why poor year-over-year performance isn't the end of the world
What has Ryan feeling optimistic about the back half of 2022
What you should be doing today to set yourself up for success
If you have questions, ideas, or feedback to share, hit us up on Twitter. We're @jonmacdonald and @ryangarrow.
Episode Transcript:
Announcer:
You're listening to Drive and Convert, a podcast about helping online brands to build a better e-commerce growth engine with Jon MacDonald and Ryan Garrow.
Jon:
So, Ryan, there are a lot of nervous companies right now that are seen poor year over year data and their Google analytics. And I know that we have some interesting macro impacts across e-commerce that's really impacting everybody. And some of these industries are really being hit harder than others. I know there's a lot going on in the world today. There's war, there's stimulus, there's inflation. It's just all sounds really scary, especially people who aren't in it on a day to day basis. So you told me you're optimistic about eCommerce in 2022, but based on what we're seeing, I'm not 100% sure. I think, I saw a great chart yesterday that showed the overall trajectory of eCommerce adoption, and then it showed a spike of course, a massive spike for COVID, and then pretty much massive decrease right back onto that trend line. But the trend line's still there in terms of overall growth, it didn't dip below the trend. Right. So I am optimistic to some degree, but I'm wondering maybe you have access to crystal ball and you can tell us a little more here.
Ryan:
I wish I had a crystal ball talking to me about what eCommerce could be doing or should be doing, but I mean, I feel like the last two years have been so much unknown for a while at least my feeling and what I've experienced in e-com over the last decade has been 10 to 15% growth year over year is generally pretty standard. I mean, population grows, more and more people buy things online. Great. And we did see that first quarter of 2020, everything was going perfect. Like, Hey, there's this, COVID thing in China, but it's kind of like bird flu or something that we didn't really get in the US. And then obviously, it hit us. And then 2020 messed everything up, went crazy. 2020 Q1 was just such a solid quarter, but nothing has been normal about anything in the last couple of years.
And so I think it's right for companies to be nervous. Is the bottom going to fall out? What's going to happen with lockdowns in Shanghai? And if world war three does start in the Ukraine, it becomes a global thing. And food costs hitting us later this year from missing out on all the wheat harvest in the Ukraine. I mean, there's so many things to be nervous about I think in business. That's part of what makes it exciting. If everything was up and to the right 10, 15% every year, you wouldn't probably need people like us, Jon.
Jon:
Yeah, I mean to some degree, I look at that as it seems like things are compounding these challenges, right, for business owners. But at the same time, there's a lot to be optimistic about if you got your ducks in a row during COVID and really kind of were financially responsible, coming out of it you're probably in a better position now than you were, especially for the industries that we serve. And so a little pullback from that is probably going to be expected, but that's normal too.
I mean, that's just the way the economy goes, ebbs and flows. And I think that unfortunately, people have been spoiled over the last two years in e-commerce, right? They just, all of a sudden adoption rates were through the roof, and people had budgets they didn't know what to do with. And they were trying to just drive a bunch of traffic. And of course, there's been surprises as you know. Everybody knows about Facebook, Apple, all that stuff. So I tend to agree with you here, but I want to know, what is your optimism based on, right? I don't think it can be based on the news, based on all of everything you just listed off.
Ryan:
Yeah. If you're watching the news, you're not going to be optimistic, you're going to be timid. So I'm hoping a lot of my competitors across the board are watching news and getting nervous and excited and doing things reactively that maybe they shouldn't be. I think though, that the businesses that enter 2020 with an eCommerce site in business and had a solid business before 2020, they're going to be fine. They likely managed things well through the pandemic. There's going to be ups downs. They've seen them before. It's probably the companies that started e-com 2020 and thought this is easy. Oh my gosh, this is just everybody's buying online. I put a website up. It's crazy. We had a client that had been in eCommerce a long time, happened to have hand sanitizer on a site and had for a long time when April 2020 hit. And in Google's world, if you had it for a while, you could advertise it.
It was like, hey, I just started a new site, put hand sanitizer on it. Google's like, no, sorry. You're going to gouge people. So they watched pricing and all that to make sure there wasn't price gouging. He went from spending, I think six, 7,000 a month to $800,000 on Google in April of 2020. It went bonkers. He made so much money. And there's going to be ebbs and flows in hand sanitizer. And that was a very small product of his. It wasn't even a main thing. He just happened to have a lot of it. And so that type of business, he can go back and say, okay, look at where we were before. And so I think there's a couple different types of businesses that are going to be addressing different types of concerns, but on a macro level of e-Com I think a lot of the frustration we've seen at Logical Position, and even with my business partners where we own the online businesses, they're looking at me kind of like, all right, Ryan, what's going on here? Why are we seeing some struggles?
And so I've had this conversation a lot. Q1 2021 was phenomenal. From an e-Com perspective, general business perspective, because we were still riding that wave of COVID, it was what… It was month nine to 12 of COVID lockdown. So we had the US generally didn't lock down till April across the country. We had some lockdown started in March, but Q1 2020 was fairly normal. Q1, 2021 was the COVID bump metric, the last real big one we had benchmarked against a non COVID quarter. And the numbers were across our eCom business, astronomical. I mean, it was crazy the comps year over year. Then what we had in '21, which we've talked about multiple times where the economy unlocked, everybody started traveling, eating at restaurants and not spending online, made us all in the e-commerce world look kind of dumb in our forecasts.
But we rode that wave down. Year over year comps were terrible. Nobody looked good in e-com comping 2020 numbers in 2021. Not nobody but the majority. And so now we're kind of coming out of that again. And so Q1 2022 is benchmarked against arguably one of the best quarters of all time for e-com. And so you look at that and you're like, okay. Yeah, of course you're going to be down against that quarter because it was just insane. And so we've had to put some things in perspective for businesses. And so what I'll do is I'll take back. We had a shoe brand that we've been running for years and to put it into perspective, Q1 2020, they did about 5 million on their website.
Jon:
Okay.
Ryan:
Q1 2021, they did 37.1 million. Q1 2022, they did 34.9.
Jon:
Good years. Okay.
Ryan:
Great years but you're down. 2022, you were down just 2.2 million. And so you're like, okay, why are we down? What's going on? We're not supposed to be down. We're supposed to be up and to the right all the time. I was like, okay, let's take a step back. Let's go up a couple, a few thousand feet here. And let's look at this. If I had come to you business owner in Q1 2020 and said, hey, we are going to be up 700% over the next two years. Would you have been happy with that? Oh, my gosh. I would've been crazy. Yeah, you told me I was going to go from 5 million online revenue to 35 million online revenue. Unbelievable. Okay. Well, that's what we did. But we did it much quicker and hit a peak in '21 Q1 that was extraordinary. So putting in perspective that way, we've had to do a lot of those analysis for clients. You can't benchmark 2021 as normal in Q1 at least.
Jon:
Yeah. I mean, I think that's fair. And I'm surprised that we're doing as much education around this as, as we're having to. Quite honestly.
Ryan:
I agree. I'm like, let's think about this already. The government was pouring money into our lives through the end of 2020 and in the beginning of '21, like just gobs of it.
Announcer:
You're listening to Drive and Convert, a podcast focused on e-commerce growth. Your hosts are Jon MacDonald, founder of The Good, a conversion rate optimization agency that works with e-commerce brands to help convert more of their visitors into buyers and Ryan Garrow of Logical Position, a digital marketing agency offering paper click management, search engine optimization, and website design services to brands of all sizes. If you find this podcast helpful, please help us out by leaving a review on Apple podcasts and sharing it with a friend or colleague, thank you.
Jon:
What types of businesses or industries are you seeing were hit the hardest or are the most common asking questions about these things?
Ryan:
Got it. So it's across the board, but one of the more, I guess, aggressive in asking these questions is maybe a good way to put it, it seems to be the automotive realm, because what we typically have in Q1 into the beginning of Q2 is it's like the Super Bowl holiday season for aftermarket auto, where tax returns come in. That's where people buy stuff for their trucks and cars.
Jon:
Getting ready for the spring and summer.
Ryan:
Yeah. I've been saving up for this exhaust or I wanted to add this grill or bumper. And so last year, tons of stimulus coming through, and money was just all over autos. I mean, people were at home to a degree still, but getting ready to go out. And so they were spending tons of money on their cars, bumper year at the beginning of 2021 for the automotive space. And so this year they're seeing a lack of that because we have very little stimulus. If you did it's because you had kids probably, and then you're not getting it back on your returns. Your tax return is lower because it was given to you earlier. And then we have inflation, so costs are all up. So what maybe cost $1000 last year could be in the 1100, 1200 range depending on what it actually is if you can get it.
And so supply demand issues are there, just raw cost inputs are there. So all kinds of issues, but it seems to be magnified in the car space because they see the writing on the wall that if okay, if we're not doing really well during our quote unquote holiday season, what's going to happen later in the year when we're not in our traditional holiday season. And so it doesn't look pretty necessarily in the automotive space, but if they look back and benchmark some… Again, I keep saying this, but there's no normal anymore. But what you considered normal in 2019, 2020, again, benchmark against that where your growth is, a lot of companies need to start using data that's readily accessible to them to see what's actually happening. And so I think a lot of businesses I talk to are ignoring Google trends or they haven't tried to look there. I said, okay, well let's look at Google trends for your key non-brand terms. And let's look back five years, and see what's happened because that usually flattens it out enough that you can see peaks valleys really well.
In a lot of these aftermarket auto in particular, there was some big high points in '19 and '20. And then we're seeing benchmarked against those high points, 20, 30% decreases in search volume. And so people aren't searching and we have a lot more people competing because 2020 everybody's had to go online to sell things.
Jon:
Yep.
Ryan:
You can kind of see why things may not be looking as rosy as you maybe thought they would be.
Jon:
So this is similar to the chart that I mentioned I saw earlier from, I think it was actually from the US Census Bureau about e-commerce adoption where the overall trend line is still there, but you have to realize you have your trend and then it peaks at some point, and it comes back down to that trend pretty quickly. And that's the COVID bump, accumulative effect, but the overall trend line is still in effect. So what you're saying is go back, look a few years back at data for that trend line and see how you're doing against that overall trend line, not how you're doing against the last year or two years.
Ryan:
Yeah. And also, looking at those Google trends, paying attention to the adoption and what you could or should be at over a longer period, and then understand too, the customer acquisition model that you're using. If you're using Google is a readily available one, and we spend a lot there and understand it well. Amazon largely stepped away from advertising on Google in 2020, shouldn't be news to people in e-com. It came back in '21, and then a lot of companies were chasing bad forecasts. We saw CPCs go up, and 2020 volume was down 20 or 30% versus 2020.
Jon:
And I think we did a show at one point about Amazon and that effect.
Ryan:
We did. So if this is new to you, go back and find that episode. But our metrics year over year now are going to start comping that so lower volume. So the volumes in theory will be higher or look better year over year as you start to get into May and June. And so what you'll see generally, our forecast, we were right on what was going to happen in the Q1, at least here at LP in our forecast for our clients. So there was less uppitiness of people that had heard that already. But what we'll see in theory is the large budgets that really control CPCs on Google. If you spend $1000 a month on Google, you're probably not having a big impact on what other companies are paying for clicks in your industry. So we're talking to large budgets, if you're spending 10 million plus a year on Google, you're impacting what most other people pay.
And what I've learned through the years of working with these brands is that most marketing companies, the big companies do not want to be up 60 or 70% versus previous year. That would not be great for them because they have to comp that again next year, unless they want to leave. And they just want to make it really hard for their person coming after them to comp any of that. So what they'll do generally is say, hey, we're up 10, 15%. We can relax. We're going to hit all of our metrics and look really good to the executive team. Shareholders will be happy.
We can save some of our money or use it in other areas to open up new channels that may take a little more money than normal to get them up and going. So next year we can leverage them to be up in of 10 or 15%. And so we should see a relaxing of those CPCs as the competition lessens, because hitting those year over year benchmarks is not as difficult as it was last year, because if you're missing your metrics, you have to spend your money, or you can't get it when you're in a big business.
Jon:
So that's one way that I'm hearing companies can capitalize off of this. What are some other ways do you think?
Ryan:
Yeah. So I think that like generally speaking, I say this a lot. Don't freak out. That's step one. Let's not make really rash decisions not based in data with a lot of research and analysis around there. And so at this period of time, you want to have a lot of flexibility because if you have competitors that are pulling back because they're hitting good numbers, it allows you to go capture more market share. I personally am never scared of being up a lot year over year. I want that. I want the market share because the more customers I have, generally, the less people are going to be out searching for this product again, because I'm going to nurture them through email and loyalty. So make sure you have those things in place, but if you have a clean data, it's going to be easy to see and understand what's going on across your channels.
And so you and I actually share a client that's right now looking into conversion rate drops in organic because they think that's some of the things causing some of this. And we've talked the macro things about them, but they're lacking some of that clean data. And that's making some of their analysis bad so we're working with them to say, hey, you need to clean this data. And it's a new client to both of us. So we haven't been through the whole thing to clean it all up. But it's a real insight that had they had really clean, solid data for a couple years, the answers they're looking for would be very, very simple to get and very obvious. Again, not there. So if you don't have clean data, get it cleaned up. Make sure your analytics is dialed in, that it's matching as close as it can what your merchant process is pushing through.
And then I will tell companies, keep testing new platforms. I don't think TikTok is going to be the savior for people that aren't successful on Facebook and Instagram for a while, but you probably need to be there. You probably need to be testing that. What does it look like from an influencer standpoint? What does it look like from a return standpoint? So you can have expectations that as that platform continues to grow and evolve, what types of customers are coming from it? If it was me and I was investing in TikTok at any rate, I'm not yet, I would want to be able to tag those in my CRM or email system. So I know that what does the lifetime value of a TikTok customer look like to my company? Is it going to be different than Facebook and Instagram in the past?
Is it going to be different than Google? Can I invest more in that because of lifetime value or do I have to invest less because they don't come back? That's going to be important things to know that. I don't think many companies are actually considering that. And I will continue to tell companies be more aggressive than you're comfortable with. Too many companies are trying to eek out profits on marketing channels. And they're not playing the market share game. They're not playing the customer acquisition game, and it's limiting them. And I feel sorry for them. But when volume is down and you're not capturing market share…
Jon:
Somebody is.
Ryan:
Somebody's getting that sale. Somebody's looking for your products and you're not there, you have no shot of getting them. The last point on what they can be doing now. The last one would be focus on onsite content. I think there's a lot of, for whatever reason, Shopify, as a out of the box template. Many of the templates don't make it very easy to put collection content on the page. And so it generally could, in some of those templates, it takes manipulation to get that content on there. But I highly recommend it because it's an SEO strategy that will pay out dividends very quickly, and you can increase rankings within a couple weeks on Google, but then it will benefit your paid search spend by increasing your quality scores. And that's often overlooked. So any platform should be able to put category collection content on that page to help it rank better.
Jon:
Wow. So a lot to think about here. I guess it really always just comes back to me of have clean data, make informed decisions, and pounce on the opportunities when they're there and instead of retreating, right. Because somebody's going to bounce on it, and it might as well be you. So I think that there's a lot of lessons here today that I think apply to almost every brand, whether or not they're seeing a bit of a dip right now.
Ryan:
Yeah. And if you've got nervous competitors, it is a good time for you probably. What we hope for.
Jon:
Oh, Ryan's consistently the lion stalking from the tall grass, and he's ready to pounce.
Ryan:
Yeah. Well the grass doesn't have to be very tall for me. So your grass would need to be taller, but I will stalk in the grass.
Jon:
You were a fictional lion here. I wasn't worried about that. But all right, Ryan. Well, thank you for sharing today. I really appreciate it.
Ryan:
Yeah. Thank you, Jon.
Announcer:
Thanks for listening to Drive and Convert with Jon MacDonald and Ryan Garrow. To keep up to date with new episodes, you can subscribe at driveandconvert.com.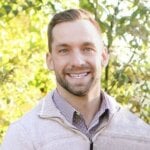 About the Author
James Sowers
James Sowers is the Director of The Good Ventures. He has more than a decade of experience helping software and ecommerce companies accelerate their growth and improve their customer experience.