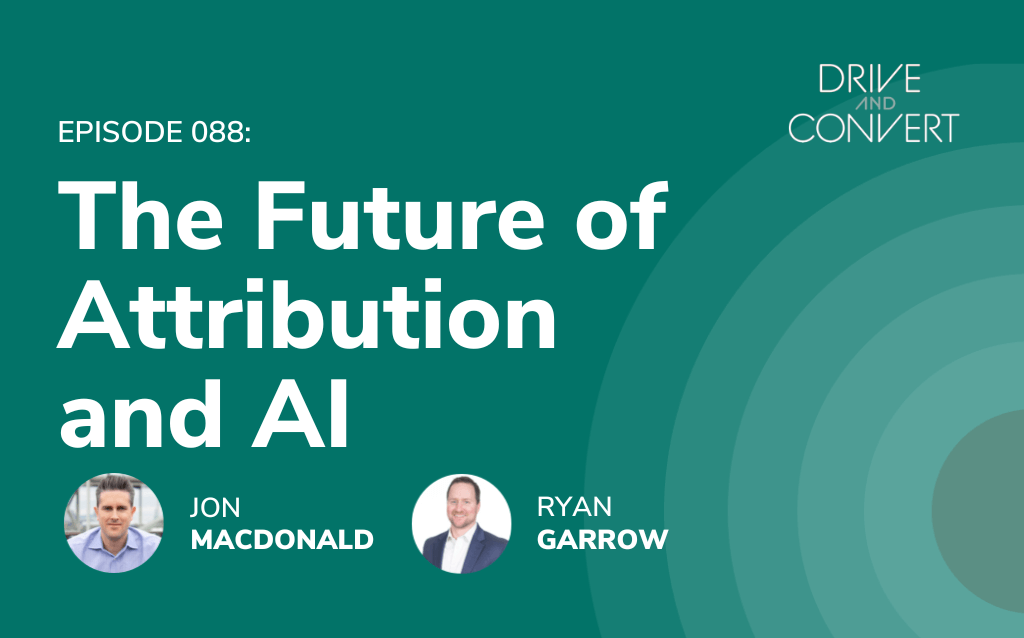 Drive & Convert
Drive and Convert (Ep. 088): The Future of Attribution and AI
Jon and Ryan unpack insights gained from recent events at Google and Logical Position. Listen for answers to questions like 'what is the future of attribution and AI?' to 'what strategies should I consider for the holidays?'
Listen to this episode:
About This Episode:
What is the future of digital marketing and online experience?
Jon and Ryan unpack the valuable insights gained from recent events with Google and Logical Position to try and answer this question.
They discuss the challenges faced by smaller businesses in the ever-changing landscape of attribution models and the importance of thinking outside the box when it comes to driving brand growth.
From exploring alternative methods of customer acquisition to diving into the world of AI and attribution, this is everything you missed at the Google and Logical Position events!
Listen to the full episode if you want to learn:
How GA4 will impact SMBs and larger brands
Why it's important to constantly analyze data
What the future of attribution and AI looks like
What additional strategies and resources to consider for the holidays
If you have questions, ideas, or feedback to share, hit us up on Twitter. We're @jonmacdonald and @ryangarrow.
Episode Transcript:
Announcer:
You're listening to Drive and Convert, a podcast about helping online brands to build a better e-commerce growth engine with Jon MacDonald and Ryan Garrow.
Jon:
Hey Ryan. So thanks for the invite. Last week. You had myself and some of my team members come and join you and the rest of the Logic physician team at two amazing events. I know you want to recap on those, but I really thought it was cool. We went to the Portland, Oregon Google office, which I know has been kind of a myth in Portland that they had an office.
Announcer:
Yeah, it's not been easy to find.
Jon:
It was kind of like where is it? Yeah, it's not. They were hiding it intentionally for a while. I saw they have a window display now on street level in their building, so at least you know it's in the building. But it was intriguing. It's definitely a massive office for the number of people that were there and on the employee side, in a great presentation room. We had some really good speakers from Google and Logical Position. I heard nothing but really good feedback on that event, so that was great. And then the very next day, we got to spend a whole nother day together and do the Logical Position partner connect event at LP's headquarters outside of Portland, which I also thoroughly enjoyed. Of course, the LP office is beautiful. If anybody listening ever has a chance, you're in Portland, Oregon, stop and say hi. I think Ryan's one of the only people that's always there, but…
Ryan:
It's not quite Google's office though, but it's nice.
Jon:
That's fair. A different scale, but I will say it is a very nice office, brand new, and you guys always do extremely well with these events, well-run and just great to catch up with a bunch of partners. There were folks that we all know and love there in the DTC and e-comm world especially. So I'm happy to chat whatever you'd like to about this today, but what are your initial thoughts on those two events?
Ryan:
The initial thoughts, and I think the takeaway I get every time I get around a partner community like this, I'm always impressed. It doesn't really matter what event it is. There's always going to be some very smart people, very committed groups of partners that are very vested in helping brands grow. It's not even necessarily about their product or program, but it's, Hey, these companies here that we're talking with or the account teams we're working with, they're trying to grow or help clients grow, and how can we be a resource for that? And it comes across through how they're answering questions and interacting with the teams that it's just cool to see, to know that there is a community like that.
Jon:
Yeah. The amount of conversations I witnessed that were brands helping each other as well was really interesting, saying, oh, I've had this issue. Oh, me too, and this is what we did to solve it. So the cross-pollination that was happening there was really exciting. And just the fact that if you had an issue with one of the things that the partners helped solve, brands would come up and talk to the partners, and the partners just were helpful. That was really the key goal there I think.
Again, yes, obviously [inaudible] are showing up and partners are showing up for sales, but the reality is everybody there was not blatantly selling. They were trying to be helpful, a part of the community, which was really good to see, especially these days. There's a whole bunch of these private events going on. I see them all the time on Twitter and Instagram, everywhere else, and it's always no agencies, no agencies. All they want to do is sell, so this was really refreshing to come in and see. And I wish some of those folks who host these private events that refuse to allow agencies because they just don't want somebody there selling would see what's possible.
Ryan:
I think that's really what we lost out on during the COVID lockdowns and the loss of these events. It was that face-to-face interaction where you can solve problems. And thankfully, I guess during COVID, there was so much being sold and transacted online that you really didn't need as much of this. And I think it's much more necessary as we're in just weirder times. I can't even say it's good, bad. It's weird. Where there's a lot more potential for issues that we can now solve face-to-face, get clients interacting with clients, getting partner A, talking to partner B, talking to client C, saying, hey, look at how these things work together. And yeah, that's a good solution for that. And oh, you got to go talk to that person over there for that. Just great.
And I think you and I have been partnered for over a decade now, and we've got a lot of the same partners, and so it's very easy I think for us to see which e-comm vendors slash partners are actually in the ecosystem for the long haul or for the right reasons, not just to sell their product or service, but actually are there to help regardless of if they're the solution or not. And I think that's what we were able to assemble this last week was a lot of that. Google's always going to sell. When you've got 90% market share, it's not hard to push that agenda. But overall, every time I get into those group meeting things, I'm always impressed.
Jon:
So let's, I guess focus on Google first, the first day. What were your major takeaways from that event? I know Google spoke. I would say the overarching theme I heard was AI, which obviously is a buzzword, all industries, everyone's talking about it, but I think they hit it home for me that they've been doing AI as long as anybody, and it's already baked into their products and has been.
And I kind of thought basically what they said was, look, this is not new to us. The reality is we've been using this. We just didn't call it AI and we weren't as public about it because the public didn't care as much. And now that it's a buzzword, they're able to come out and say, we've been involved in AI. At one point, they put a timeline up, and I was shocked to see how far back that timeline went with things I recognized and had no idea they were involved in, like TensorFlow, which we've used for some projects here around heat mapping, is an AI tool. And I'll tell you what, I had no idea Google owned that, and not even owned it, but that they were the major contributor to it.
Ryan:
Yeah, I think that's where I don't think I'm surprised that Google has AI and has been using it. My surprise is how bad they missed the boat in talking about it. Usually Google's at the forefront pushing things, even if we don't want them. Performance Max, enhanced CPCs, you name it, because it's Google's world and we get to live in it. So whatever they tell us to do, hey, we're leaving Universal, we're going to GA4. All right. I don't necessarily like GA4 because it's not as easy for me, but at the end of the day, it probably is better. And at the end of the day, it doesn't matter what I think. Google's going to do it.
Jon:
Yeah, it's going to happen anyway.
Ryan:
Yeah, who cares?
Jon:
Well, that's funny you say that. Even around Performance Max, it was very clear, all made possible by their AI initiatives.
Ryan:
Yeah. And they just, in my mind, failed miserably at branding their systems around AI. I think if we go back five, six years ago, I think people were really scared of AI and there was a lot of that Elon Musk, like AI is going to destroy the world and here comes Terminator 4, whatever one that is. But now with the ChatGPT version of AI for us was like, huh, this is really useful. AI is great. And so maybe it just took that to brand it, but it makes me feel like Google's behind the ball because Microsoft was very visible about, hey, we're going to buy ChatGPT. Isn't this great? We're baking it into everything. Well, Google's got BARD now, right? B-A-R-D I think is their version of AI now that they're trying to brand their systems with.
So no surprise AI's here and Google's been using a lot of it, but I'm going to be fascinated and interested to see what Google does with this over the next year or two and how they strive to compete with Microsoft's version, and I would expect Amazon to have a much more public-facing AI of sort involved in the Echo and whatever that happens to be that I already know is being used by every major organization in the technology world. So it's just going to be how do you brand it and bring it to the forefront and tell people how to use it and interact with it.
Jon:
Yeah. One other big takeaway I had a little more on the lighter side maybe, was that as an example of that AI that's been released for a while and they just didn't call it that. Do you know can Google search a tune, a music song by humming it? And that they have it trained to recognize patterns. And if you go to Google search and search for a sound, click a little microphone icon on the search thing and then hum a tune, it will tell you what matches that and what the song likely is. So I was like, wow, okay. I get that that's the outcome and it's cool, but why didn't you say this is powered by AI? I think people really would've picked it up more. I also had no idea you could search by humming.
Ryan:
I didn't either.
Jon:
I thought that was pretty cool.
Ryan:
Even if I hum off-key, it can still pick that up because I guarantee my humming is off-key.
Jon:
It was funny. Everyone was walking around trying to tunes into their phone to see if it worked.
Ryan:
Yeah, it was cool.
Jon:
It was entertaining.
Ryan:
And then Google's office, they hid it within downtown Portland, but they spent a lot of money and there was a lot of very cool features condensed in that space, from a speakeasy to that music room that was soundproofed, plus music, individual studio. It feels like everybody at Google, Portland office must be a musician as well.
Jon:
Yeah. If not, they leave there learning how to play an instrument. Yeah, I thought it was really interesting. There were obviously people there getting real work done, but it's true that Google takes care of everybody at all of their offices. They had a huge arcade, they had several kitchens stocked to the brim at one point. I was joking around, the lady was giving us a tour and you were digging through drawers, pulling snacks out, and I was like, "Oh, there's Garrow helping himself." You were like, you shrugged your shoulders.
Ryan:
Part of it is you've got this big group going through and they've never been to a Google office and I've been to tons of them, and I know that Google wants you to enjoy the snacks and all the things they have there, and so somebody to a degree has to break the ice and be like, see, look, I'm eating a bunch of their snacks. You can too. I didn't even ask permission. It's fine.
Jon:
And nobody batted an eye. They really didn't. You're right. They want you to enjoy yourself. And yeah, there were restricted areas we could not go that were all behind locked doors with badge-only access and they were very clearly marked, but the rest of the space, it was like, enjoy yourself. You're here. You're going to be here all day and use whatever you want. And yeah, a beautiful office. The amount of detail is just ridiculous that they put into the space.
Ryan:
Yeah, the upside down Mount Hood chandelier was pretty cool.
Jon:
That was very cool. So they made basically Mount Hood upside down with hanging lights and when you stood back, it clearly looked like Mount Hood. It was really well done.
Ryan:
Yeah. It probably could have been a bunch of other mountains, but evidently, it was closer to Mount Hood. And I don't recognize Mount Hood upside down, but I was told it was, so I believed it.
Jon:
There you go. That's what Ryan remembers from the tour. Awesome.
Announcer:
You're listening to Driving Convert the podcast focused on e-commerce growth. Your hosts are Jon MacDonald, founder of The Good, a conversion rate optimization agency that works with e-commerce brands to help convert more of their visitors into buyers, and Ryan Garrow of Logical Position, the digital marketing agency offering pay-per-click management, search engine optimization and website design services to brands of all sizes. If you find this podcast helpful, please help us out by leaving a review on Apple Podcasts and sharing it with a friend or colleague. Thank you.
Jon:
One takeaway I had on the presentations, which were well done. AI was a big focus. YouTube was a big focus as well, but all of them had one central message that I walked away with is that you're no longer going to be able to rely on attribution. Attribution is very difficult and almost impossible with all the privacy changes that have taken place. They are very upfront to say, we are going to have to very quickly be stopping real attribution. And what instead is going to happen is it's going to be our AI, our formulas telling you what is that data, and it's all going to be based on models and AI versus actual onsite data.
Now, they have first-party data and they really want you to have that first-party data of collecting the conversions that are happening on your site and the consumer information, but understanding exactly what somebody clicked on to get to your site and being able to have that attribution span over more than that initial session. So if a user comes to your site, leaves, comes back 30 days later, they're not able to cookie them and truly understand that they were on your site before.
So the attribution is only going to get worse and their models are only getting better, but at the same time, you're going to have to rely on those much more. And I thought that was really interesting because in order to get those models to work well, you have to spend more, right? Because it's more data helps the model produce better data. And so if you're only spending a hundred bucks a day on Google or YouTube ads, you're probably not going to get the same clarity in that data, the same resolution of data as you would if you spent a thousand dollars or more, right?
Ryan:
Yep. And I've been saying this for a while, and I think GA4 and the first-party data is unfortunately a situation of the rich are going to get richer, and you've got the larger brands that are going to have so much more data to work on and make audiences on and use conversion pixel data to further enhance Google's system to go find more customers. It's going to be very, very difficult to start a business using Google traffic from now until the foreseeable future, until there is some change.
And that's sad to me because I've helped bring a lot of brands from zero to something using Google traffic and it's just not going to be very easy to do. It wasn't easy before, but now I'm going to put it pretty close to zero being the chances that you could come to Google and try to drive a brand. You have to think outside of Google to drive a new brand out. And not the end the world and it is probably better, but you really do have to think through why are people going to buy from me? What kind of traffic can I capture? Because it's not just going to be throwing an ad up on Google and expect people to come to your site and then you can get some transactions. Being an entrepreneur is just sad for me, kind of like the end of an era. Yep.
Jon:
Well, and I don't think it's just a Google issue, right? The same thing is happening at Meta, right?
Ryan:
Mm-hmm.
Jon:
Because they have the same privacy concerns, and what I mean by that is they're limited in the same ways.
Ryan:
Yes.
Jon:
So I think that this is where you have to almost find an offline channel to have that initial pop and get known. And you still unfortunately, even without that data resolution, you still have to be feeding the Googles and the Metas, et cetera in order to get traffic. Just, it will be much harder to know where they came from and be able to adjust your spend accordingly.
Ryan:
Yeah, and I do believe it's going to make startup businesses have better ideas and execution out of the gate. You're not going to be able to just, well, let's just try this on Google, see what happens and try to get better. No, you need to have an influencer plan, a social media plan, a Google plan, SEO plan. You've got to have a lot more things figured out to be able to launch. So not necessarily bad, but unfortunate that one of the major channels that's helped a lot of brands grow is just not going to be available for smaller spends and smaller companies.
Jon:
Definitely makes sense. So what about the Logical Position Connect event? That was an amazing event the next day, some great conversations, good speakers, lots of the partner system was there. What are your initial thoughts on that?
Ryan:
We had really solid content. Feedonomics did a couple presentations around marketplaces this holiday, how to optimize a feed. You had Mountain release a new tier for brands using their connected TV platform, shopper-approved, all we saw but has some good data behind the power of review stars when you're showing them on Google. Meta actually was on stage talking about data behind the holidays coming up. Northbeam went into that power of attribution in this new world of first-party data that we had learned about the day before with Google. Natalie on your team blew minds around conversions and how to make those better. She might be taking your job, Jon, about those presentations and talking. Got to watch out.
Jon:
I'd be happy to have someone else doing some of the speaking with me.
Ryan:
And then Cha-Ching releases their new platform and ways of acquiring customers. So I think there was just a lot of ideas that I think got the juices flowing around what we can do this holiday season for both our account teams and for our clients. And I started the day talking about this great guy, Wagner Dodge, that if you haven't heard that story, you can Google it and figure it out, but the importance of really having a plan for your business this year or for holidays, but essentially going at it understanding that you're probably wrong and the plan is not going to play out as you expected it to.
So how do you constantly look for how your plan is wrong and adjust in real time because the data's going to be coming at you so quickly? That was my plan by bringing all these various partners together and the content we had was to get our clients and account teams thinking about, okay, there's a lot of extra things I haven't done yet. How can I make sure they fit in here, here, here? Or if I'm planning to go here to the right and it turns out I'm going to the left, how do I change things and where do I go to get those resources and what do I look at in the data?
Jon:
Yeah. And I would say you accomplished that goal, so kudos to you for that. I was at our table most of the day at the goods table chatting with Logical Position clients and some of your account managers there that I've known some for a decade, as you said, and it's good to always connect with them. But I kept hearing over and over people walking out of the presentations and saying, oh, and they were talking about the content, which was great. You can always tell when a content is not helpful because people just walk out and they're just quiet and heads down walking kind of like, oh, I wasted my time. And this, they were walking right by our table and stopping and chatting with me at times, but they were also walking by and chatting more about the content, and it was clear that people were engaged and I thought that was awesome.
Ryan:
Yeah. I think we did a good job having the content ready. I always think it can be better, but that's just me. I always want to push the envelope, but I think it did a good job.
Jon:
Yeah.
Ryan:
It's what we intended.
Jon:
I will say your events team did an amazing job, so kudos to the events team over there. I don't know their names unfortunately, but they really did a great job of making sure everything was dialed in as much as possible. The food was on point. There were snacks out the day, an espresso bar in the morning. I could go on, but-
Ryan:
Can't forget your snow cones.
Jon:
You guys did a great job.
Ryan:
Kona Ice.
Jon:
Oh yeah, that's right. You had a snow cone truck, which was great because it was like a hundred degrees outside.
Ryan:
Oh, it was so hot. And my kids, that's one of their favorite things in the world is Kona Ice. And so everywhere that they have the truck, I don't know how many are in Sherwood or how many franchise truck owners there are or if they're all the same company, I don't even know, but I know there's always one or two in Sherwood in the summer. And if we pass one, automatic five bucks per Kona Ice because my kids are going to go and we have to get one.
I've never had one. And so I go and Emmy, our VP of marketing was like, "Hey, we've got to get a shot and get people to get out there, so go out and get a Kona Ice and we're going to record you so we can get everybody upstairs to come down." Because we had it there for an hour. And so I went down there and sent the video to my kids of me having my first Kona Ice and my five-year-old can't quite read yet and she incorrectly but also correctly calls it cone of ice. And so she was so excited she had to tell all her grandparents that dad got his first cone of ice down on Wednesday or on Thursday.
Jon:
I love it.
Ryan:
But yeah, it was very cute and it was actually really good. So there may be another $5 cone of ice coming every time we see a truck.
Jon:
That's amazing.
Ryan:
Yeah.
Jon:
Well, did anything stick out on the presentations to you? Any of the partners, anything that makes sense to talk about?
Ryan:
Mountain is impressive. And a few months ago, I didn't know much about the platform other than Ryan Reynolds had invested and had a really cool commercial with Steve-O, but getting into their tech and understanding what they're doing with connected TVs, I'm just very impressed with their path forward and how they've really set their tech in place first to actually accomplish what brands coming to them are trying to do. It's not like come into Mountain and fit what we're doing and if you don't like it, go away. It's no, hey, I know you as an e-comm brand need a ROAS. Therefore we're designing our connected TV platform with a ROAS in play. I was like, oh, that's weird. Because the other video thing we think of is YouTube, and that is by no means the case of how YouTube is operating. YouTube is top of funnel, top of funnel, top of funnel, just spend the money because eventually it'll come down the funnel.
And Mountain's taking a very different approach and has been executing it pretty solid. So I'm very bullish on Mountain this holiday season, especially with some of the things they're starting to do with smaller clients, because video has been historically a platform for larger brands with more money to spend on the content and the ads that it takes to actually drive a return. Anybody, not anybody, but a lot, if you can spend a hundred thousand on YouTube, you can probably start driving stuff down the funnel and get a return on it. If you can spend a thousand dollars on YouTube and that's your max, a lot of that's going to be lit on fire for a while before it starts getting traction. Mountain's got some plans to allow that a thousand dollars a month spend to actually do something.
Jon:
That's great. I mean if you just think about political ad TV spending alone and the millions that go into that, you can see what it takes to actually advertise on TV, even for a short amount of time.
Ryan:
Oh yeah. And forget about advertising on YouTube during a political cycle. You're not getting through that clutter. Just turn your YouTube off for that time period.
Jon:
There you go. One business that was there, one partner that was there that I found interesting, if nothing else in the name alone was Cha-Ching. Can you tell us a little bit more about
Ryan:
Cha-Ching. Yes. In fact, if you Google them, you won't find them. They're just starting out. They haven't even officially launched in the US
Jon:
Oh, okay. I thought it was because of the name, but yeah. I was like, is there a possible name worse to Google than The Good? Because if you Google The Good, there's so many things to come up with the good something, right?
Ryan:
Mm-hmm.
Jon:
It's really interesting. But yeah, I would imagine Cha-Ching is the same way if you Google that, but you're saying it's because they haven't launched.
Ryan:
Part of it's they haven't launched. Part of it, in reality, they probably should have been doing some SEO for a while before their launch that they weren't, but whatever, neither here nor there. But it is a very interesting take on customer acquisition and the first pass of their presentation, I had to send back to them and be like, you're getting a little aggressive going after big tech is what they called it, the Amazons, the Googles, the Facebooks. They're bad, they're trying to steal money and we're going to go against them and we're going to fight the power. And I was like, I don't know if that's your play. I don't think you're going to take down Amazon, Meta, Google at this point. 5, 10 years maybe. I'm not going to say you can't do anything, but at least right now, that's not going to be why people are going to come to you because they think they're going to take out Google.
But I do think there's a play for them in being some additional things beyond that, especially as we enter a holiday season that may not be as big as last year. Maybe it is, but there's some questionability as to whether we're going to continue growing year over year in this holiday season. If Cha-Ching can get some eyeballs, they may be a way you can add additional customer acquisition channels that you wouldn't have had otherwise. And they're trying to move your marketing dollar from spending on Google from an acquisition standpoint to the buyer, saying, hey, buyer, instead of spending 30% of this sale by buying you on Google, we're actually just going to give you the money as the brand because we're going to buy your sale anyway. And good idea. We're looking at kind of as an affiliate, and I don't think people are going to stop searching Google, so I don't think it's moving money from Google, but I think it has a shot around will people go there because they can get a big rebate?
Jon:
Yeah. These two-sided marketplaces are hard to start and so they're working hard to make it happen, so kudos to them. And I had a couple of conversations with the team there and the fact that they've got so much cash behind them, they're really trying to incentivize people to get there, I think is intriguing, because most people go into two-sided marketplaces without the budget necessary to make it happen, because you need to catch that initial wave.
Ryan:
Yeah. They think that the rebate alone is going to get eyeballs there. Like, oh, I'm giving away 40% of a hundred dollar order because I was going to give it to Google. Why would they not come? Well, how do you tell them that you're there? And I've talked to them at length and said their biggest struggle is eyeballs for sure, and said, "Amazon buys traffic from Google. So you have the entity that has 50% ish of e-comm sales in and of itself is buying traffic to keep their flow of buyers coming in. That says something about the need to acquire eyeballs." And Amazon needs to keep growing to keep shareholders happy, so yeah, I can see why they need to do that. So Cha-Ching has got a lot of money behind them, which is helpful, and I believe that money is the biggest driver of those eyeballs in addition to their partnerships. They've got some really good partnerships that I think are really going to help push that thing forward.
And so I'm telling LP merchants, we've got an agreement that makes it a no-risk thing for our clients. I was able to remove the risk so they don't have to invest any time, energy, money to do it. We're going to do it. We have an easy way of accomplishing it so that if it does work, you can get there early, have more data than your competitors and hopefully be able to push on it harder than your competitors. And if it doesn't work, hey, you didn't take any time or risk any money to make it happen. So I'm hoping it does because I think it's going to be a really cool platform.
Jon:
Yeah, that's great. Awesome. And then anything else you think that listeners should take away from this event at LP?
Ryan:
I think our clients, a lot of them took away from the Northbeam presentation and then conversations with a company called No Commerce. Being in this brave new world of GA4 and first-party data, I think that's been a, as you see Google removing some of the transparency to that attribution path, we got glimpses of it with data-driven attribution over the last year or so, where Google is saying, Hey, we're just going to use the data-driven pixel. You have no idea what the data-driven is, but we're telling you this is what it is.
Now that we're fully into that and Google hopefully helps transition us with that data-driven pixel, the secondary platforms helping us with attribution I think are going to become more important in justifying certain things. It's one thing to see Google tell you Facebook had this much credit, Google Ads had this much credit, SEO had this much credit only because you have to run that through a filter of, okay, Google needs me to spend more money on ads, so they do have an incentive in GA4 to tell me that ads had a bigger credit. And I don't know how to look through their system to see where that might be inflated or not, and so I don't think Google's nefarious in doing that, by the way, but that's a thought that comes through my head as a brand owner.
Jon:
Well, they own the algorithm, right?
Ryan:
Yeah.
Jon:
They own that black box and they're not going to tell you what's inside that box.
Ryan:
No. And so having a Northbeam, Triple Whale, No Commerce coming and helping you explain the different layers within the funnel and where you can be pushing to grow your brand, I think is going to be a bigger and bigger thing over the next year or two, that if you're not looking at that, I think you're going to fall behind some of your competitors that do have insights of those platforms.
Jon:
That's great. So I have one last question for you, Ryan, and this was the second of these events and it continually gets better. Are you planning on doing more?
Ryan:
TBD. Just coming out of it and all the time and energy it took off of me and the team. I'm like, "No, we're done with these." And then I get a month or two down the road, I'm like, "God, that was really fun." And then we got to go golf and wine taste after with all the partners and some of the clients and that was fun. So I imagine I get wrangled into doing another one of these. My wife would tell me like, "No, you were way too stressed leading up to it. We shouldn't do any more of these. It's a bad idea." And then I have a very short-term memory.
Jon:
Yeah. Well, that's required at times, right?
Ryan:
Maybe you need to put one on and I'll just join yours.
Jon:
I have some suggestions off podcasts of what we can continue to do here. I would love to chat with you about that.
Ryan:
I'd love it. Okay, then something in the future between us for sure.
Jon:
There we go. All right. Well, thanks for sharing Ryan, and thanks again for putting on the events. I know how stressful it was, and I would say being there, you did a great job and the team, through the events team at LP made sure everything was dialed in, so it was great to see. Thanks for getting me access to the mysterious Portland Google office.
Ryan:
Heck yeah.
Jon:
I know everyone loved that. And yeah, I hope we can do something again.
Ryan:
Looking forward to it. Thanks, Jon.
Announcer:
Thanks for listening to Drive and Convert with Jon MacDonald and Ryan Garrow. To keep up to date with new episodes, you can subscribe at driveandconvert.com.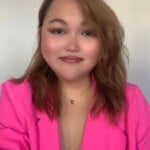 About the Author
Angel Earnshaw
Angel Earnshaw is the Marketing Coordinator at The Good. She has experience in improving brand awareness through digital marketing and social media management.