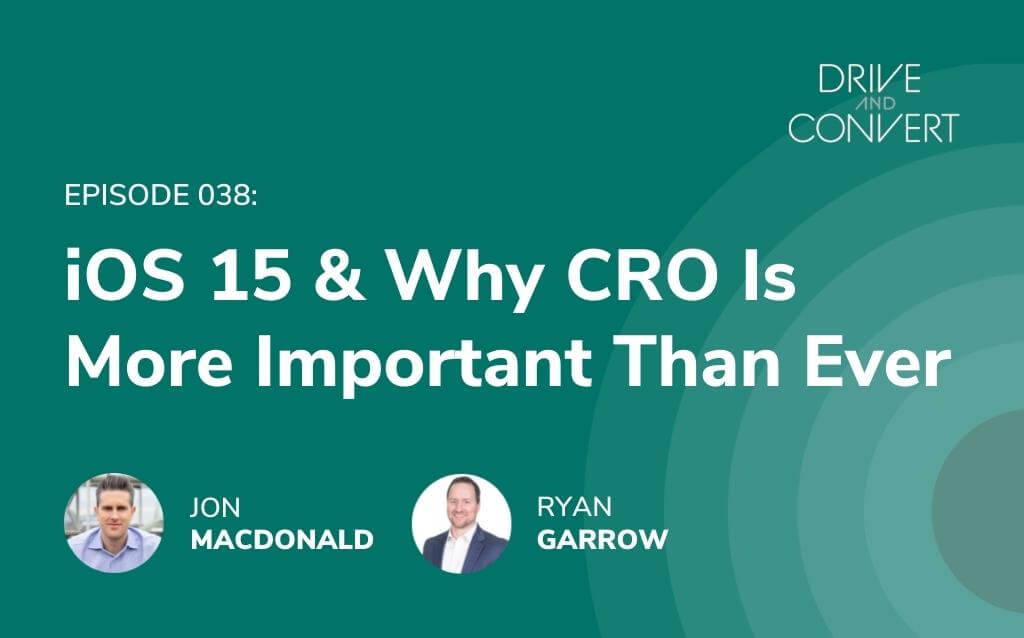 Drive & Convert
Drive and Convert (Ep. 038): iOS 15 & Why CRO Is More Important Than Ever
Clients at The Good are interested in how firms like Logical Position are still getting results for their clients –– and why optimization is more important than ever to make the most out of the traffic they're already getting. The challenge I've seen, and I'd like to address today, is that I haven't seen anybody really talking about optimization when it comes to iOS15 updates. And that's what Jon and Ryan focus on today.
Listen to this episode:
About This Episode:
Clients at The Good are interested in how firms like Logical Position are still getting results for their clients –– and why optimization is more important than ever to make the most out of the traffic they're already getting. The challenge I've seen, and I'd like to address today, is that I haven't seen anybody really talking about optimization when it comes to iOS 15 updates. And that's what Jon and Ryan focus on today.
Episode Transcript:
Announcer:
You're listening to Drive and Convert, a podcast about helping online brands to build a better e-commerce growth engine, with Jon MacDonald and Ryan Garrow.
Jon:
Our clients at the Good here are interested in how firms like Logical Position are getting results for their clients and why optimization is more important than ever to make the most of the traffic they're already getting. But why do I keep having this question? Well, unfortunately, it's because of all of these iOS 15 changes. I'm sure there's a ton of content out there already about this. I keep hearing about it. But the reality is, and the challenge I've seen … And Ryan, what I'd love to address today and really just talk about, have more of a conversation about this, is I haven't seen anybody really talking about optimization when it comes to these iOS 15 updates. Instead, folks are really talking about what other channels brands should pursue to establish a safety net and think about costs and privacy issues. I think that's one approach, but I'm a little biased, but I think optimization is something that really should be part of this conversation.
So, I tossed this idea out to you, Ryan, you really liked it. I think it would make sense for us to talk. We don't really have a bunch of scripted questions, anything of that sort today, but Ryan, you do have a lot of data. And maybe you could just spend 30 seconds and give folks, A, an overview of what the update is or what it means to them as well, and then maybe get into some of that data just so we have some context moving forward.
Ryan:
The summary, I guess, is just things are weird. I think for people like us who have been in e-comm as long as we have, 2020 for me was the weirdest year, and probably for you as well. Not just because we all had to sit in our holes inside and not see people, but just the data online was crazy. And then we got to 2021 and it's even weirder, because we had the end of … All of these things kind of converging in one time. You had the iOS update in April. At the same time, basically, the United States is opening back up from pandemic lockdown and that's causing all kinds of chaos in addition to the iOS. So if we start with the iOS, because in the data I'm seeing, that kind of came first, but at least it was a bigger line in the sand, because opening was kind of a gradual thing.
But the iOS thing, it basically, Facebook kind of got slapped around by Apple because Facebook has a lot of creepy data already, but they were doing a lot of creepy things that Apple who saw what was happening and basically said, "Yeah, you probably shouldn't be doing that to people. We're going to let people know basically that you're tracking them all the time, listening, all these things."
And I know that there's a lot of smart people at Facebook. I've been very surprised that Facebook didn't seem prepared to not have all this tracking in place. So some real numbers from my businesses, my wife's retail store which we've talked about before, kind of sells interior décor stuff. Her target market has been women on iPhones. It's just been that way for, she's been doing it for almost seven years, I think. And we were able to advertise on Facebook fairly well. Facebook's algorithm really found the right users and every dollar we'd spend, we'd get about $3.00 in revenue, in analytics. Like, I could track pretty well, so that's not a bad number on Facebook by any means. That's fairly solid in the e-comm world.
After the change happened on Facebook, we could spend a dollar to get 75 cents. And my wife is ultra-conservative, so she's not in the place where she really wants to go light money on fire to buy customers. I might do that in some of my brands that I control more of the marketing dollars. She wasn't. So Facebook got turned off for us. That's not an uncommon scenario after that switch happened.
Jon:
So, what we're seeing here is, unless you have a lot of money that you want to spend in order to buy customers, as you said, right … Looking at that customer lifetime value versus that initial sale, then it's going to be an issue. So those who aren't as flush with capital, I should say, or don't want to spend as much with capital, are going to have challenges.
Ryan:
Yes. I mean, I think every brand is having challenges right now on Facebook. Our director of Facebook, Emma, did a great video interview on YouTube, so anybody that wants to kind of go search for that at Logical Position, she really … It's about a 30 minute interview style that she did that really answers a lot of the questions, because there are still people that are a little confused. I mean, I don't even understand exactly all the minutia within it. But we're seeing lots of conversions not happening any more, and we have a lot of clients on Facebook. So that happened, Facebook results not as great.
We also are seeing on Amazon and Google, a transaction volume decline since March. So for all these e-comm clients, over 7,000 of them, when we start seeing all of that decline, revenue's dropping. In addition to this, there's been a lot of fallacy around forecasting, because a lot of brands don't put enough time and effort into forecasting. We've worked with some billion dollar brands and I'm sure you have as well, and their forecast is basically, "Last year we did x, so add 10%, that's what we'll do. Done. Forecasting's good."
And that's pretty common, even with really massive companies with lots of resources. So when you're forecasting based on 2020 data, that becomes problematic when things change very quickly and you have this massive e-comm boom because people legitimately could not spend money outside of buying things online for lots of 2020. So if you look at June when almost the entire country was locked down, you can't go to restaurants. Even in Texas, you probably couldn't go to restaurants in that time. You couldn't go into retail stores. So you had all of these people still making money, you had stimulus coming in, you can buy online and then pick up in store sometimes, but it's still an online transaction. All of these companies, I mean, our clients were up so much last year. And I was guilty of this for some of my forecasting as well, internally. All these e-comm people kind of thought, "Oh my gosh. All of these people started buying online. They've changed their habits, they're going to continue buying online. Why would you go back to the store if you can buy online?"
Jon:
Right.
Ryan:
That's not the case. And so you combine the decrease of transaction volume, Facebook results dropping, the reaction for most companies to try to hit numbers was to spend more. Like, "Oh my gosh, maybe we're just getting slaughtered. We assume that all the sales are still happening, so our competitors must be doing a lot better. Jack up the bids."
The other big asterisk here, Amazon and Wal-Mart, two of the largest advertisers on the planet on Google and Bing, maybe on Facebook, pulled out of the auctions last year when Amazon could not keep up with volume through their fulfillment centers. They disappeared from Google. That dropped CPCs as transaction volume went crazy.
So all of these companies in 2020 from March through July just, it went great. I mean, return on ad spend was amazing. CPCs were down. It was awesome. Now we have the exact opposite, with a nine figure Google budget coming back from Amazon messing up everybody's data, increasing CPCs, transaction volume going down. It's like a perfect storm, and I think the easy button that brands are picking is, "We must spend more. We must optimize our ads, because it's a spend now, click now, get now," and they're ignoring the more valuable piece which is what CRO brings.
If your site just goes from a commercial rate of, let's say 2% to 2.5%, you just increased revenue 25% without increasing traffic. That's not as easy to do, it takes a process obviously with CRO, and it's not going to happen probably day one. But when you play this out, people are spending less online because they can go to restaurants, they can travel.
I was gone for three weeks traveling with my family. I spent zero dollars on Amazon in three weeks. And that is unheard of in my family. We're a three or four Amazon package a day thing. It's like, "Who bought this? What is this?" So for three weeks, Amazon felt probably that we were on vacation not spending money on Amazon.
Jon:
I think it's interesting you say that. There's also a return on ad spend or ROAS approach here, right? As that cost per click is going up and the spends are going up so much, right? When somebody does click through, it's really important that you give them the best experience possible, if you want to see a return on that ad spend. I think a lot of brands that we're talking to right now that have been approaching us, they're saying, "Hey, you know what? I'm spending way more on this than I realized. I'm sending people into a black hole," or, "I'm sending people into a site that is not performing as well as it should be, and last year I could gloss over that," because people were going to buy on our site, as you said, because they were willing to deal with a little bit of an uncomfortable purchasing experience on the site because they really didn't have any other options.
They were sitting around on their phones because they had a lot more time. So there were all of these factors that made it easy for consumers to convert, or I should say, to ignore the items that would prevent them from converting now. Things like they had more time. Well now, like you, the doors are open. And here in the United States anyways, and for the most part. So consumers are out, their social calendars are packed, they no longer are willing to spend the extra five minutes to figure out if it's the right product for them. Now, they want that information quickly. We're back into that cycle.
So CRO is more important than ever if you're going to spend money on ads, and like you said, there's so many compounding factors here. iOS 15 is one of those, for sure, but it's also the fact that we're competing in e-commerce against retail again. So you're also competing against interests that people have otherwise, and where they're spending their time. So there's a lot of these factors that are really coming into play, and it's this convergence, the ideal solution … Again, I might be a little biased, but it sounds like you agree with me. The ideal solution here is conversion optimization.
Also, I'll say that first-party data is more important now than ever. With Apple, really, I don't know how to better say this. I love Apple, I love their devices. The Good is a total Mac shop. I always have used Macs for a decade plus. I will tell you that they're kneecapping the marketing industry, because at every step they're taking data away. Now, it's in the name of privacy, and as a consumer I love it, but I also don't run e-commerce stores very much, so I would say that for me, I'm not as affected on that front as if I was an e-comm manager. I do think when you add to privacy, you are going to take away from data tracking. They're at odds, there's no two ways around that.
So I'm interested to see how that plays out, but the reality is it's only getting worse. Apple is introducing a VPN that's going to be standard on everybody who has an iCloud account. It's going to make your browsing more anonymous, so the data tracking from that's not going to be there. You're going to miss out on e-mail opens, they're no longer doing tracking in e-mails, although Gmail has been doing something similar for some time. But there's just a lot of this stuff out there that is the metrics that consumers would always rely on that were off-site metrics, are now not there.
So I think there's a huge turn that needs to happen to tracking on-site metrics, how people are engaging with your site, what's their experience like, what's their customer journey, what paths are they taking through, how are they converting, and where are they dropping off. I think you can still collect a ton of great data in aggregate. Heat maps, click maps, scroll maps, you can set up click tracking and analytics. Google Analytics is still going to tell you how many people visited, while the data in terms of the cohorts that it has, on segmentation around what age people are, things like that, yeah, that's going to change a little bit. And that's okay. But you still can understand how, as a whole, your audience is engaging with your site, and I think that's more important now than ever.
Ryan:
Yeah. I mean, if I had to put a label on 2021, I think it could be the year of CRO, which is phenomenal for you, but I think it's just going to open a bunch of eyes. Like, yes, you could … Let's just pick a random number. If you're spending $50,000 a month in ads now, you could spend another 10 grand in ads to maybe get the same level of revenue, but long term, you're better off saying, "Let's keep spending 50 on ads and let's spend $10,000 on CRO and actually make the site better," because that's a better long term play for your brand. It may not translate in month one to exactly the number of revenue you were thinking you were going to get if you spent it on ads, but let's talk about future Ryan. Future Ryan will really thank present Ryan if he starts doing CRO right now.
It's like tagging your analytics, like future Ryan is really glad that current Ryan knows how to tag analytics to help remember things. But I think it's, there's too many short sighted marketers in general. I think we've been really spoiled as marketers. We just, we had all this data, we're like, "Oh my gosh, this is so awesome, so great," and then you realize we've only had all of this really cool data, in the grand scheme of marketing let's say, for a very small window. Let's say five years, but in the reality, we've been marketing for hundreds of years. We're kind of back to real marketing and actually coming up with solid ideas and not using algorithms that are systems as much.
Announcer:
You're listening to Drive and Convert, the podcast focused on e-commerce growth. Your hosts are Jon MacDonald, founder of the Good, a conversion rate optimization agency that works with e-commerce brands to help convert more of their visitors into buyers, and Ryan Garrow of Logical Position, a digital marketing agency offering paper click management, search engine optimization, and website design services to brands of all sizes. If you find this podcast helpful, please help us out by leaving a review on Apple Podcasts and sharing it with a friend or colleague. Thank you.
Jon:
It's also back to the adage of "Half of my marketing dollars is going to waste, I don't know what half it is." Like, that's the way it's always been, and data has been trying to solve that for the past decade or so, as you said. It's just, we're swinging the other way. But that just means that fewer, considering success based on open rates of e-mails or click throughs of ads, ultimately that stuff might be okay for a marketing budget validation at a corporation, but the reality is, what matters is the sale. And so, they have to work in concert with the site.
I think the line of thinking you had there around, hey, you know, if you're driving traffic and you're spending to drive traffic effectively, you still can get qualified people to your site. But the adage of being able to just spend more money to accelerate the growth of business on those ad platforms is maybe not there, temporarily. I think it will come back, quite honestly, where you'll be able to do that. As you said, there's so smart people at Facebook, Google, et cetera. They're going to be able to provide a way, I don't want to say around this, but some other metrics perhaps that make sense to track. I don't think that it's … None of those are going to roll over and play dead, right? They're just not. They're too big and they know what they're doing.
Ryan:
I think what we're hopefully finding our way to is, it's focusing on, if you've got a company that's got a quality product and good marketing, I think you can win, but I think people have to expand what they think about as their product. It's not just what you're selling. If you had a retail store 30 years ago, it's what you're selling, but it's also what's the environment of your store. You know, Nordstrom became very successful as a retailer, yes, because they have a good return thing, but their product was also their store, their people, the entire experience was a product of Nordstrom.
If you're an online retailer, you don't have that physical storefront, but your website is now, it should be a piece of your product, like an extension of your brand, that's your website. If you're just assuming that the platform, like Shopify or BigCommerce, is going to make your product solid, meh, I would probably disagree most often.
Jon:
That is true. You have to focus on the brand and on the product, and the experience. I think the brand experience starts with the experience of doing the research on the website. In terms of that retail analogy, I would say the brand experience starts when they first learn about your brand and the advertising, of course. But once they get to your site, in terms of the retail analogy, yeah, that is when you own that experience. And you can have a positive or a negative effect on how your brand is perceived once they get there. You really need to have alignment between the ads you're drawing people to your site with and the experience that they're having once they reach your site. There definitely has to be some alignment there.
Ryan:
This could be the year that kills the pop-up, Jon. I mean, that could be a goal that accelerates this year as people realize those are stupid.
Jon:
Music to my ears around not discounting. I've heard this a lot lately, actually. I've seen this a lot on marketing Twitter and a bunch of other places where people are like, "I need ideas for things to do besides dollars and percentage off," and they can no longer afford to do it. So it's not that they don't want to do it, it's that now marketing has to get smarter. Because they're like, "Look, I'm already losing money to get people to my site. I can't lose an additional 10% off," or 15% or whatever it is, because then I'm just going to be really in the hole on this first sale. So I really need to be thinking about what I can do.
And I don't know if you've noticed this, but if you go to try to find discount codes these days, there's less discount codes out there than there were a year ago. And every purchase, I just search the domain and discount code and I always find something, always. And I will tell you, lately it's been a lot harder to find one that works. I think brands are starting to contract on that, and rightfully so, right?
Ryan:
Mm-hmm (affirmative).
Jon:
The margins aren't there as much any more. They can't afford to be burning cash on that first sale all the time. So this is going to be really interesting this year. I love, two things to kind of recapping a little bit on the conversation today. One, that gentleman who works for a company selling ads said, "Hey, you know what? Go spend money on CRO instead of additional money on ads," so that should tell you something right there.
Ryan:
Maybe don't tell the execs over at Logical Position I said that.
Jon:
Yes. Let's not get Ryan fired. But the second thing is that the reality is that CRO is, it could be the year of CRO. I think that that is why I wanted to talk about this topic today and get a good gut check on that, because I'm in it every day and I am biased, but that is the feeling I have as well. So thank you for validating my ego and my needs there, Ryan.
Ryan:
Of course. If nothing else, I can do that.
Jon:
All right, Ryan. I really appreciate your time. Do you have anything else to add to this that would make sense, you feel?
Ryan:
I mean, back onto the ad side, I would say that there's … I don't think that the smart campaign strategy is going to be the saving grace for a lot of advertisers. I think that's, they're going to have to get smarter. Yes, do CRO, but also I'm hoping it gets rid of a lot of bad advertisers too. Like if there's, there's a lot of agencies out there that probably shouldn't be in business, and hopefully this pushes them out too.
Jon:
Yeah, I have a feeling, I've seen a lot of that happening lately. A lot of that, which is really interesting. Money is super cheap right now, but you still have to borrow it, and that means you're just borrowing from the future, and I think there's a lot of people who aren't prepared to do that, so it makes a lot of sense.
All right Ryan.
Ryan:
Yeah.
Jon:
Well, thank you. I appreciate it. And I look forward to our next conversation.
Ryan:
All right. Thanks, Jon.
Announcer:
Thanks for listening to Drive and Convert with Jon MacDonald and Ryan Garrow. To keep up to date with new episodes, you could subscribe at www.driveandconvert.com.
About the Author
James Sowers
James Sowers is the Director of The Good Ventures. He has more than a decade of experience helping software and ecommerce companies accelerate their growth and improve their customer experience.