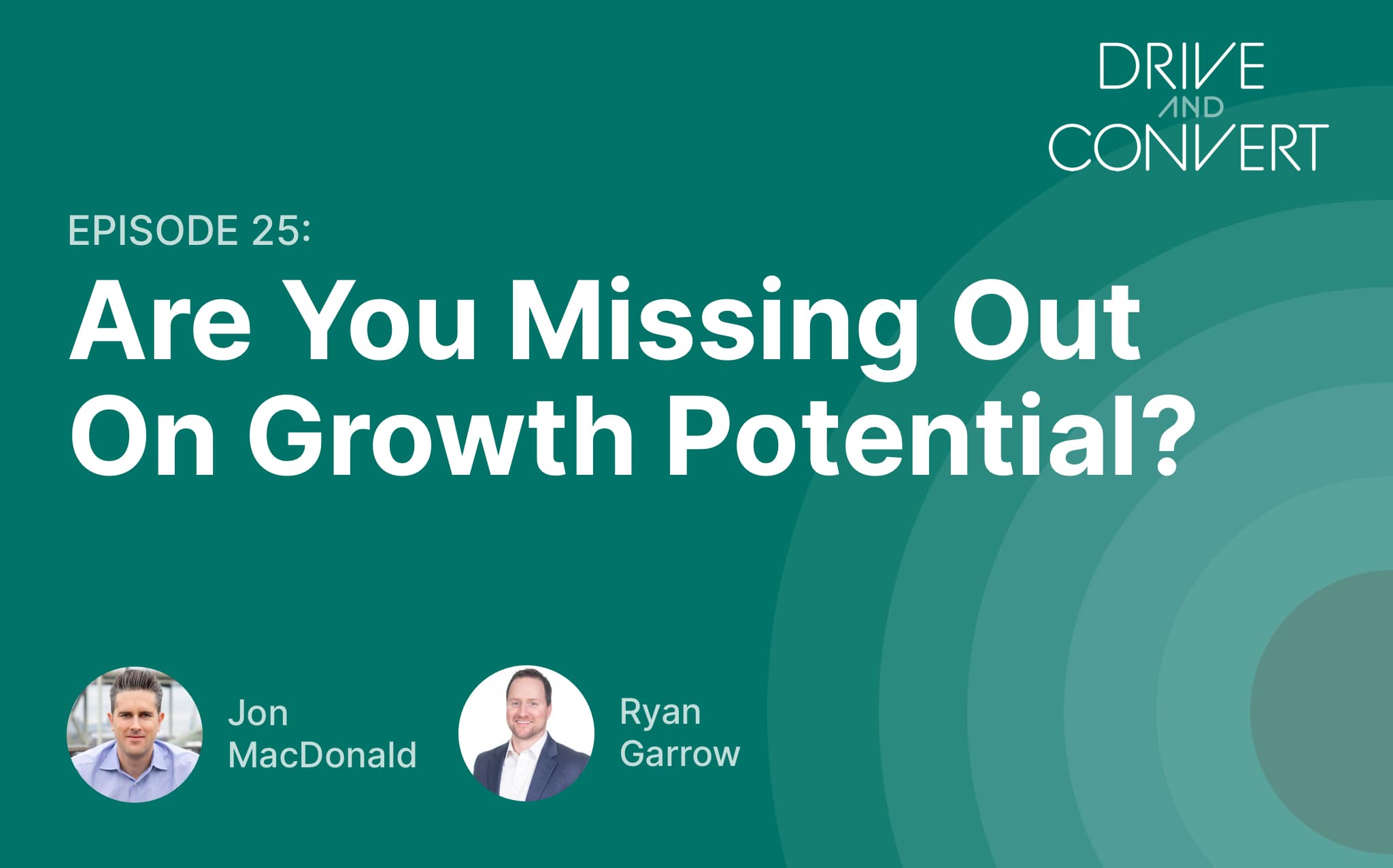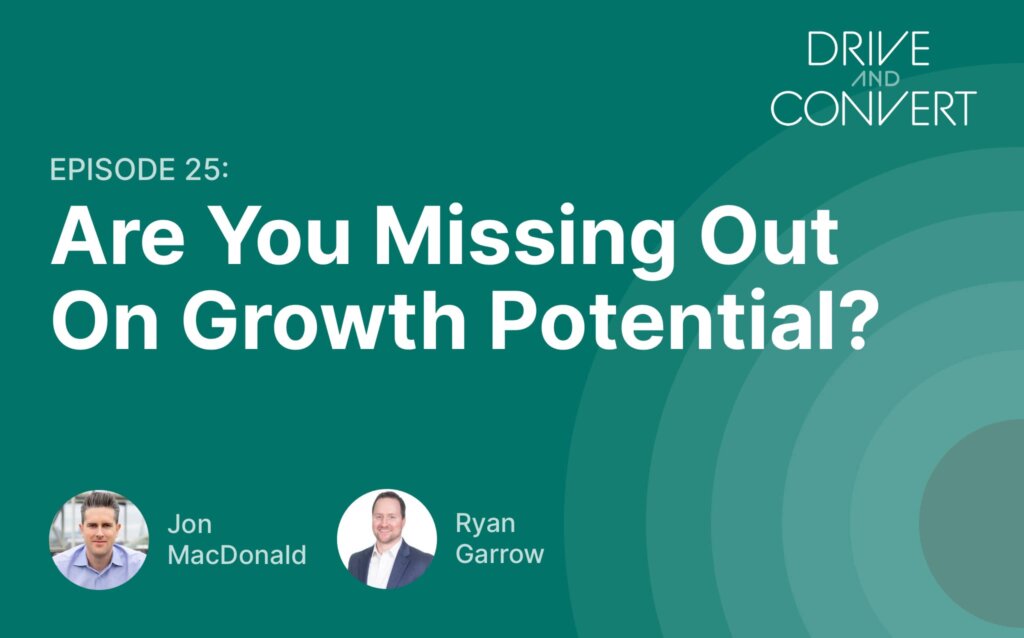 Drive & Convert
Drive and Convert (Ep. 025): Are You Missing Out?
As business owners, we're always worried about missing out. Many businesses owners we talk with seem to regularly have FOMO (fear of missing out) when it comes to marketing: Are my goals right? Was optimization right?
Listen to this episode:
About This Episode:
As business owners, we're always worried about missing out. Many businesses owners we talk with seem to regularly have FOMO (fear of missing out) when it comes to marketing: Are my goals right? Was optimization right? Was there an area of the market I didn't pay attention to? During holiday periods, which is when we are recording this, everything is intensified and I find most business owners are stressed about this more. Especially in a year like 2020. Today we dive deeper into the details of how a business owner can uncover where they are missing out on valuable traffic, and therefore revenue… and if their FOMO is valid.
Connect with Ryan:
https://www.linkedin.com/in/ryangarrow/
Episode Transcript:
Jon:
Hey Ryan, good to talk to you again. A few episodes ago, we talked about CyberWeek and we touched on missed opportunities during what is usually a really heavy promotional week. As business owners, I think we're always worried about missing out. I know I definitely have FOMO, right? It's even outside of the holiday period, but it just feels like it gets magnified right now.
Jon:
So many business owners that I talk to seem to regularly also have this fear of missing out, and especially when it comes to marketing. So they always are asking me questions like, were my goals right? Was my optimization right? Was there an area of the market that I didn't pay attention to, or just could I have made more revenue really? Right? So during holiday periods, which is when we're recording this, everything is intensified and I find most business owners are really stressed about this a lot more, especially in a year like 2020.
Jon:
So, Ryan, I'd love to get a deeper dive into the details of how a business owner can really just uncover maybe where they're missing out on valuable traffic or ad spend, and therefore revenue, and if their FOMO is valid. Maybe we could just jump in at a high level. Where does one even go if they're interested in seeing if their FOMO is justified or not?
Ryan:
Well, you probably have to go back six months, were you planning or not? If you're not constantly in some state of planning for six months out, you're probably going to be missing something. Then when you're making those plans, you have to build in contingencies and you have to build in periods of time when you're going to re-look at those plans.
Ryan:
Because you can set goals for what's going to happen in six months based on what you know of your industry and what's happened in the past, but more often than not, it is not going to be like that when you get there, and so you have to be able to pivot and adjust and say, okay, if this is going to happen, we're going to do this. So make sure you are planning.
Ryan:
I think business owners, and I find this happens to me as well, that too often I'm so caught up right in the moment in getting things done, either I'm not taking the time to plan or it's just something that isn't even on the radar for me, like I'm just trying to keep up with what's going on.
Ryan:
If you're listening to this, congratulations, you made it through 2020, but in that type of a year-end scenario where stress is so high, like planning just often seems to fall by the wayside. It's just like, okay, I've just got to head down, keep plowing through, because things are tough or things are happening to me that I don't have control on and it just takes away my and desire to plan.
Ryan:
So I think as a business owner or a marketing team, make sure that you're taking that opportunity to plan, and as you're doing that, make sure you're doing it with some outside feedback, too. I know that, myself, I have to ask my wife certain things as I'm planning, not only to make sure that I'm not going off on some random tangent, but she's a phenomenal sounding board for me. I think everybody needs some of that, like somebody that's not in the business day-to-day with you that can be like, oh, yeah, I understand that or I get that, or like, whoa, that makes no logical sense based on this, can you tell me why it makes sense in your business?
Ryan:
So at least plan.
Jon:
Okay. I guess my follow-up question to that is that what are some actual steps people can take out of that? Right? So if they have to go back six months, and let's just say they didn't, what should they be doing now?
Ryan:
When you're going to look at missing out and if you did or did not, generally, I can say pretty consistently that most businesses miss out on something. Either they don't have the talent to see it or they don't have a marketing team that knows how to do it. Most businesses I can go into from a marketing perspective and be like, you did miss out here, here, here.
Ryan:
So a lot of times as a business owner, you're trying to minimize the missing out, but a lot of that analysis and getting that picture of what's going on in your organization starts in Google Analytics. I advocate across the board, it doesn't really matter what company you are, the size of your organization, or what you're actually using to measure your analytics, whether you're using Adobe, I mean, there's tons of ways you can measure web traffic, I always advocate for having Google Analytics on there. It's free, you can even pay for the upgraded one if you've got enough traffic, and it makes sense to do that often.
Ryan:
Having a backup tracking system that is functional, even if it's not your primary, have it. Holiday seasons, things break. Amazon went down during CyberWeek for Seller Central. Seller Central doesn't have a backup, so unfortunately you can't have it there. But nobody's going to go into CyberWeek saying, oh, servers on Amazon Seller Central are going to go down. I'm going to be flying blind for three days. I mean, it was crazy. Talk about increasing your stress level. I don't even know what's going on in my business on Amazon and we're spending a bunch of money.
Ryan:
So start in Analytics. If you don't have it, get it on there. It'll help you do a lot of interesting things and allow you to see things. As you're looking at Analytics, you have to make sure that you're tagging traffic correctly. There are so many things that can go wrong in Analytics. It's like the blocking and tackling of Analytics is making sure that if you're sending traffic to your site from Facebook, that it's going into the Facebook bucket. If you're sending traffic from an email list, a lot of times email can go into direct traffic and it can really skew your results as you're doing analysis and making your analyzing way more difficult than it needs to be.
Ryan:
So tag traffic. It's not difficult. This is a broad statement, but you really can't over-tag your traffic and give yourself more information. The more information you put into Analytics now, your future self is really going to thank present self. Annotate things that happen in analytics so you can go back a year later and be like, oh yeah, our site went down for three hours during Cyber Monday, therefore our sales were lower than we would have expected them.
Jon:
It's interesting how this always comes back to having the right data.
Ryan:
Oh, yeah.
Jon:
I feel like every time we chat it's, well, you've got to have the right data and you should start now. If you don't have it, just start now.
Ryan:
Yeah. I think it's because you and I talk to so many business owners, I mean, we're always on the phone talking to business owners, and so many of them just don't even have the data that they need. Marketing always sounds kind of sexy and fun, and at the end of the day, all we're doing is looking at spreadsheets and data points. It's like I don't get into the Mad Men thing. I'm going to go drink a martini and sit at a couch and come up with a cool idea. It's like, no, we're going to look at data and then we get to tell you what you need to be doing based on what this Excel sheet is basically telling us to do.
Jon:
Right, okay. Yeah. I mean, there you go, that's accurate. Obviously, optimization is a lot of data, right? But people don't really think about how much data. This is public, it was on Instagram, but I saw on Logical Position's account on Instagram that you guys were publishing the spend every couple of hours through your entire client base. I was watching and just loving watching this number tick up and then like the amount of revenue you were getting out of this in the ROAS. You can't do that unless you have the right data.
Jon:
As you said, it's interesting, every day we talk to people who don't have the right data and it just blows my mind. It's like, how did you grow to several million dollars online and you're not even doing UTM tagging in your analytics. Seriously, you don't know what channels your stuff's coming from? "No, it just sells. I know I throw more money at it and I get more money back." I'm like, "You could get more money back. Let's work on that."
Ryan:
Yep. Exactly. It's those customers or companies I'm talking to a lot of times in this scenario of were you missing out is most companies don't even know they're missing out because they're just, "Hey, yeah, we spent $50,000 on Facebook and our business was growing. Don't know why. Don't know how." I'm like, "Okay, well, what if you could be gaining the same thing for 30,000, and therefore you just added 20,000 to the bottom line? Or what if you should be spending 250,000 because you could grow 10x?"
Ryan:
So it's crazy, but that's how I also know that almost everybody listening to this is probably missing out on something.
Jon:
So if you have that traffic, where do you suggest people look? Is it what channel they're coming from, organic, direct? What do you typically want people to look at first?
Ryan:
I want people to start by analyzing year-over-year data because you need to avoid seasonality. So month over month, period over period. It's nice to see that you're growing up and to the right. At the same time, at some point you're going to go down, but that might not be bad because there's seasonality.
Ryan:
So year over year is important, at least in the analysis I start with. Also, when you have holidays that aren't fixed in a calendar month, you need to make sure that you've adjusted for that in your year over year analysis so it's not just compared to the previous year in analytics. Like, for example, Cyber Monday this year is in November. Last year, it was in December. So almost every e-commerce business is going to be up in November because of Cyber Monday being in November, but then December might have struggles. So you just have to line up. So you generally want to see week over week periods. Like do four weeks, but make sure they line up with holiday.
Ryan:
Once you get there, I always start with direct traffic. So these are the people that come to your site that know you, that have heard of you, that either you're doing offline marketing that's helping drive people to the site. But this is generally pretty consistent stable traffic most of the time if it's tagged correctly. Make sure you don't have email showing up there or referrals from PayPal.
Jon:
Oh, the dreaded PayPal referral.
Ryan:
The PayPal, yeah, referral traffic. That's one of my things. When you look at referral traffic, make sure PayPal is not in there.
Jon:
If people don't know what we're talking about, can you explain that really quickly? Because it's like the plague of analytics.
Ryan:
Oh, yeah. Probably 60% of the time I look in an analytics account, it's sitting in there. So you should be using PayPal, probably, on your site to let people transact. It's a high volume transaction choice for a lot of people. PayPal, though, you go out to PayPal and then PayPal sends them back to your site once a transaction is done, so PayPal is probably not sending new business to your site. So if you look at your referral traffic and you see X-number of dollars coming from PayPal, either you're really cool and PayPal likes you and for some reason they're sending you a bunch of customers that weren't already on your site-
Jon:
Not happening.
Ryan:
Not happening. But probably, you haven't excluded PayPal from your referral traffic, so analytics is counting that as, oh, Ryan wants your site barred from PayPal. It's great. So you just have to add a referral exclusion.
Ryan:
So everybody should have a default referral exclusion for your own site so that if you open new tabs or do various things, your site is not sending yourself traffic, because it takes credit from other channels that should be getting that traffic. PayPal, if you use Afterpay or Affirm or things like that, when they do go off the site to apply and then come back, make sure you're excluding that with an asterisk.
Ryan:
There are some sites I've seen recently that are actually getting some traffic, people will actually go to sites that offer multi-pay and then actually go buy on the sites that are offered on there. It's a newer one, so you can't just exclude across the board, Affirm or Afterpay, So just be aware that those just need to be in there to keep your data clean.
Ryan:
So once you've got clean data, you've looked at year over year traffic, let's just say your direct traffic is up 10% year over year for revenue. You can see direct traffic up 10%, revenue up 10%. That's great. If you're working with Jon, hopefully your traffic's up to 10% and your revenues up 30% because it's just performing better. But that'll be across the site, not just on direct traffic.
Ryan:
So that's my consistent barometer. If you have a marketing channel that you are investing in that is growing at a slower clip than your direct traffic, I would, at a high level, say you are missing out. You're not aggressive enough, you're you're not spending enough, your goals are off, but something is wrong. That's where a red flag goes up and says, hey, let's dive into this in a little more detail. You haven't kept up with just the general growth of your site.
Ryan:
For 99.999% of all businesses, you are not leading the entire industry, and so your industry is growing and you're playing at a piece of that and you should be able to outpace your direct traffic growth for channels that you're spending money on for marketing.
Ryan:
I won't get into the minutia of all of that of where I've seen all of that, but in general, because you can invest in non-brand traffic or people that haven't heard of you before on Google, Facebook, Pinterest, the opportunities to capture more people new to your brand is going to be greater than your brand is growing at a steady clip.
Announcer:
You're listening to Drive and Convert, the podcast focused on e-commerce growth. Your hosts are Jon MacDonald, founder of The Good, a conversion rate optimization agency that works with e-commerce brands to help convert more of their visitors into buyers, and Ryan Garrow of Logical Position, a digital marketing agency offering pay-per-click management search engine optimization and website design services to brands of all sizes.
Announcer:
If you find this podcast helpful, please help us out by leaving a review on Apple Podcasts and sharing it with a friend or colleague. Thank you.
Jon:
Is the analysis of traffic the same for all these channels or do have to look at the channels in a silo and see what's missing?
Ryan:
I mean, anybody that's been in the digital marketing world understands that nothing operates in a silo anymore and maybe never did but we're now having enough data to prove that they don't operate in silos, but you have to really start your analysis there and expand out from there.
Ryan:
So step one is let's look just specifically at that one channel on what it's doing and what it's getting credit for and then we can branch out beyond that and start looking at some of those halo effects that we've talked about in the past and what it's doing to other channels. But often, and this is just kind of often, it's never a hard, fast rule, but often, if you take care of what's in the silo, that halo effect is still going to be doing the same thing. If you grow what's in the silo, the halo effect will grow as well. Shrink what's in the silo, the halo effect shrinks. So fix what's in the silo and what you can really see being attributed directly to that.
Jon:
So can you give me an example of what you mean by starting in a silo?
Ryan:
Sure. So Google search and shopping is probably the easiest one for most people to understand. It's a separate platform, people have operated in it for a long time and so they can get it pretty clearly. e-commerce you have search and shopping that are really probably the bottom part of the funnel that, I would say, if you can max out something it is going to be there. Display and video advertising on Google, you could probably never max that out. There's there's no limit to probably what Google is going to allow you to spend on their display network.
Ryan:
So if you're focusing just on search and shopping, that's where you can have a lot of missing out and a lot of FOMO can come into play there if you're not doing it correctly. A lot of that's going to be around the non-brand. If you can assume, and it's always dangerous, but assume that you can, for example, bid $20 on your brand terms, phrase match, exact match, you're going to be able to defend your brand terms from a text ad perspective. You can make the ad bigger, many times capture a higher click through rate, push competitors down, all of that wonderful thing, but I'm just going to assume that you can capture that brand search traffic on text ads.
Ryan:
It's the non-brand things that you really have the leverage to push and pull to see how much more could I be getting out of that non-brand search and you can do that both in search and shopping. So when I'm looking at an account or talking to a business owner, I don't ever want to be limited by budget in my accounts. So if I'm limited by budget, the account's definitely not performing the way I need it to be.
Ryan:
Maybe I'm losing a bunch of money and I don't know why. Okay, limit your budget. But if you're spending a hundred dollars a day, the goals are where you want them to be, make sure your budget is set at $200 a day in that campaign. You don't want to miss out, especially in a holiday promotional period where traffic spikes can come from all over the place. Just make sure that you've got the budget set there to be able to capture the people.
Ryan:
That leads into goals, too. Most people have bad goals. I probably talk about this almost every single time we're speaking to anywhere in the country or online. Most business owners have bad goals. On non-brand traffic on search and shopping, you should be breaking even. Capture customers and don't look at Google Ads as a profit center, look at it as a customer acquisition channel. You are paying for customers, and if you can break even, you're getting free customers at the end of the day. You're not getting profit on them on this one, you can get that later, but customer acquisition.
Ryan:
So once you've got those two things in place, that's where you start getting into the details that become fun where you can uncover really cool little insights about what's going on in your industry, within your business, and what you can be doing. Again, I should have said this earlier on, but there is no rule that I can set out that is going to be true across every person listening to this podcast and every business.
Ryan:
It's going to be nuances that is going to be different for your business versus my businesses. But in shopping, I want to see search impression shares, click shares, absolute top impression share when I'm looking at these to try to gauge, if I'm looking at year over year, I want to see my metrics getting better ideally. It's in an ideal world.
Ryan:
I also know that in shopping as you spend more per click or you bid up on your products that you're eligible for more searches. For example, if we look at Joyful Dirt, which we've talked about before, if I'm pushing on non-brand terms, there's some really high volume terms like fertilizer, for example, that I'm probably not going to convert very well on and I probably don't have enough money right now to compete with Scotts Miracle Gro on just broad term fertilizers. No way.
Jon:
It's getting closer.
Ryan:
We're getting there, and I hope to be there soon, but we'll see.
Ryan:
But my shopping campaigns, if I'm controlling the budgets and controlling the cost per click and keeping it lower, Google knows I can't afford to compete at that level. I might have to bid, for example, $3 a click to start showing for that, but right now, maybe I'm only bidding a dollar. So my impression share will actually go down as I spend more and bid higher. So impression share can't be an end all-be all when you're gauging if I missed out.
Ryan:
I haven't seen an account yet that has 100% impression share on shopping. It just hasn't existed yet. If it is, hey, ping me and let me know, because I'd love to look at your account and see what 100% impression share it looks like.
Ryan:
But the click share is a cool metric to see. It's a math problem that Google hasn't given a ton of insight on, but it's basically Google saying, all right, how many clicks did you get based on what you could have gotten? I'm like, okay, well, what could I have gotten? I don't know, but Google's like, well, you could've gotten these and you got this. Well, how do I get those? There's no insights from Google on how to get that.
Jon:
So they're generating that FOMO for you.
Ryan:
They are. They're saying, ha, you got 46% to click share. Oh, is that good, is that bad? A wonderful answer from every digital marketer is it depends. But absolute top impression share on text ads is position one, and on shopping, is there a position one that is often, not always, going to be the top left on a search box of nine and the most far left on a line of shopping ads? Most often, they won't tell you that it would be there every time, but it's where you're going to get the best potential for a click is what they consider an absolute top impression share.
Jon:
Okay.
Ryan:
So that's kind the high level metrics I want to look at. Did you move from 15% impression share and 25% absolute top to 27% absolute impression top? You're making steps and moving in the right direction. That's better. Then the real cool data and the things that I like to see, the small details of it give me an indication that, yes, I'm doing really well or I really did miss out on this is a search query report. Still probably my favorite report in all of digital marketing, seeing what people are actually typing into Google, what you're showing for, what you're getting clicks for, and what's actually converting, and then the revenue attached at the ROI attached to that.
Ryan:
Google's gradually taking away that more and more. Smart Shopping doesn't give you search queries. That's another reason I don't like Smart Shopping. I would tell you if you are using Smart Shopping, most of the time you're leaving something on the table. So you should have some FOMO because you are missing out. Whether it makes sense to hire an agency to break that out and create campaigns for you or not, or your budget's maybe not even high enough to move out of Smart Shopping, that's fine, just know that you are leaving it on the table. Google's also now just not giving you search queries on some of your searches.
Jon:
Yeah. Well, I thought they'd been doing that for a while with the whole dreaded not provided.
Ryan:
Well, that's in Analytics. So yeah, they took away that and the organic search queries. You can get them back if you spend money on Google Ads, which, hey, it's Google's world and we're living in it. But yeah, there's that. If you have Search Console, Google Analytics, Google Ads, you can combine all those together and you'll actually see paid and organic as a great report in Google Ads, and that can be used to help understand missing out as well.
Jon:
Okay.
Ryan:
We used this with a large athletic team of ours that we work with, that pretty powerful in their industry and we had to use that report to show the value of paid and organic working together. So if you are a business owner that at this point doesn't believe in bidding on your brand terms, I would challenge you to test running on brand terms and looking at that paid and organic report.
Ryan:
It will show you, hey, they searched for your brand, they clicked this many times on paid, this many times on organic, and this was your combined click through rate with and without paid search on it. It'll be pretty insightful and it'll actually also give you some positions that you're in on organic. So it can be really valuable, but again, you have to be paying for Ads on that term to get it.
Jon:
Yeah.
Ryan:
Google is now taking away a lot of the search queries in Google Ads. So you're spending money on these searches, but you don't get the actual query that you actually spent money on and converted. So you see, I looked at a shopping account yesterday, actually, that I think it had 50 conversions in Shopping and when you go to the search query report, you actually only saw data for 30 of those 50. So you had 20 converted search queries that you don't even know what they were. That's frustrating from a marketing perspective because you know Google has the data.
Jon:
Yeah. So I guess my big takeaway today is that Google generates FOMO for marketers.
Ryan:
That would be true. Yeah. Google is a for-profit business and if they can generate some of that, it causes people probably to spend more money. That's not necessarily a bad thing. In fact, I advocate for most businesses should probably be spending more on Google. Most of them. Sometimes it's Google helping you get out of your own way to a degree and understanding the channel a little more.
Jon:
Well, it even goes back to the not being afraid to break even, right?
Ryan:
Yeah.
Jon:
With that spend, at least to some degree. So I think there's something to be said for that.
Ryan:
Mm-hmm (affirmative).
Jon:
Okay, so now that we know everyone's going to have FOMO, that, yes, you are going to miss out and there are some tactics to understand how much you are missing out that you may never fully know, and you need to just be okay with that, is that kind of your summary here of what you would think? Do you agree with that?
Ryan:
Yes. I guess you have to be comfortable in an uncomfortable area, knowing you're missing out. I think the key is to make sure that you're pushing as hard as you can in the areas you can. Knowing that you're not going to be operating in a vacuum as a business owner or a marketing team, if you can take out some of the easy little things and know that you're maxing them out, at least do that.
Ryan:
Get your goals in the right spot, push shopping down to that goal. Then I even recommend go a little bit beyond that. Lose money a little bit to see how much market is out there, because you won't really know that until you've actually pushed the boundaries on that within your organization and within your marketing account.
Jon:
So if I have FOMO, just spend more, see what happens, and then it will help me calibrate.
Ryan:
Yeah. I mean, once you're in motion, you can direct it. That's one of the ways I operate in businesses and it drives some of the people I work with crazy to a degree because they want to make sure we put the exact plans in place and make sure it's perfect before we go. I'm like, "Look, we're going to go bang our head against the wall a few times as we move, but at least we're moving towards something and you can direct it." If I'm going right towards you, that's my goal, but I'm way over here, well, I can direct myself back. But if I'm just standing here trying to come to you before I launch, it's difficult to ready, fire, aim.
Jon:
Yeah. As a business owner, you know as well as I do that sometimes just taking the next step, progress, is all that matters. Right? If you just stand still, you're going to lose. But if you just keep moving, every decision is not going to be the right decision, right? So you don't even have to be heading in the right direction, you can course correct later, but you have to be moving and those are the folks who win. So I can definitely understand how that plays here and how that works.
Jon:
So any parting thoughts for today?
Ryan:
I would just say that don't be afraid to get other people's opinion. Outside parties' opinions are good. So talking to Jon about your conversion rate on your site is not a difficult thing to do and it can provide a lot of value, and there's no obligation to do that with you.
Ryan:
Like with me and Google Ads, I'll look at anybody's Google Ads and help them. I just enjoy it. If I can help a business owner not waste money, for me, that's a win. Maybe I didn't make money doing it, but you, as a business owner, know that I care about you and I want to make sure you're winning at the same time.
Ryan:
Unless your Scotts Miracle Gro, then, yeah, maybe I'll try to take you down.
Jon:
I was just going to give them a call and tell them Ryan's going to give you free advice on your ad words.
Ryan:
Yeah.
Jon:
You might not want to take it, but he'll give it to you.
Ryan:
Yeah, I'll give you some good advice, Scotts. It'll be great.
Jon:
Awesome. Well, thank you, Ryan. I appreciate your time on this. It's always fun to chat and I always learn some new stuff. It's been a while, but how can folks get ahold of you? Because I know that we talk every week here, but we don't often tell people how they can reach you.
Ryan:
The easiest way is probably going to be go to ryangarrow.com. I think there's contact info on there, actually. I haven't updated that site in probably years, but go there, you can get me. Go to LinkedIn, you can get me. I think people can get us on driveandconvert.com, too, can't they?
Jon:
Yes. Yep. Yeah, there's a form on there. Just send an email to hello@driveandconvert, and that comes to both Ryan and I.
Ryan:
Yeah, Jon and I are not difficult people to find if you want to find us.
Jon:
There you go.
Ryan:
Especially, Jon. He's everywhere.
Jon:
Yeah, I stand on the corner with a sandwich board sometimes, too. We'll help your site convert better. All right, thank you, Ryan.
Ryan:
Thanks, Jon.
Jon:
Have a wonderful afternoon.
Ryan:
You too. Bye.
About the Author
Jon MacDonald
Jon MacDonald is founder and President of The Good, a conversion rate optimization firm that has achieved results for some of the largest online brands including Adobe, Nike, Xerox, Verizon, Intel and more. Jon regularly contributes content on conversion optimization to publications like Entrepreneur and Inc. He knows how to get visitors to take action.