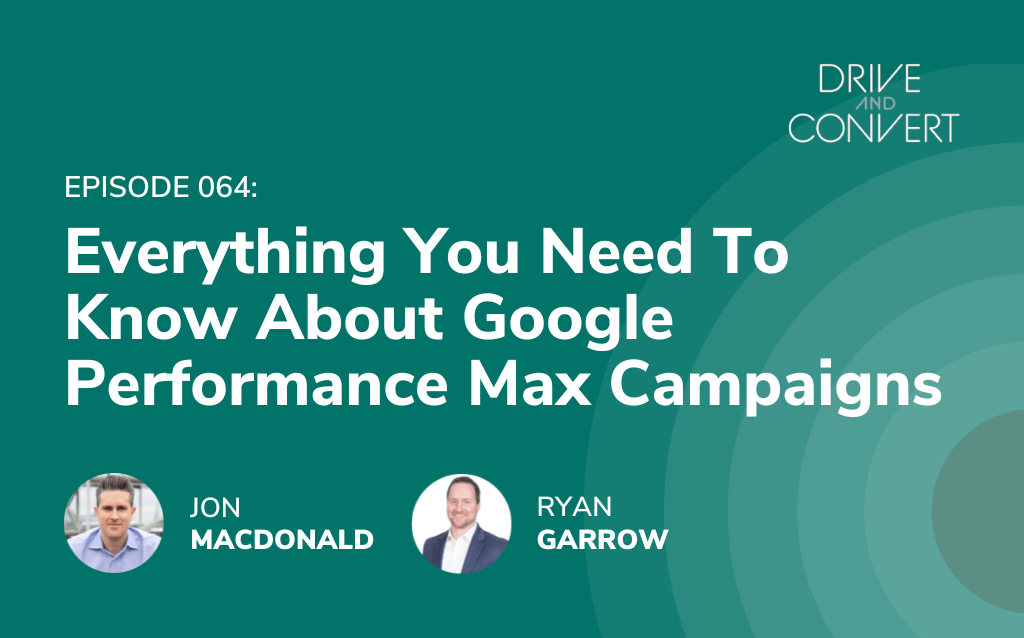 Drive & Convert
Drive and Convert (Ep. 064): Everything You Need To Know About Google Performance Max Campaigns
In this episode, Ryan and Jon talk about the massive changes coming to Google Ads with the introduction of Google Performance Max Campaigns. They cover how to prepare for the switch, the kinds of results brands can expect, and the potential impact on your business.
Listen to this episode:
About This Episode:
Google is always changing, so why is the news about Performance Max Campaigns any different?
In this episode, Ryan and Jon talk about the massive changes in Google Ads that are coming over the next few weeks. They cover the importance and scale of this particular update and why it matters to you.
Listen to the full episode if you want to learn:
What advertisers should be thinking about as they switch to Performance Max
The results brands can expect from the new campaign type
How to prepare for the switch
The impact this has on brands moving forward
If you have questions, ideas, or feedback to share, hit us up on Twitter. We're @jonmacdonald and @ryangarrow.
Episode Transcript:
Announcer:
You're listening to Drive and Convert, a podcast about helping online brands to build a better e-commerce growth engine, with Jon MacDonald and Ryan Garrow.
Jon:
Ryan, some pretty massive changes that I keep hearing about at Google ads. And we know it's coming down the pipe over the next few weeks, and that is smart shopping changes into performance max. Now I keep hearing so much about this. Everybody seems to be concerned about it. It's all over Twitter, marketing Twitter, et cetera. I hear good things, I hear bad things, mostly bad things. And I think part of that is people hate change. But at the same time, I'm really interested to learn your take on this because I just am kind of a fly on the wall. And I see a lot of comments about it as I said, but I want to know what an expert thinks and somebody I can trust. So school me on it.
Seems like Google's always changing anyways. I just saw this morning that they're doing a searching algorithm update again.
Announcer:
Oh yeah. Constant.
Jon:
Yeah, right. That's happening every minute seems like. At least this one, they were public about it and told us. So what do we know about performance max? Why is this one so different? What do we need to know? Let's start there.
Ryan:
All right. So I mean, one of the reasons I have a job is because Google keeps changing.
Jon:
Thanks Google.
Ryan:
To a degree, I'm thankful that Google does have changes.
Jon:
Don't sell yourself short, Ryan.
Ryan:
That's a big one because if it was the same as it was 10 years ago, everybody would've figured out it's no reason to have experts. So performance max though, it was the logical next step for Google, I guess from smart shopping where it's trying to automate all the shopping stuff and remarketing, throwing it into one campaign. Performance max is the next iteration that basically dumps everything Google does into one campaign for e-commerce, says, okay, go do it. I liken it to what happened with the local advertise like AdWords express for small local businesses a few years ago. It was just, "Hey yeah. Just give us a couple keywords, give us your address. We'll do it all for you. Tell us how much you want to spend." So essentially, for e-com it's like, "Hey, let's throw it all in there. Tell us how much you want to spend and what your goals are and we'll go do it all."
Jon:
It express still a thing.
Ryan:
You know what? I don't even know because we don't manage it.
Jon:
Right. I've never heard of it. So I was like, oh, I wonder if that… And one of the things you and I talked about was will performance max be around for a long time? Will Google maybe change their mind if it doesn't do what they were hoping it will do? But we're stuck with it for now. So we'll stay on that.
Ryan:
For sure. We've got to ride this train for a little while because Google has pushed it out a few times. And it seems that this is the last deadline push. So as of this recording in the middle of August, we've got three or four weeks and everybody's being migrated to it. So you can either choose to upgrade early and do it on your own or Google does it automatically on a certain date. And that notification is in your account.
Jon:
Lovely.
Ryan:
Yeah.
Jon:
Nothing like just being auto upgraded. I'll put that in air quotes for those of you watching on video.
Ryan:
Yeah. You can't opt out of it. And so it's like this campaign structure is being forced. There's no way around it. Smart shopping will become performance max. But Google is really good at naming things by the way. Who doesn't want performance max? That sounds awesome. The reality is I think it's going to be almost anything but that for the vast majority of advertisers. I think there's some things that are cool, but it's really different because what we're seeing now is everything in the search funnel, so from prospecting video to top of funnel, shopping campaigns to bottom of funnel, brand search and remarketing is all being thrown into one thing and you have to pick a goal for that. And you're like, okay, well that's a lot of layers that we used to be able to set individually and say, well this is top of funnel so I don't really need to have a Roaz goal where I'm making money or breaking even. I just know that's filling things down the funnel and I gradually increased return on ad spend goals as I go further down the funnel.
I'm a control freak when it comes to marketing, so that's what we would do. Now, you're like, how do you set that goal and how do you make it so that it scales a brand rather than throttles a brand? There's a lot of things to consider in this big, massive game changing move that Google's throwing out there.
Jon:
Okay. What can you do to get some control? What do advertisers need to be thinking about when it comes to the switch?
Ryan:
Well, step one is understanding that Google's goals are not your goals as a brand owner or marketing team. Google, I don't think they're inherently equal. There's some people that would probably try to argue that. I don't think that, I think there's a lot of very intelligent people with very good goals internally trying to help businesses. But at the end of the day, Google does have to take care of their shareholders. That is their objective. Their objective is not to take care of your business. That's your job.
And so understanding that vein, you have to say, okay, how do I make what Google's doing work for my business in particular? Because it's going to be different than the guy's business down the street or down the hall. And so you have to really put a lot of thought into your campaign structure. So what you don't have to do is have one performance max campaign. You can have multiple. You can put different products in different ones. So if there's certain products that fit top of funnel. Like most people start their relationship with your brand with this product. And if they're buying this product, they've probably already bought other things from you. You can make different assumptions around what your goals should be within that.
So just go to the whiteboard, start brainstorming different ways and then test and measure what's happening to your brand through this process. And Google's creating videos for people. And I think that's one of the biggest changes that I think people don't expect. Just pushing play on performance max saying, great, let's do it. Well if Google's creating videos for you and you don't have a YouTube channel, you've never done it. What are they going to put together? And they're going to put together some stills.
Jon:
Well, even that. At the scale Google's doing this, it's got to be AI generated.
Ryan:
Yeah.
Jon:
So you know a human's not making your video. And so any of that nuance has gone. Now, I'm sure it's not horrible, but anybody who really cares about their brand is probably like, this is horrible.
Ryan:
Oh yeah. You can believe that. I think Nike comes up a lot because we're very familiar with it here in Portland. I guarantee Nike's not letting Google create videos for Nike.
Jon:
What are your options? You just say you, well then turn off shopping.
Ryan:
No, I mean you can't because it's such a driver of new traffic to the site as you know, you see the data. And so you can give Google your own video. So you've already got marketing videos, take one of them from YouTube and say, "This is my video, Google don't make me one. I don't like what you want to do or mine's better."
And so for companies that have already created video assets, it's pretty easy. Just tell Google that. You might need to slice and dice some, where you need to have some 15 second ones that you're testing. But make sure that there's logo overlays on that. So if somebody sees the video from a remarketing standpoint or even a prospecting standpoint, they can see quickly what it is. And I was actually at this conference, which is where this content came from last week and one of our clients was there and he's like, "Hey, we just got our video done."
And he was showing it to me. I was like, well, that's great. It was a good video, but it had no logo. So I was like, you've got to get logo on there because nobody knows who's giving in this video. And then it was all talking. I was like, well that's great, good messaging, good actual content from a voice perspective, voiceover. But most people watch video with the sound off. If you're giving me a remarketing video, great, but even if it's scrolling through a feed, if I'm on YouTube, chances are I'm listening to something and I'm going to see it, but you've got to have a good call out pre five seconds in case I'm skipping things and doing.
Jon:
Well, I'd like to listen to talks from authors of books that I'm interested in. I'll go online on YouTube search for that book. Normally what comes up is a talk that they gave at a conference that's on YouTube now. I get the whole gist of the book in 30 minutes. And I leave it on in the background. So I'm listening to it, but I'm not necessarily watching the whole thing. And so I do think audio matters to some degree on YouTube. But yeah, that's interesting. I wonder how Google's even going to do that. You could do an AI voiceover track, whatever, but how do you think they're be able to make this?
Ryan:
I don't think Google's doing audio. I have to check on that actually. I don't know. But it's again, having that control over what Google's pushing out there for your brand so that you can be confident that your brand is taken care of. And you've got a solid piece of content that helps push people down the process to purchase. I'm having to do this for my own brand. So thankfully we already had some video assets, but we've got to go edit them down and create some different versions that we can set up to Google.
Jon:
So you can give Google bits and pieces and say, here's a library of stuff you can pull from? Or do you have to give them full videos?
Ryan:
No, you can do both. And so I think that there's great opportunity to even test the Google AI, let them create some stuff, see what happens. There's potentially some upside to allowing Google to do some things that they think are going to fit into what they're doing.
Jon:
As long as it doesn't look like the crappy Amazon ads you see in Google ads everywhere where it's just the products with a photo of a product. And you're like, I don't even know what this product is. It's pretty interesting at times. But yeah.
Ryan:
Ideally it's some remarketing that's in there. So if you've been on this product, there's going to be a video for it, but there's likely some prospecting in there as well.
Jon:
So I know this might be a little early to ask the question because not everybody has performance max turned on, but from the sample size of the several clients that you guys have, what kind of results can people expect from this new campaign?
Ryan:
It is like you said, unknown for sure, because every brand's going to react differently depending on what they've got in their account in addition to performance max, how the videos are going. But the key is going to be watch very closely. And then my favorite term, pivot. It's going to react differently than you expect probably. It's likely not going to be a money printing machine. And so anybody that's been trying to get Google to be a money printing profit machine for their business, probably going to be disappointed. I mean more and more of that first order profit is going to Google and you just accept it as you're working in the space on Google to grow your brand.
Jon:
Which is sad to hear only because the wins against eCommerce right now and direct to consumer is unprecedented. It's really hard. We went from a golden era of being able to print money on Facebook and Google to now Facebook, it's near impossible and Google is making all these changes. That just seem like it's making it worse. Is that an acceptable point of view or?
Ryan:
That is an acceptable point of view. It's becoming more and a more important to be building a brand that people want to interact with regularly and come back for lifetime value. If your whole business has been based on getting sales on Google from paid ads and then moving to the next paid ad for more sales, you're going to be disappointed in what your business looks like in even six months to a year from now because it's, we've been moving towards this lower and lower row as on Google ads for a long time. Not every industry is there where there's no profit on the first order, but a vast majority of them have moved into, you're not going to get profit. You can want it all you want, but that means you're going to be pretty far. I use the example of a supply demand curve in most of my talks, where as your marketing spend increases, your margin on that next order is pretty small. It keeps getting smaller.
If you can get profit probably from Google ads, but you're so far on the left side of the supply demand curve, your volume is so small and it's likely just brand terms or anybody that happens to know who you are. And so growing a brand is going to be interesting. But we're watching closely and pivoting once we see data. So we do have some examples of what we've seen. So one of the early ones for a smaller client of ours that was spending, I want to say about 200 to 250 a day, pretty consistently for months. July 26th, they flipped on performance max, or we did on their behalf, spend went to $490. We're like, "Whoa, whoa, whoa, whoa, let's pull this back and see what happened." So we quickly looked at it and pivoted, but looking under the hood and figuring out where did this spend come from?
Because we've been spending this on… We have larger budgets than most spends because they have some elasticity. If there's goals are being met, that you can spend more on shopping or searches it performs. So the team allowed those budgets to stay where they were when they flipped over to performance max. Well, shopping had averaged about $75 a day. And so it was about 150 in text ads.
Jon:
Big jump.
Ryan:
So big jump and you can actually dive into the data and see how much did it spend on shopping. It's some complexities within the reporting tab, but we saw that it spent $15 that day. So it went from $75 to $15 on shopping. The market didn't change so the campaign changed. And when you go in and look at video spend, you can do some manipulations in the main overview on Google ads to see how much was spent on video. It was $422 spent on prospecting video that had zero sales.
Announcer:
You're listening to Drive and Convert, a podcast focused on e-commerce growth. Your hosts are Jon MacDonald, founder of The Good, a conversion rate optimization agency that works with e-commerce brands to help convert more of their visitors into buyers, and Ryan Garrow of Logical Position. The digital marketing agency offering paper click management, search engine optimization and website design services to brands of all sizes. If you find this podcast helpful, please help us out by leaving a review on Apple podcasts and sharing it with a friend or colleague. Thank you.
Jon:
Okay. So here's what I'm hearing and you've justified this for me or made it come back up. But the reality is that I'm hearing that basically Google is doing this to get more ads on YouTube because that is where everybody's going. So they're like we need more spend on YouTube because that's where we have most of our content now.
Ryan:
I don't even think it's where more people are going. It's where Google knows to get, again, shareholder value, they need more spend on YouTube. They can only get so much on search. And if search goes down and there's less people searching for stuff, there's less ads they can put out there. So YouTube has almost limitless potential for ads because of how much content we're consuming there. But we haven't been advertising there over the last couple of years, as aggressively as we had in the past because it just wasn't performing.
And so shareholders may demand, "Hey, we need to see these BCS and volume increase on YouTube." Performance max aggressively goes after YouTube. And it's just the results haven't been there to get me excited about YouTube spend. It's just not. It's so far top of funnel. And there's so little consideration at this exact moment when you're on YouTube watching a video, I'm likely not interested in the product you're trying to sell me, likely. It's like social at this point on Facebook or Instagram, where I think you're going to be interested in this, but I've got to convince you, you're going to be interested and get you to go back to Google and search for something potentially where I capture you there again. So very top of funnel, but there's a lot of spend there.
Jon:
Yeah. It's like advertising on Twitter. I don't think I've ever had a relevant ad on Twitter, which is shocking.
Ryan:
It is because there's a lot of data on who you are on Twitter.
Jon:
Oh yeah. A lot. But I don't think they have the volume of the ads to be able to say, "Oh, Jon is this profile. This ad aligns with his profile." I think there's a shortage. When you're working on a supply and demand market, that's hard to do. And Twitter has all the demand, but none of the supply. It's different on YouTube.
Ryan:
Yeah. Nobody's going to Twitter to advertise.
Jon:
Right. Exactly. Okay. So what else does a brand need to know to prepare for this? How can we make this actionable for folks?
Ryan:
The performance max campaigns by definition are going to cover some search as well. So they're going into video. They're going into search in one campaign in addition to shopping, in addition to the remarketing that smart shopping did. And so you have to be careful on how you're structuring your search. According to Google and what they've published, it will not touch exact match keywords. So if you've built out exact match keywords, stays away from those. So I'm looking for black high heels. Black high heels is an exact match. It's not going to create an ad for that because it's already in there.
Jon:
Interesting choices of search terms.
Ryan:
Okay. Purple, high heels. If that's a broad match keyword and you don't have the exact match built out, the performance max will take precedent and show an ad and your broad match keyword won't show. But there's a large asterisk here. It's not working that way all the time. We have a large advertiser, spends a couple million a month. We have a lot of exact match built out. And we were able to show Google, we pushed play on performance max, exact match went to zero on that day. And they have a lot of search volume on those exact match terms. Performance max went way up and above and beyond what just shopping ads were doing because we could pull the shopping ad traffic and say, "Hey, something misaligned here. It looks like it took exact match." Google's like, "Yeah, it's not possible." We're like, well how did they get no impressions on their exact match keywords this day when they've been spending hundreds of dollars a day?
"Oh, I don't know. We have to look at that." I'm like, okay, so you have to watch that. And then be aware that sometimes it's not going to always work the way Google intends it to be.
Jon:
Like everything else. There's probably some exceptions. Something was there that caused an issue.
Ryan:
And what we're seeing too in the shopping space is a lot of times… And so performance max is an algorithm. So it's especially important if you're moving up standard shopping into performance max or quickly went standard shopping into performance max. It's an algorithm and algorithms are inherently lazy. And so they take the lowest hanging fruit and don't really work that hard to try to build your brand because it's not their job. Their job is to go get your goal, and if your current goal is not possible, it won't spend. So you got to go into some of the reports and figure out what products are the ones that it's showing?
And what we're seeing in a lot of advertisers is that it's only one or two products that are capturing most of the spend in shopping. And so if that's the case, you might need to start breaking things out a little more granular in your shopping campaign structure and say, Hey, performance max needs to have these products here, but then these products here need to have a different goal and be able to go out and do things on their own and not get sucked into those other two and don't spend anything.
So again, watching it closely.
Jon:
That makes sense. Okay. So what does the future look like? We have little data yet, but what should we be paying attention to? What does the future look like here?
Ryan:
Well, feeds are becoming more important than they were in the past. Feeds have always been important. You have to get your product data into Google, but the quality of the feed is more important. If you're putting garbage into Google's algorithm, you're going to get garbage out for sure. And so at least give yourself a shot by saying, "Hey, we need a quality feed that has all of the data Google can take in the feed."
Jon:
And there's a lot of tool sets for that if I'm not mistaken.
Ryan:
Yeah. There's a lot of feed systems that can do it. I think that that experts that understand feeds are going to be more valuable because it used to be, I can get a static feed up to Google and it'll be okay and that's great. But I think you're going to have to be a little more reactive in watching that data closely. Even just last week we had an advertiser that their shipping columns got messed up and I was able to see, well, I had just searched on Google and you should have free shipping on this $300 product, and it's showing delivery charge of $58, which is causing you to not be competitive against everybody else that has free shipping on that product. And so your price was way higher. And so that's going to be important. The titles, so we had a tonneau cover company that didn't have tonneau cover in their titles because when you went to the site, you didn't need it because you knew you were looking at a tonneau cover.
But Google's algorithm is saying, Hey, if you're selling tonneau covers, you might want to have that in the title, even if it's not the visible portion, just in there to give it more relevancy. So just know that feeds are valuable. And if you don't have an expert, that's looking at that regularly, you might want to invest in that or at least have an expert look at it and tell you if it's going to make sense.
And then I personally think that this campaign structure, well, I think Google's design was to make it very easy for small advertisers to get in there and compete. I think it's going to do the opposite of that. And six months from now, we'll probably know what it's doing, but if you are a large brand and you have given Google a lot of data to work with in your campaign structure where there's all this automation and AI, you're going to have some pretty large advantages over a very small advertiser that hasn't spent a lot. Therefore, Google doesn't have a lot of data on their product lines and what they're able to do with these products.
So I think we go fast forward, six months down the road, the rich are going to be getting richer and rich means large brands are going to be getting bigger and more and more coverage very easily. I don't think it's going to be, I can't say impossible, but it's going to be extremely difficult to start a brand on Google with Google traffic. And Facebook has already become a place where you're not going to be able to start a brand and start selling direct to consumer very easily. Unless you do a lot of work with influencers to start and get some really famous quality influencers to start pushing your product. You can start a brand with a Kardashian very easily. That's not going to be a difficult thing, but there's very few brands that are going to be able to do that.
Jon:
Well, even with Instagram changes, who knows? And TikTok, TikTok feeds are no longer celebrity feeds. They're feeds of things you're interested in from anyone across the world. So yeah, we could do a whole show episode on the changes that the Kardashians were upset about with Instagram recently. And there's a lot of those changes happening and all of it is great for consumers and bad for brands quite honestly. So I agree with you. I think if you're starting an e-com brand right now, there's a lot to consider there and you better have deep pockets because it's going to be a challenge. And it will swing back the other way eventually. But man, I don't think that's going to happen for a while.
Ryan:
For a while. Because the companies that control advertising are large and they need big movements in money to impact their share price, which is what they're all beholden to because they're all publicly traded. And so if you want to make small advertisers do really well, at the end of the day, a company decides that Google doesn't care if you're spending 500 bucks. They like it. They're not going to turn it down, but they are going to focus largely on the Home Depots the AT&Ts the companies that are spending eight, nine figures a year with them that move the needle for their bottom line. And so just be aware of that. Go big, go quickly. Don't fear Google, because it's not that it needs to be scary. But just know that Google's going to get their share of your revenue. And if you're going to constantly fight against that and just be bitter and angry… I do talk to a lot of business owners who are like, "Google's terrible." I met one at this conference that doesn't use Google analytics because Google just steals his data. I'm like, okay, what?
Jon:
Well, they're going to get it anyways.
Ryan:
Exactly. What are you keeping from Google? Because you don't use analytics, they don't know you exist? They have to rank your site so you have Google search console. It blew me away that somebody was still of the mindset that Google analytics is terrible. And if I put it in there, all my competitors will get access to my stuff. I was like at that point, I'm like, "I can't help you at this point. I'm not going to be able to work with you." That level of paranoia just doesn't work.
Jon:
Some battles aren't worth fighting.
Ryan:
They're not. I just like, "Hey, you're going to believe that whether I tell you something different or not. You've been doing this long enough that… And I guess the final one that I've got is it is a shameless plug for you and CRO. But I think it has a lot of validity that if your site converts better, Google's going to more easily be able to show your products and remarketing ads and things because they're seeing the conversions because hopefully you have Google analytics on your site. And if Google has that data to say, "Hey, site A, you both have the same goal, but your site converts better than site B." Guess who's going to win that algorithm battle every time? And so you cannot ignore CRO. If you're trying to before, sorry, but it's going to be conversion rates will feed Google algorithms.
Jon:
Well, that is music to my ears. And I would say that-
Ryan:
Have you been paying Google for this, Jon?
Jon:
Yep. We went to them. We said we have a really good idea. It's called performance max. And we will let you steal that term and roll with it.
Yeah, no, here's the thing though, Ryan. Is CRO has always been important to ranking high in Google because they've always considered conversions as part of it. But I agree in the sense that it's becoming even more and more impactful as you're looking for ways to compete against all the big guys out there who are… Nike is, as you said, just using that example. They have millions of video assets they can give to Google to generate a stellar ad. And if you have two assets that you've paid some guy on Fiber to make for you because you're starting out and that's all you can afford, okay. But you have to continue to look at what are all the ways that I can compete and be better than that other brand who is probably also just starting out and also paying somebody on Fiber. And if that's the case, conversions is definitely one of those ways. So that's good to hear.
Ryan:
And it's back to that CRI thing. Companies, you might not be able to afford real quality CRO, actual CRO to start at Jon's rates. You have to aspire to that. If you weren't planning to pay Jon at The Good your going rate, you're planning to fail at this point. You've got to say, okay, how do I get that? I've got to reverse back how much Jon costs because his team's going to pay for themselves. But I have to get the margin there to be able to afford it to start.
So taking baby steps, doing the CRO product that Jon's got in place that says, Hey, here's the steps you can take to do it yourself, to get to the point where you can pay us to really take you to the next level. That small, it's like, I'm reading the slide edge again. I try to read it every couple years. And it's that small thing you're doing every single day that's going to get you to the right place, that if you ignore it, you're not making a decision against it, but you're falling further and further behind. And you're going the wrong direction by not taking so small actions. So you've got to.
Jon:
1%. Just get 1% better every day. That's one of our core values here at The Good is just small incremental improvements lead to big compounding changes. So awesome. Ryan, thank you for the intro and helping me better understand performance max today. I look forward to checking back in with you in six months or so about this hopefully.
Ryan:
Oh yeah.
Jon:
And learning a lot more about how it's going. Hopefully, Google just has figured some stuff out and it's actually beneficial for folks. I hope that's the case. If not, I also trust that Google will recognize that and it will go the way of a lot of other experiments they've run over the years and they'll change it.
Ryan:
Yeah, we might revisit this in a month or two, depending on how quickly things change.
Jon:
That's fair enough. All right. Well, when it happens, when you have more data, let's talk about it.
Ryan:
Thanks Jon.
Jon:
All right, Ryan, talk soon. Bye.
Announcer:
Thanks for listening to Drive and Convert with Jon MacDonald and Ryan Garrow. To keep up to date with new episodes, you can subscribe at driveandconvert.com.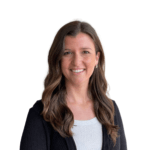 About the Author
Caroline Appert
Caroline Appert is the Director of Marketing at The Good. She has proven success in crafting marketing strategies and executing revenue-boosting campaigns for companies in a diverse set of industries.