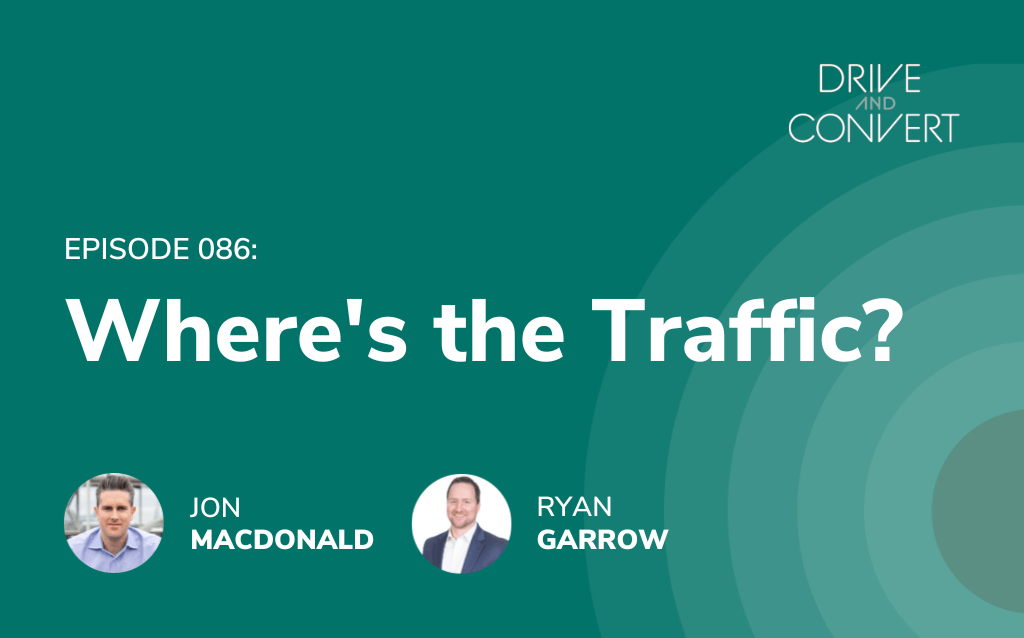 Drive & Convert
Drive and Convert (Ep. 086): Where's the Traffic?
In this episode, Jon and Ryan dive into how competition, economic factors, and changing consumer behavior are reshaping the e-commerce landscape and affecting traffic.
Listen to this episode:
About This Episode:
From struggling marketplaces to recent stock turmoil, Jon and Ryan explore the factors impacting traffic and sales in the ecommerce industry. They take a deep dive into how competition, economic factors, and changing consumer behavior are reshaping the e-commerce landscape.
In this week's episode, they discuss powerful strategies for driving traffic and sales and how brands can leverage Google's algorithms to their advantage.
Listen to the full episode if you want to learn:
How the decrease in search volume on Google affect transaction and sales volume
What methods Amazon uses to drive traffic beyond search traffic
How brands can leverage Google's algorithm to increase product discovery
Why testing and experimentation are crucial for staying ahead of the competition
If you have questions, ideas, or feedback to share, hit us up on Twitter. We're @jonmacdonald and @ryangarrow.
Episode Transcript:
Announcer:
You are listening to Drive and Convert, a podcast about helping online brands to build a better eCommerce growth engine, with Jon MacDonald and Ryan Garrow.
Jon:
Hey, Ryan. You just dropped on me a new fact that I was unaware of. I had got COVID, so I missed it all, but Prime Day was just here. And you told me it was the largest Prime Day ever at $12.7 billion with a B. And 375 million products sold in just two days. You did some research on this and what you're saying is that Prime Day alone, as a company, would be 296 out of 500 on the Fortune 500 list, which puts it above Keurig, Dr. Pepper, larger than eBay, Dick's Sporting Goods, but still below Albertsons. But that gives you an idea there, of you're with some big, big companies. So my question for you is, with Amazon growing and everything else seemingly down or flat year over year, what's happening to traffic? Where is the traffic? Because I'm hearing this across the board from e-comm companies I'm engaging with.
Ryan:
It is. It's whether or not we're in a recession doesn't really matter. What I am seeing is just changes in traffic patterns and changes in what I monitor closest usually, which is the search demand. Since people go to Google or Bing. And search for stuff or ideas, whatever it happens to be, it feels like, and in the data looks like, there's not as much search volume on Google. People are still spending money, but they're spending it in different ways. And with inflation, things have gotten more expensive in many areas. So while top line numbers may look good in certain categories, transaction volume and actual sales volume is going to be down. We've lost our stimulus, housing's more expensive. All the list goes on and on and on as we look at some traffic patterns to give us an indication to what's happening.
It's easiest to start with the search engines because we have some really solid data we can get. If you haven't ever played with StatCounter, I love playing on there. There's so many things you can do there. And just looking at the US search volume and what's happening in search engines, for example, you can see that Google has a higher percentage of search volume on search engines year over year. They went from 87% to 89% in the month of June. So June year over year. Bing and Yahoo were fighting over the majority of the rest, but they're both down. So that's just saying Google's been more successful than in some of their agreements for locking down Apple devices, with Google's been a very good thing. For Google, in what you feel about what that looks like in the marketplace, that's a different story.
Jon:
That's a good point. I was just going to say, I just looked at Google's market cap for year to date and they're up 38% year to date, which seems crazy to me. If people aren't buying as much off Google, people are advertising more than ever on Google right now, do they feel like they're trapped? Is that-
Ryan:
Well, it's-
Jon:
A good?
Ryan:
Yeah, it's not even worthwhile for many companies to set up a Yahoo Gemini account and go direct to Yahoo. There's just not enough volume to have to manage that. It's not as friendly to manage. And so most advertisers on Google last year are still there this year and we've also had new companies start this year. And so there's just going to be the same or more competition for less search volume, which is good for Google. They may be capturing more of the market, but if CPCs go up, they make more money. Also, Google stock, I would argue was probably a little more depressed last year than it probably should have been, a lot of the tech stocks. So jumping up this year, looks good, but if you compare it to a year ago, maybe it's not as rosy as up 38%, just year to date.
But when I'm seeing, we have a bunch of large advertisers we can go in and pull some data for. I find it curious, when you combine Google search trends, what you see in a Google Ads account on exact match keywords and then the ad preview tool, those numbers all together can really give you a good picture of what's happening in a category or market. So I looked at the term guitar for example. It looks like that's just that exact match term down in the market, somewhere between 20 and 50%, as you blend these together. Doesn't really matter which number you pick in there. That's down fairly significantly year over year, and that's on a monthly basis. So June versus June was the stuff I looked at.
Depending on what you sell and how you sell it, people are probably still buying Kleenex and toilet paper at the same rate I'm guessing. I bought a Toto-
Jon:
Stockpiling?
Ryan:
Toilet, so I'm not buying toilet paper at a great rate. I got out of that in COVID. I didn't want that scare again. But generally speaking, the necessities. Food costs, people still have to eat and so they're still going to be buying food. You might not be buying the same high-end beef, you might buy less expensive beef. But I would assume most companies are experiencing some sort of decrease in capturing traffic on a search engine, and garnering the same returns they may have gotten over the last couple years.
Jon:
So does this indicate that people are leaving Google and just going to search on Amazon when they're ready to buy?
Ryan:
Likely not. I can't say for sure. Maybe there's some smart people inside Google or Amazon that would know that. They probably would never tell us. But it's likely more of a function of less search on Google due to economic issues or economic headwinds that people are experiencing, at least in the US, and Amazon's aggressive marketing programs. They're getting aggressive in many areas to drive traffic to Amazon, where people are finding what they want and buying. Good for Amazon sellers. And I would think that as you can see where Amazon is advertising for their Prime Day, if you understand the nuances of what goes on inside Amazon, you can see a lot of how they're driving some of that traffic specifically for Prime Day. It comes from a lot of areas outside of just the Amazon app on your phone. Comes from a lot of areas outside of just searching on Google and seeing an Amazon ad during Prime Day. Amazon ads, it gives them $9 billion a quarter or at least in Q1.
Jon:
Nine billion, that's bigger than some GDPs out there.
Ryan:
That's just on ads on Amazon in one quarter, and that was up 20%. So Amazon ads are being flooded and that's a function of Amazon getting more traffic and more sales. You want to advertise to capture some of that. And so when Amazon is driving traffic to their app or their site, they have ways to make money on that traffic other than just selling stuff. So that's a little bit different than you would look at an eCommerce brand that you've got to buy something from me. I can't probably run a bunch of ads like Amazon. My competitors have to pay me. But they're also heavily used influencers to drive traffic. There's publishing companies with deals. Also, there's a lot of ways they work to get traffic that's not just general search traffic or people. "I need a widget, where's this widget?" So I think they focus more on the demand creation.
Jon:
So is this a trend on all the marketplaces, Walmart and Target and all these other places that you can list your third party products?
Ryan:
No, in fact, most other marketplaces are really struggling. Target, you talked about Google stock. Target's stock got hammered pretty bad 'cause their numbers were pretty bad. The data's not perfect, but based on what I can see with some external tools, based on looking at some earnings, most other platforms or marketplaces are down versus Amazon over the same time period. If we look at Q1 data, which we readily have access to on the publicly traded marketplaces like Walmart, in Q1, their eCommerce was up 1%, but that included grocery and buy online, pickup in store, which grew massively. And so taking that, I have to assume that the just pure play eCommerce on Walmart digital was down. That's also despite the fact they added 40% more sellers in Q1. Tons more people selling, less people buying.
Jon:
Sounds like a paradox of choice as well. And all of a sudden. You went from having one product category that you could really win at on Walmart, to now, you have tons of competition and the consumer has more options to be confused about.
Ryan:
Yeah. And fulfillment becomes a big deal. You have to advertise on Walmart. Their advertising revenue was up, which you would expect as people have to advertise to get sales there now. But some friends of mine were talking about how they saw a Rolex for sale on Walmart, and they're like, "How did this happen?" I'm like, "Well, Walmart lets anybody sell anything on Walmart." It's like they went for the spray and prey. Anybody that wants to apply, get in, just start selling products because that'll then in turn get buyers.
Target, another marketplace with the exact opposite route, they have a very controlled number of SKUs and I think it's somewhere around a million SKUs are allowed on Target Plus or target.com, their app. They rotate them out. If you're not selling, you get booted. Somebody else else gets to come in there. They want to keep it controlled. Very selective and not easy to get into. But Target's digital sales were down 3.4%. And that number probably included my wife who loves buy online, pickup in store at Target. I don't know the last time she's actually walked into a Target store [inaudible 00:09:12] outdoor car. And she was definitely up more than 3% year over year at Target.
Jon:
I'll tell you what else likes that, is my wallet.
Ryan:
Yeah. That's-
Jon:
We use the same thing. And I'll tell you what, it saves a lot of time and a lot of irrelevant purchases.
Ryan:
Oh yeah, the impulse buys are done because it's not like I'm scrolling the app as I'm searching for bananas at Target. And what is frustrating though is figuring out am I buying a pound or am I buying one banana? And that has been a problem. One time I had, I think my wife, she does most of the shopping. But I think one time we had 10 pounds of tomatoes in a pickup because we thought we needed 10 tomatoes for a recipe. Lots of tomatoes that week. Lots of tomatoes.
Jon:
That's amazing. Yeah, we've had the same issue with Instacart in the past. So you just don't pay enough attention. That happens.
Ryan:
We'll learn. We will get educated on that.
Announcer:
You're listening to Drive and Convert, the podcast focused on eCommerce growth. Your hosts are Jon MacDonald, founder of The Good, a conversion rate optimization agency that works with eCommerce brands to help convert more of their visitors into buyers. And Ryan Garrow of Logical Position, the digital marketing agency offering pay-per-click management, search engine optimization and website design services to brands of all sizes. If you find this podcast helpful, please help us out by leaving a review on Apple Podcasts and sharing it with a friend or colleague. Thank you.
Jon:
Well, tell me, let's summarize this. What does this mean for e-comm brands? Because I'm hearing from you today, I should just go forget my site, forget everything else. Let's just go to Amazon because it's a lot cheaper.
Ryan:
I wish it was that simple. But also, you're paying 15% when every time you sell something on Amazon generally. And that's true.
Jon:
Fair enough.
Ryan:
Tough margin to give up. And you and I are well known for specifically advising brands not to do something just because we see a competitor doing it, cue email popups on sites. But when you as a brand can get some deep insight into what a large company like Amazon is doing to grow their traffic and sales, you should probably pay attention. So I've sold on Amazon, well, not well, and with a lot of brands.
So getting in that ecosystem, you can see a lot of what's happening. Like partners that were reaching out to the brand saying, "Hey, we can drive traffic to your brand store for free on our end. We just want a percentage of sales when you sell." I'm like, "Perfect." Those publishers also get a cut from Amazon when they drive that traffic. So they get to double dip. So they have a lot of incentive to make sure they're driving sales for brands. And so you need to pay attention when somebody like Amazon is making moves because money moves the market. If I went and decided to start doing that, that I'm not going to have an impact on anybody's ecosystem personally. Amazon is going to. And so pay attention. See what you can do with that. I'll say that you aren't going to be, as a brand, able to spend like Amazon to drive traffic. But advocate for that strategy. And what Amazon does really well is something I've talked about probably quite a bit is bottom up market.
If Amazon's doing it, you probably should too. Knowing what I know on Google, Amazon drives a tremendous amount of their traffic on Google. In fact, I know from experience that they do play click arbitrage. They'll buy a cheap click on Google, goes to Amazon where their minimum click on the advertising side of it, because it'll land on a search page. Somebody's buying a click, they mark up the click. So they're guaranteed to make money even if somebody doesn't buy anything.
Jon:
Wow. I've definitely seen the display ads that just have random products in it, and I'm always like, "Well, why is Amazon just showing me a carousel of products?"
Ryan:
No, it's traffic. And so in addition to some of that shopping traffic or text ad traffic, Google is still a superior discovery tool to Amazon. I think Amazon's gotten better, but I still don't go to Amazon, when I'm like, "I need a Bluetooth speaker." Amazon as of now doesn't have some of the best lists, like Google will have in organic. They don't have shopping in addition. So Google gives me a lot of opportunity just to collect information where Amazon's goal is to sell. That's why I think it's important to still use Google to drive some of that traffic. But if we look at some of what Amazon is doing on Google, it can shed some light I think onto what a lot of brands should be at least considering and looking at, if that makes sense in your advertising strategy. They don't advertise a lot on broad terms, and if they do, it's at a very low CPC.
And the way you can tell that is you'll see sometimes Amazon falling below the top of the results down at the bottom. And the ad may not be great and there's ad rank issues that they may not get, but they have such a massive account. You wouldn't expect them to really specifically target each individual broad term. But if they are bidding on the word blanket, it's a low term, low intent. I need a blanket. I haven't told you what type of blanket I need, at all. I just said, "A blanket." Could be a weighted blanket, could be a heated blanket, could be a quilt, could be for my kid, could be for me, lots of options. So that's like your low-priced dynamic search ad on Google. You should have that in play and most e-comm brands and even agencies see some of the results coming from that campaign and turn up the volume, because it's like, "Hey, I just spent a hundred dollars and got a thousand. That's great. I want to spend 500, get 5,000."
As you turn it up, it starts cannibalizing other crappy traffic from other things and it's not doing what it's supposed to do, which is find new search terms, that can make sense to get more aggressive on individually. So you should have that in your account. And then for brands that are on the Amazon platform that are trademark registered, so their brand or Amazon has vendor central relationships with, they will advertise on the brand on Google and do it fairly aggressively because it makes a lot of sense for Amazon, because either they have the really large market they bought at such a low price or they get enough sales volume from each one of those pieces of traffic at a cheap CPC. They take it. So you'd better be bidding on your brand. In fact yesterday, I had two companies I spoke to that weren't bidding on brand terms.
They said shopping terms and nothing else. And I'm like, "Well, you're making it very easy for a competitor to pull off some of your traffic." So defend your traffic on your brand, but you should be there. And when it comes to shopping, so the next layer up on that is shopping. People are discovering products there, you want to be there, and Amazon is all over shopping. They know the cheap CPCs, the conversions that happen off of it. Again, the value of product discovery. If I haven't bought this before, I'm going to find it on shopping. I see the reviews very quick and easy with star reviews. I can see all the brands selling it or site selling it so I can pick a good price for the same exact product.
Too often, I think brands that I speak with are too involved. They're too deep in the weeds on trying to push a specific product and or want to really push bestsellers. They're like, "Hey, this brand is really important to us. We really want to push that in shopping." I get it, I understand the desire to do that. But just like Amazon, they're blanketing all of Google shopping with low bids. If I see Amazon covering a bunch of search terms, I get to tell the brand that wants to compete on that, probably pretty easy to compete on this, since I know that Amazon's margin on that sale is only 15%. They're doing it at such a broad scale. They're not individually targeting this product. It just happens to be something they're getting cheap. I think you can compete there. I know that over 50% of the time, people don't even buy the product they click on.
So by focusing on this brand, no guarantee you're going to get it. And actually, odds are they're not even going to buy that product. So let's let Google's algorithm do what it's supposed to do and bubble up the ones that are going to make Google money and get the traffic to your site. Shopping is not a converter. You let Jon and team help your site convert once they get there. But the shopping ad, as of now, does not convert people on your site. Maybe someday it will, but it's probably far away.
Jon:
Yeah, it's a great discovery tool, at least to start the process. So get people in and then offer them other options. That seems to be Amazon's whole ploy there, is what you're saying, right? It's just get them in and then let them have a ton of options on that results page, and hopefully that's sticky. Hopefully you're getting them to continue that research on Amazon so then they'll purchase.
Ryan:
Yeah. And I don't think any of this is new information to the people listening to our podcast. Most of you, if you're in e-comm, if you're not on shopping, you should be, and you've heard that from us all the time. That's traffic. But what I think a lot of brands need to focus on is getting those layers appropriately bid, number one I think is important. So it's the nuances in there. You're probably already doing them, but you probably have them mixed up a little bit. But it's the mid to upper funnel traffic that I think are areas to drive that new traffic. When you're capturing the demand on Google, that demand is going to be less. So how do you effectively move to that mid and upper funnel in this type of economic situation, where you don't have that easy options? So Amazon's doing a lot of mid-funnel stuff. So when there is some demand, they just don't know what product yet.
I really like what Amazon does, getting articles written on best of lists. So if you go to a lot of these best of, like if I'm looking for a Bluetooth speaker. Specifically, I'm staring at my Sonos Move, which I love. Powered speaker, carry with me everywhere. If you look for a powered Bluetooth speaker, most of the top of Google's results organically are going to be what are the best ones? And there's a ton of them, but a lot of the links are going to go to Amazon, and Amazon's paying for those links. Whenever somebody clicks that link and buys, that article gets some credit. So it's a great opportunity there that I think brands need to be aware of that.
If you are Sonos, you need to find a way into some of those lists and you need to maybe influence some of that just like Amazon is. There's no reason not to. If you are a retailer of these, you need to have a best of list. That needs to be a blog. Maybe it's all going to be once you sell of course. But what are the best Bluetooth speakers that you've tested internally that you want to be there and make sure it's good from an SEO standpoint? You're driving back links to it.
Jon:
This really shows me something I found really interesting, which is I've noticed that CNN has done this a lot on cnn.com where they have their shop. It's a whole section of their homepage, is all around shopping. And it's a bunch of best of lists and they go to Amazon. And I'm always shocked, 'cause it sucks me in somehow I'm like, "Oh yeah, what's the best of security cameras right now?" And then you go in and then all of them take you to Amazon. And I'm like, "Oh shoot. Well, okay, I never realized Amazon's paying for that placement."
Ryan:
Yeah, and giving away one of my wife gift purchasing things, that's those Mother's Day lists on CNN. Like hey, that's just a brainstorming session for me. I know they're getting paid. And I'm like, "Whatever." It's just somebody put this list together that has ideas and maybe I don't. So don't be afraid of paying for some of those things. It's coming up organically on a new site where they test all these things. Yeah, great. I have no shame on that. But it also opens up what I used to … This dark underbelly of the online marketing world, the affiliate word, which years ago it was just disgusting. I had to fight constantly as managing brands ads of keeping affiliates from hijacking ads on Google and affiliates, putting coupon codes on RetailMeNot that would jump in at those shopping carts, where they have that visible promo code that I'm notorious for using.
Affiliates have changed. And so I am going back on some of my thoughts on affiliates and I do think there is some value there. In fact, Logical Position, we had an affiliate program. Lost our affiliate management. Worked for Adidas and we're like, "Eh, we don't even need to backfill this because affiliates are just barf, gross. Let's focus on Google." We're now beginning to do some affiliate marketing. Affiliates might be a bad term because yes, you're using affiliate platforms to pay out. But it's more influencers, is what I would refer to them as. We want to find influencers that are operating with affiliate payouts. Influencers now get to demand upfront payments, which affiliates often in the past didn't get to do, because I feel each other, influencers, "I already have this trust, I already have all these followers. You're going to buy that and then you're also going to pay me."
There's value there. Amazon is doing that. Every brand needs to be finding influencers that make sense and testing and measuring because what you think makes sense for an influencer may not, once you see what's happening. You want to make sure that you are getting the ability to dark post. I would have a very difficult time paying money for an influencer to post about my product without the ability to dark post, because if their followers do resonate with it, I want all of their followers. And they're only going to get 10% with every post, so I want to use my dollars to boost them to all of their followers, build lookalike audiences, et cetera, through dark posting like Spark Ads on TikTok. But when you're doing this, you also have to extend your window of attribution, which so much going on with GA4 and attribution right now, that it becomes painful to understand all these changes.
And I'm an old dog, so new tricks become frustrating. But Google forced it and first party data, all these fun things, it's not just a two-day window and impressions that you can look at your social channels and just assume that didn't convert, ignore them. So you do need to bring in probably some third party attribution tools to help you see some of this effectiveness on this mid to upper funnel stuff. I haven't seen Amazon doing this, but I can guarantee they're paying attention to attribution, from social channels when they don't see it right away. TikTok, it's about seven days. They will see an impression on TikTok. Most people don't click on an ad. But that viewer on TikTok does come back to the site and buy something within a seven-day window quite often. So if you only run a view through of one day on TikTok, TikTok would look terrible for conversion.
But if you have the right tools in place to look at some of that Triple Whale, NorthBeam, the newer company … I have a guy that actually was from Portland called Fuel that I met this last week. Lots of cool opportunities there I think to figure out what's happening on these social channels, if you are using influencers. And then the final point would be Amazon does have a large testing budget. As you watch the lead up to Amazon Prime, you will see random placements all over the internet and all over connected TVs of things that Amazon is doing, to remind you that the middle of July is Prime Day. And I guarantee not all of them work or have an impact. But you can tell that they are out there just for eyeballs and trying to get awareness, and some of that testing is going to lead to a better execution next year, saying, "Oh, we did this and whoa, look what happened. We need to do that again because it was phenomenal."
And if you aren't testing anything, there's no opportunity for next time it comes around to really capitalize on make it better. Test. It's not fun to potentially lose money advertising because it didn't work. But you've got to have that budget set up in there to keep pushing that envelope as a brand, to figure out what will be coming up next. In fact, there's a new platform coming out that I'll probably bring up when it's live to the public in the next couple months. But Logical Position's going to be doing some stuff with it. I don't know if it's going to work or not. In fact, if I'm betting, I'm saying it won't.
But on the chance that it does, I want to have that data soon, I want to have it quick. I want to be able to get clients pivoting very quickly into something that is working to be ahead of their competition, because that little extra time or insight or data can make massive differences. Especially when we have a first party data world where those with the most first party data are going to have massive advantages. Move quick, break things, fix it as you go type thing. Put off. Some of the things my team hates from me.
Jon:
And compete with Amazon's 12 billion plus dollars-
Ryan:
In two days.
Jon:
Sales.
Ryan:
Yeah, two days they outdid. And all of eBay last year did less than that and Amazon did it in two days.
Jon:
Yeah. Crazy.
Ryan:
Yeah, a kittle fun experiment. If you go to Google Trends and do Amazon, Walmart, Target, and eBay as brands, very enlightening. eBay is for sure going in the wrong direction from a long period of time. No surprise to anybody. But when you see just what it's done, eBay had it years ago and they just didn't continue to evolve and change.
Jon:
Well, thus is the cycle of life and business, especially online where it's accelerated. So awesome. Well, thanks for enlightening me on all things Amazon. Sad that I missed Prime Day, but maybe my wallet's better for it. I will say I'm impressed at how far down the rabbit hole you took this just based off of Amazon Prime, and it's really great to see all the data and have a good understanding of what to do with this. So I appreciate it, Ryan.
Ryan:
Oh, and I will say, that's a parting note, it's the return of bug zappers. That is my favorite purchase on Amazon Prime, was my wife let me get a bug zapper and I had it run all night. It's just outside my room. I just heard it.
Jon:
Amazing.
Ryan:
I was like, "Oh, such a peaceful thing."
Jon:
So I'll leave you with two things on that, Ryan. One is I have the tennis racket that electrifies-
Ryan:
Yes, I have one of those too.
Jon:
And recharges. Amazing.
Ryan:
Love it.
Jon:
First of all, my six-year-old loves it too. He's going to break something I'm sure. But he chases flies all over just to zap them. The second thing is, have you heard of the salt gun?
Ryan:
Yes, I have that too.
Jon:
Yes.
Ryan:
My boys, I need probably two more of those because the kids fight over it.
Jon:
So for those who don't know, you load up this gun looking thing with salt and it shoots flies with salt.
Ryan:
Very high-powered salt.
Jon:
Right. It shoots it out enough that it just knocks them down, let's just say. And kids love it for some reason.
Ryan:
Yeah, every spring we have a little-
Jon:
It won't hurt anybody.
Ryan:
Stink bugs that come out on one of our buildings. And the amount of salt I go through in that month period is astounding.
Jon:
That's amazing. Well, I'm glad that we found some toys to enjoy. All right. Thank you, Ryan. I appreciate it.
Ryan:
Thanks, Jon.
Announcer:
Thanks for listening to Drive and Convert with Jon MacDonald and Ryan Garrow. To keep up to date with new episodes, you can subscribe at driveandconvert.com.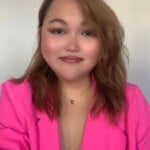 About the Author
Angel Earnshaw
Angel Earnshaw is the Marketing Coordinator at The Good. She has experience in improving brand awareness through digital marketing and social media management.