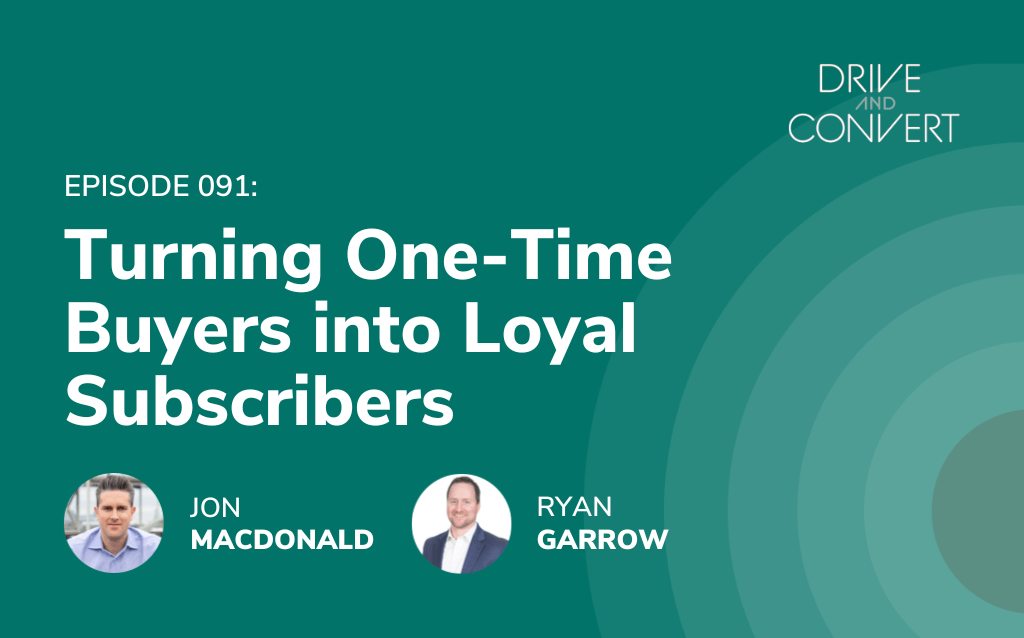 Drive & Convert
Drive and Convert (Ep. 091): Turning One-Time Buyers into Loyal Subscribers
Jon and Ryan dive into the world of subscriptions and uncover the secrets to creating loyal, lifelong customers.
Listen to this episode:
About This Episode:
People have a lot of options when it comes to subscriptions. And now more than ever, people are conscious of where and what they spend their money on.
In this episode, Jon and Ryan discuss how to acquire and retain subscribers with proven strategies including personalization, various types of subscriptions, and tactics for increasing your number of subscribers. They also cover how to look at things from a consumer perspective in order to fully understand what needs companies can address with their subscription services.
Listen to the full episode if you want to learn:
The different types of subscription services
Why personalization is important
Why brands need to identify where customers churn
Seven strategies to increase subscriptions
If you have questions, ideas, or feedback to share, hit us up on Twitter. We're @jonmacdonald and @ryangarrow.
Episode Transcript:
Announcer:
You are listening to Drive and Convert, a podcast about helping online brands to build a better e-commerce growth engine, with Jon MacDonald and Ryan Garrow.
Ryan:
Hello, Jon, thanks for being here. Excited we get to connect again today about an interesting topic, I'll say, that I think will have some debate. You want to talk about subscriptions. Subscriptions were up 20% through the pandemic and then now the growth has dwindled pretty dramatically. And I get reached out to pretty regularly by a lot of partners or companies that want to partner with us to handle all of our subscriptions across Logical Position, and as aggressive as they're getting, it tells me they're struggling.
Jon:
That is usually a fair sign, right?
Ryan:
I'm like, "All these subscription companies are very aggressively going through my sales team." But as a business, we all want subscriptions because it's just automatic money we can look at and know it's coming back in. Amazon subscriptions are great, we use them internally in our family, but over this last past weekend watching football, I don't know if you've seen these commercials or not, but there are subscriptions to end your subscriptions.
Jon:
Yes.
Ryan:
So evidently it's a problem enough that I can now subscribe to something that will take away my subscriptions and tell me where all my money's going.
Jon:
You know when there's an ecosystem there, there's definitely a problem, maybe an opportunity. I think that's where we're at, right?
Ryan:
Yeah, that's where I look at these things too. Yes, I probably waste a lot of money on stupid subscriptions, but there's also an opportunity that I enjoy that I don't have to think about certain things. My brain is going in multiple different directions all constantly with too many kids and my wife being gone for a week, leaving me single parenting, so subscriptions are great.
Jon:
I'll show up with a bottle of wine and check in on you on Friday. How's that?
Ryan:
Yeah, yeah, and see if I'm still here. So, I'm excited to hear from you on from just a conversion standpoint and how businesses can get some subscribers. And hopefully we can talk through too how they can keep them and don't become one of those subscriptions to unsubscribe and get out of that. But I think you have to have it in the competitive environment that we're in.
Jon:
Yes, I agree.
Ryan:
If you're not thinking through lifetime value and how you can get subscriptions, I'm probably going to tell you your business has a very soon tombstone approaching it.
Jon:
Yes. Well, with customer acquisition costs where they are, it's really necessary to continue to earn from that initial spend. You're one of the biggest advocates I hear of, "I will break even on that first sale so that I can have them in my database and sell to them again." Well, what if, in a magical fairy land, you're able to convert that first one into a subscription? So now you're paying… you know you're going to get a better lifetime value out of that customer-
Ryan:
Exactly.
Jon:
… so that's why this is so important.
Ryan:
Yep, so fully agreed. You need to figure out a subscription for your business somehow, some way, whatever that looks like. And if you do that, you have to find a way to get people to bite on that.
Jon:
What I want to cover today is how you can convert these buyers into subscribers, so it sounds like we're aligned on that, for sure.
Ryan:
For sure. And so you've come up with basically a good way to look at subscriptions, there's only two types in your world. So what are those two?
Jon:
At a high level, there's really two types, there's the product subscriptions and digital subscriptions. And I think most people haven't really thought about this, but you could offer both as a brand. And there are really multi-billion dollar companies who offer just one. So the opportunities are out there. But subscription based is a recurring subscription that really the goal there is just to provide a seamless shopping experience.
This is like Stitch Fix is a really good example of this. If you don't know Stitch Fix, you go online, you answer a questionnaire, maybe have a video chat with a personal stylist, and then each month you get a box of curated clothing that are handpicked for your personal wardrobe based on what your preferences are, your sizes are, et cetera. Customers like this because of the convenience factor, "I don't have to think about looking good in clothes anymore, it's taken care of for me. I did a little bit of work upfront, but I never have to leave my hous, everything comes to me, I can try it on, if I don't like it, I ship it back."
But options show up at my door, so it's a convenience factor, and I think that most brands don't think about subscriptions in that way. What most brands think about is the Amazon model. You mentioned Amazon earlier, right?
Ryan:
Mm-hmm.
Jon:
Subscribe and save, right? This is where you go to buy and it says, "Hey, do you know what? Most people want this every three months. Do you want this every quarter?" You're like, "Yes. I can cancel it any time. I'll save a little bit of money perhaps by doing subscribe and save." So you have options there. But I think that most people don't think about the curated approach. They're thinking about, "How do I get my product to reorder as quickly as possible?" But I wanted to call out both of those exist for product subscriptions.
The second one is the digital subscription. This is one we all know too well and the one that you mentioned the TV commercials are about like, "Oh, I didn't know I was still paying for Netflix."
"Well, we'll help you cancel all these things that you don't realize you're doing."
Personally I see those commercials and I'm like, "Do you not look at your credit card statement ever? You just had no idea Netflix was charging you? Okay."
Ryan:
I wish I had that much money that I didn't have to worry about it.
Jon:
Right. I'm thinking, "Who are these people?"
Ryan:
I track my $10 subscriptions all over the place.
Jon:
If I had enough money that I didn't care about what was hitting my credit card every month, then why do I care about hiring somebody or paying for another subscription to cancel these subscriptions? The whole thing is weird to me. But regardless, I think when you think about this along with the e-commerce subscription models, these are really popular more in digital products and software as a service. So, these are companies that are going to provide ongoing access to these digital tools for a regular fee, typically a monthly or yearly, something of that sort. We're surrounded by these as we just talked about, Netflix, Hulu, Amazon Prime is a good one, Walmart has their own, maybe you know what that's called, I keep forgetting, but it's like Amazon Prime.
Ryan:
Yeah, I honestly don't remember.
Jon:
Walmart Plus or something, maybe [inaudible 00:07:00].
Ryan:
Yes, I think-
Jon:
Yeah, okay.
Ryan:
… that's probably it.
Jon:
Everything's plus these days. If you want to pay extra on a monthly basis, just add plus to the name, Disney Plus, all of these things. So think about it, there's a couple of different ways to charge subscriptions.
Ryan:
Okay, great. So we've got two different kinds. We've got the digital things that we all subscribe to lately, and then the product ones, which most of the people listening to this probably want more of. As we're looking at subscriptions and whether they do or don't have them, what do you see as some of the primary benefits of these subscriptions other than some of the obvious like, "Hey, they're going to be auto shipped, it's going to be great"?
Jon:
Right. I think overall they offer a more personalized experience, and I think that's really what you should be thinking about here. What's the benefit to the consumer? Yes, if you're listening to this and you're a brand, you want more sales, and that's your in for subscriptions. I probably don't have to say anything else, you're like, "Yes, I want subscriptions, of course."
But if we come at it from a consumer perspective, then we have a really good understanding at that point of how to benefit. And really there's three main ways I look at this. The first is that you're enhancing that customer loyalty and satisfaction. Again, it's in the eyes of the consumer. So there's a couple of benefits here of subscriptions in the sense that you're able to learn so much about your consumers this way. You're able to gather insights and data enabling you to really address those customer needs and their preferences.
So you know, for instance, Amazon, they know people reorder this product every three months, so now they turn that into a subscription, make it easy about that cadence, most people want it once a quarter, that's what we're suggesting. That's just scratching the surface of that. But you can also plan out your stock levels, for instance. You know that a popular flavor gets reordered or a popular scent or size. That is all stuff you can use for planning out and making sure you're never going to run out of products that will upset the consumer because the last thing you want to do is have someone want to buy, and you're unable to do that.
But I think this really matters because there's research out there from Epsilon that indicates that 80% of consumers are more likely to purchase when you offer a personalized experience. So, this is a win-win. You're going to offer more personalization around what people want, and you're going to get to know your customers better, and the consumer is going to reward you with purchasing more because it's closer in line with what they want to do.
So the other thing here is you're reducing customer churn, and I think that's a big one because customer churn is just going to kill your lifetime value. And so if you can get people into a subscription, they're much more likely to stick around for a longer term. Sometimes it's because it just shows up and you're like, "Oh, yeah, I forgot to cancel that. I'll remember to cancel it next week," and then they forget until next quarter.
Ryan:
Yep, that's what you hope sometimes.
Jon:
Yeah, right. Let's be honest, that's what a lot of brands hope for, especially those that are charging $10 a month or something, they just hope you forget. The second benefit for brands really is that increased customer lifetime value. I just mentioned that, but depending on various studies, acquiring a new customer, it's anywhere from five to 25 times more expensive than retaining an existing one. We've all heard these stats over the years. The reality is that subscriptions just increase that customer lifetime value quite a bit through recurring revenue. So you're extending that relationship with the customer, so there's no negatives about that that I can see.
Ryan:
Well, it's interesting because thinking through that personalization piece. I don't think many brands are thinking through subscriptions like a Stitch Fix. Stitch Fix does a lot of upfront work for that subscription
Jon:
For sure.
Ryan:
And the one that comes up most often in calls is coffee. Coffee subscriptions like, "Just subscribe." Coffee companies do two things every single time. Number one, they tell me about how they're all saving the farmers all over the world that are living in poverty growing coffee. And then they also tell me that they will ship it to me every month, or they'll give me a little weight thing that automatically ships it. Okay, but that doesn't to me feel like it's a personalized subscription. There's no effort that's gone into that for the vast majority of coffee companies to learn, what's my flavor profile? How do they know that I'll like this one? I don't want the same flavor coffee every day for the rest of my life.
Jon:
It should be somewhat of a treat, right? If you're looking at it in that way, how do you surprise and delight? And I think a subscription allows you to do that, especially if you tell a consumer, "Subscribe and we'll send you something special each month." Do you know who's really good at this, speaking of coffee? Is Nespresso, the pods. Now, I'm not suggesting that they're the best coffee or anything of that sort, it's decent. But the reality is every time you order, they always throw additional pods into the box that you didn't order. So they're helping you to try other things. Now, here's the kicker. I used to buy Nespresso all the time before I pulled up my big boy pants and got a real espresso machine, but-
Ryan:
Meanwhile, I'm still drinking Nespresso over here.
Jon:
We live in Portland, Oregon, this is coffee capital of the United States here. The reality is that every pod they would send me that would be one of the new flavors was always twice as expensive as whatever pod I had ordered. So, most pods, espresso, are 70 cents or something. I'd always get the sample pack and I'd be like, "That's really good. I like that." Go online, I look at it, it's like $1.25 a pod, I'm like, "Whoa, hold on here. I appreciate that upsell, but I'm not really that into it." But I think that they probably sell a lot more coffee by doing that at a higher price because there you go.
Ryan:
My average coffee through the special is like $1.40 right now.
Jon:
Mm-hmm. They got you, right?
Ryan:
They did.
Jon:
And it's not worth it. It can be worth it, for sure. Coffee could be that much better or really aligns with their flavor profile, et cetera. But I guess back to the point, which is really what you're looking to do here is increase that customer lifetime value and how do you bump that up? I think Nespresso has done that really, really well.
The last one, really, is improving customer retention. And I think this is important because the churn rate for subscription services is only 5.5% and that's compared to 6.7% for one-time purchases. And this really indicates that loyal subscribers are much more likely to stay engaged and continue their subscriptions. So I think this is something that most brands don't think about. They just think about, "Oh, I can continue to get additional revenue off of that subscription." But I think encouraging long-term customer relationships really shows how your brand can continuously provide value, and that's what Nespresso is doing with the [inaudible 00:14:38] household and pushing their $1.40 pods, right?
Ryan:
Mm-hmm. Yeah, I think that's where most companies that go into subscriptions really fail, unfortunately, is they're not thinking about the consumer at all. When they go into subscriptions, it's 100 percent about, "What's my P&L look like? What's my lifetime value? I'm just going to add a subscription and be done." And we failed at this quite a bit at Joyful Dirt in trying to understand subscriptions. We're like, "We want more subscriptions because that's easier for us, so let's just do it. And I'm sure customers do it because everybody wants subscription." That was essentially our thinking. It was like, "Let's make it an easy button for predictable revenue, and hopefully they forget."
And if that's the way you're going into subscriptions, I think you're doing it wrong. It can't be, "I hope they forget, so they keep getting this." And we didn't go through and understand the consumer enough to know how often do they even need this where it's like, "Yeah, you should be using this once a quarter, so you need a new shaker once a quarter." Well, it turns out our customers didn't need it once a quarter, most of them were once a year because they weren't fertilizing as often as we recommended, but most people don't fertilize every single watering of their plants.
And so when you're looking at once a year subscriptions, it really doesn't fit the model of subscription really. And so what we should have done is gone back and said, "Okay, well what do we need to do to provide value in a subscription, and what does that look like to our consumer?" And I think that would've been a much more valuable process for us and probably would've helped get a lot more subscribers, honestly.
Jon:
Right. And what's the big difference there? One is wanting to sell more product, and the other is wanting to sell more product, but it's through being helpful to the consumer. And I think if you take the consumer's perspective on this, then you're going to end up with a much better overall experience for everybody and more sales. So I think that really makes a lot of sense.
Ryan:
Okay. So we know we need subscribers. If we don't know that, go listen to this again. We know we want subscribers at this point, but it's probably not just as simple as putting some version of subscribe and save on my site, and letting that be done. So how am I going to turn that one-time buyer of a T-shirt into a subscriber?
Jon:
That's the beauty here, right? No matter your subscription service model, there's always ways to attract those customers and onboard new ones. So let's talk about a lot of these ways. First of all, I highly recommend you upsell your annual plan or cross-sell bundles. So think about points to upgrade. What are these opportunities that you're going to offer consumers to upgrade? So remind them why they should upgrade to a longer term plan or add more product to that subscription box.
So who does this really well? Going back to Amazon, they have Amazon it used to be called Fresh, now I think it's Amazon Pantry, where you can add several items, and then once a box is full, meaning it makes enough sense to ship those products to you, the shipping becomes free. So they're encouraging you to buy more at the same time, you've got to fill up your box. They're gamifying it, again, you've got to fill up this box to get the free shipping. And they're incentivizing you by saying, "Hey, if you fill this up, we'll ship it to you for free versus what the other costs might be." And it's pantry items, so it's items that the weight could be pretty heavy, you get a two pound bag of sugar or flour, all these things you start thinking about that, that could add up, but it's super convenient.
So I also recommend along with this, is really just offering discounts like 10% off by calling out your pricing page. And what I mean by this is it's a discount, but you more frame it as basically a bundle price so you're upselling to a year bundle of that service as opposed to a month. So if people prepay for the year, they're going to save a little bit of money. And I think that that's fine, I don't look at that as the same as a discount straight off the top. It is, right? It's a discount, but it's in the psychology of a consumer, it's different. I think that's important.
The second opportunity is really to just identify where these customers churn on your site. So map that entire buying process out. What is that digital buying journey like? Somebody comes to you and sees an ad, hears from a friend, comes to your site. And then identify the patterns where people are dropping off. Where is that churn happening on your site? And if you map this out for your customer lifetime value as well, you can then figure out how to tweak that.
So you can say, "Okay, well if I know that my customer lifetime value is $100, I want get it to 110, how do I go about setting up a subscription that's going to get me to 110?" So you could use this as a tool to fix customer churn, but also to increase that customer lifetime value. And you could use this to find ways to win people back before that churn, so hit them up with the notification.
Ryan:
So when you're going to map where they drop off in the conversion process, so like, "Hey," you're kind of watching, okay, click here, click here, click here, and then hey, they abandoned it in the cart when they looked at shipping, so maybe free shipping and a subscription is helpful, step one. And then the other one would be, "Okay, once they buy, I need to map out lifetime value to figure out where they're dropping off. And they bought this, but they didn't go to this step and buy this, so I need to encourage them to take this step."
Jon:
Right. And what I'm saying is less about encouraging them to take that step, more about saying, what is the value where people stop buying? What is that average lifetime value where people drop off?
Ryan:
Oh, on the original conversion?
Jon:
Yes.
Ryan:
Okay.
Jon:
Instead, set up a subscription that will help bump that up. So this is similar to the game that a lot of retailers play around free shipping where they say, "Okay, my average lifetime value is 50 bucks. I'm going to do free shipping over $55." So they're getting people to add in to increase that initial order value. So it's the same game people are playing.
Announcer:
Your you are listening to Drive and Convert, a podcast focused on e-commerce growth. Your hosts are Jon MacDonald, founder of The Good, a conversion rate optimization agency that works with e-commerce brands to help convert more of their visitors into buyers, and Ryan Garrow of Logical Position, the digital marketing agency offering pay-per-click management, search engine optimization, and website design services to brands of all sizes. If you find this podcast helpful, please help us out by leaving a review on Apple Podcasts and sharing it with a friend or colleague. Thank you.
Jon:
The third is to offer more than one subscription product or service. So basically you've got to curate your options here, and I think too many brands say, "Oh, I'm just going to have one option, and I'm going to launch this as a subscription and people will take it or leave it." Well, I think what you need to do is really be careful about how you're curating this. What I mean is that if you offer more than one type of subscription, there's a service out there that helps brands do this, it's called Recurly. It's a subscription management platform, and they did research and they found that 70.4% of businesses offer more than one subscription. So what you should do in this sense is, say that you offer subscription pet box service, why not have a box for dogs and a box for cats instead of just a pet box service?
Pretty high level example, but I think that's what I'm talking about here. Maybe if you're Stitch Fix, they do a really good job of curating that, but it's also seasonal. So in the summer, they're not going to be sending you heavy wool sweaters. They know based on your address what the weather is seasonal right there, and they're going to address that with what they send you. So I think really just focusing on having more than one subscription product can really bolster your selection there.
Well, I guess we're already at what, four? Discouraging downgrades. So the best thing you can do here is offer people to pause subscriptions. So you're basically taking the negative out of that situation. So as a consumer comes in and they are looking at subscribing and they say, "Wow, I'm not sure I really want to do this, but it's cheaper, I'll probably give it a try." If you tell people, and Amazon's great at this, going back to that example, that they can cancel at any time, then you're removing that barrier. So you have to be able to offer a way to cancel. But I suggest instead of that, you offer a way to pause. Now you can pause indefinitely.
So the vitamin service that I use, actually, I use a direct to consumer vitamin service, and I love it because there are times I'm out of town and I forget to take my vitamins with me or whatever, and then I end up with an extra week or whatever of these vitamins. I'm not ready for the refill shipment yet. I can go in, they send me an email, "Hey, you have two days before your shipment sends out. Click here to pause it if you want to delay that shipment." They call it a delay. And then you go in, you just say, "I want to delay two weeks."
"Great, no problem."
They still get the service, instead of me just stacking up these extra vitamins from all these shipments, they're really providing a convenience factor for me, and it's helped me to stick around. So build that, basically, loyalty at that point and provide a better customer experience.
Ryan:
So you need to message this in the cart or on the product page like just-
Jon:
On the PDP.
Ryan:
On the PDP, okay. Got it. So say, "It's easy to pause, no worries, delay."
Jon:
Yep, exactly. I like the word pause, at that point, but once somebody's in the flow, I like the word delay. So it's a little different connotation, but if you're thinking about buying, at that point, you're not thinking about delaying, but you want the option to pause it. When you are in the middle of it and you realize you need to push it back, the word delay works a lot better.
Ryan:
Yep, I agree with that. Okay.
Jon:
Okay. So next one is enhancing the product page user experience. So this is what we just talked about, we're refining that user experience around the buy box area. So when users come to your product page, the Add to Cart should easily be identifiable, but also a Subscribe button should be identifiable. And I think this is what's really interesting is so many brands make it really complicated to subscribe. They make you answer all these questions and make all these choices, "I want to do it and I want it every month or every number of weeks, and I want this flavor," et cetera. You need to try to make that as simple as possible.
And again, this is where Amazon wins, they say, "Most people want this every three months, how about you?" and they default it to the three months. So I think this is something to really be thinking about with making it as easy as possible for people to subscribe. I see this error too many times, people make it super complicated.
Ryan:
Now in the Stitch Fix example, that obviously is going to be pretty complicated to figure out who I am. So if you're in that model, is it just get the subscription and take care of the complexities after I've signed, or do you think in that scenario I've still got to go through this process and understand what I get before I click buy?
Jon:
Yeah, I think that in that stance, the trade-off is the amount of value for what you're asking. So you're asking the consumer to answer a bunch of questions, go through the quiz, perhaps talk to a stylist, but think about the value for them. We're not just having sugar delivered, the value is there because it's curated products just for me in my size that they think will look good on me and/or I will want to wear.
Ryan:
Got it.
Jon:
So there's a little bit of extra work that goes in upfront, but the value that's being delivered every quarter or every month that box comes is well worth it to me as a consumer.
Ryan:
Okay. I think that's an important metric then to look at is you have to be thinking about this first from a consumer standpoint, not a business standpoint, and say, "Okay, if I'm asking for these extra clicks, I'd better be providing 10 clicks worth of value for those two or three clicks that I'm asking them to do, and it has to be very clear and obvious." Okay, I like it.
Jon:
Next is providing a clearer visibility on the benefits of subscribing. So many brands just say, "Subscribe." I'm like, "Well, okay, why do I want to do that?" So you have to really offer incentives and detailed information here. So add the details of the benefits of upgrading to a subscription, provide additional benefits on why they made a good choice after they subscribe, so this could be a reassurance tactic even before checkout or even in checkout. I've seen really good messages around this letting people know that this is going to be recurring charge is required, but at that point you could say, "Hey, do you know what? You'll never have to give us your info again." So I've seen people turn a negative into a positive just through the right messaging around this, and I think that's what I'm trying to say here is really provide clear benefits to the consumer and help them reassure.
Last is improving the visibility of product details, so this is having all of the reasons why somebody would subscribe above the fold on content pages. Another mistake that we see quite a bit is brands stuffing the subscription benefits and ability to subscribe down the page, so they have a one-time purchase at the top, then at the bottom you say, "Oh, you can also subscribe, and here's more details on that." You need to find the healthy balance between having too much information in the buy box, and hiding that you can subscribe and how to do that.
And so that's really what this is about, improving the visibility of all of this by making sure that the subscribe options are above the fold so consumers know that they have those options. Often what we recommend doing is testing different layouts, but you could also just test different products, and what I mean by that is set up a recurring product and a one-time product and then refer to each of those two product pages. So you could say, "Looking to subscribe? Click here," and it takes you to the subscription page where you can really dive into what the benefits are there. So there are definitely options in how you want to handle that depending on the complexity of your product and the options that go with it.
Ryan:
Well, and I think it also… that real estate in the buy box area is getting complicated. Some of the PDPs I see in the buy box… you've got even some that buy with Prime, you have PayPal, you have Affirm, and some of them have Affirm, Klarna, and some of the other ones like all the… I'm like, "What are you doing on that…" And that's probably a case study from Jon like, What are you doing in your checkout? You're distracting people too much.
But some of it might have to be a give and take. You might want to test, maybe they don't need a firm multi-pay if they're doing a subscription at a smaller individual bite-sized price point, potentially.
Jon:
I agree, and I think it's a challenge that I think a lot of brands just push to the consumer. They just say, "It's on you to decide what's best for your needs," but they don't offer a lot of resources to help that consumer make that decision.
Ryan:
And I think a lot of people like an expert telling them probably what's best like I do. If I'm going somewhere to buy something, I expect you to know the product and know me as a consumer enough to be able to suggest something that makes the most sense.
Jon:
100 percent.
Ryan:
Just tell me, and if I don't like it, your suggestion, I won't take it and I'll buy something different, but that's fine, at least you've tried. And there is one other one I wanted to get your opinion on. I've started to see examples popping up of direct-to-consumer brands doing a modified version of a digital subscription. Most brands are just giving loyalty programs, but some of them are allowing you to buy into a VIP membership where, I'm going to make a number up, AOV is 100 bucks, and the VIP membership gives you special offers to certain exclusives, whatever, you're adding much of value. But maybe it's 10 bucks a month.
And so you might say, "I'll sell you this for 90 bucks." You add on, "It's the same price for you out of the gate, but you're going to be part of our VIP and you get charged 10 bucks a month moving forward into an exclusive group," which, if you can pull that off, I really like the idea behind it.
Jon:
So, I've done some research on this, and the best one that we found in our research was Restoration Hardware-
Ryan:
I probably have one of those.
Jon:
… so, it's a furniture company. Right. So if you were buying anything that is $1,000 or more, it makes sense to sign up for this program because the program ends up paying for itself when you do that initial purchase. Here's the kicker, almost everything at Restoration Hardware is at least a thousand bucks. So they intentionally did that to help reduce the barrier. Now, what does it give you? It gives you free delivery. It's really that key selling point.
What are they going to do? They're going to charge you $149 to deliver your couch. Well, guess what? For $10 a month, "Actually, I make out because I'm $120 in on the year, I save myself $29 over with the shipping charges, okay, just throw it in." The problem becomes that it's one of those subscriptions that you forget you have and you realize, "I'm not going to be buying a couch every year. What do I need this for?"
But what they're trying to do is be able to track your preferences and then start sending you really targeted mailers, start really marketing to you in a way that is going to help you to increase your customer lifetime value with them. So we went through this, we bought a sofa from them, love it, it's been great. We never get an ad for a sofa. We just don't because it's like two years old, why would I buy another one? So now whenever we get a postcard from them or anything else, it's always about other pieces of furniture that we could buy from them. And it's pretty genius when you think about it that they're running that program at that scale.
Now, the article I read about this that really, I thought, best summarized it, I'd have to find, wasn't prepared with that today, but I will say it is one of their biggest money makers, is that program. And the math behind it, it just blew my mind that how much money they make from that, and it's almost all pure profit. It's really interesting. Same thing with Prime, Prime's the same way, Amazon Plus, all of those. How do you think they can afford to bundle in all these services? It's because it's an insurance policy is how you really look at it. You are as a brand… they're basically de facto creating an insurance policy for themselves, or an annuity of sorts. It becomes an investment arm.
Ryan:
No, and I think it's as a brand, it's basically, I don't think I could get into or start a brand where I didn't aspire to getting to that point. You might not get that out of the gate, but if you can get a rabid fan base that's willing to pay you for exclusive access to certain things, whatever that looks like for you and your brand, I think that's when you've become a brand almost. It's like the proof that, "Hey, these people are willing to pay me 10 bucks a month to be special." You're paying to be special, essentially, but people are willing to do it. There's brands like… if Nike started charging for access to sneakers, I'd probably pay it. Nike, don't do that to me, please, but I probably would.
Jon:
Give them the Air Jordan subscription.
Ryan:
Well, yeah, because the sneakerheads, they could probably… I don't know what the number would, but I bet there's a subscription of 250 bucks a year you could charge for early access or almost guaranteed you get one drop a year you're guaranteed to get, and it would pay for itself in the secondary market probably. And then I envision a world in which that is the more the norm where you are subscribing directly to brands because you like who they are, what they embody, and you want to have that special access to that brand.
Jon:
Yeah, I love it.
Ryan:
So lots on subscriptions and there's many ways that we can be encouraging the conversion, which is what we're trying to do here. But I think it boils down to think from the consumer's point of view first. You have to be adding value, don't just throw a subscription on your site and assume you're done because if there's no value or you don't understand your consumers' purchasing habits, there's very little value on that.
And then there's a lot of things you need to be doing on your PDP pages to make sure that you're capturing people appropriately. There was, I think eight of them, or seven of them. And so we have improved visibility. Be very clear on what you're giving them. You need to test and measure within that buy box area because there's so much demand for that real estate, and it's very limited, especially on mobile. You don't want to cancel, you want to pause. And you need options, it is not going to be a one size fits all, so it's options for delivery, that's a box for dogs and a box for cats, box for dressers versus T-shirts, something like that.
You get to map your process and understand where people fall off. And then you need to offer upgrades. And this is the one area where Jon did use the discount word on a site, but it's not necessarily a discount because you're having people pay up front all at once, but there are upgrade opportunities that basically become your subscriptions.
Jon:
Yeah, awesome.
Ryan:
This is a meaty podcast. Some of you might not be able to listen to this at double speed and get all the points from Jon, so you might have to listen to it a couple of times. But Jon, thank you for the education.
Jon:
Yeah.
Ryan:
This is a big one, I think.
Jon:
Well, thanks for hanging in there with me today on this, and we'll have to do more on this because there is a lot more about subscriptions, and we definitely packed a lot in today, but-
Ryan:
We did. We did.
Jon:
… there's always more to talk about, so I appreciate it. Thanks for the good chat.
Ryan:
Yeah, thank you, Jon. Cheers.
Announcer:
Thanks for listening to Drive and Convert with Jon McDonald and Ryan Garrow. To keep up to date with new episodes, you can subscribe at driveandconvert.com.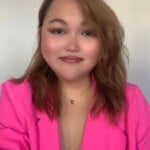 About the Author
Angel Earnshaw
Angel Earnshaw is the Marketing Coordinator at The Good. She has experience in improving brand awareness through digital marketing and social media management.