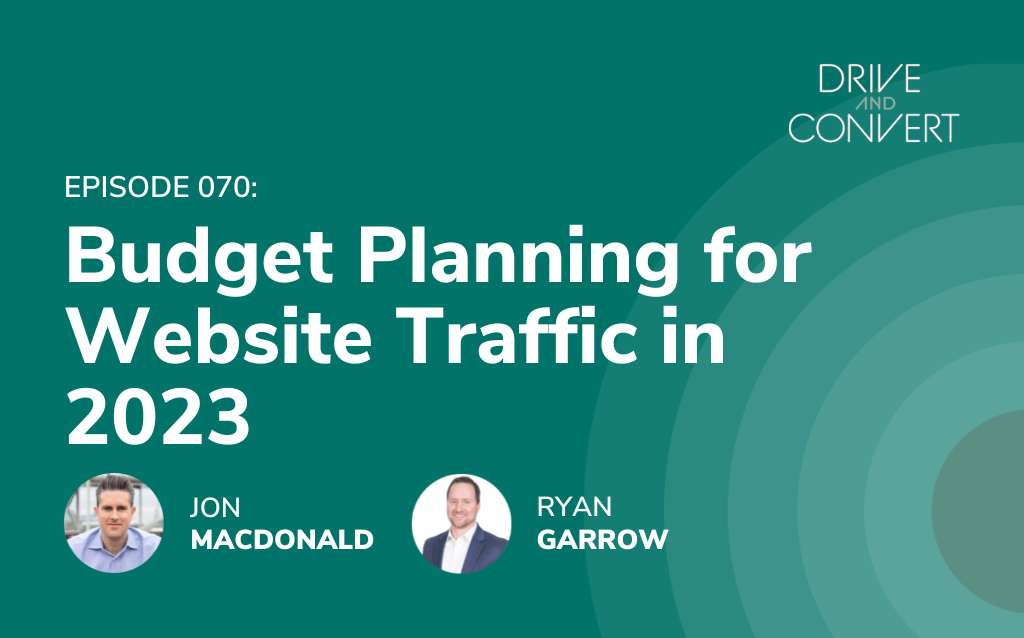 Drive & Convert
Drive and Convert (Ep. 070): Budget Planning for Website Traffic in 2023
In this episode, Jon and Ryan turn the page to 2023 and talk about the budget for traffic in the coming year. They talk about their expectations for 2023, what to include in your budget plan and what doesn't need to be prioritized.
Listen to this episode:
About This Episode:
The future is impossible to predict, but we can always prepare for it. As the year comes to a close, Jon and Ryan shift focus to 2023 and talk about one thing you do control: your budget planning.
They give suggestions on what every ecommerce business should invest in and what they can do without in the coming year.
Listen to the full episode if you want to learn:
Why you need to invest in customer acquisition
What role affiliates and influencers can play in 2023
Why social ads should not be a priority for next year
Why you should still invest in SEO
If you have questions, ideas, or feedback to share, hit us up on Twitter. We're @jonmacdonald and @ryangarrow.
Episode Transcript:
Announcer:
You're listening to Drive and Convert a podcast about helping online brands to build a better e-commerce growth engine with Jon MacDonald and Ryan Garrow.
Jon:
Hey Ryan, how are you doing this holiday season? You make it through Black Friday, Cyber Monday, all of the fun stuff?
Ryan:
We made it through. There was lots of chaos, some coughs, of course, can't get through holidays with four kids without somebody coughing,
Jon:
Uh-oh.
Ryan:
Making grandparents nervous. But we're all good, healthy, strong, and all of our clients made it through Black Friday, Cyber Monday.
Jon:
All right, well, I'm glad to hear. So this means we can probably start turning the page to 2023 a little bit, now that we're through, what should have been most people's highest sales season. So it makes sense at this point to start thinking what do we need to know for 2023? Obviously, the first play for most brands is going to be budget. So you want to talk today about budgeting for traffic in 2023. Is that right?
Ryan:
Yeah, I think it's the time most people start thinking about traffic and where they need to start locking it in. Some companies out there probably need to spend a bunch of money now to try to lock in some of that budget for next year, so the CFO doesn't take it from them. But if you're starting to look through areas to expand or contract in '23, hopefully we can point you in the right direction and uncover some nuggets that can open some doors possibly, shut some if they're needed. It's going to be interesting. I think we've done this a couple times maybe in the past, just talking through budgeting or looking at how you're going to spend money and preparing for certain things.
Jon:
Well, that was all in the good times. Right? I mean, we've been doing this podcast for three years. I would say most e-com brands have had a hell of a run in those three years, right?
Ryan:
Yeah.
Jon:
So this is likely the first that a lot of these brands have hit any road bumps at all, right?
Ryan:
Yeah. I think at the beginning of '22, we were all man, rainbows and unicorns and things are going up into the right forever. Aren't we great? And then obviously some headwinds. And so this'll be the first forecasting that people have done or budgeting they've done, knowing things are probably not going to be great in '23. Maybe not as bad as '22 middle of the year. Going against Q1 '22 may not be awesome, but it'll probably be better than going against Q1 '21.
Jon:
Okay.
Ryan:
There's a lot of things to consider. There's not going to be a right answer for every brand that listens to this. If you've been doing this for 20 years, you probably know more than I do. If you're doing this for the first time, we might have some insights of value. But like every year, the biggest question is always, what's the economy going to do?
Because that drives so much of what happens. In '21, it was, Hey look, the government's dropping trillions of dollars in our lap. How much of that can we capture? We thought maybe more of the same as far as going up into the right in '22. And now we're in '23, knowing that there's going to be some pain. We don't know how much. So I can't look in a crystal ball promise anything, but just like in most years, I advocate you better have multiple plans and you better go to your CFO, whoever controls the purse strings in your business, if it's you, go to yourself. You need to be able to reforecast and you need to be able to reset once you see some data and say, Hey, Q1 was not what we expected, one way or another. Therefore, Q2 needs to be adjusted, Q3 and 4 as well, and you do that multiple times throughout the
Jon:
Year. So this isn't a set it and forget it, which it seems like it makes sense, right?
Ryan:
Yeah. Generally, the larger the brands, the more rigid your budgets become. So if you are a multi-billion dollar organization, CFOs giving you this much dollars, you might just be moving dollars from one quarter to another. If you have more flexibility, you can go ask for more dollars or maybe say, "Hey, we don't need to light this money on fire. Can I push it to next year?" Some CFOs would be more likely to do that for you. With so much unknown and so much difficulty in knowing exactly what's going to happen, reforecast, build that in, have those plans saying, Hey, and I think a lot of CFOs will respect that.
I've got a lot of friends in that role and if you went to them and said, "Look, this is our best guess, but we also know that things could be wrong and here's some other plans we have built to let you know what you can expect from us, should things not be what we expect," and I think that helps a lot of times in that CFO role to know, Hey, I have to start thinking in flexible terms because there are quite a few things outside the marketing team's control that we still have to be aware of and pivot around, if you will.
Jon:
And so this sounds like it's mostly impacted by how the economy shakes out. So I know there's a lot of tension around that, but still so many unknowns as well. So refactoring it throughout the year as the economy changes, as things work. But I mean, I guess the economy is going to dictate those big buckets, right?
Ryan:
Well, the economy can go down and your business can do better because a competitor might be hit harder than you and you might be able to capitalize on that and spend a lot more money.
Jon:
Okay.
Ryan:
Just by the economy going down doesn't mean your business is going to go down as well. Certain industries will go against the trend because hey, Walmart goes up when the economy goes down because people move from, I don't know if this is true, but probably Target to Walmart, at least they do in Sherwood where we have them next door to each other. When you're feeling fancy-
Jon:
Seems like a great real estate play right here.
Ryan:
You can go to Target. If it was a bad week in the market, you go across the street to Walmart. Not as easy in business, but the idea is the same that just be aware and be willing to jump. In fact, I was just on a call today with Willow that does wearable breast pumps and they have really just one big competitor in the space that have created the actual wearable, go to work, you can still breast pump. She said that it was fascinating watching their competitors just completely tank their strategy. They did a terrible, terrible job, their competitor. She said they lost their buy box on Amazon because they allowed one retailer to offer a greater discount than Amazon, so she was able to capitalize all day on their brand term on Amazon.
Jon:
Nice.
Ryan:
Because they'd had no buy box. I was like, that's great. Then she said they had a big discount running on Amazon, but they ran out of budget by noon. She's like, so they had no ads, had all this press going around their discount off of Amazon. She's like, I just turned my budget up on that. I think they ended up being down 2% Friday, but up 35% the rest of the time. But it's that type of thing where the market may have been down overall in her market, but because of a competitor blunder, she was able to capitalize and do really well.
Jon:
I love hearing those in the trenches stories like that. It's just like, Hey, if you're paying attention to the data like that, you will win because you can react a lot quicker than what that competitor is likely doing.
Ryan:
Yeah, they just weren't in it well enough.
Jon:
Well, let me ask you this. Okay, so we're in 2023. What is the biggest budget increase that you've done amongst your businesses?
Ryan:
So I'm really focused more on lifetime value in '23, expecting customer acquisition's going to be more expensive. Ancillary data through holiday so far is showing us CPCs are up, more promotions, so AV has dropped. So some conversion rates were good, people needed deals this year. So if I'm expecting that my marketing dollars are not going to be as effective at bringing in customers in, I'd better be able to deploy that in a way that can still grow the business, but maybe more effectively. And so email is a big focus of ours, that if you're not in front of your clients effectively on email, you better be doing it. You should have been doing it years ago. But again, reminder, most email platforms are doing SMS as well.
So easily, use the same platform and be able to use the same data right there in front of you to say, Hey, let's start some SMS campaigns because there's certain segments of your customer base would rather get a text than an email. And so loyalty programs, again, all of the main things that can bring a customer back into the brand effectively. I know you and I have talked about the continuation of the conversion process post sale, so post-purchase. So even getting more aggressive earlier on in that, if you haven't thought about what are you doing immediately post-purchase to help build that future lifetime value or immediate lifetime value [inaudible 00:08:47], that should be top of mind knowing that it's going to cost a lot more money to get that customer.
Jon:
Right, because it costs more, you have to get more out of each customer now.
Ryan:
Yep, and so really doing that. I like if you are emailing both wholesale and direct consumer, they should be obviously separate emails, I would hope. We've been putting a lot of the leadership of that on one person internally to be able to lead that, whether she's the one actually typing and sending emails or we have an agency doing that. Just kind of depends on her bandwidth. But again, we've invested in that knowing that it's going to be valuable and we have to help tell that brand story more and more.
Jon:
Well, and having that gatekeeper who makes sure the segmentation's correct before it goes out.
Ryan:
Yes. If you're sending the same email to everybody, stop. You're wasting your email database.
Jon:
I have to you, the biggest, and I don't know, I may get in trouble for saying this, but whatever. I love Black Friday because the brands that email me a hundred times… Legit, I had one brand who emailed me 10 times yesterday. It was every single hour.
Ryan:
Oh my gosh.
Jon:
And at the end of the day, their emails were just stacked up and I was just like, unsubscribe. You reminded me 10 times that I need to unsubscribe now. That's basically what came from that.
Ryan:
Yeah.
Jon:
The brands that were respectful, emailed once, great. But this brand was like, Hey, sale's over at noon. Oh extended. Oh, extended again. Hey, you've bought before, so I'm extending this for you again. I was just like, what? This isn't how this works. I'm done. So I think that that's probably one of the things to keep in mind if you're really going to go back after customers that you already have and you're looking for repeat purchases, is just to respect how you do that. You can keep them in your database, but it's too easy to lose them doing that type of tactic. So okay, moving forward though, beyond my pet peeves, what new line items do you have in your budget this coming year that maybe you didn't in '22? What are you adding?
Ryan:
Surprisingly enough, I'm bullish on affiliates and this is… It's a new statement for me because we've managed affiliates before and it's, oh, I've hated it, every minute of it.
Jon:
Yeah. Well you're now managing a double-sided marketplace, right? Because you have to get the affiliates and the consumers and you're counting on the affiliates that bring in consumers, but you have to manage what they say and if they say something incorrectly or whatever. It just becomes [inaudible 00:11:16].
Ryan:
And setting up the rules to make sure that they're not just bidding on brand terms or hey, they're showing for a coupon for people that already went there and I don't have coupons, but they went looking for one, and so therefore they clicked that link. Oh, it's just terrible.
Jon:
Just the number of coupons I go hunting for that end up being affiliate coupons that that person didn't drive me, they just got it posted on one of those coupon finder sites, I can tell it's an affiliate because it's got a name in it.
Ryan:
Yeah, this is Bob's coupon. You're not Bob.
Jon:
Bob20. Well, I'm not Bob, and I know Bob's getting credit for this. Sorry retailer, but I got my 20 off. I don't know about Bob what he gets, but hey, more power to him.
Ryan:
So it's not necessarily a fun thing to manage, but there is value there. I'm actually looking at this more as an influencer play than an affiliate play.
Jon:
Okay.
Ryan:
It's going to fall under the affiliate bucket, I think, of because of where it starts. Shopify is probably going to push this through into our minds whether we like it or not because of just their market share and how much people pay attention to what they say and do. They bought an agency, I think last year, maybe at the beginning of this year, and they're making that essentially into an affiliate program inside of Shopify called Collab. It's free. There's no cost whatsoever, so they're making a real shot over the ballot, the commission junctions, the reversions of the world just saying, Hey, it's free, why would you pay for it?
I do like free, so I sat down and talked with them and saw how they were managing the product. And yes, there may be some wins in there, but to have a free tool that allows you to go out and find influencers fairly easily, I like that a lot because they're also going to do the gifting built into their system. They're going to do a lot of things that make it really easy to say, yep, I want to send product to Bob. Here it is, and he's going to be in my affiliate program.
Jon:
So legit question for you though, from a tactical standpoint of joy for dirt, are there dirt influencers? Who-
Ryan:
Anybody with plants really is what we're looking for. And since plants went so big in COVID, there's a lot of millennial plant moms out there and plant dads that have followers. Whether or not their focus is exclusively plants or they just happen to have a lot of them in their pictures and images, they're a huge opportunity, in my opinion, to take advantage of all of that.
Jon:
Okay, awesome.
Ryan:
It's not as easy to scale the acquisition of an influencer. That's been our struggle in the past. There's some platforms for it. I mean hashtag, I've tried them. Impact has a really robust PR type influencer program. They get expensive and there's a lot of swings and misses in those platforms that you have to be able to accept. I hate accepting that, so if I can avoid it, I will. And that's where the Collab, I think, is going to be a big deal in '23, because I can easily get product out, which is the cost of doing business in the affiliate space anyway, but if I can reach out to them and say, Hey, look, I'd love to dark post or Spark Ad with you on TikTok or Facebook, Instagram, that's where I think the big value is because it's being able to leverage the trust of that influencer with my money on ads.
So I was talking to a CBD company today earlier, and they were talking about, they were trying to figure out if they could spend money on social. I was like, well, with CBD you can't. You can take your other products and market, but social's just not great. Ever since iOS, they've struggled as we know. So I said, but if you had an influencer like Snoop Dogg, for example, talking about it, that would be great. But the biggest would be if he let you dark post on his behalf and say, Hey, you've got all these products that are still legal to advertise, even if they're not the CBD product or you set up a microsite and have permission to get all the images and you just advertise, as if you're Snoop Dogg. Of course, there's going to be a lot of trust.
Put it on there and your money will go a lot further and be a lot more profit. So that's what I think affiliates is really going to value in them. There's always going to be some affiliate that's just really good with their followers that are driving traffic. But usually, those affiliates have been built up over years and years. In fact, we've got a client, Mountain Crest Gardens. Matts, I love that guy. They've built a phenomenal business selling succulents and he's got a really good influencer that seems, from all what I can see, the largest succulent influencer and her exclusive resource for succulents is Mountain Crest.
Jon:
Oh, I know her. Okay.
Ryan:
And so she just… But it took years to build that up. Over time, he wouldn't probably be able to go find her now, be like, Hey, I'd like to be your resource. I already trust Mountain Crest. They pay out. They give me succulents. It's easy for us to do this.
Jon:
I was going to say, it's funny, I've talked to him several times. We've never ended up working together, but I know exactly who you're talking about with the influencer and we have worked with her and so indirectly, I guess I've helped his business.
Ryan:
You have, probably. We'll have to get him up to meet with you in person. Maybe we can get him up to the partner side.
Jon:
I think we did at one of the LPX events down in-
Ryan:
That's right. We were at Google. We brought him to Google.
Jon:
Yeah, I was going to say LA probably?
Ryan:
Yeah. We'll have to keep cracking that nut with Matts.
Jon:
Yes, that's right. It was San Francisco, yeah.
Ryan:
So again, I think social ads is just being done, so I'm pivoting most of that budget away. If you have a social ads budget, it's probably on dark posting, but it's not… If you had a million dollars to spend on Facebook, it's not going to be a million dollars on TikTok to produce the same results that Facebook did in 2019. It's just not there. So I'm only dark posting at this point. If you do have some budget to build up some followers, maybe you have some of that, but again, you have to know that that's essentially light money on fire as far as results and you're buying followers. That's not a bad thing, but it's not going to be spend a dollar or get $10 in revenue scenario.
Announcer:
You're listening to Drive and Convert a podcast focused on e-commerce growth. Your hosts are Jon MacDonald, founder of The Good, a conversion rate optimization agency that works with e-commerce brands to help convert more of their visitors into buyers, and Ryan Garrow of Logical Position, a digital marketing agency offering pay-per-click management, search engine optimization and website design services to brands of all sizes. If you find this podcast helpful, please help us out by leaving a review on Apple Podcasts and sharing it with a friend or colleague. Thank you.
Jon:
Okay, so we know what you are going to add, but what are you taking away? Because I assume, considering recession being a little uneasy maybe, I'm not suggesting you are, but I'm just suggesting that most folks listening to this are probably going to be in that bucket. What are you taking away? Because you can't… You're not just going to have more budget, right?
Ryan:
No, no. Definitely social ads going away, so any budget that was going to the social channels generally. I'm not even investing in followers at this point because socials become so cluttered and I'm not confident that it's a brand interaction tool as much as it was a few years ago. Maybe I'm wrong on that, but just personally for small businesses, I don't have that confidence. I've honestly seen it more as a customer support tool than it is go grow the brand tool, at this point, without influencers. So that's gone. I'm likely adjusting some of our Google budgets down. I know that customer acquisition on Google is always a big thing, I'm a big hot and heavy on, but I think it's going to be, in our industry, it's going to go to some heavyweights more.
I think there's going to be a lot more spend from the Miracle Gros and the larger budgets that have avoided a lot of the investment on customer acquisition direct to consumer. I think the large retailers are going to be jumping in. Home Depot obviously spends a lot, but they don't do as much direct to consumer, at least in my space. My expectation is that Q1, there will be a lot of push to keep up with Q1 '22 and it's not going to be pretty. Now we'll watch data and I can pivot pretty quickly because we are a small business and it's not a huge line of command to get money to spend it, but we're-
Jon:
Just to your wife.
Ryan:
Yeah, the wife is going to dictate what kind of flexibility we have. But to go into social and then if you have a wholesale arm, that's going to probably change, especially if you're going to small business, because likely, if there's headwinds economically, small businesses bear the brunt of that usually, and even large ones stop large orders and start buying smaller orders. So sales can get hit in that. So I'm hoping that we have a soft landing, but we're also making preparation to say, okay, if we are smacking into a wall, what gets cut? What's our emergency cuts as we do this? Boom, boom, boom, these are gone.
These we can break even and get new customers. Emails should always be profitable for us, so make sure that's up and running really well. There may be… This is a point I had for a kind of cut, but potential expansion is the SEO. Depending on where your business is financially, can dictate how far into the future you look. If your business is on really shaky ground and you don't know if you're around in six months, investing in SEO right now for six months later may not be the best use of money.
Jon:
But I do think this is where a lot of brands I see make the mistake of immediately, even if they're doing okay, when a recession happens, I saw this at the beginning of COVID, the brands that just seized up and decided to withhold spending for the future just to get some sales then, totally got bypassed. It was like an old steam locomotive running on a track against the bullet train. The bullet trains were out there investing for the future. So in a few months later, six months later when everybody went online and things started really coming back for e-commerce in a big way, they were so far ahead that it really was a game changer, if you invested appropriately. I mean even for B2B in the same way at The Good, we did that.
We kept pushing out good content. We reinvested heavily in video doing a lot of those type of podcasting, et cetera. And when things came back with e-commerce, we were there. People found us a lot quicker in SEO than some of our competitors who were just like, I don't know where e-commerce is going to go. We're going to stop spending on marketing. And I said, I'm going to go down swinging, if that's really where this is headed. I don't think it is, but I'd rather go down swinging.
Ryan:
Of course. And I think that it's more how shaky of ground do you want immediately and how much cash? I'm either going to support the family or I'm buying SEO, support the family, obviously. You have to make some decisions to cut somewhere usually. And I am a big advocate of SEO, but I'm also a big advocate of spending SEO money wisely. If the only terms in your industry, if it's a newer industry, are going to Target, Walmart, Amazon, there may not be a lot of SEO value, even if you did rank number one for a long tail term that gets 10 searches a month. Great, you ranked number one and you got four clicks. It's being responsible with it, rather than just saying do SEO because it's valuable long term. There's also some strategy involved in that, and there's probably a lot of merchants that got hit in September.
There was a big Google algorithm update, a core update in September, that as I'm talking to brands over the last two months, a lot of them got, I mean the vast majority of them dropped in rankings. Thankfully, I'm talking to them because they're prospects, not clients of ours. But seeing all of that happen, there's a lot of focus on mobile speed. So if you've got an older platform or you have an older theme in say Shopify or BigCommerce or Magenta that hasn't been updated on your servers, then the slowness on mobile probably hit you hard. And when you have a core update, often if you fix the problem, you can regain a lot of rankings quicker than if you never had those.
And so you probably need to be looking really hard and deep at what pages lost traffic, who jumped me, can I go to my SEO agency or go to somebody that knows my site well enough to say what happened on these pages? Who jumped us? What's the difference between these pages and ours? Is it speed? Is it X, Y, Z? What's crazy is that often enough, I find that brands haven't even put content on their category pages. If you haven't done that basic SEO foundational type stuff, do it now, whether you do it internally or you get an agency to do it. I mean, last podcast we talked about the value of category pages on the brand-centric CRO.
Jon:
Putting content on, talking about the brand, right?
Ryan:
Yeah, getting it on there in a way that can help, because Google loves category pages for big non-brand terms, and that's a huge traffic driver. So I think most brands should be investing in SEO in '22. I think it's a core piece of the business that goes hand in hand. But I'll tell a lot of brands, if you have not spent money on paid search to see the search queries, how your site converts, which page converts on those, how could you decide that that term makes sense for you? You don't know. You might not ever convert. So ranking might not make any sense.
Jon:
Right. Yeah, that's a good point. If you're going to put some effort behind it, at least test, right? Test and see if that term matters before you really start to put effort behind the content [inaudible 00:24:44].
Ryan:
Yeah. In fact-
Jon:
Good idea.
Ryan:
You and I both know a guy named Nick Eubanks, who's a big deal in the SEO space. He won't even take a client unless they have 90 days of data in paid search. He's like, there's no point. We have to see that data. Don't even talk to me until you've hit 90 days.
Jon:
I love it. That right there is when you start noticing an expert, right? Because he knows we can't provide value, otherwise. I like when I see that. All right, Ryan, well this has been helpful. I am less concerned about '23 having talked to you, so that's positive. Any little final points here you want to make on the upswing?
Ryan:
No. I think it's going to be a fun year because we don't know what's going to happen and we don't know what to expect necessarily. That becomes part of the fun in business. If it was easy-
Jon:
Yeah, I was just going to say, you and I, that's why we're here is for that thrill, right? We're not here for anything else. I think it is… I was just listening to another podcast and they were talking about how all these people who sell their businesses, when money was free and people were selling businesses left and right, and I should say they were buying businesses left and right, so a lot of people sold that. But those people who sold are now all talking about how depressed they are because they're not solving problems every day.
They feel like I'm done sitting by the pool. I'm done being the stay-at-home parent. I just want to be back solving problems and I miss the challenge of that. My brain's no longer being utilized in the way it was. There's only so much I can do to improve the home life around the house and everything else. After a while you're like, I've optimized everything here. I need to get back to my job or what I love to do. And so I think it's the thrill of that, that we're in for. I'm excited about next year because this always means opportunity, right?
Ryan:
Yeah.
Jon:
Just like COVID, it meant there's some opportunity there. As long as you play your cards right, you can participate in that opportunity, as well.
Ryan:
Yep. It's going to be fun, challenging, but fun.
Jon:
All right. Love it.
Ryan:
Thanks, Jon.
Jon:
Thank you, Ryan. Yeah. Have a good afternoon.
Announcer:
Thanks for listening to Drive and Convert with Jon MacDonald and Ryan Garrow. To keep up to date with new episodes, you can subscribe at driveandconvert.com.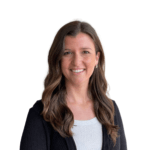 About the Author
Caroline Appert
Caroline Appert is the Director of Marketing at The Good. She has proven success in crafting marketing strategies and executing revenue-boosting campaigns for companies in a diverse set of industries.