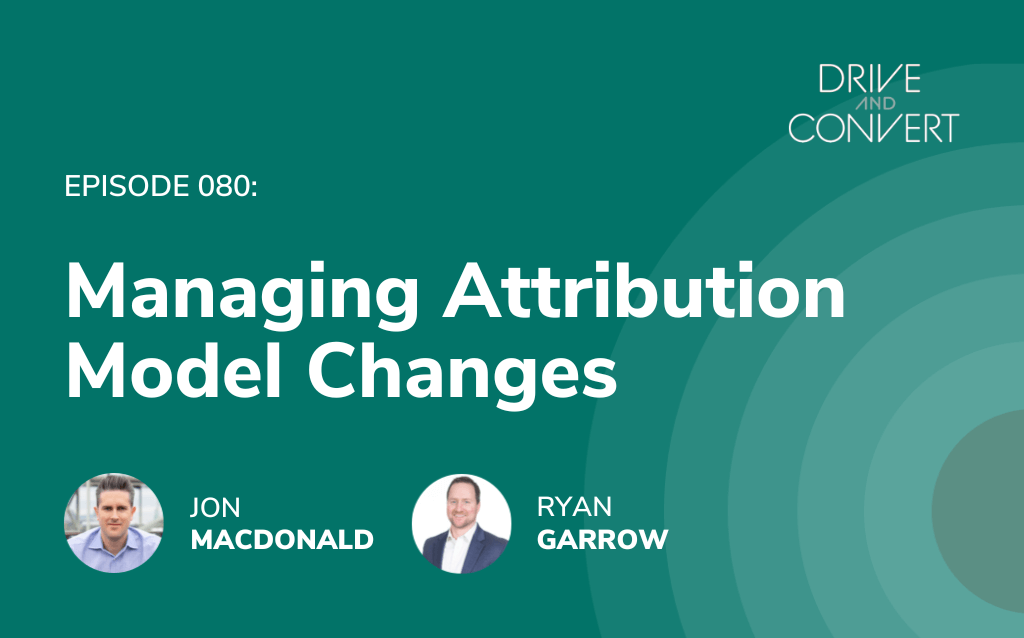 Drive & Convert
Drive and Convert (Ep. 080): Managing Attribution Model Changes
In this episode of "Drive and Convert," Jon and Ryan discuss Google's recent decision to sunset certain attribution types. They also delve into the challenges that small businesses might face and how they can explore more creative and calculated alternatives.
Listen to this episode:
About This Episode:
In this podcast episode, Jon and Ryan discuss Google's recent announcement about sunsetting certain attribution types in Analytics. They both emphasize the need for businesses to get creative and find new strategies to compete with larger brands. Jon suggests that small brands have an advantage in being more willing to take risks and test different approaches. For small brands, they suggest exploring social media, influencer marketing, affiliate partnerships, and top-of-funnel strategies to drive awareness and engagement. They conclude that the evolving digital landscape requires businesses to adapt and find new ways to stand out in the competitive e-commerce space.
Listen to the full episode if you want to learn:
What attribution models are being removed from Google
Why Google is sunsetting four of its attribution models
How these attribution changes could affect transparency and Google algorithms
What alternative options do big and small brands have
If you have questions, ideas, or feedback to share, hit us up on Twitter. We're @jonmacdonald and @ryangarrow.
Episode Transcript:
Announcer:
You're listening to Drive and Convert, a podcast about helping online brands to build a better e-commerce growth engine, with Jon MacDonald and Ryan Garrow.
Jon:
Ryan, good to see you as always.
Ryan:
Yeah.
Jon:
Hot off of your partner event where we recorded a live episode, which should be up and shared with everybody by now, but it was a wonderful event. Thank you for hosting The Good and several of our other wonderful partners of Logical Position, so it was a great opportunity to meet all of the very extremely large team and Logical Position's amazing new office, which is very beautiful. So today we want to talk about how Google is being draconian again. I say that jokingly, but if there's one thing about Google, it is that they are very good at sun setting things. And I am not just saying that because I've recently been bit in the behind by them with Google Optimized being sunsetted, but there are sites out there that just catalog all the things that Google has stopped doing.
And look, any company that's worth their salt is going to try things and shut them down, and they're going to have their reasons for doing that. It is part of the evolution. I understand that. But I think if there's one normal thing in digital marketing at all, it's change, and something's always going to be changing. I tell our clients this at The Good all the time that the internet's always changing, access devices are changing. 10 years ago, nobody would've been on an iPhone. Now you have to think about mobile first. So things are always constantly changing here.
And if I understand it right today, Google announced that they're sunsetting some attribution types in Analytics, which definitely makes me nervous, but less nervous than it would have maybe even 18 months ago with all the new tools that are out there and how well they're doing. So this is something that was new to me. I hadn't heard about this, so it's definitely flying under the radar. Can you tell me a little bit more about it, what the repercussions are? What models are being eliminated and what does that mean, and what's it leave behind?
Ryan:
Yeah, if nothing changed, I don't know if you and I would have a job. We'd work ourselves out of a job so quickly, that it'd be like, all right, well, time for a new career. So change is generally good. Those that understand the change and can pivot quickly and adapt to a new world quickest are going to be the ones that succeed. And so in this scenario, Google's historically largely left attribution fairly intact. They had new things come out and they added it in and said, "Hey, if you like looking at data this way, we'll leave that in there." It's pretty big in the fact that these attribution models being eliminated have been part of Ads and Analytics for a decade plus. And there's nothing necessarily wrong with them or they're not really broken. It's just Google says, "Eh, we don't want to support them anymore, and so they're going away."
And so at this moment, you can go into Ads or Analytics and choose one of six attribution models to look at, and they're removing four of them over the coming months. The removing first click, linear, time decay, and position-based, and leaving you with last click and data-driven, which Google's telling us that only 3% of all accounts used the ones that are being eliminated.
Jon:
I was going to say, I would guess that, let's say you're a small business running ads yourself, you have no idea what any of those even mean, except maybe first click or last click, right? Time decay is a formula that you'd have to do some research on what that is. Same thing with linear. And position-based, I have no idea what that means personally.
Ryan:
Essentially it's first and last get more credit. Ones in the middle get less credit. So it's giving different positions different credit, but-
Jon:
Yeah. I guess my point is… Thank you for explaining that because I had no idea. But the reason I brought that up was that if I don't know what that means, and I am in this world or circling this world pretty closely. I don't drive traffic, so whatever. But the reality is that a small business owner isn't going to know this running ads for themselves. There's no way.
Ryan:
I think that's probably some of the issue is that it's making things maybe somewhat "easier" or simplifying the process of getting ads up and taking away options. So I guess that's for me, so few companies are using them, and the reason it's an issue is because I personally just don't being told what to do.
Jon:
Nobody does.
Ryan:
Yeah, and so now I want first click all the time or something. No. It removes avenues for transparency. That's probably my biggest core problem. With all these different models, you can move your attribution between or choose as an attribution model and have it in your account to see what's happening, because you can have multiple attribution models tracking. Whether you use it to optimize off of them or not, that's a different story, but you could have first click and say, "Hey, I want to see which of my keywords or products is driving more first click revenue," and have that in your account and see it. Then you can have the last click and still see that. So you're losing some transparency there and letting Google decide more and more what is causing you to get credit or not get credit, and that black box is expanding. And I've fought endlessly over my career against black boxes in marketing.
Jon:
Yeah, the last thing you want is Google to just spit out a number that you have no idea what the calculation is, and I feel like data driven is a kinder way to say that, no?
Ryan:
Oh, for sure. It's just Google saying, "We're just going to tell you how much credit we're giving," and there is an algorithm behind it. I'm positive of that. It's not just a random number they're pulling out, but it's designed in a way that's going to get you to likely spend more money because that's Google's goal. They have to show shareholder value and get you to spend more, and their goal is not necessarily to grow your business because they don't have insight into how or why certain sales or conversions would be better for you across millions and millions of accounts. There's just no way they could know that. And so you're part of an algorithm now, for better or for worse, whether you like it or not. And it's the same algorithm that Home Depot has.
Well, if you're competing against Home Depot and their budget is magnitudes beyond yours, their data's going to get more credit within Google. They're going to have more data points that Google can leverage to find new users for them versus you. It's going to put that small advertiser or startup that I'm so passionate about. I love the big clients we have. You can do a lot more cool stuff there, but as an entrepreneur, I want to be able to say yes, with confidence, you have a chance, entrepreneur, to start a business and compete online with a larger brand that's already established.
Jon:
Right. Yeah. And we've talked about this numerous times where the goal for us is often to help take down the Goliath. That can be a success. Okay, so then small advertisers, just move on? Just be like, you know what? I can't compete with Home Depot, so forget it. Google, I'm out. I'm going to stop advertising with you.
Ryan:
No, there's no way I would advocate for small businesses just to throw their hands up and say, "Forget you, Google. I'm going somewhere else." I do talk to business owners that say that I have some advertisers still to this day that will not put analytics on their site because they don't want Google to know the data. And I'm like, Google doesn't care. You're making 200,000 a year on your website. Google does not care, but that's their opinion. And so you're going to be there in play, but you have to really change the expectations for what that platform can do for you. And you have to be willing just to understand that Google's going to need data to grow your brand or optimize off of. So the sooner you get there and start providing Google with data over what your products are, the better you'll be two, three, four, five years down the road.
But what could have happened as recently as maybe five years ago, you could start a business against a large competitor by really targeting your shopping campaigns for very specific keywords. And you still can to a degree, but it's just much less likely with the Performance Max campaign becoming so prevalent that now you're just being pushed into a big auction where, and we saw this with Joyful Dirt, where Miracle-Gro has lots of data, lots of products, lots of advertisers selling it. A new product jumping into that algorithm does not gain traction quickly. And if it does, and you as a small business, a lot of times there's supply chain issues, especially in the last couple of years, where maybe you can't consistently keep pushing and you have to pull back and start, stop, start. Algorithms hate that. And so as you're giving this algorithm a lot of frustration, it becomes difficult to keep pace with a larger, more well-funded advertiser that doesn't have the supply chain issues you do.
Again, you have to get creative. That's what's going to come out of this, I think, is that the small business is going to have to get more creative, which again, I think is a good thing at the end of the day. I'm frustrated for a lot of them because what used to be very core to growing a business is no longer going to be a core, this is really going to drive the growth you want piece of the business. So it's getting a lot more creative I think at the end of the day as a small business owner, or even a mid-size business. Large businesses with other data don't have to be as creative.
Jon:
So that's a good thing though. I feel like that can be a competitive advantage for sure.
Ryan:
It can be, but as you're getting creative and thinking outside the box, you're doing a lot of testing and measuring, and that often does take money and risk. And so you're probably giving an entrepreneur or a small business a limited number of chances to get one right. If you had a core on Google knowing that, hey, I can do this, this, and this, and at least it gets me going to this point, and then I take small calculated risks on the side over here trying to get to the next level, you no longer have that core growth you could count on, like incremental stuff on Google. You have to go take some big swings on the other side of trying things, better or for worse, you may have succeeded five years ago. Now it's like, eh, you got to get lucky or pick the right option to test and do it right.
Jon:
Yeah. Well, and you have limited budget to spend, right? Like you said, you have a few swings. It's not something you're going to be able to do repeatedly. I think the advantage there as I see it is that large brands aren't going to play around. They're not going to do these small samples and be as creative. They're going to say, "You know what? I'm Miracle-Gro. I know what words work. I can get a attributable return on the ad spend. I'm just going to pump that as much as I can." And I see this all the time with our clients and they're afraid to optimize because they don't want to have any potential downside. They're afraid of the risk because with the business that they have now is getting them a return. And they said, "Yeah, there's probably more that I could have, but I'm afraid it might decrease if I start trying to optimize and test." So as a small brand, you have less risk aversion, if you will.
Ryan:
Yeah. And it also does mean though, on the flip side of that, if you do have a large, well-established entity in a vertical, if they are taking those risks and are continuing to push the envelope, it's going to be nearly impossible to catch them. So that would be my advice to these larger brands. Hey, if you are in first position and you've got a dominant stronghold, if you don't keep testing and pushing, that you leave yourself open. But if you do, that puts such a large moat around you that you're almost going to be untouchable when it comes to the online traffic acquisition space. Once you get the SEO domination, once you get Google Ads and you are the largest spender and you've optimized your feed the greatest, that largely is protected.
There's not a lot of opportunities to go against that as long as you keep doing what you're doing and then you start taking the test in TikTok and the social avenues that are up and coming and make sure that whatever Facebook or Instagram or WhatsApp comes up with next or the next Snapchat, that you are there and investing in some of those things to have a presence, because your moat just keeps getting wider and wider and wider if you're willing to keep doing it. If you do stay consistent or conservative and hold on, you are going to open yourself up. But even five, 10 years ago, that moat couldn't get beyond a certain space because there were so many new things coming up and there were options to attack you on Google, Microsoft, et cetera. But I don't see that as an opportunity anymore.
Jon:
So what do brands do now? What are options do they have?
Ryan:
For small brands that are starting up and trying to fix or come against a large advertiser on Google, I think you have to be looking at what are you going to be doing in the social realm? How do you take small little things there as far as traffic is concerned? If you're not finding influencers, if you're not looking at affiliates and building that ecosystem, if you're a direct to consumer brand and you aren't considering B2B wholesale to get your product in front of people at retail, you'd better have a solid strategy on top of funnel. In fact, we just had a new partner come into our ecosystem, a company called Raindrop. I don't know if you've heard of them, but they do video creative largely for branding, and there was a company called Dr. Squatch. It's one of their case studies, which is the-
Jon:
Yeah, men's soap.
Ryan:
They're selling soap online. There's nothing special about theirs. They'll tell you it's special, but it's men's soap. And I won't have the numbers exact, but something like three years ago they came to them after they'd been in business a couple of years and they were doing okay, selling a couple million a year online in soap. They came to Raindrop and said, "Hey, we need to start figuring out how we can drive top-of-funnel awareness because just capturing demand is going to limit our growth, and so we need a brand play," which is a great move on Dr. Squatch's part. And it's not cheap to do branding and it's risky because you can hit it wrong, but they hit it really well with Raindrop and I think they're doing half a billion now.
Jon:
They're definitely a direct to consumer darling.
Ryan:
Yeah. And there's obviously a lot of things that have to go right with a lot of that, but small brands that aren't starting to think through those other things of how else can I be in front of advertiser or buyers, Google may not work for you, starting from zero to get to hundreds of thousands and spend like Dr. Squatch is now. So lots of things they have to be testing. From an attribution standpoint, which is what we're really talking about on Google, Google's not allowing you to get very creative on how you're looking at traffic sources and sales and so brands need to start thinking outside of Google for tracking and attribution. And I think we're in this transition to GA4 from Universal Analytics, and so hopefully a lot of brands have already been thinking about, okay, how am I tracking? What needs to be happening in this brave new world of no cookies and California and Europe telling us we can't track anything.
You've thought about it at least hopefully as a brand. And if you have, you need to be looking at something like a Triple Whale or a North Beam that tells you, hey, we're going to start collecting all of these traffic sources in our own essentially version of Analytics, essentially what they are, where there's no cookies, it's all first-party data. They have all the data coming in and they can manipulate that and you can change attribution models inside their system. You can look at first click, you can look at last click, you can look at some of their data-driven models in the system, and it offers a lot more transparency into what's going on than the lack of attribution on Google.
Jon:
Yeah. Triple Whale's been making a lot of big splashes. I know North Beam is something that larger companies typically use, and Triple Whale has been that upstart over the last 18 months where they've taken off because that smaller to mid-size e-com site, and even the larger ones, but smaller to mid-size is really where they're targeting, and I think really has access to a lot of tools and data they wouldn't otherwise have had access to. And they've put a pretty wrapper on it, meaning they've made it easy to use. It's a pretty good user interface.
Ryan:
Super simple.
Jon:
And they actually even came out with ChatGPT integration now this week I saw where you can now do natural language queries on your data. I think they call it Wally the Whale. They say, "Hey, Wally. Wally, tell me what states I should be investing more advertising in." And it will go through your data and say, "Most of your clicks and conversions come from these states. You should spend more advertising there." Or, "What's my ROAS on all of the platforms I'm advertising on?" It will just tell you. So it has access to all that data, and now you don't even have to really try to set up your own queries and sift through everything. You can just ask Wally the whale what you want.
Ryan:
Yeah, well, Triple Whale, they're limited to Shopify only at this point with, from my understanding, no real desire or reason to get off of Shopify. Shopify actually invested in them.
Jon:
Yes.
Ryan:
But they're doing super cool things, especially with social ads and how you're measuring the impact of a different image. And in fact, yesterday I found out they have an AI tool that, let's say you're selling something and the woman has gray hair and they're like, you know what? We think if she had black hair, it would convert better. And you're like, really? I don't know. Triple Whale will change the hair color in the ad for you. Ad stays the same, woman stays the same, hair color changes. I'm like, what? That's really cool technology. I don't know how often that'll be used, but that's just the fact that they could do that as easily as they can.
Jon:
Well, they've been on the forefront of integrating all the new AI that's out there.
Ryan:
Yeah, they'll actually write ad text for you, and we've tested that. On social ad text, their AI will actually say, "Your ad text on this ad should probably say this." Okay. Some agencies might find that kind of risky that, hey, this thing is doing all of our ad copy, but I'm like, ad copy is probably frustrating and ad copywriters are maybe difficult to come by now you don't even need, but as an agency you have to be able to put copy on an ad to get-
Jon:
And while I don't advocate running those tools word for word, it's a great starting point that could get you 90% of the way there and then you tweak it a little bit, right? So that's where there could be a lot of benefit too.
Ryan:
Have you played with ChatGPT for conversion rate? Like, "Hey, ChatGPT, what could I do on this page to increase conversion rate?"
Jon:
Yeah, it really does high-level checklists, which we've talked quite a bit about in the past.
Ryan:
Conversion rate improvement?
Jon:
Well, yeah, I would say even below that. It really just ends up saying, "Hey, well, things you can do like increase your site speed." It doesn't get into the details necessarily. And I imagine you could dive in and say, "Well, tell me some ways I can increase my site speed," and then it'll give you a checklist, but you still have to do the work. And that's where I think most brands are going to fall down. But we are actively investigating and trying different AI tools to see how we can work with those. And I think any business that's not doing that right now is just going to get left behind. I think it has a functional purpose.
During COVID, there was a big buzz of NFTs and all that stuff. It was like, there's no purpose to this, right? I don't know. Maybe somebody can make the argument for that. But here's the thing, I think, and this is way off-topic, but I do think that AI is going to be deeply ingrained in a lot of businesses. I don't think it's going to replace a lot of people, but I think people who know how to use AI are going to get ahead.
Announcer:
You're listening to Drive and Convert, a podcast focused on e-commerce growth. Your hosts are Jon MacDonald, founder of The Good, a conversion rate optimization agency that works with e-commerce brands to help convert more of their visitors and to buyers, and Ryan Garrow of Logical Position, the digital marketing agency offering pay-per-click management, search engine optimization, and website design services to brands of all sizes. If you find this podcast helpful, please help us out by leaving a review on Apple Podcasts and sharing it with a friend or colleague. Thank you.
Ryan:
I saw a great quote from probably a LinkedIn influencer that I follow, but it was, "Your job won't be replaced by AI. You're going to get replaced by person using AI-
Jon:
There you go.
Ryan:
… that understands it." And I've seen ads for AI whisperers that are being paid 350,000 a year to come in and teach a company how to integrate AI into their organization. And I think that really hits on just my final point in all of this that attribution brought up was yes, things are going to change. New tools come into play, whether that's ChatGPT, whether that's Triple Whale, whether that's North Beam. If you are not adapting and moving yourself as a marketer forward, moving your company forward, of course you're not going to survive. That's been a business rule from day one. Things change. And if you don't, all right, hope you made enough money before everything changed that you can now not work, but if you do have to work, you better be changing.
Jon:
Yeah, I agree.
Ryan:
As things are changing, I think we're at the point, and I don't know how long we've been here, but we're at the point where you probably don't have a digital marketing team as part of your marketing team. It's your marketing team. And if they don't understand digital and if they don't understand everything else, you're broken. Even as an agency, Logical Position is a digital agency, we don't do billboards, we don't do branding. We drive traffic. But we have to have fairly deep understandings of all of those other strategies that come into play to help grow a brand because our clients are asking for some of that help.
And if we're not able to provide it, then they're going to go find somebody that will, and if they find another digital agency that can say, "Yeah, we do actually have some insight into how you can increase your wholesale orders through Faire or go out and have you tried to find these influencers that maybe don't fit into the normal bucket of influencers?" I don't know. It's just digital marketers are now just marketers and they've got to keep adapting and increasing knowledge. There's just no end to how much you should be learning or could be learning.
Jon:
Well, I think to prove that point, it was interesting last week maybe I saw an agency that I came across that said that their niche was traditional offline advertising. That was their niche. So the fact that that is a specific niche now, that you could say we specialize in traditional offline advertising. And that's true because most people think of advertising now, they think Google, Facebook, TikTok, whatever. At least in our worlds, I don't know anybody who wouldn't say that. Very few people are going to immediately go to billboards or other offline type of cases.
Ryan:
Radio.
Jon:
Radio, right. TV maybe. So you start thinking about those, and it's interesting, that is now a whole niche.
Ryan:
Yeah. In 20 years we've gone from what was normal marketing is now the niche marketing. That's very quick in the scheme of human history, how quickly that marketing has changed. So it's going to keep going some way. It's going to change.
Jon:
I started this episode by making fun of Google a little bit and how they sunset everything. But the reality is, again, they need to keep changing with the times. And while I'm never a fan of any company taking something away that gives the bigger companies a large advantage and hurts the smaller self-service folks, there's always room for improvement. I do encourage companies like Google to put their resources where it's going to have the best benefit. I'm a little biased. I do wish they kept Optimized, but hey, you know what? There's plenty of other options out there. And again, most of the people, the stats, the percentage of brands that had Optimized installed that were actually using it was very, very low. So I totally understand the return on their investment's not there. And probably same thing, keeping up these algorithms, figuring these things out for attribution, probably not that helpful.
Ryan:
Yeah. Well, and it's not like the cards haven't been stacked against small businesses since business has been going on, right?
Jon:
Forever.
Ryan:
So it's not new, it's just where there used to be some opportunity for success is now gone, so now you have to pivot somewhere else. So if you were under the illusion that all these big businesses were out to limit their ability to keep getting bigger, then sorry, you can burst that. Big businesses have some advantages, and your goal as a small business is to become a big business so you have those and then you're going to fight to protect those. So probably lobbies within Google for large businesses to say, "Hey, if you do this or this, it'll help us, and we spend nine figures with you, so maybe you should keep doing this, and it may limit your small advertisers spending a thousand dollars a month with you, but-"
Jon:
I guarantee you that during COVID, when Amazon was spending billions on Google and running ads, that they probably were able to get some things done on Google that nobody else was.
Ryan:
We know there's different rules. Cabela's sells guns, and they still advertise. You can't sell guns on your site if you start a site up-
Jon:
There you go.
Ryan:
… and get away with advertising. There's different rules.
Jon:
I appreciate you educating me on this, Ryan. The small guy's still there, and I still think it can be helpful. But yeah, the fact that they changed attribution, that was new to me. I hadn't heard about it until today, so thanks for sharing.
Ryan:
Yeah, of course. Thank you, Jon.
Announcer:
Thanks for listening to Drive and Convert with Jon MacDonald and Ryan Garrow. To keep up to date with new episodes, you can subscribe at driveandconvert.com.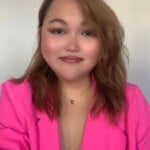 About the Author
Angel Earnshaw
Angel Earnshaw is the Marketing Coordinator at The Good. She has experience in improving brand awareness through digital marketing and social media management.