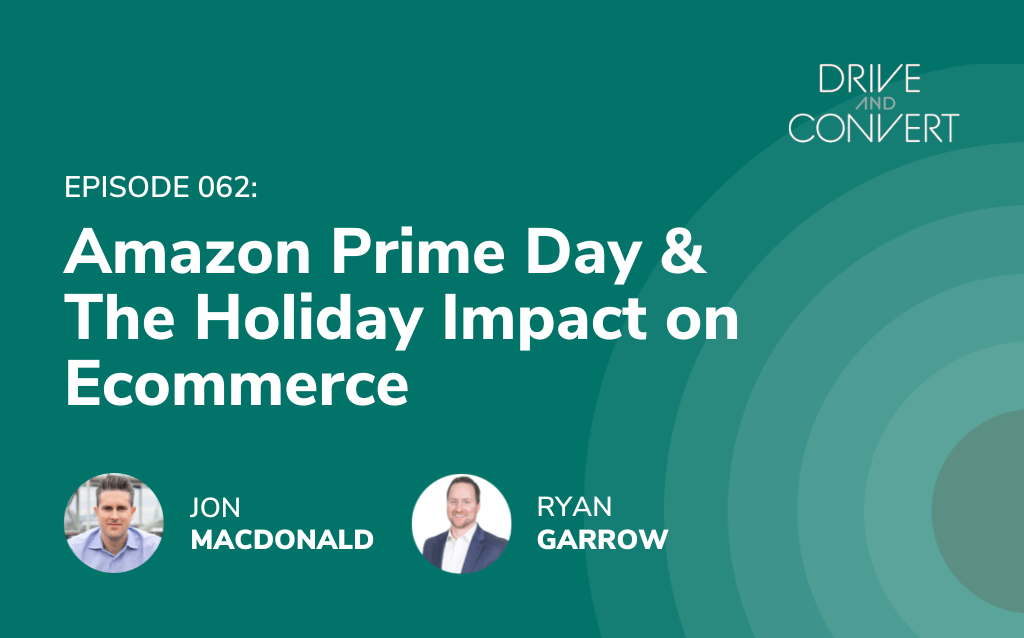 Drive & Convert
Drive and Convert (Ep. 062): Amazon Prime Day And The Holiday Impact On Ecommerce
In this episode, Ryan and Jon talk about how Amazon's "most successful prime day ever," and their announcement of a second prime day in Q4, will impact the holiday season for ecommerce brands. They also cover what brands should be doing now to prepare for a great Q4.
Listen to this episode:
About This Episode:
Most brands are already deep into their holiday planning, and there is some really fascinating data that Ryan is seeing from Logical Position clients that's driving Q4 strategies. But, there is still so much unknown. How will a second Amazon Prime Day impact the holiday season? What about all the ecommerce buzz around selling at Walmart? Are there still supply chain issues or do some brands actually have too much product?
In this episode, Ryan and Jon talk about how Amazon's "most successful prime day ever," and their announcement of a second prime day in Q4, will impact the holiday season for ecommerce brands. They also cover what brands should be doing now to prepare for a great Q4.
Listen to the full episode if you want to learn:
What really happened on Amazon Prime Day
The impact of a second Amazon Prime Day
If your brand should be selling at Walmart
How to prepare for Q4, now
If you have questions, ideas, or feedback to share, hit us up on Twitter. We're @jonmacdonald and @ryangarrow.
Episode Transcript:
Announcer:
You're listening to Drive and Convert, a podcast about helping online brands to build a better e-commerce growth engine with Jon MacDonald and Ryan Garrow.
Jon:
Ryan, we are all deep in holiday planning. I'm sure that you and the team at Logical Position are as well, and you're seeing some fascinating data. We were just chatting a little bit about Prime Day, which has really just happened and the effect that it's having. And I was like, "Whoa, whoa, whoa, slow down." And then some jokes about our age ensued because I said, "Let's get it on tape."
Ryan:
Yes. Yeah, we're going to get it on tape and put it out into the world.
Jon:
I think you said we should make sure it's on a VCR, which yes, we'll make that happen. Maybe we'll come back like LPs, right? So-
Ryan:
Maybe.
Jon:
… I want to hear all about this because obviously Prime Day affects everybody and whether you like it or not, and you either need to take advantage of it or just passes you by as an Amazon or direct to consumer brand. So you have all this new data that's coming out because of this. What impact is Amazon having? What kind of data should we know about? Let's just start there.
Ryan:
Well, I don't think it's a surprise to anybody. At least people listening to our podcast here, that Amazon is a big deal. They drive a lot of commerce and a lot of people sell a lot of things and buy a lot of things on Amazon. What I don't think people quite realize is how much of the online world Amazon impacts, outside of Amazon. We just had, like you said, Amazon Prime Day just passed us. So this week I think productivity across the country went down, as people are looking at lightning deals and it happens. When we were in office, it was chaos. It was a few years ago, I remember the 2009 Prime Day, it was like IMs were constantly, "Hey, did you see this deal? Did you see this deal?" It was like, what?
People weren't doing anything. So I assume people are still doing that to a degree, just not in an office setting, now that we're all remote. But some stats I saw blew me away. So generally leading into this time period year over year, e-com sales are down from what we're seeing. All the data we have at [inaudible 00:02:20], sales are down versus '21. And beginning of this year, I thought sales were going to be up comping the midyear '21, where we were all traveling and spending money on restaurants and other fun things that weren't stuff. It's like, "Oh, we'll get back into normal, and things will be up. It'll be great. We'll all look really smart again as marketers." And then it's the lion and tigers and bears on mice scenario.
I feel like it's been constant, two years of this. Of nothing. We've been in this industry for a long time and I still can't predict what's going to happen a month out. And like 2018, 2019, I pretty much knew it was going to happen. It was pretty simple. Now, I'm like, I can tell you something, it's probably going to be wrong. But, we are fresh off some cool data that I saw. So Amazon is telling us that it was the largest Amazon Prime Day ever. With an interesting caveat, I saw, that they're talking about number of things sold.
Jon:
So not revenue?
Ryan:
So we sold more things in 2022 Prime Day than in any Prime Day before. Okay. Well, interesting. So 300 million things were sold according to Amazon, which is astronomical, because the vast majority of that comes to an Amazon fulfillment center, which, that's insane. But, we also saw some data points that said almost 60% of those were things under $20. And so I think Amazon is seeing some impacts in Prime Day where they're not talking revenue anymore, because likely, inflation, people don't have as much money. They're still wanting to buy, but they're buying less or less expensive things. A great ancillary example, Joyful Dirt, this year we didn't do a Prime Day deal because we've had some supply chain issues and production issues.
So we just didn't have the inventory that we could blow out over the two day period. Generally, I think last year we had one and I want to say we more than doubled revenue volume despite heavy discounts, versus the previous week. So it's just transactions go crazy. This year, we didn't even have enough inventory to cover the entire country and all the Amazon fulfillment centers and sales were still up 50% versus the previous couple days. And we didn't do anything.
Jon:
That's a good case for not participating in a Prime Day, directly, right?
Ryan:
Exactly. If we had had inventory, we probably would've been up 60%, 70% at least, just because we would've been able to have next day delivery all over the country. Sales have continued despite our lack of production that we have to get it in. So we're solving that problem, but it was fascinating to see no Prime Day deal, sales go way high. And so some of that I think is Amazon puts a lot of effort into external marketers, pushing products on Amazon during Prime Days and they offer additional incentives. And so I have a few of those that are working for Joyful Dirt. They probably sent some external traffic that probably benefited us even without the quick delivery. But what I find the most fascinating is… Nobody's going to be surprised that Amazon sold a lot of stuff during Prime Day.
It's what it's for. But what's fascinating is the impact it has outside of Amazon, like on Google. Obviously Logical Position, we have a lot of data around Google. And so I went in this morning and just pulled some of the data. So I'm looking at just the previous week. So we are kind of a normal July. Normal. It wasn't any blips or dips last week. People weren't really preparing for Prime Day as far as spending less. But Adobe says that total online sales were up 8.5% versus Prime Day last year. Google ads, week over week, impressions on searches on Google, based on one of our very large MCCs, was only up 1.8%. But clicks on ads were up 5.8%. So people were clicking on ads at a higher rate than they were the previous week.
Jon:
Interesting.
Ryan:
So they didn't scroll down as far.
Jon:
So do you think they were searching? They saw a product on Amazon and they searched Google to learn more about it?
Ryan:
To a degree, that's probably some of it. "Hey, what's this?" For example, my wife and I are part of this probably. We bought Kindle Paper Whites because I lost a Kindle on some travel a year and a half ago. And I'm like, "Nah, I've just been using my iPhone to read my Kindle." She's like, "We should probably get… Once we can read outside because we're putting in a pool." So I was like, "Okay, that sounds… I'll be fancy and have a Paper White I can read outside."
Jon:
It's funny you didn't say that the pool is fancy. You said that the Paper White is.
Ryan:
No, the pool's not even done. Right now, it's a hole in the ground and the house is going to be done before the pool is, and I'm not happy about that.
Jon:
Oh, you're going to miss the summer.
Ryan:
I know. So I get to heat it in the winter because my kids are not going to accept the fact that we move into a house, get a new pool and they can't go in it.
Jon:
Just don't put water in it.
Ryan:
So that's fun. Yeah. Sorry kids. There's no water, can't go in it. So anyway, I didn't know what all these different versions were because there was multiple discounts and I'm like, "Well I ended with a Paper White, but I didn't know what all the names were." So we had to go do all the research and they have a really expensive one, it does different things. You can get ads or not ads. So I did go to Google and research what's the difference between these because Amazon's not great at comparing all of them. And then my wife wanted a color. And then the ones that we got didn't have a color back because they weren't on sale, all these things. So clicks are up, but what's even more important to an online seller, conversion rates were up 20%. We didn't have a lot of clients that we talked to that were putting on big sales on their website. But people were just in a buying mood. Amazon causes people to want to buy. And this is looking at a seven day period, week over week, so we kind of spread the data out to see.
Jon:
Yeah, normalize it.
Ryan:
Competition [inaudible 00:07:55] up though, so we saw CPCs up almost 10%, week over week.
Jon:
This is interesting because I have long held the philosophy and based on some data, well, across our client base as well, that folks are using Amazon almost as this product search engine. They know they want to buy a backpack, so they go to Amazon and they type in backpack or a computer bag or whatever, right? And they start narrowing down their searches. But then, it becomes really hard to do your research on Amazon because the details just aren't as good in the product details for most brands who don't have a plus pages and that type of stuff, who it's just the vast majority that don't. They end up going to the brand's website to learn more. And while they're there, if the price is the same or comparable and the brand gives free shipping, they don't care if it comes a couple days later, the convenience of already being on the brand site, they'll just order.
And, I feel like this, showing a 20% bump in conversions on Prime Day, I imagine that's what's happening because they came across a product that was enlightening. They were like, "Yeah, this isn't exactly what I want. I'll start doing research that leads them to look at more products on Amazon." Then they say, "You know what, I'm going to go to the brand and start diving into this because I want more pictures. I want lifestyle photos. I want to see more details, read reviews that are different, right?" So there's a lot of stuff you can do offsite. And I think it's a missed opportunity for a lot of brands who don't use Amazon as a product search engine. And I think that treating it in that way, you either need to go whole in and say, "I'm going to set up a plus pages. I'm going to completely just dump every asset we have for these products into Amazon."
Or, go the other way and just keep it bare bones and make sure you have a description, et cetera, and good photos, but also be linking to your site and let people know where they can get more info, and drive people to your site for all those extra research steps that they want to do.
Ryan:
It's just, it's not easy. Amazon does not make it easy to link to your site. And so that takes a little more. But again, my wife and I don't know why this is, but we're always the perfect examples for a lot of this. Again, building a house, we have to buy some TVs.
Jon:
Yep.
Ryan:
And during Memorial Day, we bought one of them. We got a Frame TV.
Jon:
Nice.
Ryan:
And we wanted to get a big one, that was the new matte one, because it's going to go in a room with a lot of sunlight. So like, "Ah, it's going to be in the sun a little, we want matte." So we're just like, "I just want to get that out of the way, make sure I don't have supply chain issues later, so I move in and there's a big blank spot in our living room."
Jon:
Got to have your TV.
Ryan:
Exactly. Got to have it. And I want to have it to be art, so I can have big pictures of myself up there and I'll look fancy.
Jon:
Hey.
Ryan:
But Andrea, my wife, found all these TV deals on Amazon and started sending me a bunch of them. I'm at work, so I'm like, "Just, let's do this tonight." We were looking at Frame TV for our room and it was on a deal. But I was like, "Is that the new one or the old one?" I can't remember because they just do it by an image on the TV. And I couldn't remember if it was the San Francisco Bridge or if it was Mona Lisa. And I was like, "I got to go look on Samsung's site for the Frame TV." And the price was exactly the same for the new one. And I'm like, "Oh, that's a pretty good deal." And then we needed to get a really big one for our playroom, movie room thing, so we started doing that research, but we were on Amazon on one device, Google on another device, because again, Amazon, it's not great for… I don't trust that Amazon's always giving me the best deal.
Jon:
And they always, especially when you're buying TVs, it's not just the price point. They have unique product codes and models. It's kind of like if you go to Costco and buy a TV, the model code is always going to be one letter different, at Costco. Don't know if you've ever noticed that. Because you can't compare that model number price, to pull it up on your phone and compare it on Amazon. Even though it's the exact same TV, it's going to be one model number different. And Costco does that so you can't price shop basically. And the manufacturers want you to do that so that you can't go to Best Buy and say, "Oh, Costco has this for $100 less." And they're like, "Yeah, it's not the same model." You're like, "It is. It's one letter different. I promise you it's the same model." "Yeah, no, the rules say it has to match."
Ryan:
Yeah. Yeah. And so it's people gaming it, but the TVs are a great example of a really complex purchase where there's so many models. Samsung, I don't know why, but there are so many, probably just confuse people. There's LED, there's backlit. There's like 50 different models all the same size. I honestly probably wouldn't be able to tell the difference. As long as it has a picture and I'm like, "Whatever, I'm not fancy enough from an audio, visual standpoint to be able to tell the difference." So I'm like, "I just want a TV that works." But that caused me to do more research to be like, "Am I just going to buy it on Amazon because I think it's a good deal because it's Prime Day, or am I going to go actually do the research everywhere else and see if it was a good deal?"
And turns out on a lot of the things we were looking at, Amazon and Costco were the same price and Costco has generally a better return policy and I can bring it back a year later and be like, "I don't like it anymore." Or, "It broke." And they'll be like, "Okay, fine." Again, people get in the buying mood and there's a lot of things you can take advantage of that, as a brand. And I think most brands didn't prepare well for that and still don't because I don't think they realize the off Amazon impact that it has on brands and searches. In fact, I pulled just the two days of Prime Day, the… What was it? The 12th and 13th this week of July. Conversion rates across our largest MCC, our largest accounts, 27% increase in conversion rate, those two days. Versus Tuesday, Wednesday, the previous week, which weren't a bad week. So that's just saying that people just… 27% increase in conversion rate? That's insane.
Jon:
Yeah. That is insane. And it just makes me thank Amazon for doing our job this month, at the good.
Ryan:
Yeah. I know some of them were your clients, so you're like, "Look at how great we did this week. This is amazing."
Announcer:
You're listening to Drive and Convert, the podcast focused on e-commerce growth. Your hosts are Jon MacDonald, founder of The Good, a conversion rate optimization agency that works with e-commerce brands to help convert more of their visitors into buyers, and Ryan Garrow of Logical Position, the digital marketing agency offering pay-per-click management, search engine optimization, and website design services to brands of all sizes. If you find this podcast helpful, please help us out by leaving a review on Apple Podcasts and sharing it with a friend or colleague. Thank you.
Ryan:
And so obviously Amazon impact, great. This year, they've recently announced that they're going to have a second Prime Day though. So for the first time, they're going to have another Prime Day. And I think this is going back into, was it Q1 that they missed their numbers so bad?
Jon:
Yeah. They didn't end up doing well.
Ryan:
Probably because I don't think they've released Q2 yet. So Amazon grows at the lowest rate in history in Q1 of '22. So their plan was like, "We've got to probably juice this up a little bit later this year, take advantage of it. So, two Prime Days that is going to have a massive impact."
Jon:
What kind of impact should we expect from that do you think? I mean massive, great. But let's get into some details.
Ryan:
Yeah. Obviously we're going to get sales, but knowing how aggressive Amazon is, and so anybody that's done business on Amazon knows that if there are opportunities for Amazon to take something, they probably will take it. They can cut you. That's their right, it's their platform.
Jon:
The number of ads I've seen in the last month alone for Amazon brand. I even saw one, and this blew my mind. Amazon Pets, that you could literally buy a pet off Amazon now. And I was like, "What? I could buy a hamster off Amazon. How do you even get that to me?" What are we doing here?
Ryan:
The poor hamster.
Jon:
Right? I've gotten some banged up boxes from Amazon before. I don't care how good your fulfillment is.
Ryan:
Yeah. "Hey Johnny, your hamster arrived." "Oh weird. No, it did not arrive. We are not opening that one." Knowing that about Amazon, if I was Amazon and I'm a fairly aggressive business owner, my goal would be, "How can I put the hurt on Walmart and Target the most?" Being their biggest competitors in the retail space. I would probably try to move holiday forward so that the Cyber Week that they all rely on doesn't do what it did before. And so last year was a good example of the holiday moving forward. At some podcast in the past, we talked about my wife and I, our purchasing habits last holiday season. I knew there were supply chain issues last holiday. And I'm like, "We've got to buy soon because if we wait until Cyber Week, we might get a deal, but we might not even get the products we want." So if we know what we're getting the kids, we're going to buy it in October and be done. And we did. I think by November 1st we had like 95% of our holiday purchases done.
Jon:
I'm still jealous of that by the way.
Ryan:
Yeah. My wife does that. The 5% was me buying for her probably-
Jon:
On the 24th.
Ryan:
… Which happened. The 24th is my favorite time to shop because it's just, I go buy it, I go, it's great. So my hypothesis would be, there may still be some supply chain issues on some products, but if Amazon does their Prime Day in October. Last year, they did the Amazon Beauty Haul where they focused on beauty, because during COVID times beauty went through the roof, everybody started, as they started going back into the world, buying products again. And so I would hypothesize, they're going to kind of leverage that data and say, "Look, we did this. It bumped. Let's try to put out all of our holiday stuff in October, get people to buy before Halloween."
And kind of threaten them with, "Oh, Shanghai's closed down. A lot of the factories in China are going to produce. Just be scared again so if we have supply chain issues, we'll buy again." So I think that is going to cause kind of what we saw this time period. I would expect probably an extended kind of a Cyber Week scenario in October. Last year, their Holiday Haul, or the Beauty Holiday Haul they called it, I think went almost three weeks. So I don't think they're going to be able to pull off a three week-
Jon:
Yeah. That would be hard to do, that big of a Prime Day.
Ryan:
… holiday event.
Jon:
But they could do two day Prime Day again.
Ryan:
At least, yeah. That's what I would say is going to happen, at least a couple days in October probably.
Jon:
All right. So when that happens, I'll start my holiday shopping. That will be my queue. When I see Prime Day coming.
Ryan:
Well, you'll probably want to be doing the research before to plan. They have been good at doing is saying, "These are the deals that are coming." So it gets us thinking about, "Oh, I really need that thing or that gift's going to be great for here." So you kind of make a plan out so you can go execute it since you got to get it before they run out, because everybody limits the number of sales they can have with Prime Day.
The other potential I would see is to run it the week right before Thanksgiving. So that it really sucks all of that Cyber… Because they'll be pretty late in announcing it. They don't announce Prime Day dates until even the week before. So all these companies have their promo set because every company in history, so well with Cyber Week has said, "Hey, here's our Thanksgiving, Black Friday, Cyber Weekend, Cyber Monday, Cyber Week deals. Here's the ads we're putting behind it." So they've got all these plans that if we find out three weeks before that, then Amazon's going to blow it all up by having the week before be Amazon's Prime Days. You're going to have some struggles.
Jon:
Yeah. You might just upset. Amazon would just upset a whole bunch of brands. So I don't know if that makes sense, but who knows?
Ryan:
I just don't think they care.
Jon:
Yeah. Right. Do they care is a good question.
Ryan:
They might not.
Jon:
So how do brands plan for this uncertainty?
Ryan:
You have to go in with flexibility. If you're going to go set your holiday plan and a lot of large brands do this and I think those brands have to be more flexible. Smaller brands, I think can understand the flexibility a lot easier, but you go in just knowing, "Okay, here's what we think we're going to do." And then you're going to revisit it even monthly from now, between now and the middle of when we're recording this, in the middle of August, I would revisit my holiday plan. And then in September I'd revisit it again, saying, "Okay, is the data still holding true? Do we look at Google trends? Are we down? What's our search volume on Google ads on some of our products? How are we trending versus last year? What are some of the external factors? Are our competitors running ads?"
We've got inventory. There's rumors that there's all this excess inventory because retailers went and bought a bunch of stuff and they couldn't get it, and now it's starting to arrive and get through the ports saying, "Now we don't have enough money to buy things anymore in the… Well, now that we spent it on Prime Day, we're already in trouble." So what's going to happen with all that excess stuff? Brands have to get the cash out. So if you're a retailer and you invest it or you have, I don't know how they're going to do it with your suppliers, but you've got net terms to a degree. But once those net terms are out, you just take the payment, and you've got to get cash so you can go buy other stuff to sell.
Jon:
Yeah. This whole buying cycle, inflation, recession, all of that stuff is really interesting. I want to change the tone, just turn a corner here real quick. Walmart. Everyone's talking about this buzz of around Walmart. Obviously Prime Day plays into that a little bit. It's their biggest online competitor is Walmart. What do we need to talk about now? What is there about Walmart that people should be thinking about? Because you can't just rely on Prime Day happening once or twice a year, and that be your strategy, even though if your conversion rates gone up 20% this week. That's great. Is it going to sustain? Unlikely. Right? So where else can people go for this? And that turns me to Walmart, right? So how do we need to be thinking about this?
Ryan:
Walmart's big. And I think that most brands should be selling on walmart.com. Similar to Amazon. I just don't think you can ignore the power of the brand of Walmart. And there's been some pushback with some of our clients on these stigma of being on a shelf in Walmart. "Oh, we're trying to go high end. We don't want to be a Walmart brand." Which 10 years ago I could understand. But walmart.com isn't necessarily Walmart. It's a marketplace. And most brands, if you're selling wholesale to retailers or other distributors around the country, you're probably already on walmart.com. It's just not you.
Jon:
I went to buy a printer last week and I found… I started my research on Amazon, and found a model that I like, but it was out of stock. So I went to Google, search the model number. It came up on Walmart, but it was back ordered. And I look, it's the exact same seller on Amazon and on Walmart for that printer. And it was not the brand doing the selling. It was a reseller. And you go to the brand's website and it says back ordered as well. But I thought it was really, really interesting that that brand was selling on both platforms, that reseller I should say, was selling on both platforms. And it was really confusing to me actually too, because I thought, "Am I buying this from Walmart? Or am I getting it from the reseller?" I'm trained on Amazon to know when I'm not getting something specifically from Amazon. They make it very clear. Walmart, it was not as clear to me.
Ryan:
No, Walmart's still developing, if you can call it that. They're understanding, learning, getting better, hopefully. But it's also just a missing for brands that there's just a risk if you are not the one selling. You don't control the customer service, you don't control the fulfillment. So if somebody has a bad experience with your product through a seller and they bought in a marketplace like Walmart, most people are not going to assume it's a seller of yours. They're going to assume it's the brand. And if I'm the brand, I have to own that and be like… Even if there's not a ton of volume on Walmart, you want to be the one that's there. Last week, had a conversation with a brand that's trying to position themselves as a high end version in their industry. They want to be the expensive, "We're the quality version of this."
And they're priced 50% higher than competition, generally speaking. It's not a very expensive product. They probably sold a ton on Amazon based on the numbers we've seen. But they came to me like, "We don't even want to talk Walmart." I was like, "I think you might need to." One of their resellers is on Walmart and the price is three times the brand's retail price. So they're already expensive, but then they're going way up there. And it's the only one there is this reseller. That's not a good image that your brand is putting out there because you're just not there. They're taking advantage of that and saying, "If somebody wants to pay it, I'll take it. If they don't pay it, whatever. I own Walmart for this brand right now." And so even if you don't want to be on Walmart, Walmart is not stopping your resellers from being there.
They're not going to tell them no. So if you're going to be there, you might as well own it. You can do brand registry on Walmart to protect your brand, make sure that there's nobody else taking your trademark. You should all do that regardless. I just did that recently on the Joyful Dirt brand. But, be there. Walmart is a massive marketplace even though it's a fraction of Amazon. Last numbers I saw, it was like, they're on run rate of $80 billion a year in sales, on walmart.com, which for Walmart, that's still a decent number, but it's not a massive thing compared to it. But I don't think they've broken out grocery. So when I buy online and pick up in the parking lot for a grocery, I think that's still built in there. Somebody can correct me if I'm wrong, find me somewhere, somehow. Tell me I'm crazy.
But all that to say, just be there and protect your brand and insulate it there. If you're a retailer and the brands you're selling are not there, go get there. It's just easy money. As people look for the brand, it's brand search that you can own and the more good reviews you get, the more you're going to stay there.
Jon:
Well, and again, folks like me shopping for a printer, right? Go online, go to Amazon, type in multifunction printer, see what comes up and they're going to do the same thing on Walmart.
Ryan:
Yep. And there's easy ways to test it. There are now a couple plugins. The ones I know about at least are on Shopify and BigCommerce, and I think it works on Woo as well, some of them do. But it'll send your inventory to Walmart and sync the orders back to your website. So you don't even have to set up additional fulfillment. It's just like, "Hey, let's see what kind of volume's there." Make it an easy button. It'll just bring your orders back in. So it just looks, from my fulfillment center, just like a normal order. It'll just have a Walmart packing slip in it.
Jon:
Awesome. So, okay, let's put a bit of a bow on this. We've talked about Prime Day, huge success for most retailers on and off Amazon, how you can kind of bring that to Walmart. Now, a lot of brands, we talked a little bit about the issues around supply chain and just having too much supply. So if there's one thing kind of tying that all together, that brands need to do and be thinking about for this upcoming 2022 holiday, what would that be?
Ryan:
Great question. I would say, sell sooner rather than later. If Amazon does have a Prime Day in October and your conversion rates are going to go up, sell it, get aggressive on all channels with ads, Microsoft, Google, social if it's there for you. What you don't want to be is the brand or retailer that tried to stick to your plan and got to December with a bunch of inventory and nobody's buying.
In my world, I will take less margin and get rid of my products as quick as possible, rather than try to hold on and try to make a little bit more margin later because I think the risk of people just not having enough money to buy at the end is going to be problematic. And if we get to the end, let's play it out and say there's a few brands that do that, and there's a limited… The searches go down and there's a bunch of people trying to blast inventory. You're going to see CPCs go up, your cost of acquisition's going to go up, because people are going to get desperate because you've got to sell to get that cash to be able to buy more stuff. You can't take your stuff into the bank and turn it into cash, you've got to get people to buy it from you.
Jon:
No, the only time that works is depending on the dollar when it's too late.
Ryan:
Yeah. And they're going to take it from you because you're bankrupt and they're going to try to sell it somewhere else and get your money. So don't be afraid to just pivot quick and go early. If holiday does move into October, holiday moves into October. You might not like it.
Jon:
So maybe be looking at everything as a quarter, as opposed to, those three months individually.
Ryan:
Yeah. I would just be looking at even weekly search volume and my budgets will be set in what I think I'm going to spend, but I'm going to tell the team if search volume is there, we don't stick to a budget. That was our guideline going in of what we thought was going to happen based on last year, based on what we've seen this year, as far as search volume versus last year, and where we expect the peaks to be. But there by no means, am I going to say, "Well, we only budgeted $2,000 that day. And you spent $4,000, you're in trouble." I'm like, no, if the demand's there, you're going to sell stuff. Do it.
Jon:
Yeah. All right. Well, I will make sure that our clients are not the ones who lose the musical chairs and be stuck with the inventory.
Ryan:
Yeah, don't lose musical chairs and make sure you're taking credit for all that good conversion rates that happen early this week.
Jon:
Yeah. Oh, a hundred percent. I'm already on that. Yeah. I've already tweeted it, LinkedIn. I got it all like, yeah, "Did you notice your conversion rates went up? That was us." Yeah.
Ryan:
Yep, they're good. Those tests were phenomenal.
Jon:
Yeah. Unfortunately and fortunately, all of our stuff we do is so trackable that it's easy to see where it came from. So there's no way I could even take him for the Prime Day.
Ryan:
No. And we wouldn't do that. Obviously. Did anybody listening to this?
Jon:
Well, yeah.
Ryan:
We're working with John already. You know he is good and he's not going to lie to you.
Jon:
Oh, good. All right Ryan.
Ryan:
Have to say it in just.
Jon:
Yeah, of course. All right Ryan. Well, I'm going to go burn this to cassette and get it off to our editor.
Ryan:
Yeah, drop one in the mail for me.
Jon:
There you go. I'm on it. Yeah. We'll have to find that VCR and send it to you. All right, sir. Have a wonderful afternoon. Thank you. And we'll chat soon.
Ryan:
Thank you Jon. Cheers.
Announcer:
Thanks for listening to Drive and Convert with Jon MacDonald and Ryan Garrow. To keep up to date with new episodes, you can subscribe at driveandconvert.com.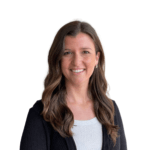 About the Author
Caroline Appert
Caroline Appert is the Director of Marketing at The Good. She has proven success in crafting marketing strategies and executing revenue-boosting campaigns for companies in a diverse set of industries.