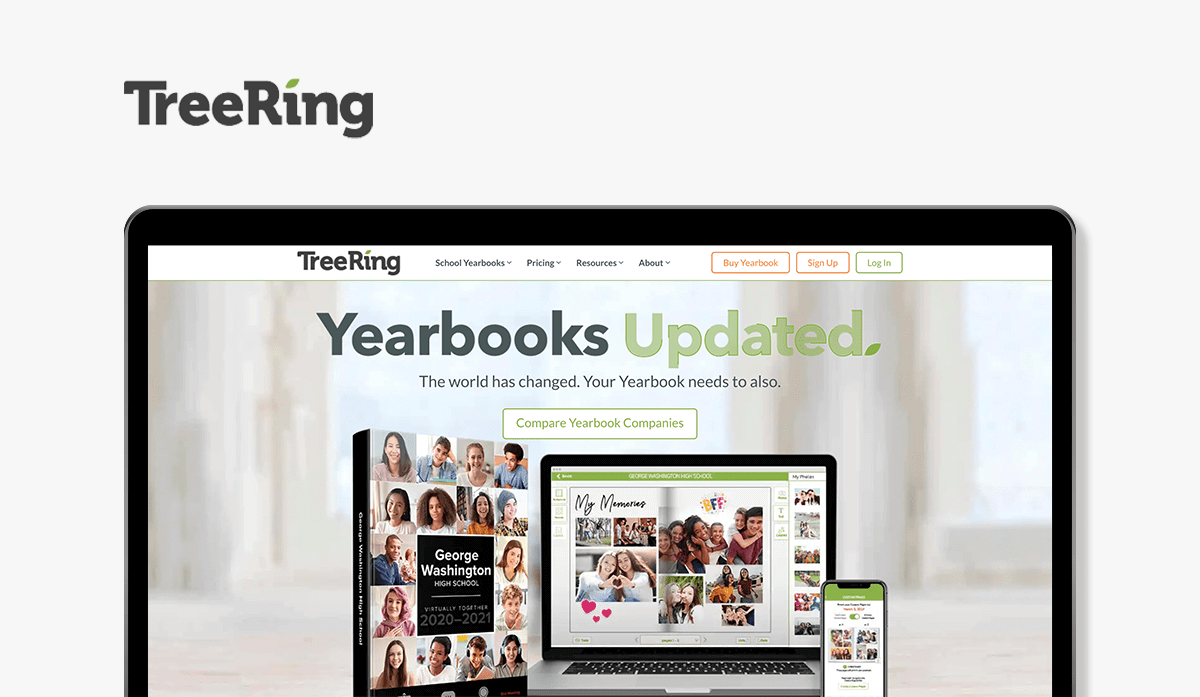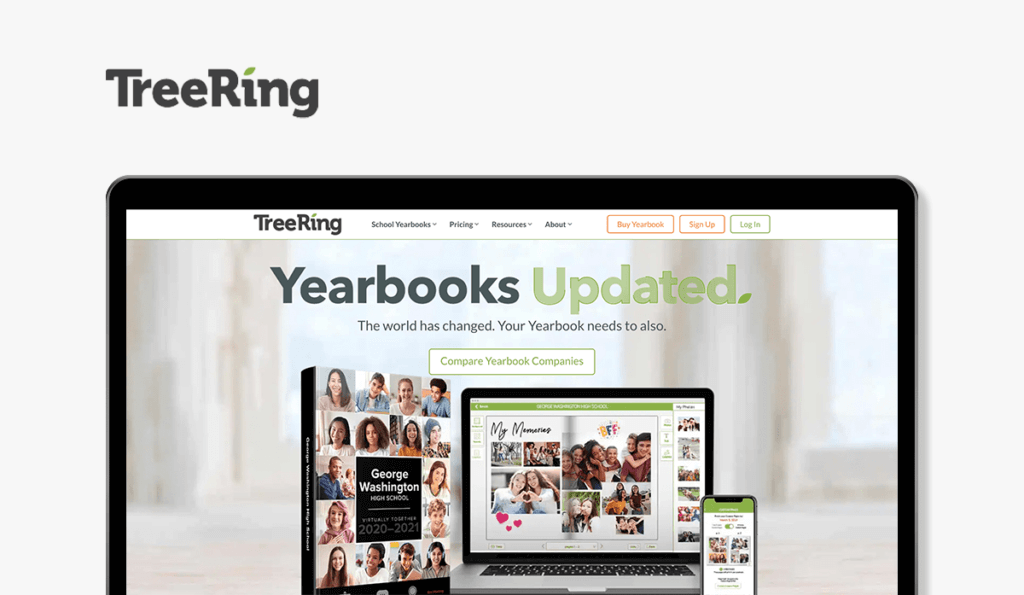 TreeRing Realizes a 53% YOY Net Revenue Increase
See how TreeRing increased YOY net revenue by 53% with The Good's Comprehensive Conversion Audit and Conversion Growth Program™.


"The Good was one of the only agencies we evaluated that could explain, in detail, the process they would use to help us get the results we desired…and the results are better than we desired."
Leo Strupczewski, VP of Marketing, TreeRing
25%
YOY Top-of-Funnel Value Increase
53%
YOY Net Revenue Increase
30%
YOY Lead Conversion Increase
The Overview
TreeRing helps schools create better yearbooks. Their social-first approach lets teachers, parents, and students capture memories, safely share them with the school community, and create free personalized pages for the printed edition — all at no extra cost to the school.
The Challenge
TreeRing came to The Good because they were suffering from a low lead-generation conversion rate.
They had done some testing on their own with disappointing results. In addition, they were experiencing slowing growth of their organic traffic like many companies, due to more clicks now going to paid advertising. They wanted expert UX advice and a comprehensive and customized testing program.
They engaged with The Good to analyze, test, and execute on a roadmap that would drive a higher conversion rate and increase incoming leads.
The Process
The Good began with an extensive research phase which also included developing a robust testing roadmap. When TreeRing approached The Good, they knew that their top goal was getting visitors to request a free sample yearbook. They had discovered that these visitors had the best customer retention. As a result, this became the driving goal behind The Good's research and testing plan.
Through that research, The Good learned that there was confusion about what was included in the free sample, that there was difficulty getting started with school signup, and that it was hard to discover independent reviews.
As a result, The Good identified a few key target opportunity areas to begin testing including clarifying the free sample offering, guiding new customers towards signup, answering customer questions, and streamlining their free sample email stream.
The Solution
The Good's initial work involved conducting a deep-dive qualitative and quantitative comprehensive conversion audit to outline the conversion and user experience challenges. This included information from inbound traffic, heatmaps, conversion data, user testing, and our expert user experience analysis.
The audit led to a optimization and A/B testing roadmap that detailed the testing strategy and flow.
"We're not just improving conversion rates. We're improving people's ability to discover TreeRing and understand how we're different from other yearbook companies. For an emerging brand in an entrenched market, there's an enormous amount of value in that alone."

Leo Strupczewski, VP of Marketing, TreeRing
Here is a sampling of some of the tests that were conducted as part of the overall testing plan.
Since the sample yearbook was the stated goal, The Good worked to remove friction that was preventing users from taking that step.
In order to make the free sample page more discoverable, tests were conducted moving the Request Free Sample text from the bottom of the first navigation drop down menu to the top of the menu. The outcome of this experiment resulted in a 42% increase in visits to the free sample page and a 12% increase in conversions.


In another noteworthy test, attention was turned to addressing a lower conversion rate among mobile users.
The Good hypothesized that the lower conversions were due in part to confusion about whether the current Sign Up language was for yearbook advisors or students/parents to use. The Good worked to clarify this language in the navigation with a variation introducing the same Request Free Sample as well as Buy Your Yearbook. That test showed a 72.6% improvement over the former navigation.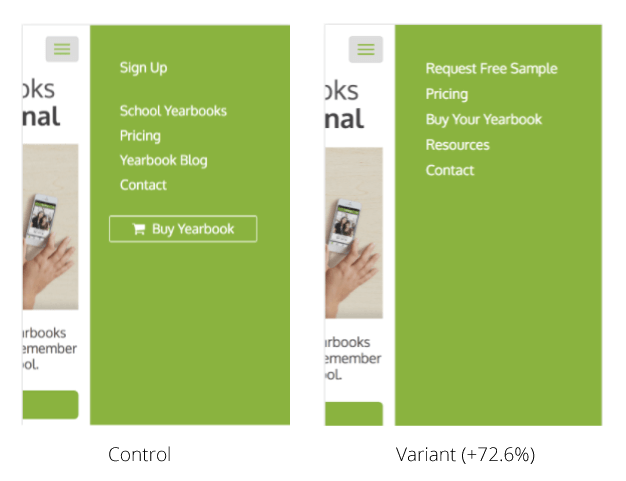 These two experiments also highlight an aspect of testing that is often missed: testing and discovering improvements in one area of your website can help you build subsequent tests with a higher chance of success. You can borrow insights gained from test results to iterate and build on top of the initial results and findings.
It also highlights just how much of the process that is used in ecommerce optimization applies equally well to lead generation optimization. The research, testing, and optimization processes are extremely similar.
"I always anticipated that we'd judge the success of the agency we hired by the lift we saw in conversion rates. While that's very much a metric of success, only judging through that lens wouldn't allow us to see the other ways The Good has helped us.
The Good thinks holistically about our lead generation program and have helped us discover ways to improve stuff that would never appear in an on-site performance report.
We've increased our response rates to sales emails, improved our success rate of holding meetings on the first attempt, and found ways to get those meetings to happen more quickly."
The Results
While The Good's engagement with TreeRing is ongoing, these initial tests and improvements have already driven a 30% growth in year over year lead conversions (and that number is still climbing).
During the first three months of our engagement, compared to the same span of time last year, top-of-funnel value has increased 25%, and net-new revenue has increased 53%.
Today, TreeRing continues to engage The Good to help with UX testing and conversion rate optimization. The TreeRing team knows the importance of continued testing and ongoing optimization work to seek steady growth.
"We're a lean marketing team at TreeRing, and we don't have the resources internally to support execution of test ideas. We needed to work with an agency that could become an extension of our team—both on the research and ideation side and on the execution. And that's what The Good is. I consider the folks who work on our account to be members of TreeRing's team. They've done it all for us, and they've been working that way since the first day. It's awesome."
---
How They Got There
The work we completed for TreeRing included a combination of several of our service offerings, but these particular outcomes are the direct result of the following services: