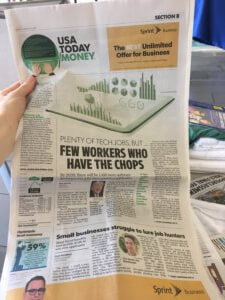 PORTLAND, Ore. April 3, 2017 — The Good was recently featured in a USA Today article highlighting the steps that smaller organizations are taking to compete with nearby tech giants for talent.
The article highlights the fact that smaller organizations are experiencing a harder time filling positions this year than the same time last year. In The Good's case, this is due in large part to larger companies like Salesforce, Airbnb, and Ebay, who have opened satellite offices in their hometown of Portland.
Ultimately, the article notes, The Good is using it's more agile size to it's advantage, attracting new talent by highlighting their ability to have a greater impact on the company's products and services.
In short, while they may not have benefit packages as competitive as the larger companies, they can provide a better quality of life.
Read the full article:  Small businesses boost benefits, tout quality of life to lure job hunters