PORTLAND, Ore. March 10, 2016 – Jon MacDonald, Founder & President of The Good was recently asked to contribute an article for the LeadPages blog, on the topic of small mistakes that hurt conversion rates.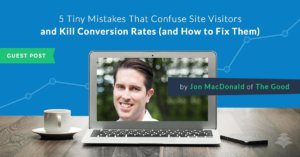 The article highlights how brands can sometimes get so carried away with styles, colors, and branded content that they forget their primary aim: converting visitors into customers. Assuming a brand's offer is fair and desirable and they're getting traffic but not making sales, chances are there's a customer experience issue tripping up their visitors somewhere. The article focuses specifically on looking at what you're asking visitors to do and the language you're using to ask them to do it.
You can find the full article titled 5 Tiny Mistakes That Confuse Site Visitors and Kill Conversion Rates (and How to Fix Them) on the LeadPages blog.